Miami City
Miami City Hall is located at 3500 Pan American Drive, Miami FL 33133; for city information, area residents should dial 311; out of area, phone: 888‑311‑3233.
---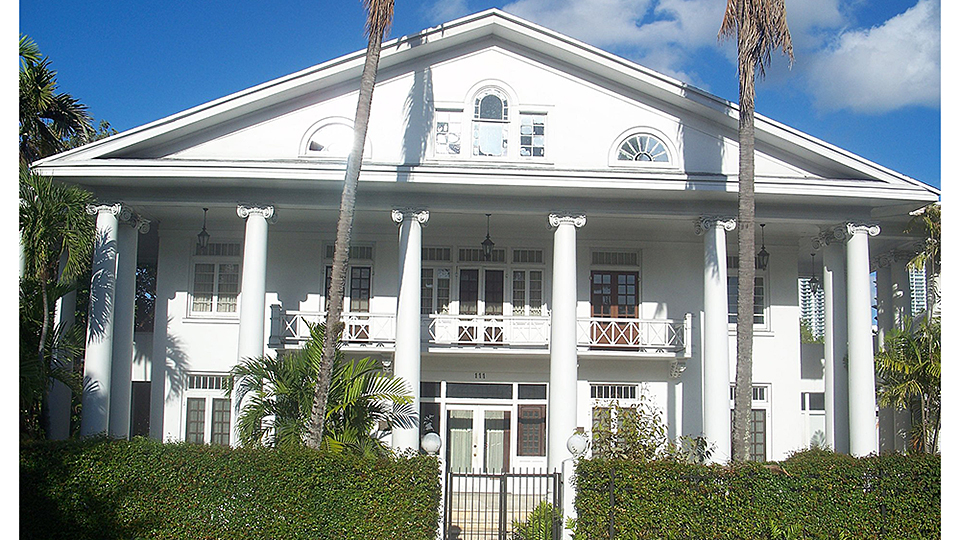 Photo: J. W. Warner House, ca. 1912, located at 111 Southwest 5th Street, Miami, Fl. Listed on the National Register of Historic Places in 1983. Photographed by User:Ebyabe (own work), 2011, [cc-3.0], via Wikimedia Commons, accessed July, 2021.
---
Beginnings [1]
Miami is located in the southeastern part of Florida along the shores of Biscayne Bay. This sub-tropical city extends farther south than any other part of the mainland United States and is within one degree of the tropics.
Neighborhoods
Acadia
Acme Gulfair
Adagio
Adele Heights
Ademar Park
Admirals Port Condos
Adrian Homes at Lago Mar
Adventure Homes
Airline Estates
Akoya Condos
Aladdin City
Alapatha
Alba Gardens
Alca Condos
Alderama Estates
Aleca Heights
Alexandria Estates
Alhambra Heights
Allapattah Highlands
Allapattah Manors
Almendares
Alpine Heights
Alta Terra Heights
Alta Vista
Altos De Miami
Altos Del Mar
Amaretto
Ambience Estates
Americana Village
Americas at Millers
Anabar
Anchorage Sub
Andalucia Estates
Anderson Heights
Andover
Andrade
Andrews Estates
Angelica Gardens
Antilla Park
Arborgate at Kendall Lake
Arborgate Patio Homes
Arbors Condos
Arch Creek Estates
Archer Homes
Aristotle
Armen
Armstrong Manor
Armstrong Sub
Ascot Park
Ashly
Asia Condos
Atrium Homes
Auburndale
Avacado Park
Aventura Marina
Avocado Estates
Axis On Brickell
Azul at Fontaineleau Condos
Azure Lake Condos
Baker Manor
Bankers Park
Banyan Groves
Banyan Place
Barclays Estates
Barima Estates
Basadre
Bass Lake Estates
Bay Crest
Bay Heights
Bay Point
Bay Pointe Place
Bay Ridge
Bay View Terrace
Bay Vista Park
Bayden
Baylofts Condos
Bayshore Co Op
Bayshore Estates
Bayshore Park Condos
Bayshore Place Condos
Bayshore Plaza
Bayshore Villas
Bayside Terrace Condos
Bayside Village Condos
Bayside Village East Condoa
Bayview Acres
Bayview Tower Condos
Baywood
Beacon at Doral
Beacon Manor
Beacon Tradeport
Bel Aire
Belford
Bellcamp Manor
Belle Haven
Belle Meade
Bellevue
Belmar
Belvedere
Benson Manor
Bent Tree
Bent Tree West
Berkeley Manor
Bethune Homesites
Beverly Estates
Beverly Gardens
Beverly Heights
Beverly Hills
Bilbao Estates
Biltmore Estates
Biltmore Heights
Biltmore Manor
Biltmore Park
Bimini at the Oasis
Bird Gardens
Bird Lakes North
Bird Lakes South
Bird Road Estates
Bird Road Farms
Bird Road Highlands
Bird Villas
Biscayne 21 Condos
Biscayne Beach Club Condos
Biscayne Boulevard Historic District
Biscayne Court
Biscayne Gardens
Biscayne Heights
Biscayne Island
Biscayne Key Estates
Biscayne Lake View
Biscayne Landing
Biscayne Park Estates
Biscayne Park Terrace
Biscayne Patio Homes
Biscayne Pines
Biscayne Point
Biscayne Ridge
Biscayne River Gardens
Biscayne Shores Heights
Bismark Homes at Venezia
Black Creek Estates
Blanton Park
Bleau Fontaine Condos
Bloomfield Hills
Blue Condos
Blue Lagoon Condos
Blue Lake
Blue Road Terrace
Blue Waters
Bolanos Condos
Bon Aire
Bonanza Ranch Estates
Bonita Lakes
Bonita Park
Bonita Villas Condos
Bonna Bella Place
Bonnie Briar Estates
Borel Addition
Bowling Green
Bowman Heights
Braddock
Brandon Park
Breeze at Galloway
Breezeswept Estates
Breezeswept Heights
Breezeswept Manor
Breezy Park
Brentwood
Briarwinds Condos
Briarwood at the Falls
Brickell Bay Club Condos
Brickell Biscayne Condos
Brickell Courts Townhouse
Brickell Estates
Brickell Forest Condos
Brickell Fountains Condos
Brickell Hammock
Brickell Harbour Condos
Brickell Key
Brickell on the River
Brickell Place Condos
Brickell Place Marina
Brickell Point
Brickell Shores Condos
Brickell Terrace
Brickell Tower
Brickell View
Brickell Vista Condos
Brickell West Condos
Bridgepoint
Briercliff
Brightons Meadow Landings
Bristol at Kendall Condos
Bristol Tower Condos
Brittany Acres
Broadmoor Manor
Browns
Bryan Park
Bryandale
Buckeye Park
Buckley Towers Condos
Buena Vista
Buena Vista Estates
Buena Vista Gardens
Buena Vista Heights
Buena Vista Park
Bunche Park
Bunchville
Burdette Park
Burleigh House Condos
Cadeca Estates
California Club Estates
California Grove Homes
Calistoga Estates
Calusa Club Estates
Calusa Club Village Condos
Calusa Forest
Calusa Point
Calvert Manors
Cambria Heights
Cambridge Lawns
Camino Circle Condos
Camino Court Condos
Camino Real Estates
Camner Estates
Camner Gables
Canfield
Cantamar
Cantisano
Canyon Ranch
Capital Lofts
Captiva Condos
Caravel at Calusa
Caravel Country
Carbonell Condos
Caribbean Estates
Caribe at Bonita Lakes
Carll Heights
Carlock
Carlos Estates
Carmel at California Club
Carmel Lakes Condos
Carmens Place
Carol City
Carol City Gardens
Carole Helms Manor
Carolina Heights
Carolina Park
Carteret Heights
Cary
Cashew Heights
Castellocondos
Castilian Court
Castillian Club Condos
Catalina Pines
Catrimani
Cazadores Cove
Cedar Creek
Cedar West Homes
Cedarhurst
Centennial
Centerville
Central Heights
Central Miami
Central Park
Centro Villas
Century Breeze East
Century Estates
Century Gardens
Century Park Condos
Chamberlain Courts
Chante-Clare
Chantilly Condos
Charlestowne
Charter Club Condos
Chase-Hessen Estates
Chateau Grove Condos
Cherney
Cherry Grove
Cherry Grove Village
Chestnut Garden Homes
Chestnut Ranch Patio Home
Christina at the Hammocks
Christopher Gardens
Churchill Estates
Citrus Park
City 24 Condos
Clasca Estates
Clear View Park
Cleveland Park
Clipper Condos
Cloisters at the Falls
Cloisters at the Gables
Cloverleaf Gardens
Coco Palm Condos
Cocoa Plum Estates
Coconut Grove Terrace
Cocoplum
Cocoplum Terrace
Coletown Acres
College Heights
College Manor
College Park
Colonial Palms Manor
Colonial Park
Colonnade at Dadeland
Comanche
Comfort Gardens
Community Gardens
Con-Gia Manor
Concord Homes
Continental Homes
Continental Park
Coppingers Tropical Gardens
Coral Bird Homes
Coral Club Garden Villas
Coral Creek
Coral Gables
Coral Gables Heights
Coral Gables Tower Condos.
Coral Gardens
Coral Gate
Coral Haven
Coral Heights
Coral Highlands
Coral Lake
Coral Nook
Coral Park Estates
Coral Park Estates
Coral Pines
Coral Place
Coral Plaza Condos
Coral Pointe Townhomes
Coral Reef Estates
Coral Ridge
Coral Sea View Condos
Coral Terrace
Coral Villas
Coral Way Gardens Condos
Coral Way Heights
Coral Way Park
Coral Way Plaza
Coral Way Village
Coral Way West
Coral West Heights
Coral Woods
Cormen
Coronado at Doral
Corrine
Corsica Place
Costa Azul
Costa Bella Condos
Costa Verde
Country Club Estates
Country Lake
Country Lake Manor
Country Lake Park
Country Pines
Country Ridge Estates
Country Walk
Country Walk West
Courts at Tuscany
Courts at Tuscany North
Courtyards at Kendall
Courvoisier Courts Condos
Cove Condos
Coventry
Cozy Park
Cravero Cloverleaf Estates
Cravero Lake Shore Estates
Creekside Villas
Crescent Heights
Crestview Lakes
Cricket Club Condos
Cristal Villas
Crosel Heights Condos
Crossings Estate Homes
Crossings Patio Homes
Crystal Bluff
Cubaranda Estates
Cuema Estates
Cullywood Estates
Curleyville
Curnin Heights
Curtiss Park
Cutler Bay Estates
Cutler Creek Village
Cutler Dreams
Cutler Gardens
Cutler Heights Estates
Cutler Landings
Cutler Reef Estates
Cutler Ridge Crossings
Cutler Ridge Manor Estates
Cutler Ridge Pines
Cypress Cove Estates
Cypress Estates
Dadeland Capri Condos
Dadeland Cove
Dadeland Grove Condos
Dania
Darlington Manor
Datorre
Davenports
David Blank Estates
Davis Gardens
Davis Harbor
Davis Heights
De Hedouvilles
Deal Estates
Deer Creek
Deerwood
Deerwood Estates
Deerwood Villas
Design District
Devon-Aire
Devonwood
Diamond Tower Condos
Dixie Estates
Dixie Gardens
Dixie Heights Gardens
Dixie Manor
Dixie Park Heights
Dixie Pines
Dixie View
Don Elias Estates
Donna Villas
Doral Court Condos
Doral Estates
Doral House Condos
Doral Isles Antilles
Doral Isles Mediterranea
Doral Isles North
Doral Isles Riviera
Doral Isles St Lucia
Doral Lakes
Douglas Circle
Douglas Park
Douglas Place Condos
Downtown Miami Historic District
Du Pont Gables
Duhe Estates
Dupont Addition
Durham Park
Durham Terrace
Durniers
Durward Heights
E F M Estates
Earlington Heights
East Dixie Park
East Gulfair
East Liberty Cty Homesites
East Shenandoah
East Shore Crest
East Vedado
Eastern Shores
Eden Lake Estates
Edgewater
Edgewater Manors
Egret Lakes Estates
Egret Lakes Homes
Ekonomou Manor
El Alamo
El Dorado Gardens
El Dorado Plains
El Rito
Elan at Calusa Condos
Eldorado Heights
Eleanor Estates
Eleanor Park
Eleda
Elizabeth Gardens
Elizabeth Park
Elmira
Elson Manors
Emerald at Brickell
Emerald Court
Emerald Greens
Emerald Isles
Emerald Plaza West
Emman Park Estates
Enclave at Doral Condos
Englewood
Entrada
Epic Condos
Epic West Condos
Epmore Grove Estates
Erica Gardens
Esprit Condos
Estate Homes
Estate Mansions
Estates at the Falls
Estelle Park
Eugenia Groves Park
Eureka
Eureka Creek
Eureka Manor
Eureka Point Gardens
Eurosuites
Evanston Heights
Everglades Avenue Heights
Everglades Gardens
Everglades on the Bay
Evergreen Gardens
Evergreen Homes Villas
Evergreen Lawns
Fairhaven Gardens
Fairlawn
Fairmont Park
Fairview Homes
Fairway Estates
Fairway Lake South
Fairway Manors
Fairway Park
Fairway Pines
Featherstone Park
Featherstone Ridge
Federal Way
Fernwoods Condos
Fisher Island
Fisher Island Marina
Fisherman Cove
Fiske Manor
Flagler Grove Heights
Flagler Manor
Flagler Terrace
Flagler Waterway Estates
Flamingo Gardens Estates
Flamingo Homes
Flamingo Park
Flamingo South Beach
Flamingo Village
Fleeman Estates
Fleetwood Gardens
Floral Park
Florida City Highlands
Floridian Isles South
Fontainbleau Gardens
Fontainbleau Lakes
Forest Estates
Forest Lakes
Forest Lakes Estates
Forest Lakes Gardens
Forest Lakes Homes
Forest Lakes Villas
Forest Park
Forest View
Fortune House Condos
Fountain Lake
Four Ambassadors Condos
Francis Park
Frazure Heights
French Village
Friedland Manor
Fulford By Sea
Fulford Heights
Fulford Highlands
Gables Court Condos
Gables Marquis Condos
Gables Point Condos
Gables Terrace Condos
Gables View Condos
Gables West Villas
Gale Ranch Estates
Galloway Acres
Galloway Estates
Galloway Glen
Galloway Lakes
Garden City
Garden Estates
Garden Hills
Garden Hills West
Garden Park
Garden View Condos
Gardens of Kendall
Gardens of Kendall South
Garvey Gardens
Gateway Estates Park Condos
Gateway To The Grove Condos
Gellers
Geneva Gardens
Gifford Place Condos
Girasol
Gladewind Heights
Glen Cove
Glencoe
Glendolyn
Glenhaven
Glenroyal
Glenwood Heights
Goldcourt
Golden Eagle Estates
Golden Gate Estates
Golden Glades Park
Goldvue Estates
Golf Estates
Golf Park
Golfview Club at Fontaine
Gomez Estates
Goulds Estates
Goulds Hammocks
Granada Gardens
Granada Groves
Granada Home Estates
Granada Park
Granada West Estates
Grand Lakes
Grand View Park
Grapeland Center
Grapeland Heights
Grapeland Park
Grapeland Terrace
Grapevine
Gratigny Park
Gratigny Place
Gratigny Plateau
Green Acres
Green Close
Green Haven Acres
Green Hills
Green Hills Park West
Green Oaks
Green-Mar Acres
Greenleaf Park
Greentree Condos
Greenwells
Greyknoll Estates
Greynolds Villas
Grove Garden Residences
Grove Gardens
Grove Hill Tower Condos
Grove Isle Condos
Grove Isle Marina
Grove View Condos
Grove Way Condos
Groveland Condos
Groveland Park
Groves Extension
Gulfair Estates
Habitat Homes South
Habitat Villas
Hacienda Estates
Hainlin Mill Estates
Hammocks Manor Homes
Hammocks Shores
Hammocks Trails Condos
Hampton Park
Happy Farms Acres
Hardee Road Estates
Harriette Park
Hartford Place
Harwood Village
Havana Lofts
Haynsworth Village
Hazelton Park
Heathwood Groves
Heftler Homes at Lago Mar
Heftler Homes Sunset Park
Heftlers Lago Mar West
Helms Country Estates
Henry Ford Subdivision
Herrera Estates at Lago Mar
Hialeah Heights
Hicksons
Hidden Gardens
Hidden Oaks
Hidden Treasure
High Crest
High Pines
High School Park Condos
High View Condos
Highland Gardens
Highland Lakes
Highland Lakes East
Highland Lakes Estates
Highland Manor
Highland Park
Highland Ranch Estates
Highland Woods
Highridge Park
Highview Gardens
Hildamere
Hildas Estates
Hill Crest
Hillside Terrace
Hinson Addition
Holiday House
Holleman Park
Homes of Versailles
Homestar Landings
Homestead
Homeville
Honey Hill Estates
Horizons Condos
Horizons West Condos
Host Crossings
Howitt
Howmar Park
Icon Brickell Condos
Icon Brickell North
Icon Brickell Tower
Icon Brickell Viceroy
Idlewild Park
Imperial at Brickell
In The Pines Condos
Indiana
Inez Gardens Homes
Infinity at Brickell
Inglewood Gardens
Intercontinental Park
Interian Homes
International Gardens
International Park Condos
International Towers
Inverness
Irons Manor
Island Shores Condos
Island View Addition
Isle of Normandy
Isola Condos
Ives Estate
Ivy at Riverfront
Ivywild
J C Kern Estates
J G Heads Farms
Jacarandas at Sunset
Jackson Heights
Jade Ocean Condos
Jade Residences at Brickell
Jeannie Estates
Jeb Estates
Jeffrey Heights
Jesslyn Subdivision
Jockey Club Condos
John Belton Sparling Estates
Joy Homes
Jubilee
Juniper at the Hammocks
Karenero Falls
Karina Estates
Katimeta Estates
Kayla Place
Kendal Green
Kendal Pines
Kendal Ranches
Kendale
Kendale Country Club Estates
Kendale Lakes North
Kendale South
Kendall Acres West
Kendall Breeze
Kendall Breeze South
Kendall Breeze West
Kendall Country Estates
Kendall Creek Grove
Kendall East
Kendall Estates
Kendall Falls Condos
Kendall Family Estates
Kendall Gate Condos
Kendall Greens Condos
Kendall Grove Cluster Homes
Kendall Lake Towers
Kendall Lakes East
Kendall Oaks
Kendall Place
Kendall Point
Kendall Sunset Homes
Kendall Trails
Kendall West
Kendalland
Kenilworth
Kenland Bend South Condos
Kenland Pointe Condos
Kenland Walk Condos
Kent Estates
Kenwood
Kenwood Estates
Kessler Grove
Kew Gardens
Key Colony Condos
Keystone Island
Keystone Park Condos
Keystone Point
Keystone Towers Condos
Killian Drive Estates
Killian Pines
Killian Place
Kingdom Dreams
Kings Creek
Kings Creek South Condos
Kings Creek West Condos
Kings Grant East
Kings Grove
Kingsleys
Kingston Square Condos
Kingswood Manor
Kirkpatrick
Klebba Bay Estates
Knights Addition
Knollwood Manor
Korth Estates
Kristina Estates
La Finca
La Gorce Palace Condos
La Maison at the Hammocks
La Paloma
Lago Mar
Lago Mar South
Laguna Ponds
Lake Catalina
Lake Frances Subdivision
Lake Pointe
Lake Ridge
Lake Shore South
Lake View Estates
Lake Village
Lakes By The Bay
Lakes of Acadia
Lakes of Avalon
Lakes of Palm Springs
Lakes of the Meadow
Lakes on the Green
Lakes on the Green North
Lakeshore Condos
Lakeview at Hammocks
Lakeview Estates
Lakeview Terrace
Lakewood Estates
Lamor Estates
Lances Manor
Laroc Estates
Larson Pines
Las Casas at Kendall
Latitude on the River
Lauraville
Lauraville Gardens
Lawndale
Lawnview
Lawrence Estates
Lawrence Park
Lazarus On Richmond
Le Club at Old Cutler
Le Jeune Manors
Le Mirage
Le Roi
Ledges Condos
Lee Heights
Lee Manor
Legion Park
Leigh Estates
Lejeune Plaza Condos
Les Chalets
Les Gardens
Leslie Estates
Leti Subdivision
Liberty City Homesites
Liberty City Park
Liberty Gardens
Liberty Homes Estates
Liberty Park
Lime Grove Estates
Lime Grove Gardens
Limewood Grove
Lin Heights
Lincoln City
Lincoln Estates
Lincoln Manor
Lincoln Park
Lincoln Place Residences
Lindbergs Landing
Lindgren East
Lindgren West
Little Plantations
Little River Estates
Little River Farms
Little River Fruit Lands
Little River Gardens
Little River Highlands
Little River Terrace
Live Oak of the Hammocks
Lizzy Villas
Loladero Estates
Long Acres
Loquat Farm
Los Angeles Estates
Los Paseos
Lucky Star Estates
Lummus Park istoric District
Lyndale
Lyndon Park
Macfarlane Homestead
Magnolia Lane Condos
Magnolia Park
Mahogany Isle Homes
Mainlin Mill Estates
Maison Grove Condos
Majestic Estates
Majestic Homes
Majorca Isles
Majorca Towers Condos
Malverndale
Malvina Park
Mandarin Lakes
Mann Heights
Manor Estates
Mansionette Homes
Maralex Homes
Marbella By The Grove
Marbella Condos
Marbella Estates
Marbella Park
Marden Heights
Marina Blue Condos
Marina Lakes
Marla Estates
Marlborough
Marquis Residences
Martigil Condos
Mary Ann Estates
Marys Homes
Maxwell Woods
Mayfield Condos
Maylen Heights
Mays Addition
Maysland
Mc Allister Terrace
Mc Keever Terrace
Mc Kenzie
Mckeever Terrace
Meadow Wood Manor
Melnor Estates
Melnor Park
Melrose Heights
Menamar South
Menendez Park Condos
Merion Park
Merion Park Manor
Metropolis at Dadeland
Miami Gardens
Miami Gardens Estates
Miami Gardens Manor
Miami Gateway
Miami Heights
Miami Heights Manor
Miami Highlands
Miami Lakes
Miami Modern Manors
Miami Park
Miami River Brickell
Miami Shores
Miami Shores Heights
Michelle Manors
Michmar
Midtown Lofts Condos
Milana Condos
Millennium Tower Condos
Miller Drive Estates
Miller Gardens Condos
Miller Grove
Miller Grove Estates
Miller Heights
Miller Lake Condos
Miller Lawn
Millers Glen
Millers Landing
Minnesota Park
Mint at River
Minton Manor
Miracle Manor
Miramar
Mirelda Estates
Mirosa
Misty Lake South
Mitchell Manor
Moffatville
Monaco Estates
Mongiello Homesites
Monnah Park
Montebello Addition
Montecarlo Condos
Monterey Condos
Monterey Gardens
Monterrey
Monticello Estates
Moors Cluster Homes
Morningside Historic District
Moywood
Munne Estates
Munne Royal Homes
Murano Grande at Portofino
Musa Isle
Mutiny Park Condos
Myra Dells
Myrtle Grove
Mystic Forest Addition
Naranja Lakes Condos
Naranja Park
Naroca Estates
Natoma Manors
Natoma Park
Navarra Manor
Navarro
Nelsons
Neo Vertika Condos
New Belle Meade
New Continental
New England Village
New Haven
New Liberty City
New Little River Acres
New Shenandoah
New Silvercrest
New Wave Condos
New Woods
New World Condos Apartment
Nichols Golf Estates
Nichols Heights
Nine Island Avenue Condos
Nirvana
Nito Estates
Nob Hill West Condos
Nordica Condos
Normandy Park
North Bay Island
North Gate
North Haven
North Liberty City
North Miami Estates
North Miami Heights
North Miami Highlands
North Palm Estates Homes
North Ridge
North Ridgeway Park
North Riverview Condos
North Shore Crest
North Shore Estates
North Shore Heights
North Silver Crest
North Silver Crest Manors
Northwood
Norwood Heights
Nuced Place
Nutmeg Estates
Oak Creek
Oak Creek South
Oak Forest
Oak Haven
Oak Heights
Oak Park
Oak Park Estates
Oak Ridge Estates
Oak Ridge Falls
Oak Ridge Villas
Oakhurst
Oakland Acres
Oakland Grove
Oakland Park
Oaklawn
Oaks South
Oakwood at the Hammocks
Oakwood Villas
Oasis Condos
Ocean Park Condos
Ocean View Heights
Ocean Village Condos
Oceanside
Ocoee Park
Ohio Park
Ojus Manor Rev
Old Cutler Common
Old Cutler Cove
Old Cutler Homes
Old Cutler Meadow
Old Cutler Palms
Oleander House Condos
Oleander Manor
Oleander Park
Olympic Heights
One Miami East Condos
One Miami West Condos
One Tequesta Point
Onyx on the Bay
Opera Tower
Orange Heights
Orange Park
Orange Ridge East
Orange View Park
Orchard Estates
Orchard Villa
Orchid Manor
Osceola Groves
Osceola Highlands
Osmape Estates
Overbrook Shores
Palermo Condos
Palm Bay
Palm Bay Towers Condos
Palm Gardens Condos
Palm Grove Historic District
Palm Island
Palm Park
Palm Point
Palm Springs North
Palmetto Country Club Estates
Palmhurst
Palmland Estates
Palmland Homes South
Palmland Park
Palms of Pinecrest Condos
Panache
Paradise at Dadeland
Paradise at Sunset Condos
Paradise Pointe Condos
Paradise Reef
Paradise Villas
Parc Lofts
Parc Vista
Park Estates
Park Lakes By The Meadows
Park Lane in The Grove
Park Villas at Hammocks
Parkers Flagler Heights
Parkers Shores
Parkmoor Manor
Parkview at Brickell
Parkway Towers
Parkwood Terrace
Pasadena Park
Paseo Real Condos
Pathways Condos
Patio Homes of Doral Pines
Peacock Place
Peacocks Point
Pelican Bay at Old Cutler
Pelicans Point
Peppertree Village
Pepperwood
Percival Gardens
Perrine Gardens
Perrine Manor
Peters Addition
Peterson
Phelans Manor
Phoenix Park
Pinar Estates
Pinar Villas
Pine Acres
Pine Grove Condos
Pine Haven
Pine Highlands
Pine Lake
Pine Meadows
Pine Meadows Estates
Pine Needle Estates
Pine Ridge Estates East
Pine Shore
Pine Tree Manor
Pine Tree Park Addition
Pine Villa Estates
Pineacres
Pinebark Condos
Pinebrooke Condos
Pinecrest
Pinehurst Villa Addition
Pinemount
Pines Acres
Pineview at Kendall Condos
Pinewood
Pinewood Grove
Pinewood Homes
Pinewood Park
Pinewood Park Addition
Pioneer Ludlam Estates
Pirates Cove
Platinum Condos
Plaza On Brickell
Pleasant Village
Poinciana at Sun Lakes Estates
Poinciana at Sunset
Poinciana Gardens
Poinciana Village Condos
Point Lake Condos
Point Royale
Pomana
Pomelo Park
Ponce Estates
Pool N Patio Estates
Porter Manor
Porvenir
Povoa Gardens
Precious Homes
Presidential Estates
Presidential Estates South
Prime Lake Village
Princess Park
Princess Park Manor
Princeton Square
Princetonian By The Park
Princetonian Estates
Prio Estates
Promenade at Kendale Lake
Promenade Shores at Doral
Pueblo Del Sol
Puerta De Palmas Condos
Puerta Del Sol Condos
Puerto Bello Condos
Quail Roost
Quantum on the Bay
Quatraine Condos
Queens Park
Quirch
Radio Heights
Radio Park
Railroad Addition
Rainbow Gardens
Rainbow Park
Rainbows End
Ramas of Kendall
Rambler Square
Rana Park
Ranch Estates
Ranchero Homesites
Ranchero Manor
Rancho Villas
Randall Park
Randolphs Addition
Rawlins Park
Redland Park Estates
Redlands
Redlands Colonial Estates
Redlands Cove
Regent Palace Condos
Reid Acres
Rich Heights
Richards Manors
Richland Estates
Richland Heights
Richmond Heights
Richmond Heights Estates
Richmond Heights Estates 7Th Ad
Richmond Homes
Richmond Meadows
Richmond Park
Ricmar Heights
Ridge Crest
Ridgeline Estates
Ridgeview Addition
Ridgeview Gardens
Ridgeway
Ridgewood
Rioplaza Condos South
Ritz Carlton
Ritz Carlton Grove
Ritz Highlands
Rivendell
River Bend
River Parc Estates
River Run Condos
River Run South
River Run Yacht Club Condos
Rivera Manor Addition
Riverdale
Riverdale Estates Addition
Riversedge
Riverside Farms
Riverside Manor
Riverview
Riverwood
Riviera Estates
Riviera Gardens
Riviera Trace
Roads at 21St Condos
Roads End Village Condos
Robayna Subdivision
Rock Reef
Rockerman Heights
Rogers Addition
Rolling Hills Estates
Roney Palace Condos
Roosevelt Park
Rose Glen
Rose Park Addition
Rosehaven
Roseway
Roswell Greens
Royal Breezes
Royal Gardens
Royal Glen
Royal Home Place
Royal Oaks
Royale Green
Royalton
Rustic Village
Sabal Chase
Sable Palm Estates
Sabrina Estates
Safe Haven Estates
Saga Bay Gardens Condos
Saga Bay Townhomes
Sailboat Cay Condos
San Denis Estates
San Isidro Estates
San Jose
San Lorenzo Condos
San Marco
San Sebastian
Sanders Estates
Sandpiper Villas Co-Op
Sans Souci Estates
Santa Clara
Santa Maria Condos
Savannah Ranches
Saygables Condos
Saymer
Schenley Park
Scott Lake Manor
Sea Grape Townhomes
Sea View Park
Seagrape Village Condos
Seapines
Seaside Villas Condos
Seastone Homes
Security Homesites
Seminole Crest
Seminole Lawn
Serenity on the River Condos
Serino
Seventh Ave Park
Sevilla Gardens
Seville
Shadow Earth Estates
Shadowlawn
Shanonvale
Sharon Estates
Shenandoah
Shenandoah Manor
Shenandoah Park
Shennandoah
Shephard Heights
Sherna Park
Sherwood Heights
Shoma Condos at Keys Cove
Shoma Estates
Shore Acres
Shore Crest
Shorecrest
Shoreline at the Hammocks
Shores Edge Condos
Sickles Grove
Sierra Addition
Sierra Mirada
Sierra Ridge
Signature Gardens
Silver Blue Lake Estates
Silver Bluff Estates
Silver Bluff Gardens
Silver Bluff Homesites
Silver Crest
Silver Lakes
Silver Lakes North
Silver Lakes South
Silver Palm
Silver Palm East
Silver Palm Homes
Silver Palm Lake
Silver Palm Park
Simmons Manor
Sion Estates
Sky Lake
Sky Lake Terrace
Sky Lake Villas
Skyline at Brickell
Skylofts Condos
Smith Park
Smith River Drive Historic District
Smith Terrace
Snapper Creek Estates
Snapper Creek Lakes
Snapper Creek Park
Snapper Creek Townhouses
Snapper Creek Villas
Snapper Village
Snug Harbor
Solaris at Brickell Bay
Sonara at Malibu Bay
Sonesta Hotel
Sonoma Lake Condos
South Bay Estates
South Coral Homes
South Gate Subdivision
South Grove
South Kendall
South Miami
South Miami Gardens
South Miami Heights Addition
South Miami Heights Manor
South Miami Lakes
South Point First Addition
South Ridge Heights
South Shenandoah
South Springs Homes
South Vedado
South View
South Winds Condos
Southern Estates
Southern Gardens
Southland Pines
Southwest Manors
Southwind Point
Southwood
Spanish Court
Spanish Lakes Addition
Spanish Trace Condos
Spicewood
Sport Acres
Spring Gardens
Spring Hill
Spring View
Springer Grove Addition
St James Park
Star Lakes Estates
Star Lofts
Starlight By The Hammocks
Stephens Manor
Stewart Acres
Strawberry Field
Stuart Terrace
Sturgeon Heights
Sugar Tree Grove
Sugarwood
Summerville
Summit Park Estates
Summit Tower
Sun Valley Estates
Sundance
Sunfish at the Hammocks
Sunflower at the Hammocks
Sunkist Estates
Sunkist Grove
Sunny Acres
Sunny Gardens Estates
Sunny Grove
Sunny Haven
Sunny Isles Inland
Sunny Slope Park
Sunrise Heights
Sunrise Manor
Sunrise Point
Sunset Acres
Sunset Addition
Sunset Estates
Sunset Groves
Sunset Harbour
Sunset Heights
Sunset Lake
Sunset Lakes Estates
Sunset Manors
Sunset Pines
Sunset Place
Sunset View
Sunset Villas
Sunset West
Sunshine Village
Sunshine Vistas
Sunswept Isle
Sunwood Condos
Superior Homes Estates
Superior Park
Sussyan
Suwannee Park
Swannanoa
Sweetwater Estates
Sweetwater Groves
Sylvania Heights
Sylvanmere
Talia Manor
Tamiami Acres
Tamiami City
Tamiami Gardens
Tamiami Groves
Tamiami Heights
Tamiami Highlands
Tamiami Lakes
Tamiami Pineland
Ten Museum Park
Ten Museum Park Condos
Tennyson Heights
Terra Lake Villas
Tetrastar
The Aston Condos
The Bank Condos
The Bellagio Condos
The Citadel Condos
The Club at Brickell Bay
The Collins Condos
The Coral Crest Condos
The Courts at Doral Isles
The Courts of Kendall
The Crossings
The Decoplage Condos
The Emerald at Brickell
The Executives Residences
The Flats at Morningside
The Fountains Condos
The Four Ambassadors Condos
The Grand Venetian Condos
The Grande Condos
The Grandview Palace Condod
The Hammocks
The Ivy Condos
The Ivy Riverfront
The Jockey Club
The Landings
The Luxor Residences
The Madison Condos
The Mark On Brickell
The Metropolitan Condos
The Missions
The Moorings
The Mutiny Condos
The Palace Condos
The Palms 51 Condos
The Pines Condos
The Plaza at Brickell
The Point Addition
The Preserve Condos
The Redlands
The Ridges
The Sail Condos
The Shamrock Condos
The Shores Condos
The Terraces Condos
The Waverly at South Beach
Third Moorings Condos
Thomson Park
Three Tequesta Point Condos
Tierra Alta
Tierra Verde
Tiffany Lakes Condos
Tiffany of Kendall Condos
Tom-Peg Estates
Tonys Place
Toscano Condos
Towers of Quayside Condos
Town &Amp; Ranch Estates
Town And Country Estates
Towngate South
Trail Park
Trail Terrace
Tranquilla
Trapp Estates
Treasure Heights
Tripletts Addition
Tropical Estates
Tropical Gardens
Tropical Gardens Estates
Tropical Highlands
Tropical Landings Condos
Tropical Park
Tropico Estates
Tropics Addition
Trump Tower Ii
Turnberry Village
Tuscany Place
Twelfth Avenue Heights
Twelfth St Manors Sec 3
Twelfth Street Acres
Twelfth Street Manors
Twin Homes Village
Twin Lake Shores Central
Twin Lake Shores East
Twin Lake Shores South
Twin Lake Shores West
Twin Lakes
Twin Lakes Manor
Twin Woods
Two Midtown Miami Condos
Two Tequesta Point Condos
Udell Estates
University Acres
University Courts
University Groves
University Lakes
University Park Easy
University Park West
University Villas
Valencia Acres
Valencia Condos
Valencia Grove Estates
Vanderbilt Park
Vany Subdivision
Vareen Grove
Venetia Condos
Venetia Gardens South
Venetian Acres
Venetian Gardens
Venetian Gardens Acres
Venetian Isle Condos
Venetian Palms Condos
Venezia Homes Estates
Verabella Falls Condos
Vesubio
Vibora Park
Viceroy
Victoria Acres at Killian
Victory Gardens
Villa Del Sol Condos
Villa Grande Condos
Villa Homes at the Moors
Villa Rosa Condos
Villa Rustica Condos
Villa Vizcaya Condos
Village at Dadeland Condos
Village of Kings Creek
Villas at Cutler Ridge
Villas at Sorrento
Villas at Woodside Condos
Villas De La Fuente
Villas De Vizcaya
Villas Del Campo
Villas of Andalucia
Villas of Barcelona
Villas of Old Cutler
Virginia Gardens Estates
Virginia Park
Virginia Pointe Condos
Vista Alegre
Vista Biscayne
Vista Lago at the Hammock
Vista Trace Condos
Vista Verde
Vitran Homes at Morningside
Vue at Brickell Condos
Waddells Addition
Waldin Park Estates
Walkers
Walnut Park
Wards
Warwick Grove Estates
Washburns
Washington Park
Washington Place
Waterbury
Waterside Townhomes
Waterview Condos
Wayside Condos
Webb Acres
Webster Terrace
Weitzer Country Homes
West Bird Village
West Broadmoor
West Cherry Grove
West Flagler Center
West Flagler Park
West Fontaine Condos
West Grove
West Hardee
West Lakes Estates
West Little River
West Miami Shores
West Miller Heights
West Perrine Addition
West Shore Crest
West Silver Crest
Westbrooke
Westbrooke Gardens
Westchester
Westdale
Westend Park
Westhaven
Westmoor
Westmoreland
Westview Manor
Westwind Lakes
Westwood Estates
Westwood Lake
Westwood Manor Estates
Whistling Pines Creek
Wind Condos
Windemere Woode
Windward Estates
Windward Heights
Winona Park
Winsor Manor
Winston Park
Wisperwood Village
Wolverine Park
Wonderly Estates
Woodcrest
Woodgate
Woodgate North
Woodland Addition
Woodmere
Woodridge
Woods Lake
Woodside
Woodside in Kendall Condos
Wyndwood Park
Wynwood Art District
Yacht Harbour Condos
Yancey
Ye Little Woods
Yeatman
Yolanda Villas Condos
Yoyimar Sub
Zacarias
Zamora Estates
Zena Gardens
Zunjic Estates
Early settlement in Miami occurred along Biscayne Bay at the mouth of the Miami River. The Tequesta Indians had a camp there, and later pioneers established trading posts in the same location. The original city of Miami was developed along the banks of the river. Although the river facilitated the original settlement, it was the arrival of the railroad in 1896 that created the city.
The city of Miami expanded in a northerly and southerly direction. Development in the city occurred along the railroad, the Miami River, and the ridge located north of the river along Biscayne Bay. Expansion to the east was limited until work began on the Everglades drainage project.
The city's original limits encompassed an area of about two square miles, with the north bank of the Miami River as the focal point. The city limits extended approximately one and one-half miles north and south, and one mile east and west. The blocks were laid out in a grid and were longer east-west than north-south. Streets running east and west were designated by numbers beginning with First Street at the northern limit. North-south streets were called avenues beginning with Avenue "A" one block west of Biscayne Bay. Twelfth Street was designated as the main street and business center, but the Boulevard, which followed the shores of the bay, was the lure for tourists.
Eaton, Sarah and Welcher, Vicki, Downtown Miami Multiple Resource Area, 1988, nomination document, National Park Service, National Register of Historic Places, Washington D.C.
Nearby Towns: Coral Gables City • Miami Beach City •
---