Mobile City
Mobile City Hall is located at 216 East Pritchard Avenue, Mobile, AL 36610.
Phone: 251‑208‑7576.
---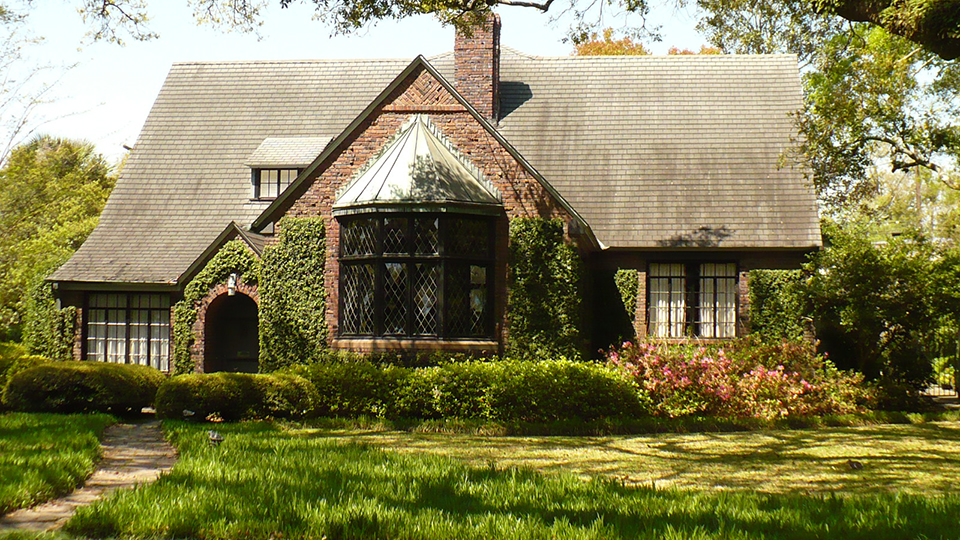 Photo: Home at 109 Lanier Avenue, Ashland Place Historic District, Mobile, Al. The Historic District was listed on the National Register of Historic Places in 1987. Photographed by User:Altairisfar (own work), 2008, [cc-1.0], via Wikimedia Commons, accessed July, 2021.
---
Mobile zip codes: 36602, 36603, 36604, 36605 36606, 36607, 36608, 36609 36610, 36611, 36612, 36613 36615, 36617, 36618, 36619 36693 and 36695.
Beginnings [1, 2]
Spanish explorer Alonzo Alvarez Pineda first explored the area that would become Mobile in 1519 during a voyage on which he charted much of the Gulf of Mexico. Pineda met with local Indian groups in the interior along the Mobile River. Two decades later, Hernando de Soto, traveled to the area in search for gold. Unlike Pineda, de Soto's encounters with local Indian peoples were violent and many Spanish troops and Indians were killed. In 1559, a final Spanish explorer, Tristan de Luna, established a short-lived settlement near Mobile. After a hurricane devastated the expedition, the Spanish government abandoned its search for gold in the area. It would be another century before a European country explored the lower Gulf Coast.
Neighborhoods
Acropolis Heights
Aden Hills
Adobe Ridge Estates
Airport Acres
Alexander Heights
Alpine Hills
Alpine Park
Arlington Oaks
Arlington Woods
Ashland Park
Ashland Place
Ashley Oaks
Ashmoor Place
Audubon Cove
Audubon Place
Audubon Square
Augusta Place
Austin Estates
Autumn Leaf Estates
Autumn Ridge
Avonlea
Azalea Heights
Azalea Hills
Bass Heights
Basswoods
Battery Heights
Bay Ridge Estates
Bay View Heights
Bayside Estates
Belle Chase
Belle Chene
Bellevue
Bent Tree Condos
Bentbrooke
Bentley Woods
Berkshire Hills
Bevis Estates
Bienville Woods
Blacksher Downs
Bon Air Estates
Bonneau Estates
Brackett Heights
Bradford Place
Brandonwood
Branson Estates
Breckenridge
Brentwood
Breydon Square
Briarcliff
Briarfield
Briargrove
Bridlewood
Brindlewood
Broadmoor
Brookley Heights
Brooks Manor
Brookside
Brookstone
Brookwood
Buckmill
Buena Vista
Burma Hills
Calderwood
Cambridge Estates
Cambridge Place
Cameron Place
Canterbury Heights
Carol Plantation
Carriage Hills
Carrington
Castlewood
Cattle Branch Estates
Cedar Bend
Champion Hills
Chapel Hill
Charleston Oaks
Charleston Pointe
Cherry Ridge
Chesterfield Estates
Ching Farmettes
Ching Lynch Estates
Cobblestone
Colleen Acres
College Woods
Colonial Heights
Colonial Hills
Colonial Oaks
Colonial Terrace
Common Street Historic District
Concord Place
Coronado Estates
Cottage Crest
Cottage Estates
Cottage Green Condos
Cottage Hill Estates
Cottage Park Estates
Country Club Estates
Country Club Village
Country Club Woods
Crawford Hills
Crestview Woods
Crystal Lake Estates
Dauphin Acres
Dauphin Heights
Dawes Point
De Tonti Square Historic District
Deer Run
Devonshire
Dixon Heights
Dominion
Driftwood Acres
Druid Hills
East Village Chickasaw
Edgefield Estates
Edgewood Estates
El Monte
Elinor Place
Evergreen Gardens
Fairfield Place
Fairmont
Floral Gardens
Forest Glen
Forest Heights
Forest Highlands
Forest Hills
Forest Ridge
Fox Creek
Franklin Estates
Fulton Ridge
Gatewood
Georgetown
Gina Acres
Glen Acres
Golden Acres
Goldmine Estates
Government Street Heights
Government Street Terrace
Greenfield Park
Greenview Heights
Greenwich Hills
Greenwood Estates
Gulf Haven
Gulf Hills
Gulf Manor
Hamilton Estates
Hamilton Oaks
Hancock Estates
Harbor Hills
Harbor View
Hartsfield Station
Hattie Hammac Estates
Hearthstone
Heidland Acres
Henry Road Estates
Heritage Estates
Heritage Hills
Heritage Woods
Hickory Ridge
Highland Estates
Highland Woods
Highpoint Estates
Hillcrest Oaks
Holly Springs
Huffman Estates
Hunters
Hunters Ridge
Huntleigh Woods
Idlewood
Idonia
Indian Hills
Indian Springs
Inverness
Irongate
Island Farms
Islewood
Jackson Heights
Japonica Estates
Japonica Woods
Jordans Landing
Julia Woods
King Place Estates
Kingswood
Lakewood
Lamplighter Woods
Lebaron Woods
Lee Estates
Live Oak Plantation
Lloyds Lane
Lloyds Station
Longleaf
Lower Dauphin Street Commercial District
Lower Dauphin Street Historic District
Magnolia Downs
Magnolia Grove
Magnolia Hills
Magnolia Village
Malibar Heights
Martha Court
Maryknoll
Mauvilla Forest Estates
Mayfair Hill
Mckenna Heights
Meadowbrook
Melanie Manor
Mertz Heights
Midtown Historic District
Miramar Heights
Mobile Bay
Moody Estates
Morgan Estates
Morhaven
Morningside Manor
Moss Cove
Muir Woods
Myland Acres
Myrs Estates
Nelson Estates
Nelson Manor
New Springhill Estates
Newcastle Estates
Newman Crossing
Nicholas Acres
North Woods
Oak Cliff
Oak Forest
Oak Harbor
Oak Hill
Oak Pointe Place
Oakland Heights
Oakleigh
Oakleigh Garden Historic District
Oakleigh Woods
Oakridge
Oakwood Estates
Orchard Estates
Overlook Heights
Overlook Pines
Park Forest
Park Heights
Park Place Estates
Parker Estates
Parkview Estates
Pennington Woods
Pepper Ridge
Perch Point
Pherin Woods
Picardy Estates
Pine Acres
Pine Grove
Pine Run
Pine Station
Pinehurst
Pineview Heights
Pinewood
Pirates Cove
Pleasant Valley Homes
Prichard Heights
Prichards Heritage Estates
Princeton Woods
Professional Park
Providence Estates
Quail Crossing
Ramada Estates
Ravine Woods
Regency Oaks
Remington Estates
Renaissance
Ridgefield Commons
Ridgewood Acres
River Forest
Riverside
Riverstone
Riverview
Riviere Du Chien
Robins Heights
Rolling Acres
Rolling Hills
Rosedale
Rosehaven
Rosswood
Saddlebrook
Sandalwood
Sans Souci
Scarborough Heights
Scenic Drive Estates
Scenic West Estates
Scott Acres
Scott Plantation
Shadowlawn
Shady Acres
Shannon Heights
Shenandoah
Sherwood
Shore Acres
Siena Vista
Silverwood
Sky Ranch
Skyland Park Estates
Skyline Ridge
Skyline Woods
Snow Estates
Speedway Acres
Spice Pond Estates
Spring Brook Farms
Spring Brook Villas
Springhill Heights
Springhill Manor
Springhill Oaks
Springhill Woods
Spyglass Pointe
St Jude Woods
St Louis Lofts
Stone Ridge
Stonebrooke
Stonegate
Sugar Creek
Summer Woods
Summerfield
Summerglen
Summertree Estates
Summit Hills
Sunset Hills
Sunset Ranch
Tara Estates
Taylor Pointe
The Cedars
The Colonnades
The Commons
The Cottages of Wildwood
The Gardens of Cottage Hill
The Hamptons
The Lakes
The Oaks at Chancery
The Oaks at Westlake
The Palms of West Mobile
The Pines
The Timbers
Timber Ridge
Timberlane
Todd Acres
Tolbert Estates
Trinity Gardens
Tutor Estates
Vayu Heights
Vista Ridge
Walker Woods
Watson Manor
Wedgefield
Wellington Estates
Western Hills
Westfield Manor
Westminster Estates
Westover
Whispering Oaks
Whittington Estates
Wildwood Heights
Williamsburg
Willow Brook
Willow Pointe
Willow Run
Willow Woods
Wimbledon
Winchester Woods
Wind Dance Estates
Windgate Estates
Winston Square
Winston Woods
Wolf Ridge Manor
Wolff Heights
Woodard Estates
Woodberry Forest
Woodlawn Estates
Woodlea
Woodmont
Wynnfield
Yancey Glen
Yester Oaks
The City of Mobile is the county seat. Both the city and the county derive their name from Fort Louis de la Mobile, a French fortification erected near Mount Vernon in 1702. Mobile was moved downriver to its present location in 1711. The word Mobile is believed to come from a Choctaw Indian word for "paddlers." The area was occupied by the French from 1702-1763, by the British from 1763-1780, and by the Spanish from 1780-1813. Courthouse fires occurred in 1823, 1840, and 1872.
Alabama Humanities Foundation, Auburn University, Encyclopedia of Alabama: Mobile, www.encyclopediaofalabama.org, accessed December, 2013.
Alabama Department of Archives and History, Alabama Counties: Mobile County, www.archives.state.al.us, accessed December, 2013.
Nearby Towns: Chickasaw City •
---