Wasatch County, Utah
The Wasatch County Courthouse is located at 1361 S US Highway 40, Heber City, Utah 84032; phone: 435-654-2679,
---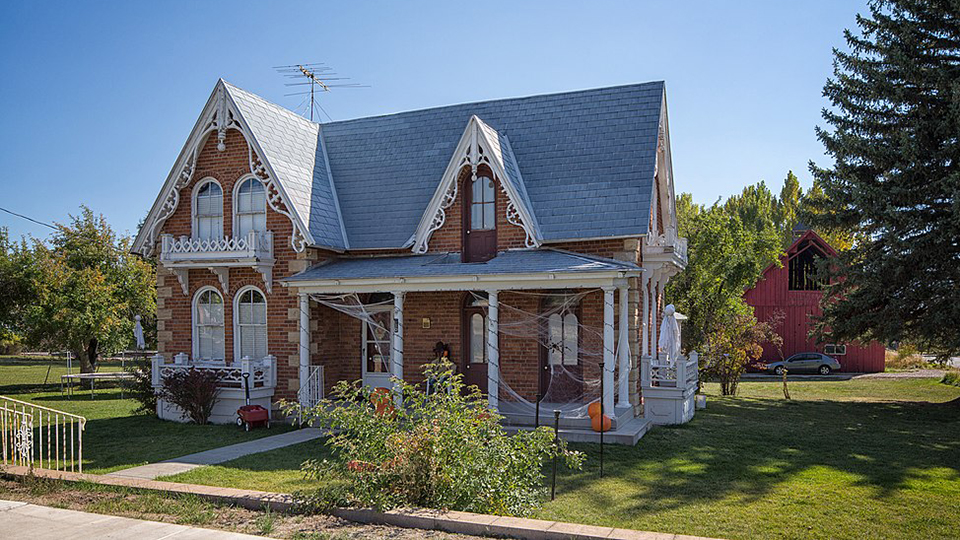 Photo: William Bonner House, circa 1877, located at 103 East Main St, Midway. The Historic District was listed on the National Register of Historic Places in 1986. Photographed by wikipedia username:WLNewland (own work), 2012, [cc-3.0], via Wikimedia Commons, accessed March, 2023.
---
TOWNS
Charleston Town
Daniel
Midway City
Timber Lakes
Wallsburg Town
Beginnings [†]
Utah's Switzerland—that's what people call this place! Why? Because of the rugged beauty of Mount Timpanogos overlooking Heber Valley, the green meadows, the streams, the cool climate, and the large population of Swiss people who settled in Midway in the 1800s.
Fur trappers, including Etienne Provost from Taos, New Mexico, and William H. Ashley and members of his company from St. Louis, Missouri, passed through the area in the 1820s and 1830s.
The first Euro American settlers came into Wasatch County from Utah Valley in the spring of 1859. They built homes a little bit north of present Heber City. That same year, settlers also moved to the Midway and Charleston areas.
In 1862 the territorial legislature created Wasatch County, which then included the entire Uinta Basin. ("Wasatch" in Ute may mean "mountain pass" or "low pass over high range.") Heber City, named for Mormon apostle Heber C. Kimball, became the county seat.
Over the years, many Wasatch citizens worked in the mines at Park City, sometimes as strikebreakers. Others sold hay and other agricultural goods to Park City.
Mostly people worked in agriculture, producing hay, dairy products, sheep, and cattle.
† Utah Department of Cultural and Community Engagement, I Love Utah History, www.ilovehistory.utah.gov, accessed March, 2023.
HISTORIC SITES
Austin-Wherritt House
Blackley, George, House
Bonner, George, Jr., House
Bonner, George, Sr., House
Bonner, William, House
Burgener-Boss Farmstead
Clotworthy--McMillan House
Clyde, James William, House
Coleman, William, House
Crook, Heber and Matilda, House and Lake Creek Schoolhouse
Crook, John, House
Fisher, David, House
Hatch, Abram, House
Hewlett, Lester F. and Margaret Stewart, Ranch House
Murdoch, John, House
Murdock, Joseph S., House
Snake Creek Hydroelectric Power Plant Historic District
Stewart Ranch Foreman's House
Stewart, Barnard J., Ranch House
Stewart, Charles B., Ranch House
Stewart, Samuel W., Ranch House
Watkins-Coleman House
Watkins, John and Margaret, House
White, Ethelbert and Stewart, William M., Ranch House
Wootton, Attewall, Jr., House
---