Park City
Park City administrative offices are located at 445 Marsac Avenue, Park City, UT 84060.
Phone: 435‑615‑5000.
---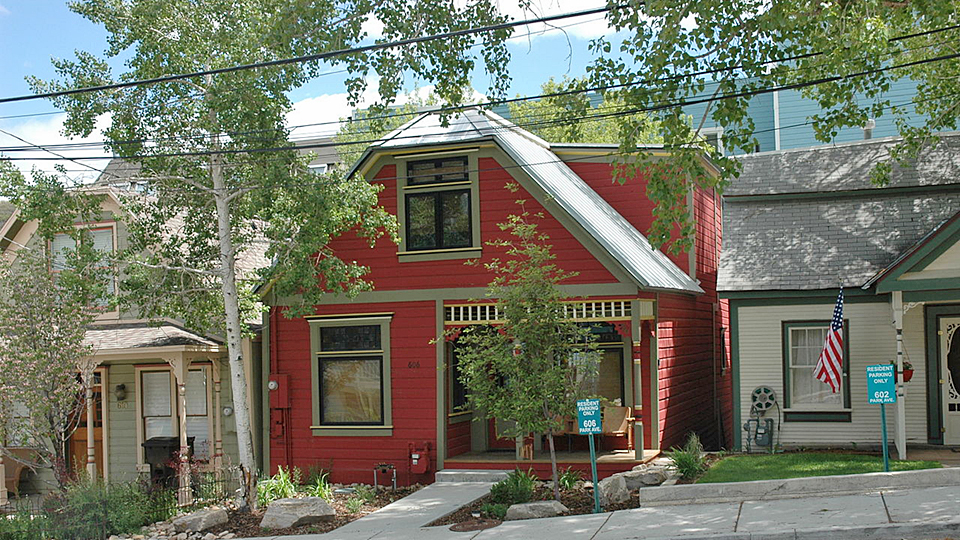 Photo: John F. Cunningham House, ca. 1901, 606 Park Avenue, Park City, UT. Listed on the National Register of Historic Places in 1984. Photographed by user:Tricia Simpson (own work), 2012, creative commons [cc-3.0], via Wikimedia Commons, accessed February, 2021.
---
Park City [1] is a town that has truly been on a roller coaster ride through history. From the discovery of silver in the late 1860s to its incorporation as a city in 1884 to the peak of its natural resource harvest in the mid-1890s to the "great" fire in 1898 to its "ghost town status" in the 1950s to its weak revival as a ski town in 1963 to hosting the Winter Olympics in 2002 to the present...the town has constantly reinvented itself. The success of the community is based on both its geographical gifts and its inventive population; a people that know that the natural gifts present in and around this town are its most valuable resource.
Neighborhoods
Arrowleaf
Aspen Hollow
Aspen Ridge Ranch
Aspen Springs
Aspenbrook
Back Nine
Bald Eagle Club
Bear Hollow
Belle Arbor
Blackhawk Station
Brook Hollow Village
Caledonian
Canyon Creek
Canyon Links
Canyon View
Carriage House
Cedar Draw Estates
Cedar Ridge
Chaparral
Chateaux
Chatham Crossing
Chatham Hills
Colony at White Pine
Cottages at Silverstar
Courtyard at Quarry
Cove at Eagle Mountain
Cove at Sun Peak
Cove Estates
Crescent Ridge
Crestview
Deer Crest Village
Deer Lake Village
Eagle Pointe
Eagle Ridge
Ecker Hill
Ecker Village
Edelweiss Haus
Elk Run
Elliott Grove
Escala
Fairway Hills Estates
Fairway Meadows
Fairway Springs
Fairway Village
Four Lakes Village
Fox Pointe
Galleria
Gleneagles
Glenwild
Goshawk Ranch
Greyhawk
Hearthstone
Hidden Creek
Hidden Meadows
Hidden Oaks
High Meadows
Highland Estates
Holiday Ranchettes
Ironwood Townhomes
Jeremy Cove
Jeremy Park
Jeremy Ranch
Jupiter Inn
Knoll Estates
Lakeside
Mahogany Hills
Main Street Historic District
Marsac Mill
Meadow Wild
Meadows Estates
Moose Hollow
Mountain Ranch Estates
Newpark Residences
Newpark Resort Townhomes
Northshire
Overlook
Paintbrush
Park Avenue Condos
Park City Village
Park Hotel Condos
Park Meadows
Park Place
Park Ridge
Park Station
Park West
Parkwood Place
Pine Creek
Pine Ridge
Pinebrook Cottages
Pinebrook Pointe
Pinnacle
Powderwood
Prospector Square
Quarry Mountain
Queen Esther Village
Racquet Club
Ranch Creek
Ranch Place
Red Pine Condos
Ridgepoint
Risner Ridge
Royal Plaza
Saddle Condos
Sagebrook
Sandstone Cove
Shadow Mountain
Shadow Ridge
Silver Baron
Silver Creek
Silver King
Silver Meadows
Silver Springs
Silver Star
Silver Strike
Silver Summit
Silverado
Silvertown
Sliver Star
Snow Canyon
Snow Country
Snow Flower
Snowcrest
Snowflower
Snyders Addition
Solamere
Southridge
Southshore
Spring Creek
Stagecoach Estates
Stonebridge
Summit Park
Summit Watch
Sun Creek
Sun Meadow
Sundial
Sunflower
Sunridge
The Aerie
The Colony
The Cottages
The Cove at Sunpeak
The Knoll
The Oaks
The Oaks
The Preserve
The Ridge at Redhawk
The Trails at Jeremy
Three Kings
Timberwolf Estates
Toll Creek Village
Treasure Hill
Treasure Mountain
Tuhaye
Victorian Village
View Pointe
Village Lofts
Wasatch Condos
West Hills
Westgate
Willow Bend
Willow Creek Estates
Park City was founded as a silver-mining town in 1869.
Beginnings [2]
Sources remain uncertain as to who made the first discovery, but the first claim filed in the district became the Young American lode, recorded on December 23, 1868. However, the discovery of the rich Ontario mine initiated efforts to mine lode ores and acted as the catalyst for Park City's rapid notoriety as a great silver mining camp. In 1872, shortly after the discovery, the mine was sold to George Hearst, a San Francisco "mining man," and run by R. C. Chambers until 1901.
Coupled with the completion of the Transcontinental Railroad, that spurred mining development in 1869, the Ontario ignited new growth in the district of Park City. The Pinon, Walker and Webster, Flagstaff, McHenry, Buckeye, and other mines also shipped small amounts of ore. By 1879, the Ontario operation flourished, with homes springing up near the mine and lower down the canyon near the present site of Park City. A camp burgeoned.
Park City General Plan, 2014, www.parkcity.org, accessed February, 2021.
Philip F. Notarianni, historian, Utah State Historical Society, Main Street Historic District, Park City, Utah, nomination document, 1978, National Park Service, National Register of Historic Places, Washington, D.C.
---