Austin City
Austin City Hall is located at 301 West 2nd Street, Austin TX 78701.
Phone: 512‑974‑2200.
---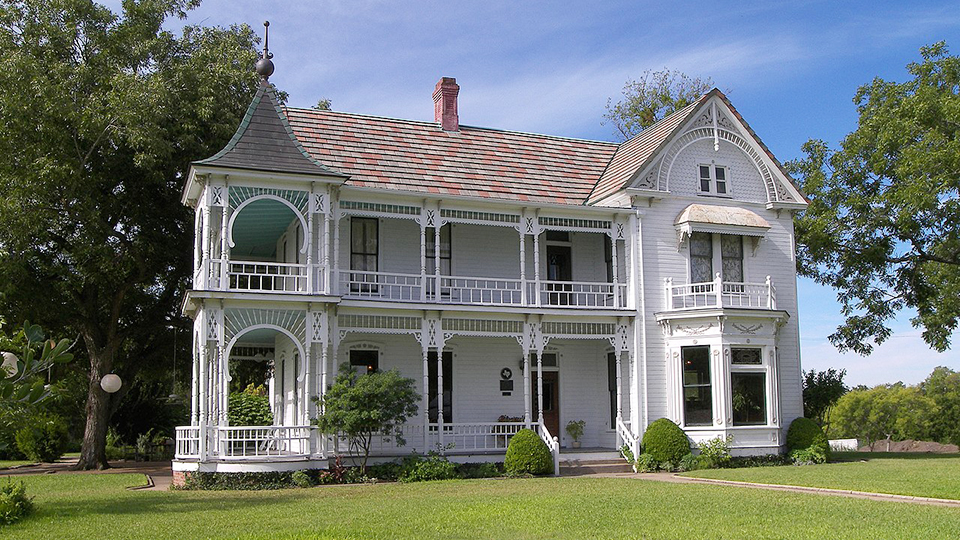 Photo: William Braxton Barr House, ca. 1898, 10463 Sprinkle Road; listed as a National Historic Landmark in 1983. Photographed by Larry. D. Moore, 2008, (own work) [cc-by-3.0], via Wikimedia Commons, accessed May, 2021.
---
Beginnings[1]
The City of Austin was established in 1830 as the new capital of the Republic of Texas, and was laid out by Edwin Waller under the direction of President Mirabeau B. Lamar. Waller's plan, based on the eighteenth-century plan for Philadelphia, consisted of a grid with a central square at which major crossing axes terminated; smaller, secondary squares were located within the plan. The grid was part of a larger government tract which encompassed what would later become East Austin. However, during the first decades of the new city's life, the eastern parts of the government tract remained undeveloped save for the occasional use of the City Cemetery, State Cemetery, and the construction of the French Legation, a lone outpost on Robertson Hill in 1841.
Neighborhoods
Acres West
Adams Avenue Condos
Akoya Condos
Alamo Heights
Aldea Del Sol Condos
Aldridge Place Historic District
Alicante Condos
Alicante Townhomes
Allandale
Allandale Estates
Allandale North
Allandale Oaks
Allandale Park
Allandale Place
Allandale Terrace
Allandale West
Alta Mira at Circle C Ranch
Alta Vista
Anderson Mill
Anderson Mill Village
Anderson Mill Village South
Angus Valley
Ann Arbor Condos
Apache Shores
Apaches Shores
Appaloosa Run
Apple Tree Condos
Aqua Monte
Aqua Verde
Arbolago
Arboles Terrace
Arbor at Great Hills
Arbor Village Condos
Arboretum Park Residential Condos
Arboretum Village Condos
Arbors at Riverside
Arcadia Condos
Arrowhead Point
Arthur Condos
Ashdale Gardens Condos
Ashley Oaks
Ashton Woods Condos
Austin City Lofts
Austin Heights
Austin Highlands
Austin Lake Estates
Austin Lake Estates
Austin Lake Hills
Austin Oak Terrace Condos
Austin Rivertree Condos
Austins Colony
Avenel at Hyde Park Condos
Avenue Lofts Condos
Avery Commons
Avery Estates
Avery Ranch
Avery Ranch East
Avery Ranch Far West
Avery Ranch Garden Homes
Avery Ranch North
Avery Ranch South
Avery Ranch West
Aviara
Avon Heights
Avon Heights
Bailey Oaks
Baker Hills
Balcones Greene
Balcones Oaks
Balcones Park Addition
Balcones Place Condos
Balcones Terrace
Balcones Towers Condos
Balcones Village
Balcones West
Baldwins Point
Bancroft Woods
Banister Acres
Banister Heights
Bar-K Ranches
Barker Ranch at Shady Hollow
Barrington Oaks
Barton Bend
Barton Creek
Barton Creek
Barton Creek North Rim
Barton Creek Preserve
Barton Creek West
Barton Heights
Barton Hills
Barton Hollow
Barton Place Condos
Barton Terrace
Barton Valley
Barton View
Barton Village
Battle Bend Springs
Bauerle Ranch
Beacon Ridge
Bear Creek Oaks
Bebys Ranch
Beckett Meadows
Beckett Place
Bee Cave Woods
Bee Creek Condos
Bee Creek Hills
Beecave Woods
Bel Air Condos
Belhaven
Bella Strada
Bella Terra Condos
Bellaire
Bellaire Heights
Bellvue Park
Belmont
Belterra
Belvedere
Beverly Heights
Beverly Hills
Beverly Ridge Condos
Big Country
Blanco Heights
Blue Bonnet Gardens
Blue Hills Estates
Bluebonnet City Homes
Bluebonnet Hills Historic District
Bluffington
Bluffs at Balcones
Boca Raton
Bouldin Creek Condos
Bouldin Historic District
Boulevard Heights
Bowling Green Condos
Bradshaw Crossing
Braes Ridge Add
Brandywine Condos
Braswell
Bratton Hill
Bratton Park
Brazos Lofts
Brazos Place Condos
Breezy Hollow Addition
Brentwood
Briarpatch
Bridges at Bear Creek
Bridges on the Park
Bridgeview
Bridgeway Villas
Brinwood
Broadacres
Brodie Heights Condos
Brodie Springs
Brook Meadow
Brooks Hollow
Brooksdale
Brookside Estates
Brookside Villas Condos
Brookswood
Brown Building Lofts
Brown Herman Add
Brushy Creek Village
Bruton Springs
Bryker Woods
Buckingham Estates
Buckingham Ridge
Buddington
Buell Park
Buena Vista
Buffalo Gap
Bull Creek Ranch Condos
Bull Mountain
Bungalows at the Forty Acres
Burleson Road Heights
Burnet Heights
Bush Ranch
Calera Court Condos
Cambridge Condos
Camelot
Camelot West
Cameron Park
Campion
Cannon Ridge Condos
Cantera Vista Condos
Canterbury Commons Condos
Canterbury Square
Canterbury Trails
Canyon Creek
Canyon Mesa
Canyon Ridge
Canyon Rim
Canyon Vista
Capital Heights
Capital Ridge
Cardinal Hills
Cardinal Hills Estates
Carrell Oaks
Carriage Crossing
Carriage Park Condos
Carrington
Carson Ridge Condos
Casas Grandes
Casitas at Avery Ranch
Caslano On Lake Austin
Caslano River Bend
Castle Heights Historic District
Castlewood Forest
Caswell Lofts
Cat Mountain North
Cat Mountain Villas
Cavalier Park
Cedar Bend
Cedar Glen
Cedar Paw Ranch
Cedar Ridge Estates
Cedar Valley
Ceniza Condos
Centennial Condos
Central Park
Cesar Chavez
Chambord Condos
Chamonix Condos
Champions Forest
Chaparral Crossing
Chappell Hill
Charleston Place
Chelsea Condos
Cherico
Chernosky
Cherry Creek
Cherry Creek
Cherry Hill Park
Cherry Meadows
Cherry Mountain
Cherrylawn
Chestnut Commons Condos
Chimney Creek Condos
Chimney Hills North
Chimney Oaks
Chimneyhilll
Chula Vista
Cima Oaks Condos
Cinnamon Ridge
Circle C Enclave
Circle C Golf Estates
Circle C Ranch
Clarksville Lofts
Clawson Place Condos
Clear Creek Addition
Cliff Over Lake Austin
Cliff Street Condos
Cliffbrook Estates
Coachlight Condos
Coffeeville
Coldwater Condos
Coldwater Ridge
Colina Vista
College Court
College Heights
Collinwood West
Colonial Hills
Colonial Park
Colonial Place
Colonial Square Condos
Colonial Trails
Colony Meadows
Colony North
Colony Park
Colony Park Hills
Colorado Crossing
Colorado East
Colorado Foothills
Colorado Hills Estates
Columbia Oaks Condos
Comanche Addition
Comanche Canyon Ranch
Comanche Pass
Comanche Point
Comanche Trail
Comanche Village
Commons at Avery Ranch
Community Fairview
Concord Village Condos
Congress Park
Cooper Oaks
Copperfield
Coppertree Condos
Cornerstone Condos
Coronado East
Costa Bella
Cottage Court Condos
Cottages at Champions Forest
Cottages at Lake Creek
Cottonwood Condos
Coulver Estates
Council Ridge Condos
Country Club Gardens
Country Club Heights
Country Club Terrace
Courtyard at Gaines Ranch
Courtyard Homes at Anderson Oaks
Courtyard Homes at Cobblestone
Courtyards at Onion Creek
Cove Condos
Covenant Estates at Regents Hill
Covered Bridge
Craigwood
Creek Bend
Creekside
Creekside at Flint Rock
Crest Haven Addition
Crest Hills
Crestland
Crestview
Crestview North
Croix Condos
Cross Creek Villas
Crossing at Bouldin Creek
Crossing at Onion Creek
Crown Ridge Village
Crystal Mountain at Barton Creek
Crystalbrook
Cullen Ave Condos
Cypress Ridge at Onion Creek
D &Amp; J Properties
Dan Jean Oaks
Danbury Square
Davenport Ranch
Davenport Rim Condos
Davenport West
Davids Park
Davis Place
Davis Spring
Dawson
Dean Terrace
Deatonhill Condos
Deep Eddy Condos
Deep Eddy Heights
Deer Creek
Deer Haven
Deer Park
Deer Park at Maple Run
Deerbrook Village
Del Curto Place
Delafield
Dellwood
Delwood East
Delwood Heights
Delwood Park
Delwood Terrace
Depew Avenue Condos
Destiny Hills
Devonshire Park
Dittmar
Dittmar Crossing
Dixie Terrace
Dominion Condos
Donna Gardens
Dorsett Oaks
Dove Springs
Dowell John
Dunbarton Oaks
Durwood Street Condos
Duval City Homes
Duval Heights
Duval Villas
Eagles Glen at Steiner Ranch
East 46Th Street Condos
East Congress
East End Flats
East Riverside
East Village Condos
Eastern Heights
Eastfield
Eastover
Edelmon Estates
Eden Acres
Edgecliff Condos
Edgecreek Condos
Edgefield Addition
Edgemont
Edgewick Condos
Edgewood
Edinburgh Gardens
Eleanor Heights
Elm Grove Addition
Elmhurst Heights
Elton Lane City Homes
Emerald Forest
Enchanted Forest
Encinal Condos
Encino Terrace
Enclave at Alta Vista
Enclave at Balcones Forest
Enclave at Hudson Bend
Enclave at Kollmeyer Springs
Enclave at Sierra Vista
Enclave at Treehaven
Enclave at Westgate
Enfield
Escala
Escondera Condos
Escorial Condos
Estates Above Lost Creek
Estates at Hunters Chase
Estates of Lakeway Hills
Eubank Acres
Fairey Oaks
Fairmont Park
Fairview Park
Fairway Heights
Fairway Ridge
Fairways On Fazio at Barton Creek
Falconhead
Far West
Fawn Ridge
Fischer Gardens
Fitzhugh Ranch
Flagstone Terrace
Flamingo Condos
Flintrock at Hurst Creek
Flournoy Heights
Flournoys Eastern Hills
Flournoys Sweetbriar
Ford Oaks
Ford Place
Forest Bluff
Forest Hills
Forest North Estates
Forest Oaks
Fort Branch
Fort View Hills
Foster Lane Townhomes
Fox Creek Estates
Fox Hollow Condos
Fox Run Ridge
Franklin Park
Frazier Addition
Fredericksburg Road Acres
Freewater Addition
French Creek Crossing
French Place
Friendship Ranch
Frontier Village
Fruth Addition
Gabardine
Gage
Gaines Ranch
Galileo at 25th
Ganzert Park
Garden Oaks
Garden Place Court
Gardens at Covered Bridge
Gardens at Spicewood
Garland Place Condos
Gaston Park
Geneva Estates
Georgian Acres
Georgian Condos
Georgian Terrace
Gerritt Hills
Giles Place
Glenlake
Glenmar
Glenway Terrace
Glenwood
Glenwood Square
Glissman
Goldenwood
Golf Club at Avery Ranch
Govalle
Governors Hill at Barton Creek
Governors Hill Condos
Gracy Meadow Condos
Gracywoods
Graham Place Condos
Granada Estates
Granada Hills
Granada Oaks
Grand Oaks
Grandview Hills
Grandview Hills Estates
Grandview Place
Grant Park
Great Hills
Great Oaks
Green Acres
Green Crossing
Green Hills
Green Trails Estates
Green Valley
Greenbriar
Greenshores On Lake Austin
Greenslopes
Greenview at Mueller
Greenway Lofts
Greenwood Forest
Greenwood Heights
Greenwood Hills
Greenwood Towers
Grooms Addition
Grover Avenue Condos
Grovers Paradise
Guadalupe Square Condos
Gullett Gardens
Gypsy Grove
Habidad Condos
Hamilton Crossing
Hancock
Hancock Estates
Hancock Park
Hancock Place Condos
Hank Ave Condos
Happy Hollow
Hardy Drive Addition
Harkins C E
Harmon Terrace
Harmony Heights
Harrington
Harris Branch
Harris Ridge
Hartford Road Condos
Hartkopf Annex
Hartwell
Harvey Street Townhomes
Haskell Condos
Hatley Park Estates
Hawthorne Ridge
Headway
Heatherwood
Heights at Loma Vista
Helms
Hennig Heights
Heritage Condos
Heritage Country
Heritage Hill
Heritage Oaks
Heritage Park at Cavalier
Heritage Square Condos
Hidden Valley
High Canyon Estates
High Pointe
High Vista
Highgrove Vista
Highland
Highland Club Village
Highland Hills
Highland Hills Northwest
Highland Horizon
Highland Oaks
Highland Park
Highland Park Court
Highland Park West
Highland Terrace
Highland Village
Highlands
Highlands at Oak Forest
Highpointe
Hillcrest
Hillcrest Mesa
Hillcrest Village
Hillridge Addition
Hills of Lakeway
Hills Texas Estates
Hillside Oaks
Hillview Oaks
Hobbs Addition
Holiday Heights
Holiday Hills
Holiday Square
Holland
Hollow Creek Condos
Holloway Addition
Holly
Holy Cross Heights
Homestead
Homewood Heights
Horseshoe Bend
Hudson Bend Colony
Hughes Park Lake
Hunter Addition
Hunters Chase
Huntland Heights
Hurst
Imperial Condod
Imperial Valley
Independence Park
Indian Hills
Indian Oaks
Inshallah Addition
Island at Mount Bonnell Shores
Island On Westlake
Island Way Condos
Jacks Pond
Jamestown
Jamestown Place Condos
Jefferson Village
Jester
Jester Estates
Jester Point
Johnston Terrace
Jolly Oaks
Judges Hill Historic District
Kasparek Addition
Kenray Condos
Kensington Park
Kenwood Place
Keystone Addition
Kings Village
Kinney Lofts
Koenig Place
Koock Addition
La Chenay Condos
La Hacienda Estates
La Prelle Place
La Terraza Condos
La Vid Condo Amd
Lacrosse
Lafayette Place Condos
Laguna Loma
Lake at Wells Branch
Lake Austin Village
Lake Chandon
Lake Country Estates
Lake Creek at Anderson Mill
Lake Creek Park
Lake Oak Estates
Lake Park
Lake Pointe
Lake Ridge Estates
Lake Ridge Heights
Lake Shore Addition
Lakehurst
Lakeland Hills
Lakeline Square Condos
Lakeshore Village
Lakeside Hills
Lakeway
Lakeway Oaks Condos
Lakewind Estates
Lakewood Condos
Lakewood Village
Lamplight Village
Lamplight West
Landmark Square Condos
Lanier Terrace
Lantana
Larson Estates
Las Casas Verdes
Las Cimas
Las Colinas at Lake Austin
Lattimore
Laurel Canyon
Laurel Heights
Laurels at Legend Oaks
Laurelwood Estates
Lawrence Estates
Ledgestone Cliffs
Legacy Oaks
Legend Oaks
Legends Lane at Onion Creek
Lenox Condos
Lewis Mountain Ranch
Liberty Park Condos
Lincoln Gardens
Live Oak Grove
Live Oak Grove South
Live Oak Terrace
Lohmans Crossing Estates
Loma Graciosa
Loma Linda
Loma Vista
Long Branch Valley
Long Canyon
Long Canyon
Longhorn Canyon Condos
Longhorn Village
Lorraine Heights
Los Indios
Lost Creek
Lost Creek at Gaines Ranch
Loveless Addition
Low Theodore Heights
Lower Tannehill
Lynndale
Macmora Cottages
Madrone Ranch
Majestic Hills Ranchettes
Malaga Condos
Malone Addition
Manana West
Manor Estates
Manor Hills
Maple Run
Marbrys Ridge
Marina Club Condos
Mariposa Apartment Homes
Mariposa Terrace
Marlo Heights
Marlton Place
Martin Luther King
Masonfield
Masontown
Mayfair Terrace
Mckinley Heights
McKinney
Mckinney Heights
Mckinney Park East
Meadow Creek
Meadow Lake
Meadow Mountain
Meadowbrook
Meadowfox Estates
Meadowlawn
Meadowridge Condos
Meadows at Bluff Springs
Meadows at Double Creek
Melrose Terrace
Meridian
Mesa Forest
Mesa Park
Mesa Point
Mesa Trails
Mesa Village Condos
Milago Condos
Milwood
Minnie Street Condos
Mira Lago
Mira Loma Park
Mira Monte Townhomes
Mission Hills
Misting Falls East
Misting Falls North
Mockingbird Hill
Monaco Condos
Monte Vista
Monterrey
Montevista Condos
Montopolis
Montview Acres
Montview Harbor
Mooreland Addition
Mor Acres
Morado Cove Condos
Morningside
Morningwood Condos
Mountain View
Mt Bonnell Village
Mueller
Murray Place
Neans Place
Neelys Canyon Condos
Nelray Place Condosamd
Nokonah Condos
North Acres
North Cat Mountains
North Creek
North Creek East
North Fork Condos
North Harmon Terrace
North Lakeway Village
North Lamar Park
North Loop City Homes
North Loop Terrace
North Meadows
North Oaks
North Park Estates
North Plains
North Point Ph
North Shields
North Shoal Creek Estates
North Sta
Northcape
Northcat Homes
Northcrest Addition
Northfield Addition
Northgate Addition
Northgate Half Acres
Northgate Terrace
Northmede
Northridge
Northridge Park
Northridge Terrace
Northtowne
Northtowne West
Northvale
Northview Hills
Northway Crest
Northwest Estates
Northwest Hills
Northwest Village
Northwood
Norwalk Square Condos
Nuckles Crossing
Nueces Corner Condos
Oak Acres
Oak at Twin Creeks
Oak Bridge
Oak Brook
Oak Cliff Addition
Oak Country Estates
Oak Creek Parke
Oak Forest
Oak Forest Villas
Oak Hill Addition
Oak Hill Heights
Oak Knoll Addition
Oak Knoll Condos
Oak Park
Oak Plantations
Oak Ridge
Oak Ridge Heights
Oak Run West
Oak Shadows Condos
Oak Shores On Lake Austin
Oak Springs
Oak Valley Park
Oakland Square
Oaklawn
Oakmont Heights
Oakwood
Oakwood Hollow Condos
Oasis Village
Oil Mill
Okie Heights
Old Town Condos
Oltorf
Oltorf Village
Olympic Heights
One Barton Place
Onion Creek
Orange Grove Condos
Orange Tree Condos
Oriens Park
Orleans Harbor Condos
Overlook
Overlook at Cat Mountain
Overlook at Pawnee Pass
Overlook Condos
Overlook Estates
Oxford Place Condos
Paddock at Commons Ford
Paddock Condos
Palomino Park
Palomino Ridge
Pamela Heights
Pannell Place
Panorama Ranch
Panther Hollow Creek
Panther Hollow East
Park at Battle Bend
Park at Crestview
Park at Duval
Park at Quail Creek
Park at Spicewood Springs
Park Forest
Park Place Condos
Park Ridge
Park West at Circle C
Park West Condos
Parke at Anderson Mill
Parker Heights
Parker Lane
Parkinson Place
Parkridge Gardens
Parkside at Slaughter Creek
Parkstone
Parkwood
Parliament Place
Parmer Lane Heights
Parmer Village
Patterson Place On Crystal Creek
Pease Estates
Pecan Bottom On Lake Austin
Pecan Garden Estates
Pecan Grove
Pecan Orchard
Pecan Springs
Pecan Tree Condos
Pecan Valley
Pecan Walk Condos
Pecos Square Condos
Pedernales Bend
Pedernales Condo S
Pemberton Heights
Penick Place
Penn Creek
Penthouse Condos
Peppertree Park
Pequeno Street
Pequeno Street Condos
Perlitz Houston
Persimmon Hollow Condos
Peterson
Pheasant Run
Pilot Knob Acres
Pinnacle at North Lakeway
Pioneer Crossing East
Pioneer Crossing West
Pipkin Addition
Plainview Heights
Plaza Lofts Condos
Plaza Place
Pleasant Hill Addition
Pleasant Valley
Pleasant View
Point Vista
Pointe at Onion Creek
Polaris Ii Condos
Polo Club at Rooster Springs
Posada Del Rey Condos
Preservation Square Condos
Preserve at Barton Creek
Preserve at Lakeway
Preserve at Lost Gold Cave
Preserve at River Place
Preston Oaks
Preswyck Hills
Q Ranch
Quadrangle Condos
Quail Creek
Quail Creek West
Quail Hollow
Quail Hollow Garden Homes
Quail Ridge
Quail Run
Quail Valley
Quarry Lake Condod
Ridgetop
Robertson Hill
Rosewood
Round Mountain Estates
Shepherd Mountain
South River City
Southeast
Springdale
St Edwards
Stonegate
Sweetbriar
The Village at Arboretum
The Woodlands
Tumbleweed Hills
Twin Mesa
University Hills
Upper Boggy Creek
Valley at Lost Creek
Valley Oaks
Valley View Acres
Valley View Park
Valley View Village
Valleyside Place
Vance Park
Ventana Condos
Verano Drive at Barton Creek
Verdance
Victoria Glen
Victoria Square Condos
Victorian Oaks
Victory Hill Condos
Viewpoint at Williamson Creek
Villa Montana
Villa West Condos
Village at Anderson Mill
Village at Kinney Court
Village at Pleasant Valley
Village at Walnut Creek
Village at Western Oaks
Village Farm
Village Oak West
Village Oaks
Village On Congress
Village On Congress Condos
Village Park at Travis Country
Village South
Village Square
Villas at Commanders Point Condos
Villas at Flintrock
Villas at River Place
Villas at Sunset Valley Homestead
Villas at Treemont
Villas Coronado Hills
Villas On Travis Condos
Villas On Walnut Creek
Vineyard Bay
Vintage Hills
Violet Crown Heights
Vista Grande
Vista Hills Condos
Vista Ridge
Vista West
Vistas at Lakeway Condos
Wagon Crossing
Walling Place
Wallingwood
Walnut Crossing
Walnut Forest
Walnut Hills
Walnut Ridge
Walsh Place
Ward Addition
Washington Heights
Washington Square
Waterford Condos
Waterford Place
Waterfront Condos
Waterloo
Watersedge
Watersmark at Barton Creek
Waterstreet Lofts
Wedgewood Condos
Welch
Werkenthin
West 9th Street Condos
West Branch
West Congress
West End Addition
West Gate Square
West Park Addition
West Park Place
West Ridge Condos
West University Place Condos
West View Heights
Westcliff
Westcreek
Westcreek Landinge
Westcreek Ranch
Westenfield
Western Hills at Cherry Creek
Western Oaks
Western Trails
Western Trails Estates
Westfield
Westfield Condos
Westhill Estates
Westlake Highlands
Westling Addition
Westminster Glen
Westover Hills
Westplace Condos
Westridge
Westridge Estates
Westshore
Westside Drive Condos
Westslope Condo
Westview Estates
Westview On Lake Austin
Westwood
Westwood Heights
Westwood Villas
Wheeler Creek Village
Whispering Oaks
Whispering Valley Condos
White Plains
Whitecrowe Addition
Whitney Oaks Condos
Wildwood Hills
Wilke Acres
Williamsburg
Williamson Creek
Willow Branch Lofts
Willow Brook
Willow Run
Willow Springs
Willowbrook North Townhomes
Wilshire Wood
Wimberley Lane at Barton Creek
Winchester Condos
Windmill Bluff Estates
Windmill Run
Windridge
Windrock Condos
Windsor Hills
Windsor Oaks Condos
Windsor Park
Windsor Park Hills
Windsor Village
Windtree Conds
Windy Cove
Winners Circle
Womack Addition
Woodbridge
Woodcliff
Woodhaven
Woodhue Heights
Woodland Hills
Woodland Oaks
Woodlawn Addition
Woodlawn Place Condos
Woodlawn West Condos
Woodrow North Condos
Woodrow Place Townhomes
Woodrow Square Condos
Woods of Greenshores
Woodstone Square
Woodstone Village
Wooten
Wooten Park
Wooten Terrace
Wooten Village
Worley Addition
Worley Addition
Wyldwood
Wynnrock Estates
Yarrabee Bend
Yarrabee Bend South
Yaupon Terrace
Zachary Scott
Zilker Place Condos
Building was slow in Austin until about 1850, when the city was assured of its position as the state capital. After that point, many new and substantial buildings were constructed by a small but active population. Commercial, religious, and governmental structures proliferated, and along with them the demand for housing. As a result, residential construction began to spread throughout the city's original grid and to push on the boundaries of those parts of the government tract which were undeveloped.
The city experienced a brief building slowdown during the Civil War and Reconstruction periods, but the arrival of the railroads in 1871 and 1876 brought tremendous growth in population and commerce. Predictably, parts of East Austin which were located in areas contiguous to the railroad on East 4th and 5th streets experienced immediate and dramatic growth, and the remainder of the original government tract was surveyed as large parcels with few roads.
Freeman, Martha Doty and Breisch, Kenneth, Historic Resources of East Austin [East Austin Multiple Resource Area], 1984, nomination document, National Park Service, National Register of Historic Places, Washington, D.C.
Nearby Towns: Rollingwood City •
---