Houston City
Houston City Hall is located at 901 Bagby Street, Houston, TX 77002.
Phone: 713.837.0311. City Government operates out of more than 500 buildings throughout the City of Houston.
---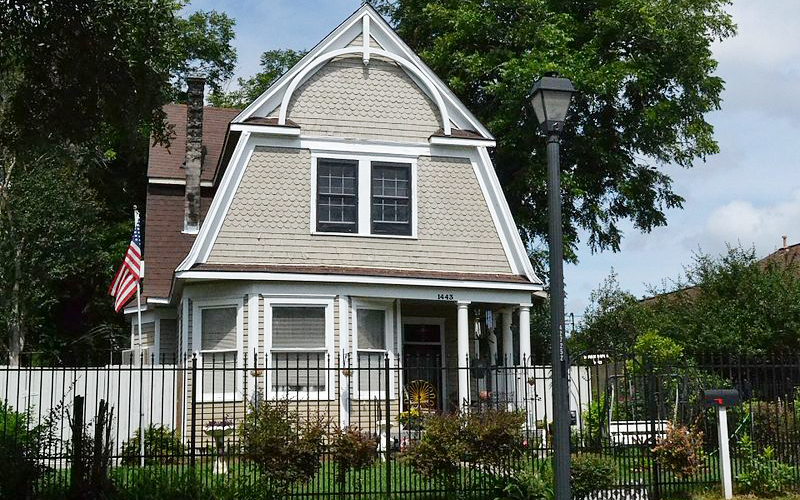 Photo: House at 1443 Allston Street, circa 1930. Listed on the National Register of Historic Places in 1983.Photographed by User: 25or6to4 (own work), 2017, [cc-4.0], via Wikimedia Commons, accessed March, 2022.
---
Beginnings [1]
A fact not generally known nor appreciated is that Houston is the result of a disagreement between the Allens and the Harrises. There was no serious quarrel or anything of that sort. They differed about land matters, with the result that the Allens, instead of joining the Harrises in their efforts to build up the already established town of Harrisburg, came 5 miles by land and about 16 miles by water further up the bayou, and laid the foundation for the rival town.
Neighborhoods
Abbey Woods
Aberdeen Green
Aberdeen Trails
Abernathy Court
Acre Homes
Adam Clay
Afton Oaks
Afton Place
Afton Village
Airline Gardens
Airline Heights
Airport Gardens
Airport Place
Alabama Court
Alabama Place
Albany Square
Albers Grove
Alden Place
Aldine Gardens
Aldine Place
Aldine Village
Alfano Court
Almeda
Almeda Manor
Almeda Park Villas
Almeda Place
Altamira
Americas Townhomes
Ames Place
Amesbury Park
Anderson Woods
Andover Place
Anita Street Townhomes
Antoine Forest Estates
April Village
Arbor at Live Oak
Arbor Green
Arbor Meadow
Archer Acres
Archers of Wright Acres
Arlington Court
Arlington Heights
Arlington Terrace
Armstrong Acres
Arnel Place
Arrowwood
Asbury Park
Asbury Square
Ashcreek
Ashford Forest
Ashford Gardens
Ashford Hills
Ashford Hollow
Ashford Park
Ashford South
Ashford Village
Ashford West
Ashland Oaks
Ashley Pointe
Ashton Village
Ashwood Condos
Aspen Club Condos
Assumption Heights
Astral Homes On Reinerman
Atkinson Townhomes
Atwood Villas
Audley Place
Audubon
Audubon Lakes
Augusta
Augusta Hills Condos
Augusta Landing Condos
Augusta Village
Austin Green
Austin Hadley Place
Austin Square Townhomes
Autumn Chase
Autumn Glen
Autumn Meadows
Autumn Oaks
Autumn Place
Avalon Place
Avon Place
Avondale
Avondale Gardens
Avondale Townhomes
Ayrshire
Azalea Village
Bacher Street Homes
Baker Place
Bakerdale
Bal Harbour
Bal Harbour Cove
Balaban Court
Balconies at Bomar
Baldwin Court
Baldwin Square
Ballpark
Ballpark Mews
Bammel Forest
Bammel Lane Park Homes
Bammel Trace
Bammel Village
Bamwood
Bancroft Square
Banning Courtyard Homes
Barbara Place
Barclay Condominiums
Barclay Condos
Barclay Estates
Barclay Place
Barkdull Street Manor
Barkers
Barkers Branch
Barkers Crossing
Barkers Landing
Barkers Ridge
Barkley Square
Barkley Square South
Barnes Woods
Barwood
Bastrop Place
Bauman Villas
Bay Forest
Bay Glen
Bay Knoll
Bay Oaks
Bay Pointe
Bayfront Towers
Bayou Bend
Bayou Estates
Bayou Glen
Bayou Island Park
Bayou Lofts
Bayou Oaks
Bayou on the Bend
Bayou Park
Bayou Place
Bayou Terrace
Bayou West Condos
Bayou Woods
Baywind Condominiums
Baywind Condos
Baywind Condos
Beacon Place
Beaconsfield Condos
Beall Street Heights
Bear Creek Northwest
Bear Creek Trail
Bear Creek Village
Bear Creek West
Beauchamp Springs
Beaumont Place
Beckford Place
Beckford West
Beckham Place
Bedford Falls
Beechnut Crossing
Beechnut Landing
Beechnut Park
Beekman Place
Beinhorn Manor
Beinhorn Terrace
Belfort Park
Belin Manor
Bell Haven
Bell Lofts
Bell Mead
Bella Vista
Bellaire
Bellaire Estates
Bellaire Gardens
Bellaire View
Bellaire Villas
Bellaire West
Bellavista
Belle Court
Belle Park
Bellefontaine Park
Bellfort Park
Bellfort Place Condos
Bellfort Square
Bellman Terrace
Bellmar
Bellwood
Belmont
Belmont Park
Belmont Place
Belt Junction City
Benchmark
Bend On Brazos
Benmar Place
Bennington Place
Benson Ellis
Benton Place
Bering Circle Patio Homes
Bering Oaks Condos
Bering Place
Berington Place
Berington Place
Beringwood
Berkley Court
Berkley Place
Berkshire
Berthea Place
Besta Holland
Beulah
Beverly Hills
Beverly Place
Beverly Village
Bianchi Homes
Big Cypress Hill Estates
Bimini Isle Condos
Bingham Bend
Bingham Square
Binglewood
Birdsall
Birdsall Woods
Bissonnet Place
Blair Heights
Blalock Country Estates
Blalock Woods
Bliss Court
Blodgett Park
Blossom Heights
Blossom Hill Square
Blossom Street Townhomes
Blue Bell Place
Blue Bonnet
Blue Bonnet Est
Blue Bonnet Estates
Blue Creek Ranch
Blue Ridge
Blueberry Terrace
Bluebonnet Acres
Blueridge
Boardwalk
Bobbitt Place
Bonaire
Bonham Acres
Bonita Gardens
Bonnie Brae Gardens
Bonnie Oaks
Booth North Main
Bostonian Reserve
Boundary Street Townhomes
Bourgeois Forest
Bradford Colony
Bradford Place
Bradley Square
Brady Place
Brae Acres
Braeburn Acres
Braeburn Country Club Estates
Braeburn Gardens
Braeburn Glen
Braeburn Terracace
Braeburn Valley
Braeburn Valley West
Braes Heights
Braes Manor
Braes Oaks
Braes Park
Braes Terrace
Braes Timbers
Braes View Terrace
Braesmont
Braesview Terrace
Braeswood Forest
Braeswood Park
Braeswood Place
Branch Forest
Brandy Creek
Branford Park
Brantwood
Bray Village
Brays Forest
Brays Forest
Brays Village
Brazoria Manor
Brenner Court
Brentwood
Briar Crest
Briar Green Condos
Briar Grove Court
Briar Grove Park
Briar Hills
Briar Hollow Oaks
Briar Lake
Briar Manor
Briar Point
Briar Station West Condos
Briar Villa
Briar Villa South
Briar Village
Briar Wick Condos
Briarbend
Briarbrook Townhomes
Briarchase
Briarchase Estates
Briarcreek
Briarcroft
Briardale
Briargreen Terrace
Briargrove
Briargrove Park
Briarhurst Park
Briarmeadow
Briarpoint
Briarview
Briarwalk
Briarwest
Briarwick
Bridge Water
Bridgegate
Bridgewater Landing
Brighton Place
Brittmoore Village
Brittmore Oaks
Brittmore Village
Broad Oaks
Broad Oaks Circle
Broad Oaks Green
Broad Oaks Trail
Broadacres
Broadmoor
Brompton Ct Th Unr
Brompton Terrace
Brook Forest
Brook Smith
Brook Woods Estates
Brookfield
Brookfield Village
Brookglade Condos
Brookglen
Brookglen Place
Brookhaven
Brookhollow Court
Brookhollow Crossing
Brookline
Brookside Court
Brookwood
Brown Brothers
Brownstone Square
Brownstones at City Centre
Brundage Woods
Brunswick
Brunswick Lakes
Brunswick Meadows
Bryas Village East
Brykerwood
Brykerwood Estates
Bryn Mawr
Buckingham Place
Buffalo Park
Buffalo Rock
Buffalo Speedway
Bunker Hill
Bunker Hill Estates
Bunker Hill Village
Bunker Hill Woods
Burbank
Burbank Gardens
Burkhart Forest
Caceres
Caitlyns Castle
Calgary Woods
Calumet Drive Lofts
Calumet Lawn
Calumet Park
Cambridge Court
Cambridge Glen Condos
Cambridge Green
Cambridge Village
Camden Park
Camden Woods
Camelot Woods
Camen Park
Camino Park
Camino South
Camp Logan
Campbell Court
Campbell Estates
Campbell Place
Campbell Woods
Candlelight Estates
Candlelight Forest
Candlelight Forest West
Candlelight Oaks
Candlelight Place
Candlelight Trails
Candlelight Woods
Candlewood Glen
Canfield Oaks
Canterbury Village
Cantrell Commons
Canyon Lakes at Stonegate
Canyon Lakes Village
Canyon Lakes West
Canyonview
Capistrano Villas
Capitol Lofts
Capitol Oaks
Cardwell Court
Carina Court
Carlsbad Mobile Home Park
Carmel
Carmen Gardens
Carmen Street Villas
Carolina Gardens
Caroline Manor
Carpenters Landing
Carrington Place
Carver Estates
Carver Place
Carver Terrace
Carvercrest
Carverdale
Cascara
Cashel Forest
Castanie
Castle Court
Castlewood
Catalina
Catalina North
Catalina Square
Catalina Village
Catalina West
Cattails
Cavercrest
Cedar Creek Estates
Cedar Gap
Cedar Mill
Cedar Post Park Condos
Cedar Springs
Cedar Village
Cedarwild
Cedarwood
Center Street
Central Park
Century Oaks
Chalet Royale
Chambord Condo
Chambord Condos
Champion East
Champion Forest
Champions Arbor
Champions Bend Estates
Champions Centre Estates
Champions Colony
Champions Creek
Champions Crossing
Champions East
Champions Forest
Champions Glen
Champions North
Champions Northwest
Champions Park
Champions Park North
Champions Park North Estates
Champions Place
Champions Point Village
Champions South
Champions Terrace
Champions Valley
Champions Way
Champions West
Channel Wood
Chapelwood
Chapmans
Charleston Gardens
Charleston Manor
Charlestown Colony
Charlton Park
Charnwood
Charterwood
Chateau Briar Hollow
Chateau Forest
Chateau Garden
Chateau Place
Chatsworth Park
Chatwood Place
Chelsea at Mission Bend
Chelsea Town Villas Condos
Chenevert Condominiums
Chenevert Street Townhomes
Cherokee
Cherryhurst
Cheska Hollow
Chester Heights
Chestwood
Chevy Chase
Cheyne Walk
Chimney Hill
Chocolate Bayou Estates
Cielo
Cielo Vista
Citiscape at West Pierce
City Centre
City Edge
City Park
City Park Townhomes
City Park West
City Place
City Plaza Condos
City Promenade
City View Townhomes
Cityview Terraces
Clairmont
Clairmont Place
Clarewood Oak Estates
Clark Pines
Clarke Springs
Clay Estates
Clay Woods
Clayton
Clayton Greens
Clayton Oaks
Clayton Place
Clayton Trace
Clayton Woods
Claywood
Clear Brook Crossing
Clear Brook Landing
Clear Brook Meadows
Clear Lake City
Clearview
Clearwood Crossing
Clearwood Landing
Cline Street Place
Clinton Park
Clintonview
Clover Leaf
Cloverland
Cloverleaf
Cobblestone Court
Cobblestone Square
Colby Court
Cole Creek Manor
Collard Nova Estates
College Court
College Court Place
College Oaks
College Park
College Place
Collegeview
Collegeview Th
Collegview
Collins Estates
Colonia De Juarez
Colonial Hills
Colonial Terrace
Colquitt City Homes
Coltens Place
Columbus Court
Commons at Crocker
Commonwealth Court
Concord Bridge
Concord Bridge North
Concord Colony
Contemporary Heights
Contemporary Park
Contemporary South
Contemporary Southwest
Contemporary West
Contempory Park
Cooksey Place
Cookwood
Copper Creek
Copper Falls
Copper Grove
Copper Lakes
Copper Village
Copperbrook
Copperfield
Copperfield Middlegate Vllg
Copperfield Northmead
Copperfield Place
Copperfield South Creek
Copperfield South Point
Copperfield Southdown
Copperfield Westcreek
Copperlakes
Coppertree
Corinthian Pointe
Cornerstone Village
Cornish Place
Cortlandt Oaks
Cosmopolitan
Cottage Grove
Cottage Oaks
Cottages at Shady Acres
Cottge Grove
Cottonwood
Country Club Village
Country Court
Country Squire Estates
Country Village
Court On Tilbury
Courtley Heirs
Courtyard
Courtyard City View
Courtyard Glen
Courtyard Homes
Courtyards at Crocker
Courtyards at Lawrence
Courtyards of Three Fountain
Coventry Creek Estates
Coventry Meadows
Covered Bridge
Covington Park
Cranbrook
Crane St Gardens
Crane St Wood
Crane Street Woods
Crawford
Crawford Court
Creek Bend Estates
Creekbend Townhomes
Creekmont Forest
Creekside Estates South
Creekside Manor
Creekside Villas
Creekwood
Crescent Park
Crescent Park Village
Cresmere Place
Crestdale
Crestmont
Crestmont Park
Creston Place
Crestwater
Crestwood
Crestwood Acres
Crestwood Court
Crestwood on the Park
Croomir Townhomes
Crooms Street Townhomes
Crossbend Village
Crossing at Stone Creek
Crossroads Park
Crown Colony
Crown Colony
Crown Colony West
Cugino Homes On Vermont Ave
Cullen Estates
Cuney Homes
Cutten Green
Cypress Creek Manor
Cypress Falls Estates
Cypress Forest
Cypress Glen
Cypress Place
Cypress Stone Village
Cypress Terrace
Dallas Avenue Square
Dallas Avenue Townhomes
Dallas Street Place
Daly Place
Darbydale Crossing
Darden Place
Darling Street Townhomes
Darnay
Dashwood
Dauphine Place
Dawnridge
De Moss Condos
Dearborn Place
Deauville
Decker Place
Deep Well
Deerfield Park
Deerfield Village
Deerfield Village Patio Homes
Deerwood Gardens Condos
Del Monte
Delano City Views
Delano Crossing
Dennis Lofts
Denver
Denver Harbor
Depenbrook Allen
Deroloc
Detering Manor
Devon Corner
Devonshire
Devonshire Crescent
Devonshire Place
Dexter Place
Diamond Star
Dickeys West Park
Dickson Place
Dilston House Condos
Dissen Heights
Dodson Acres
Doliver Point
Dolores Place
Doma Chase Condos
Dominion at Post Oak
Dominion Estates
Donnybrook Place
Donovan Terrace
Dor Ruth Court
Dorothy Square
Dover
Doverside Place
Dow Acres
Drew Street Square
Driscoll
Dryden Place
Duke
Dumbarton Oaks
Durham Park
Durkee Manor
Durrett Place Villas
Dyerwood
Eagle Landing
Eaglewood
East Haven
East Houston
East Houston Gardens
East Independence Heights
East Lawn
East Montgomery Acres
East Norhill
East Sunnyside Court
East Sunset Heights
East View
Eastex Freeway Forest
Easthaven
Eastmoor
Easton Commons
Eastridge Terrace
Eastwood
Eaton Square
Echo Glenn
Echo Place
Echo Valley Estates
Edgemont
Edgewood
Edgewood Terrace
Edgewood Village
Edgeworth Place
Edinburgh Estates
Edmonds Gardens
Edmundson
Egret Bay Condos
Egret Bay Villas
Eigel Place
Eldorado
Eldridge Meadow
Eldridge Park
Eldridge Trace
Eldridge View
Elgin Place
Elgin Square
Ella Crossing
Ella Lee Forest
Ellena Gardens
Ellie Lofts
Elm Grove
Emancipation Park
Emily
Enchanted Forest
Enclave at Briargreen
Enclave at Clearwood Crossing
Enclave at Olde Oaks
Enclave at Shady Acres
Enclave at Thompson
Enclave Lake
Englewood
Englewood Acres
Epernay
Epsom Downs Place
Estates at Cullen Park
Estates of Green Tee
Estates of Mid Lane
Estates of Northgate Forest
Ethans Glen
Evanston
Evelo Homesites
Evergreen Woods
Eversdale
Excelsior Gardens
Executive Row Townhomes
Explorer Estates
Fair Oaks
Fairdale
Fairfield
Fairgreen
Fairgrounds
Fairhaven
Fairleigh
Fairview
Fairview Gardens
Fairview Patio Homes
Fairway Green
Fallbrook
Fallbrook Greens
Falls at Fairdale
Farrell Gardens
Farrington Place
Fauna Mobile Estates
Fawndale
Feagan Park Townhomes
Feagan Square Villas
Feldman Court
Ferndale Estates
Fifth Ward Place
First College
Flack Estates
Flats On Jackson Hill
Fleetwood
Flintwood
Florentine
Florida Gardens
Flower City
Flower Place
Floyd Street Condos
Flynn Woods
Fondren Crossing
Fondren Green
Fondren Green Meadows
Fondren Park
Fondren Park
Fondren Place
Fondren Sw Northfield Patio
Fonmeadow
Fonn Villas
Fontaine Place
Fontainebleau
Fonville Terrace
Ford Estates
Forest Acres
Forest at Millridge
Forest Glen
Forest Hill
Forest Home
Forest Lawn
Forest Oaks
Forest Park Annex
Forest Pines
Forest Place
Forest West
Foresters Pond
Forestveiw
Forestwood
Forestwood Place
Forrest Lake
Forum Park
Foster Place
Fosters
Fountain Springs Apartment
Fountain Square
Fountain View
Fountainbleau
Fountainhead
Four Leaf Towers
Four Seasons
Four Seasons Residences
Fourth Ward Place
Fowler Place
Francis Street
Franklin Lofts
Freeland Historic District
Freeway
Freeway Manor
French Village Townhomes
Friarcreek
Friendly Acres
Frisco
Frontenac
Frostwood
Fruitland
Fuchs
Fullerton Place
Fuqua Courts
Fuqua Gardens
Fuqua Landing
Gabert
Gagne Homestead
Galleria
Galleria Diplomat Townhomes
Galleria Estates
Galleria Oaks
Garden Acres
Garden Heights
Garden Oaks Court
Garden Oaks Villas
Garfield Place
Gateway Place
Gatewood
Gaywood
Genesee Estates
Genoa Townsite
George Rich
Georgetown Colony
Georgetown Townhomes
Georgia
Gessport
Glen Abbey
Glen Cove
Glen Haven
Glen Iris
Glen Manor
Glen Park
Glenbrook
Glenbrook Court
Glenbrook Townhomes
Glenburnie
Glencairn
Glencairn Park
Glencairn South
Glencairn Village
Glencliff Terrace
Glendower Court
Glengary Wood
Glenmont Place
Glenmore Forest
Glenn Abbey
Glenshannon
Glenshire
Glenview
Glenwood Forest
Glenwood Village
Gloverdale
Golden Glade Estates
Golf Green Garden Homes
Golfcrest
Golfview Manor
Gotham Condominiums
Gotham Condos
Gotham Lofts
Graceland Terrace
Gramercy Court
Gramercy Park
Granada
Grand Oaks
Grand Park Annex
Granger Estates
Granlin Grove
Grants Trace
Graustark Estates
Grayson Court
Great Oaks
Great Oaks South
Green Acres
Green Creek Estates
Green Oak Park
Green Park
Green Pine Estates
Green Ridge North
Green River Gardens
Green Trails
Green Trails Crossing
Green Trails Estates
Green Trails Forest
Green Trails Oaks
Green Trails Park
Green Trails Townhomes
Green Trails Village
Green Valley Estates
Greenbay Oaks
Greenbranch
Greenbriar
Greenbriar Colony
Greenbriar North
Greenbrook
Greenfield
Greenfield Oaks
Greenfield Village
Greenleaf
Greenlee
Greenpark
Greenridge North
Greens Bayou Estates
Greens Bayou Park
Greens of Northgate Forest
Greens Point Landing Condos
Greensbrook
Greensbrook Place
Greenspoint Landing Condos
Greenvale
Greenview Th Cond
Greenway
Greenway Park
Greenwest
Greenwich Court
Greenwich Terrace
Greenwood Forest
Greenwood Forest Estates
Greenwood Village
Greyton Lane
Greyton Place
Groyden Garden
Gulf Meadow Townhomes
Gulf Meadows
Gulf Palms
Gulfway Terrace
Habersham Lane
Haddon Court Townhomes
Haddon Manor
Haden Terrace
Hadley Place
Hahland
Hailey
Hambledon
Hamilton Court
Hamlet of Cherbourg
Hamman Cottage
Hammerly Woods
Hammersmith
Hammock
Hampton Homes
Hampton Oaks
Hampton Townhomes
Hankla Place
Hanover
Happy Village Condominiums
Harbor Homesite
Harborgreen Condos
Hardcastle Townhomes
Harding Heights
Hardy Acres
Hardy Park
Hardy Street Gardens
Harmon Place
Harold Street
Harrisburg
Hartland Acres
Hartmann Townhomes
Harvard House Condos
Harvard Place
Harvard Square
Harvest Bend
Harvest Heights
Hastings Green
Hawthorne Place
Hearthstone
Hearthwood
Heartwood
Heather Glen
Heathercrest
Heatherwood Park
Heatherwood Place
Heatherwood Village
Heathwood
Hedwig Hollow
Hedwig Oaks
Hedwig Village
Hedwig Village Circle
Heights at Madison
Heights of Shadyacres
Helena Park
Helms Estates
Helms Home Site
Hempstead Gardens
Hempstead Terrace
Henry Place
Heritage Creek
Heritage Heights
Heritage Village
Herkimer Heights
Herman Hospital Estates
Herman Lofts
Herman Park
Hermann Lake
Hermann Lofts
Hermann Park
Hermosa Court
Heron Lakes Estates
Heron Lakes Townhomes
Heron Nest
Herridge Place
Herrin Lofts
Hickory Hollow
Hickory Shadows
Hickory Skyline Patio Homes
Hidalgo Place
Hidden Forest
Hidden Lake
Hidden Meadows
Hidden Oaks
Hidden Valley
Hidden Valley West
High Meadows
High Star
High Star Place
Highgrove Park
Highland Acre Homes
Highland City
Highland Courts
Highland Gardens
Highland Green
Highland Heights
Highland Heights
Highland Homes Place
Highland Love
Highland Meadow
Highland Park
Highland Timbers
Highland Tower
Highland Village
Hillcrest
Hilldale
Hillside Garden
Hilltop Acres
Hilshire Green
Hilshire Lakes
Hilshire Manor
Hilshire Park
Hilshire Village
Hilshire Woods
Hogans Glen
Hogans Place
Holiday Forest
Holley Terrace
Holliday Place
Holloway Heights
Holly Hill
Holly Park
Holman Court
Holman Gardens
Home
Home Meadows
Home Owned Estates
Homer Homes
Homewood
Honeysuckle Farms
Honsinger Village
Hooper
Hopwood
Houmont Park
Houston Farms
Houston Harbor
Houston Harbor
Houston Heights
Houston Heigts East Historic District
Houston Heigts South Historic District
Houston Heigts West Historic District
Houston Manor
Houston Skyscraper Shadows
Houston Suburan Heights
Houstonian Estates
Hudson Bend
Hudson Forest
Hudson Green
Hudson Oaks
Hudson on the Bayou
Huisache Acres
Huldy Street Condos
Humble Road Gardens
Hunters Court
Hunters Cove
Hunters Creek
Hunters Creek Village
Hunters Forest
Hunters Park
Hunters Run Condos
Hunters Valley
Hunterwood
Hunterwood Forest
Hunterwood Place
Hunterwood Village
Huntingdon
Huntington Park
Huntington Place
Huntington Village
Huntleigh
Huntwick
Huntwick Forest
Huntwyck
Hyde Park
Hyde Park Heights
Hyde Park Oaks
Idylwild
Idylwood
Imperial Forest
Imperial Garden
Imperial Green
Imperial Oak
Imperial Point
Imperial Ridge
Imperial Trace
Imperial Valley
Independence Grove
Independence Heights
Indian Bayou
Indian Trails
Ingraham
Inker Place Villas
Inverness
Inverness Forest
Inverness Townhomes
Inwood Forest
Inwood Forest Village
Inwood North
Inwood Northwest
Inwood Park
Inwood Pines
Inwood Terrace
Inwood Terrace Village
Inwood Village
Inwood West
Irvington
Irvington Manor
Irvington Place
Isla Del Sol
Ivy Woods
Jabri Oaks
Jacinto City
Jacinto Oaks
Jackson Court Townhomes
Jackson Hill
Jackson Place Condominiums
Jamestown Colony
Jandor Gardens
Jeanetta Courts
Jersey Acres
Jersey Village
Jersey Village Country Club Estates
Jersey Villlage
Jewels Homes at Ingersoll
Kansas Street Mews
Kansas Street Place
Kansoz
Karankawa Pines
Kashmere Gardens
Kashmere Gardens Park
Keegans Glen
Keegans Ridge
Keegans Wood
Kelkind Manor
Kempwood
Kempwood North
Kempwood Place
Kempwood Villas
Kendall Annex
Kennedy Heights
Kenswick Court
Kentshire Place
Kentwood Manor
Kenwood Place
Kerry Glen
Keswick Place
Keystone Lofts
Kiam Townhomes
Kimberlee Lane Estates
King Estates
Kings Garden
Kings Lake Forest
Kings Row Townhomes
Kings Village Condod
Kingsbridge Court
Kingsbridge Crossing
Kingsbridge Park
Kingsbridge Village
Kingsgate
Kingsland Estates
Kingspoint
Kingspoint Gardens
Kingston Oaks
Kingsville Park
Kipling Arms Condos
Kipling Street Mews
Kirby Lofts Condominiums
Kirby Place Townhomes
Kirkmont
Kirkood Country
Kirkwood
Kirkwood South
Kirkwood Terrace
Kirkwood Village
Kleinbrook
Knights Main Street
Knippwood
Knollwood Village
Koehler
Krystal Lake Estates
Kulmann
Kutschbach
La Branch Palms
La Branch Place
La Branch Street Townhomes
La Casa Condos
La Estancia
La Hacienda
La Plaza Real
La Salette Place
Lafayette Place
Lagoon at Windwater Village
Laguna Forest
Laguna Townhomes
Lahoma
Laird Street Place
Lake at Golfcrest
Lake at Stonehenge
Lake Forest
Lake Forest Village
Lake Ridge
Lake Shores
Lakecrest
Lakes of Bellaire
Lakes of Fondren
Lakes of Fondren Southwest
Lakes of Jersey Village
Lakes of Parkway
Lakes of Pine Forest
Lakes On Eldridge
Lakes On Eldridge North
Lakeshore
Lakeside Court
Lakeside Enclave
Lakeside Estates
Lakeside Forest
Lakeside Green Condos
Lakeside Island
Lakeside Park
Lakeside Place
Lakeside Terrace
Lakeside Venture
Lakeview
Lakeview Forest
Lakeview Place
Lakewood Crossing
Lakewood Forest
Lakewood Village
Lamar Terrace
Lamar Towers
Lana Lane Oaks
Lancaster Place
Lancer Th Assoc Cond
Landing at Park
Landmark Square
Langham Creek Colony
Langham Creek Estates
Langston Place
Langwood
Lanier Place
Lansford Place
Larchmont
Larkstone Place
Larkwood
Larston Court
Las Alamedas
Las Brisas
Las Colinas
Laurel Creek
Laurel Oaks
Lavender Heights
Laverne Street Court
Lawndale
Lawrence Place
Lazy Meadows
Lazy Oaks
Lazy River Addition
Lazy Spring Acres
Lazybrook
Le Promenade
Leader Crossing
Leawood
Leawood Colony
Leawood West
Lee Ho Tomehomes
Leeland
Leeland Court
Leeland Gardens
Leeland Park
Leeland Views
Legend Lane
Leland Woods
Lemans Condos
Lentz Villas
Lewisdale
Lexington Park
Lexington Square
Liberty Garden
Liberty Heights
Liberty Lakes
Liberty Road Manor
Liberty Terrace
Lillian Courtyard Gardens
Lincoln City
Lincoln Green East
Lincoln Green Estates
Lincoln Green Place
Lincoln Green South
Lincoln Heights
Lincoln Park Farms
Lindale Court
Lindale Farms
Lindale Park
Linkwood
Linnfield
Lismar Estates
Lismar Vistas
Little Thicket Condomiums
Live Oak Addition
Live Oak Brownstones
Live Oak Hills Court Homes
Live Oak Lofts
Live Oak Place
Livingston Estates
Lofts On Post Oak
Loma Linda
London Court
London Square Condos
London Th Sec 2A
London Townhomes
London Village
Long Meadows
Long Point Manor
Long Point Oaks
Long Point Woods
Long Shadows
Longwoods
Lonoke Place
Louisville Court
Lovett Place
Lowell Acres
Lowell Heights
Lubbock
Lucile Place
Lugary Place
Lum Terrace
Lumber Lane
Lynbrook Manor
Lyncrest
Lynn Park
Lynnwood Place
Lyons Avenue Park
Macarthur Park
Macgregor Palms
Macgregor Park Estates
Macgregor Place
Macgregor Terrace
Macgregor West
Madison Park Villas
Madison Place
Maggie Manors
Maglitto
Magnolia
Magnolia Gardens
Magnolia Grove Homes
Magnolia Park
Main Street Market Square Historic District
Maison De Ville Condos
Majestic Oaks
Mallow Gardens
Malone Square
Manchester
Mandell Place
Mandolin Park
Mandolin Village
Mangum Manor
Mangum Place
Manhattan Condominiums
Manors at Alabama Park
Manors at Shady Acres
Manors of Austin Green
Manors of La Branch
Maple Hill Condos
Maple Ridge Place
Maple Trace
Maplewood
Maplewood North
Maplewood South
Maplewood Square
Maplewood West
Marbella
Marble Arch Condos
Marble Gate Court
Marborough Square
Marchmont
Marconi Avenue Townhomes
Marconi Street Place
Marcus Place
Maredia Homes at Edwards
Maredia Homes at Prospect Street
Marian Oaks
Marilyn Estates
Marina Street Condominiums
Market Street Gardens
Marlborough
Marlborough Square
Marquart
Marwood
Marwood Estates
Marwood Village
Marywood
Mason Terrace
Mathews Place
Matthews Lofts
Matthews Place
Mauna Loa Gardens
Maxroy Place
Maybank Place
Mayde Creek Farms
Mayerling
Mayfair
Mayfair Park
McArthur Park
McClendon Place
McCowan
McDonald Place
McDuffie Court
McGowan
Mckamy Meadows
McKendree Park
McKinney Park Homes
McKinney Village
McKinney Villas
Meadow Briar
Meadow Chase
Meadow on the Mews
Meadow Vista
Meadowalk
Meadowbrook
Meadowcreek Village
Meadowcreek Woods Patio Homes
Meadowgreen
Meadowoods Estates
Meadowridge Condos
Meadows of Northwest Park
Meadows On Memorial
Meadows on the Mews
Meadowview
Meadowview Farms
Meadowwoods
Meisterwood
Melanie Court
Melanie Heights
Melbourne Place
Melody Oaks
Melrose Gardens
Melrose Park
Melrose Place
Memorial Bend Place
Memorial Chase
Memorial Club
Memorial Club Townhomes
Memorial Drive Acres
Memorial Drive Manor
Memorial Estates
Memorial Forest
Memorial Glen
Memorial Green
Memorial Grove
Memorial Heights
Memorial Hills
Memorial Hollow
Memorial Meadows
Memorial Oaks
Memorial Park Village
Memorial Pines
Memorial Place
Memorial Point
Memorial Terrace
Memorial Thicket
Memorial Timbers
Memorial Trails
Memorial Village Estates
Memorial Village Townhomes
Memorial Way
Memorial Woods
Menefee
Meredith Manor
Merilyn Place
Merkels
Merlin Place
Metropolis Lofts
Metropolitan at the Museums
Meyerland
Michigan Courtyard Homes
Michigan Street Townhomes
Mid Lane Commons
Middlebrook
Midtown Lofts
Midtown Park Townhomes
Midtown Squares
Midtown Terrace
Midtown Verandas
Midtown Village
Milan Place
Mill Ridge North
Millbrook
Millenium Patio Homes
Millennium Homes On Bevis
Millennium Homes On Bomar Avenue
Miller
Millridge Pines Townhomes
Mills Crossing
Mills Landing
Mills Walk
Millsite
Milroy Farms
Milroy Place
Mimosa Place
Minnetex Place
Minnetex Place
Miramar Townhomes
Mission Bend Estates
Mission Bend Los Patios
Mission Bend North
Mission Bend San Gabriel
Mission Bend San Miguel
Mission Bend South
Mission Gardens
Mission Glen
Mission Glen
Mission Glen Estates
Mission Glen Reserves
Mission Green North
Mission West
Misson Bend
Missouri Lofts
Mitchell Place
Mixon Place
Mocking Bird
Monarch Estates
Monarch Oaks
Montclair
Montebello
Montgomery Terrace
Monticello
Montione Villas
Montlew Place
Montreal Place
Montrose
Montrose Place
Mooney Heights
Moore Park
Moritz Walk
Morningside Place
Mosaic On Herman Park
Mosley Townhomes
Mossy Oaks Estates
Mount Royal
Mount Royal Village
Mount Vernon
Murray Homestead
Museum Court
Museum District
Museum Tower
Nagle Street Manor
Nantucket Condos
Naomi Court
Naomi Place
Naples Square
Nassau Bay
Navigation
Navigation Place
Neuen Manor
New Forest
New Forest West
New Leaf Place
Newcastle Courts
Nob Hill
Noble
Nolda Court Townhomes
Norchester
Norchester South
Nordling Estates
Norhill Park
Normandy Place
North Cliff Manor
North Edgemont
North Forest
North Highlawn
North Lane Place
North Macgregor Oaks
North Shadydale
North Shepherd Manor
North View
North View West
North West Park
Northampton Place
Northborough
Northbrook Village
Northcliffe Manor
Northfield
Northfield Place
Northfork
Northgate
Northgate Forest
Northglen
Northline Terrace
Northmead Village
Northmore
Northpoint
Northridge Park
Northridge Park West
Northview Park
Northview Place
Northwest Landing
Northwest Park Place
Northwest Place Estates
Northwood
Northwood Manor
Norview Terrace
Norwegian Woods
Norwood Meadows
Nottingham
Nottingham Forest
Nottingham West
Oak Bend Forest
Oak Briar Terrace
Oak Cliff Place
Oak Court
Oak Creek Village
Oak Estates
Oak Forest
Oak Glen
Oak Grove Estates
Oak Harbor
Oak Lake Pointe
Oak Lane Condos
Oak Manor
Oak Meadows
Oak Park Crossing
Oak Park Place
Oak Park Ridge
Oak Place
Oak Place Townhomes
Oak Ridge
Oak Ridge Place
Oakbrook
Oakbrook West
Oakdale Avenue
Oakdale Place
Oakhurst
Oakland Acres
Oakland Place
Oaklane Acres
Oaklane Condominiums
Oaklawn
Oakley Court Terrace
Oakmont
Oaks at Autrey Place
Oaks at Caroline
Oaks at Egret Bay
Oaks at Sherwood Forest
Oaks of Huntwick
Oaks of Inwood
Oaks of Parkway
Oaks of Woodlake
Oaks On Kirkwood
Oakshire Manor
Oaktree Place
Oakwilde
Oakwod Gardens
Oakwood
Oakwood Forest
Old Braeswood
Old Bridge Lake
Old Sixth Ward Historic District
Olde Oaks
Oleander Heights
Olive Hill Court
Olympia
Omni Heights
On Point Gardens
On Point Place
One Ashford Place Condos
One Montreal Condo
One Montreal Place
One Orleans Place
One Park Place
Opatrny Meadows
Ormond Place
Outpost Estates
Overbrook
Oxford Court
Oxford Heights
Oxford Place
Pacific Esplanade
Palm Avenue Townhomes
Palm Terrace
Pamela Heights
Panther Oaks
Panther Point
Panther Two Townhomes
Parc Iv &Amp; Parc V Cond
Park at Asbury
Park at Augusta
Park at Cedar Landing
Park at Fairdale
Park at Fuqua
Park at Hollister
Park at Jackson Square
Park at Kansas
Park at Meadowglen
Park at Mission Glen
Park at Nance
Park at Prince
Park at Saddlebrook
Park at Shady Villa
Park at Sherwin
Park Harbor Estates
Park Hill
Park Hollow
Park Laureate Place
Park Manor
Park North
Park On Enclave
Park Place
Park Place Acre Villas
Park Place Country Club
Park Place Court
Park Regency Condos
Park Shadows Townhomes
Park Square
Park Villas
Park West
Parker Lofts
Parker Place
Parker-Penn Estates
Parkglen
Parkglen West
Parkhollow Place
Parkhurst Estates
Parkland Court
Parkland Place
Parklane
Parkridge
Parks at Cedar Landing
Parkside at Perry
Parkway Forest
Parkway Plaza
Parkway Villages
Parkwest
Parkwood East
Pastoriza
Pavilion Oaks
Pawl Terrace
Peaceful Valley
Pecan Forest
Pecan Park
Pecan Park Place
Pecan Terrace
Pecandale Court
Pecore
Peden Estates
Pelham Place
Pemberton
Pemberton Circle
Pemberton Crescent
Pemberton Park
Pembrooke
Peveto Place
Pheasant Run
Pheasant Run Village
Pheasant Run Vlge
Piazza Del Arte
Pickford Place
Piedmont at River Oaks
Pierce Court
Pierce Junction Village
Pifer Green
Pin Oak Forest
Pine Brook
Pine Crest
Pine Forest Green
Pine Forest Landing
Pine Forest Village
Pine Grove
Pine Hollow
Pine Island
Pine Lake Condominiums
Pine Lawn
Pine Oak Forest
Pine Ridge
Pine Ridge Terrace
Pine Ridge Villas
Pine Shadows
Pine Terrace
Pine Trace
Pine Trails
Pine Tree
Pine Valley
Pine View Manor
Pine View Place
Pine Village
Pine Village North
Pinecrest
Pinelawn
Pinemont Park
Pinemont Villas
Pineridge
Pinewood
Pinewood Estates
Pinewood Village
Piney Oaks
Piney Point
Piney Point Estates
Piney Point Manor
Piney Point Meadows
Piney Point Place
Piney Point Village
Pipers Crossing Condos
Piping Rock Place Townhomes
Plainview
Plantation at Woodforest
Plantation Oaks
Plaza Del Sol
Plaza Place Condos
Pleasant View
Pleasantville
Plum Creek Terrace
Plymouth Place
Point at White Oak Bayou
Point Place
Polk Avenue Gardens
Ponderosa Forest
Ponderosa Park
Ponderosa Park Townhomes
Ponderosa Trails
Ponderosa Village
Portsmouth Manor
Post Oak
Post Oak Crossing
Post Oak Green
Post Oak Landing
Post Oak Lane Condominiums
Post Oak Lane Court
Post Oak Manor
Post Oak Place
Post Oak Village
Prairie Homes
Prairie View
Preston Place
Prestonwood Forest
Prestonwood Park
Prk Place Country Club
Prospect Place
Providence
Quail Bridge
Quail Bridge Gardens
Quail Glen
Quail Green
Quail Green West
Quail Harbor
Quail Run
Quail Village
Quail Wood
Queens Court
Queens Run
Quimby
Quitman Townhomes
Radcliff Place
Rainbow Valley
Rainhollow Plaza
Raintree Place
Ralston
Ralston Acres
Ranch Estates
Rancho Verde
Rancho Verdo
Randall Acres
Randolph Place
Ravenwood Parque Condos
Rayburn
Raydon Estates
Reata at River Oaks
Reba
Rebecca Pines
Recreation Frms
Red Bud Acres
Red Oak Townhomes
Red Robin
Reed Terrace
Reedwoods
Reflection Townhomes
Regal Oaks
Regency Court
Regency House
Regency Square
Regent Park
Regents Green
Regents Village
Reid Estates
Remington Creek Ranch
Remington Ranch
Renaissance at River Oaks
Renaissance On Montrose
Renee Gardens
Renior Condominiums
Renoir Lofts
Reservoir Acres
Retreat at Nevada
Riata Ranch
Rice Court
Rice Military
Rice Military Place
Rice Village Place
Richardson
Richmond Manor
Richmond Place
Richmond Road Estates
Richwood
Richwood Place
Ridgecrest
Ridgegate
Ridgeley Place
Ridgemont
Ridgepoint
Ridgewood
Riedel Estates
Rigo Estates
Rileys Court
Rio Villa
Rittenhouse Village
River Forest
River Oaks
River Oaks
River Oaks Country Club Estates
River Oaks Court Garden Homes
River Oaks Manor Condos
River Oaks Place
Riverbend
Rivercrest
Rivercrest Estates
Rivergrove Garden Homed
Riverhollow Apartments
Riverside Gardens
Riverside Place
Riverside Terrace
Riverstone
Riverstone Ranch
Riverview
Riverview Place
Riverwalk
Riverwood Estates
Riverwood On Feagan
Riviera East
Rivington
Robin Street Square
Robindell
Rockhill Townhomes
Rodgers
Rodrigo Heights
Rolgom Place
Rolling Creek
Rolling Fork
Rolling Green
Rolling Hills
Rollingwood
Romund
Roos Acres
Roosevelt
Rooseveltheights
Rose Manor
Rose Patio Homes
Rose Tree Condos
Rosedale
Rosedale Court
Rosedale Place
Rosemont
Rosemont Heights
Rosewood
Rosewood Green
Rosewood Manor
Rosslyn Heights
Rosslyn Landing
Rossmoyne
Royal Glen
Royal Oaks
Royal Oaks Country Club
Royal Oaks Court
Royal Oaks Terrace
Royal Palms
Royalton at River Oaks
Royalwood
Royden Oaks
Ruburfield
Runnels
Rushmore Lofts
Rushwood
Rustling Oaks
Rustling Pines
Ruth Street Manor
Rutland Manor
Ruvern Village
Sablechase
Sableridge
Sackett Street Townhomes
Saddle Spur
Saddlebrook
Saddlewood Estates
Sage Condos
Sage Square
Sageglen
Sagemeadow
Sagemont
Sagetown
Saint James Condo
Saint James Condos
San Julio Manor
San Pablo
Sanctuary at Costa Grande
Sandalwood
Sandman Court Condos
Sandman Townhomes
Sandspoint Condos
Sandspoint West
Sandy Side
Santa Rosa
Sapp Gardens
Saulnier Place
Savannah Estates
Sawyer Heights
Scarsdale
Scenic Woods
Schroeder Oaks Village
Schuler Street Townhomes
Scott Terrace
Scottcrest
Seafarer Townhouses
Seasons Brownstones
Seclusion Estates
Sellers Estates
Sequoia Estates
Serenity Pines
Serento
Settegast
Settegast Gardens
Settegast Heights
Settegast Hts
Settlers Village
Seven Gables
Seven Oaks
Seven Oaks Townhomes
Seventy Six Fifty Five S Bra
Seville
Shadow Lake
Shadow Oaks
Shadow Springs
Shadow Wood
Shadowbriar
Shadowdale
Shadowlake
Shadowlawn
Shadowood
Shady Acres
Shady Acres Landing
Shady Acres Manor
Shady Oak
Shady Park
Shady Pines
Shady Pines Heights
Shady Point
Shady Villa
Shamrock Manor
Sharon Place
Sheffield
Sheffield Estates
Shelbyville
Sheldon Park
Sheldon Ridge
Sheldon Woods
Shenandoah
Shepherd Forest
Shepherd Park Terrace
Shepherd Trace
Sheraton Oaks
Sherbrooke Square
Sheridell
Sherwood Forest
Sherwood Lake
Sherwood Oaks
Sherwood Park
Sherwood Place
Sherwood Terrace
Sherwood Valley
Shewood Lake
Shoreham Place
Siena Villas Condominiums
Sierra Ranch
Signature Estates
Silber Terrace
Silver Hollow
Silver Meadows
Silver Oak Trails
Silver Oaks
Silver Pines
Silver Woods
Silverfield
Silverglen
Silverglen Estates
Silverglen North
Silverglen North
Silverglen West
Silverleaf
Simms Woods
Sims Bayou Estates
Sky View Park
Skyline Court
Skyline Park Village
Skyline Terrace
Skyview Forest
Skyview Park
Sleepy Hollow Woods
Sleepy Pines
Smallwood Terrace
Smiley Place
Solitaire
Somerset Place
Sommerall
Sommerall West
Sommerset Cottages
Songwood
Sonier Place
Sonoma Ranch
South Acres
South Acres Estates
South Boulevard Park
South Court
South Crest
South End Lofts
South End Villas
South Fondren Place
South Glen
South Hampton
South Houston Gardens
South Main Estates
South Main Gardens
South Main Plaza
South Park
South Point Townhomes
South Post Oak
South Side Place
South Sunnyside
South Union
Southampton
Southampton Oaks
Southampton Place
Southbridge
Southbrook
Southcrest
Southdown Trace
Southend Sunnyside
Southern Oaks
Southern Village
Southgate
Southlake
Southland Acres
Southland Terrace
Southlawn
Southmayd Park
Southmeadow
Southmont
Southmore
Southpark
Southpoint
Southpoint Townhomes
Southridge Crossing
Southside Place
Southway
Southwest Crossing
Southwest Manor
Southwood
Southwood Courts
Southwood Place
Spears Crossing
Spencer
Spenwick Village
Spinnaker Cove
Spires
Spires Condos
Spreading Oaks
Spring Branch
Spring Branch Acres
Spring Branch Estates
Spring Branch Gardens
Spring Branch Oaks
Spring Branch Valley
Spring Branch Villas
Spring Branch Woods
Spring Forest
Spring Lea
Spring Manor
Spring Meadows
Spring Oaks
Spring Point
Spring Shadows
Spring Valley
Spring Valley Chase
Spring Valley Estates
Spring Valley Village
Springrock Lane
Springwood
St Agnes Court
St Charles Place
St Charles Square
St Charles Townhomes
St Charles Townhomes
St Emanuel Street Development
St Emanuel Townhomes
St George Place
St George Square
St Germain Condominiums
Stablewood
Stanford Place Condos
Starkweather
Stars On Shady Acres
Steeplechase
Steeplechase Terrace
Sterling Garden
Sterling Green
Stiles
Stone Brook Village
Stone Creek
Stone Gate
Stonebridge Village
Stonefield Manor
Stonefield Terrace
Stonegate Lofts
Stonehenge
Stones Throw
Stoney Brook
Stoney Creek
Stoneyway Village
Stratford
Stuart Estates
Studewood
Studewood Place
Suburban Oaks
Suburban Terrace
Sugar Branch Condos
Sugar Hill Condos
Sugar Pine Pavilion
Sugar Valley
Sugarbranch Condos
Summer Lake Ranch
Summerhill
Summerhill Townhomes
Summerhill Village
Summerlyn
Summerset Landing
Summerwood
Summit Court Condos
Summit Place
Sun Valley
Sunny Hollow
Sunnyland Farms
Sunnyside
Sunnyside Courts
Sunnyside Extn. South
Sunnyside Gardens
Sunnyside Place
Sunridge Villas
Sunrise Pines
Sunset Bend
Sunset Heights
Sunset Heights Place
Sunset Place
Sunset Terrace
Sunstream Villas Condos
Surrey Oaks
Sussex Condos
Sutton Court
Sutton Gillette Townhomes
Sutton Place
Swiney
Sycamore
Sycamore Bend
Sycamore Valley
Sydnor Street Townhomes
Sylvester Gardens
Syndor
Tallow Wood
Tammarack Woods
Tampico Gardens
Tangle Oaks
Tanglegrove
Tanglelane
Tangleoaks
Tanglewest Townhouses
Tanglewilde
Tanglewood
Tanglewood Circle
Tanglewood Place Condos
Tarelton Place
Tassell Place
Taylorcrest
Tealstone Condos
Tealwood
Temple Terrace
Terra Courtyards
Terra Del Sol
Terrace Brook
Terrace Oaks
Terraces On Memorial
Tesslynn
Thatchers Gardens
Thirty One Nineteen Caroline
Thirty Sunset
Thornwood
Three Corners
Tidwell Place
Tidwell Timbers
Tierra Glen
Tiffany Gardens Court
Tiffany Place Condos
Tigowona Terrace
Tilbury Oaks
Timber Acres
Timber Creek
Timber Crest
Timber Height Villages
Timber Hill Manor
Timber Lane Terrace
Timber Meadows
Timber Oaks
Timbergate
Timberglen
Timbergrove
Timbergrove Court
Timbergrove Manor
Timbergrove Point
Timbergrove Terrace
Timberwood Condos
Tobin Thomas
Torrey Pines
Toscana Court
Tower Oaks
Tower Oaks Meadows
Townes of Buffalo Bayou
Townewest
Townhomes at Westchase
Townhomes on the Park
Townhouse Manor
Townley Place
Townwood
Traditions at Clayton Park
Trafalgar West
Trails of Woodlake Condos
Tranquility Lake
Tree House Condos
Tree Tops at Post Oak Condos
Tremont Tower
Trendmaker
Trenton Place
Triangle Gardens
Trinity Crossing
Trinity Gardens
Trophy Club
Tropicana Village
Turkey Creek Estates
Turtle Hill Village
Turtle Lake
Turtlewood Square
Tuscan Woods Villas
Tuscany Cove
Tuscany Square
Twin Lakes
Twinland Estates
Two Trees
Two Worlds
Tynewood
Uninversity Green
Union Square Condos
University Arms Condos
University Green
University Oaks
University Park
University Place
University Trace
University Woods
Upland Village
Urban Acres
Urban Heights
Urban Oaks
Ursula Park
Val Verde Estates
Val Verde Gardens
Val Verde Park
Valencia at Hyde Park
Valencia Park
Valley West
Vassar Court
Vassar Place
Veenstra Court
Veenstra Terrace
Verde Forest
Vermont Place
Vernon Place
Victoria Condominiums
Victoria Gardens
Victoria Park
Victorian Square
Victorian Vlg Apartments
Vieux Carre Condos
Villa De Truxillo
Villa Helena
Villa Laverne
Villa Lourdes
Villa of Trieste
Villa Verde
Village at Glen Iris
Village Oaks
Village of Afton Woods
Village of College Place
Village of Fondren
Village of Kings Lake
Village of Oak Forest
Village of Pheasant Trace
Village Place Townhomes
Village West
Village Woods Condos
Villages at Lakepointe
Villages of Elmview
Villages of Glenshire
Villages of Langham Creek
Villages of Westplace
Villas at Ashford Point
Villas at Bonner
Villas at Clearview
Villas at McDonald
Villas at Northpark
Villas at Park Trails
Villas at Rosedale
Villas at Shepherd
Villas at Tanglewood Park
Villas at the Heights
Villas at West Lane
Villas at White Oak
Villas at Willowbrook
Villas at Wynnwood
Villas D'ayala
Villas Del Parque
Villas Di Tuscany
Villas of 21St Street
Villas of Chartres
Villas of Piney Point Estate
Villas of Rose Street
Villas of Westador
Villas On Feagan
Villas On Hyde Park
Villas Santa Lucia
Vintage Di Vita
Vintage Lakes
Vintage Royale
Virginia Acres
Virginia Court
Virginia Place
Wagonwheel Estates
Walden Place
Waldron Estates
Wallingford Place
Wallisville Gardens
Walnut Bend
Walton
Walton Court
Warrenton
Warwick Place
Warwick Square
Warwick Towers
Waseca Plaza
Washington
Washington Heights
Washington Place Lofts Condos
Washington Square
Washington Terrace
Waterford on Woodcrest
Waterford Park
Waterhill
Waterhill Homes On Bell
Waterhill Homes On Dallas
Waterhill Homes On Lillian
Waterhill Homes On Oreilly
Waterhill Homes On Rusk
Waterhill Homes On Sandman
Waterhill Homes On Staffords
Waterman Crossing
Waters Edge at Lake Houston
Waugh Drive Townhomes
Waverly Gardens
Waynecrest Place
Weaver Place
Wedgewood Place
Wednesbury Lane
Weisenberger
Welch Street Townhomes
Wellesley
Wellington Court
Wellington Park
Wescott
Wessex
West Bayou Oaks
West Bend
West Court Reynolds
West Dallas Townhomes
West Eleventh Place Historic District
West Fondren Place
West Gray Terrace
West Hampton Estates
West Heights
West Houston
West Lancaster Place
West Lane Annex
West Lane Place
West Lawn Terrace
West Little York Place
West Mandell Place
West McGregor Estates
West Oaks
West Oaks Park
West Oaks Place
West Orem Place
West Place
West Side Forest
West University Place
West Webster Lofts
Westador
Westbank
Westbend Addition
Westbrae Gardens
Westbranch
Westbridge
Westbrook
Westbrook Lakes
Westbury
Westbury Gardens Condo
Westbury South
Westchase Forest
Westchase Gardens Condos
Westchase Manor
Westchester
Westcott Gardens
Westcott Place
Western Oaks
Westfield Estates
Westfield Glen
Westfield Terrace
Westglen
Westhampton Townhomes
Westhampton Village
Westhaven Estates
Westheimer Estates
Westheimer Gardens
Westheimer Place
Westhill Condos
Westlake
Westlake Forest
Westlake Place
Westlake Village
Westminster Landing
Westminster Village
Westmont
Westmoreland Farms
Weston
Westover
Westpark Village
Westpark Village
Westpoint Estates
Westridge
Westview Terrace
Westview Village
Westway
Westwick
Westwind
Westwood
Westwood Gardens
Westwood Patio Homes
Westwood Village
Weyburn Place
Wharton House Condos
Wharton Houses Condos
Wheatstone
Wheatstone Estates
Wheatstone Village
Wheeler Place
Whisper Walk
Whispering Oaks
Whispering Pines Estates
Whisperwood
White Oak Acres
White Oak Bend
White Oak Condos
White Oak Estates
White Oak Falls
White Oak Landing
White Oak Plantation
White Oak Terrace
Whitney Place
Whitney Place West
Wichita Place
Wichita Village
Wilchester
Wilchester West
Wilcrest Bend
Wilcrest Garden
Wilcrest Park Condos
Wilcrest Walk
Wildewood Forest
Wildflower Green
Wildheather
Wildrose Gardens
Wildwood Place
Willadale
Willard Court
Willdwood Forest
Willow Bend
Willow Glen
Willow Hollow
Willow Meadows
Willow Park
Willow Park Village
Willow Pointe
Willow Run
Willow Springs
Willow Walk
Willow West
Willow Wood Villas
Willowbend
Willowbend 2
Willowbridge
Willowbrook
Willowbrook Condominiums
Willowick
Willowick Pl Pat Hms
Willowlake
Willowood
Wilmoth
Wilshire Court
Wilshire Place
Wilson
Wilson Court
Wilson Place
Winchester Country
Winchester Country Trails
Winchester Meadows
Winchester Village
Windermere
Windermere Lakes
Windermere Lakes Estates
Windfern
Windfern Forest
Windfern Gardens
Windfern Trace
Windmill Lakes
Windmill Villas
Windsong
Windsong Place
Windsor Court
Windsor Park
Windsor Park Estates
Windsor Park Lakes
Windsor Village
Windsor Villas
Windswept
Windwater Village at Regency
Winfield
Wingate
Wingate Park
Winhall
Winlow Place
Winsome Condominiums
Winsome Villas
Winston Woods
Wood Bayou
Wood Fern
Wood Glen
Wood Meadow
Wood Shadows
Woodbend Grove
Woodbend Pines
Woodbend Springs
Woodbend Village
Woodbridge Crossing
Woodbury Manors
Woodchase Village
Woodcreek
Woodcrest
Woodcrest Square
Woodedge Village
Woodforest
Woodforest North
Woodforest North
Woodforest Pines
Woodgate
Woodgrove Condos
Woodlake Cond
Woodlake Forest
Woodland Acres
Woodland Court
Woodland Gate
Woodland Hollow
Woodland Hts Annex
Woodland Oaks
Woodland Park
Woodland Park Place
Woodland Terrace
Woodland Trails
Woodland Trails North
Woodland Trails West
Woodleigh
Woodridge
Woodridge Square
Woodrow
Woods of Lakeside
Woods of Sugar Pine
Woods of Wimbledon
Woodsdale
Woodshire
Woodside
Woodson Place
Woodstone
Woodvine Lofts
Woodvine Park Condos
Woodway Crescent
Woodway Glen
Woodway Pines
Woodway Place
Woodway Point
Woodway Village
Woodwind Lakes
Wortham Estates
Wortham Falls
Wortham Grove
Wortham Landing
Wortham Park
Wr Baker Addition
Wrenwood
Wright Wood
Wrightwood
Wroxton Court
Wycliffe
Wynard Place
Wynden Court
Wynden Oaks Estates
Wynden Oaks Garden Homes
Wynden Place
Wyndham Lake
Yale Park Villas
Yale Street Acres
Yaupon Grove
Yellowstone Street Townhomes
Yoakum Townhomes
Yocum Gardens
York Meadows
Yorkdale
Yorktown Colony
Yorktown Villas
Yupon Estates
Zamani Park-One
Zen Wun Patio Homes
Zenith Terrace
Zomper Outlook
Now, as a matter of fact, there was no good reason for the new town. The location at Harrisburg was ideal and had many advantages, naturally, that Houston had to create artificially. There was, to begin with, 16 miles of very crooked and hardly navigable bayou to be overcome in order to reach Houston, while the new site had absolutely nothing to compensate for this disadvantage.
However, there was an element injected into the controversy that helped the Allens wonderfully in carrying out their scheme. Santa Anna's soldiers showed up just at the critical moment and burned Harrisburg. Before the Harrises could recover from the blow, and while their town still lay in ashes, the Allens acted and not only had their town laid out, but were actively engaged in selling town lots to settlers. Not much progress was made during the first year, however, and there was not much of a city in evidence and scarcely more to indicate that city was to be, for Governor Frank Lubbock, in his memoirs, gives an amusing description of his search for the town, even after he had reached and passed the foot of Main Street. He came to Houston on the first steamboat that ever arrived here and it took 4 days to make the trip from Harrisburg to Houston. That being the pioneer trip an immense amount of work had to be done to clear the stream of sunken logs and overhanging trees. There was plenty of water, but there were numerous obstructions in and over the channel. After the first boat, there was little or no delay and before long there were other boats that came to Houston, and in a year or two there was a regular service established between Houston and Galveston.
During the first 18 months of the new city's existence there was little accomplished aside from perfecting the plans and arranging the divisions, for there was not much more of a city than a name and some surveyed streets and lots until late in 1837. By then the town began to show some life and activity. It is true that the city was more like a military camp than anything else, for it was composed largely of tents, with here and there a small log cabin. During 1837 there was a large storehouse built at the corner of Commerce street and Main and at the same time work was begun on the "Mansion House," Houston's first hotel.
But it was not until 1838 that Houston took on genuine city airs. That year an election was held to decide whether the city should be incorporated or not. The result was an affirmative vote and the same year the Texas Congress granted the City of Houston a charter.
Dr. S. O. Young, A Thumb-Nail History of the City of Houston Texas from it's Founding in 1836 to the Year 1912, Press of Rein & Sons Company, Houston Texas, June, 1912.
---