John OHara House
Post Office: Pottsville
Zip Code: 17901
---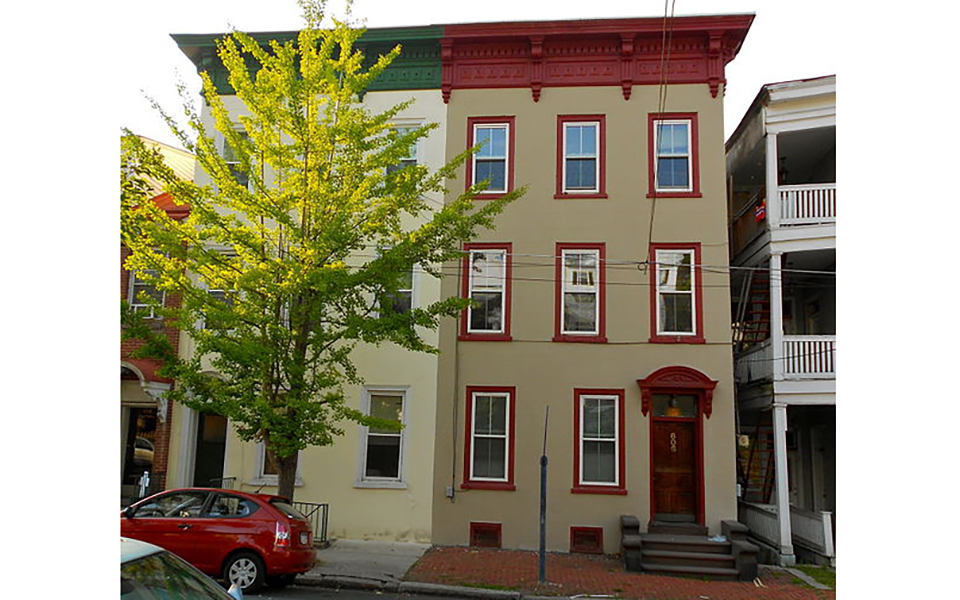 Photo: John O'Hara house, circa 1870, located at 606 Mahantongo Street, Pottsville. Listed on the National Register in 1978. Photographer: wikipedia username: Smallbones, 2013, public domain; accessed January, 2021.
---
The John O'Hara House (606 Mahantongo St.) was listed on the National Register of Historic Places in 1978. Portions of the content on this web page were adapted from a copy of the original nomination document. [1]
Description
The John O'Hara House, built prior to 1870 by David C. Yuengling, prosperous Pottsville brewer, is a three story, three bay wide stone building whose Mahantongo Street facade has been faced with a scored, smooth finish. The wide overhanging ornamental cornice — which is heavily carved — and the rounded hood above the door convey a general feeling of the Italianate style of architecture. Thick brownstone steps lead to the doorway, and a bay on the first floor of this building (at its eastern wall) is inset with leaded and stained glass windows.
Although the interior of this large edifice has been altered to accommodate the five apartments, several of the original appointments remain, including the intricate stained glass windows (also on the Mahantongo Street facade's first floor), glazed ceramic pictorial tiled walls (in the vestibule), the colored marble chip mosaic floor (also in the vestibule), the great staircase, and some original woodwork.
The house is in very good condition and, according to local sources, remains much the same as it did when inhabited by the John O'Hara family. The house was acquired by Dr. Patrick O'Hara, the author's father, in 1913 and the family settled there in 1916 and remained until 1940, when the doctor's widow left the anthracite coal region. Prior to 1870 it was the residence of D. G. Yuengling, and from 1870 until 1913 served as the residence for the Frederick G. Yuengling family.
Significance
John O'Hara (1905-1970) remains one of America's most important writers of the 20th century. One of the country's best known novelists and prolific short story writers, O'Hara received many distinctions during his noted literary career, including the Drama Critics Award (in 1952 for Pal Joey), the National Book Ward (in 1955 for Ten North Frederick) and the Award of Merit in Fiction for the Novel (in 1964), an award presented every five years, from the American Academy of Arts and Letters. He was awarded membership in the National Institute of Arts and Letters (1957), and was honored with inclusion in the Newspapermen's Hall of Fame.
Born at Pottsville on January 31, 1905, the Schuylkill County native — except for several stints at various preparatory, schools — remained, at Pottsville until 1928, at which time he made the final break from his hometown in order to embark on his literary career. In 1913 his father, Dr. Patrick O'Hara, a prospering Irish-Catholic physician and later one of the founders of Pottsville's Good Samaritan Hospital, purchased the stately townhouse occupied by F. G. Yuengling until his death at 606 Mahantongo Street. Yuengling was the scion of the very wealthy and prominent family of Pottsville brewers. This three story building was patterned after a New York City townhouse and was built prior to 1870 by D. G. Yuengling, founder of the brewing company. The move farther up this broad, sixteen block long boulevard symbolized not only financial prosperity but increasing social status and accompanying acceptability by Pottsville's upper echelon, conditions which fascinated John O'Hara and themes which permeated much of the writer's fiction. The O'Hara family resided at 606 Mahantongo Street from 1916 and remained until 1940 when the doctor's widow left Pottsville and joined her daughter in New York.
John O'Hara's real link with Pottsville and surrounding Schuylkill County is more than one of mere nativity. His preoccupation with the county seat of this anthracite coal mining region surfaced in several of his major works and in numerous short stories and sketches. His first novel, Appointment in Samarra (1934), chronicles the lives of the elite and affluent of Gibbsville, a thinly disguised literary version of the author's hometown. Villages and towns of Schuylkill County helped set O'Hara's fictional stage, and Tamaqua appeared as Taqua, Minersville as Collierville, Lykens as Lyons, and Schuylkill Haven as Swedish Haven. Pottsville's Mahantongo Street emerged as Latenengo Street and the county assumed the same fictional tag. Even the Gibbsville Club, three blocks below O'Hara's home and a major setting of at least five of the author's lengthy novels — Appointment in Samarra, Ten North Frederick, From the Terrace, Butterfield Eight, and The Big Laugh — bore the same street number as its real counterpart.
Ernest Hemingway had his Paris, John Steinbeck his Salinas Valley, and John O'Hara his Gibbsville/Pottsville, that much touted American community of the mid-1930's. Not many of the landmarks that dominated either of O'Hara's literary or real landscapes remain. In October of 1974, the Pottsville Club, the last tangible trace of John O'Hara's literary playground, burned to the ground. The dance pavilions and parks, grand hotels and elegant ballrooms, corner taverns and seedy speakeasies, once trademarks of the writer's regional Pennsylvania fiction, preceded the Pottsville Club in disappearing. Only John O'Hara's boyhood home stands today, a mute and ignored tribute to an aggressive young man whose ambitions were not to climb further up the wide tree-lined street, but were to crawl out of the narrow valley in which Pottsville lies, and into the realm of literary renown.
John O'Hara died April 11, 1970 at "Linebrook," his French-style manor house in Princeton, New Jersey. He left behind no other residence within the Commonwealth — except for 606 Mahantongo Street, Pottsville — that can even vaguely be associated with any significant part of his career. As a young man, he used that large family dining room of his Schuylkill County home as an office where he cranked out not only copy for the Pottsville Journal and the nearby Tamaqua Evening Corner, but short pieces of fiction, character sketches, and vignettes as well. From the O'Hara dining room table he progressed — with values determined by the rich life his comfortable neighborhood afforded him — to desks at the New Yorker, Time, Newsweek, etc., on his way to becoming one of the greatest contemporary American writers.
References
Bruccoli, Matthew J. The O'Hara Concern: A Biography of John O'Hara. New York: Random House, 1975.
Farr, Finis. O'Hara; A Biography. Boston: Little, Brown and Company, 1973.
Roberts, Jr., Edwin A. "The Curtain Falls on O'Hara's Stage." The National Observer. November 30, 1974.
Lowry, Joseph F. "Dear John (O'Hara): All is Forgiven, Love, Gibbsville." Philadelphia Bulletin Magazine. October 25, 1964.
O'Malley, Michael J. "The Pottsville Club is no More." The Valley Gazette. 29th Issue (November, 1974).
O'Malley, Michael J., Pennsylvania Historical and Museum Commission, John O'Hara House, nomination document, 1977, National Park Service, National Register of Historic Places, Washington, D.C.
Nearby Neighborhoods
Street Names
Mahantongo Street
---