Emmaus Borough
Borough municipal offices are located at 28 South Fourth Street, Emmaus PA 18049.
Phone: 610‑965‑9292.
---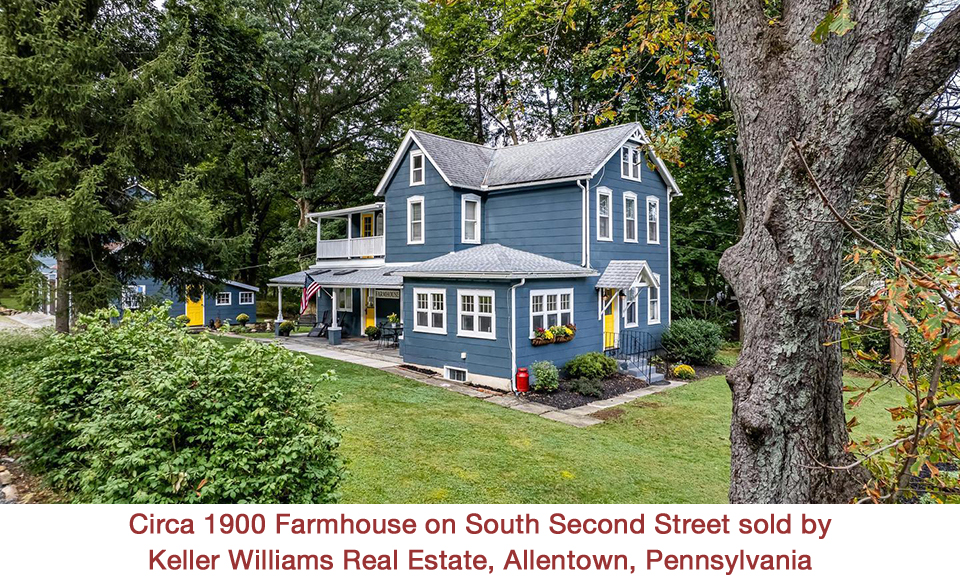 Circa 1900 Farmhouse on South 2nd Street, sold by The Daniel Witt Real Estate Group, Keller WIlliams Real Estate, Allentown, PA. Contact.
---
Emmaus Borough is located in the southern part of Lehigh County. It encompasses a land area of 2.9 square miles. The borough is bordered by Upper Milford to the south; Lower Macungie Township to the west; Salisbury Township and Allentown to the north; and Upper Saucon Township to the east.
Neighborhoods
Alpine Woods
Arrowhead
Cherokee
Country Heights
Hillside Manor
North Gate
Stryer
Emmaus [†] was founded in 1758 on land donated by Jacob Ehrenhardt Sr. and Sebastian Knauss, German immigrants who had settled the area in the 1730s. In 1742, Ehrenhardt and Knauss, who had acquired substantial tracts of land in the area, each gave a small parcels of land to the newly established Moravian congregation in neighboring Bethlehem on which to erect a small log church so that the local residents did not have to travel to Bethlehem for religious services. By 1747, the newly established congregation of thirty-four members had erected a schoolhouse and a rural mission called Maguntsche, closed to all but Moravians (*Barba, 44). A formal village plan containing 32 house lots and 17 field lots was designated In 1757, with the site surveyed and adopted the following year. The area was considered a congregational region until 1761 when the biblical name Emmaus was formally adopted. Records indicate the community included 144 persons by 1797 with a Gemienhaus and 13 family houses within the village proper and several farmsteads lying just outside the village boundaries (*Barba, 147). The village remained a small exclusive Moravian community into the 1830s when non-Moravians were allowed to own land within the town limits.
The 19th century brought considerable development in and around the town. The original log church was replaced by a modest stone church and parsonage, dozens of small stone, brick and frame buildings were constructed along Main Street and other important avenues, and the surrounding country side became dotted with the ubiquitous 19th century Pennsylvania stone farm houses and barns. These buildings remained modest and were typically based on traditional forms, but now with floor plans and design elements shared from both the English and German vernacular traditions. The town limits continually expanded so that by the mid 20th century Emmaus included many of the original outlots that had made up the Moravian community.
† Adapted from: National Register of Historic Places, Jacob Ehrenhardt Jr. House, National Register Nomination Document, U.S. Dept. of Interior, National Park Service, Washington, D.C.
Nearby Towns: Allentown City • Fountain Hill Boro • Hereford Twp • Lower Macungie Twp • Lower Milford Twp • Macungie Boro • Salisbury Township • South Whitehall Twp • Upper Milford Twp • Upper Saucon Twp •
---