Scranton City
Scranton City Hall is located at 340 North Washington Avenue, Scranton PA 18503.
Phone: 570‑348‑4113.
---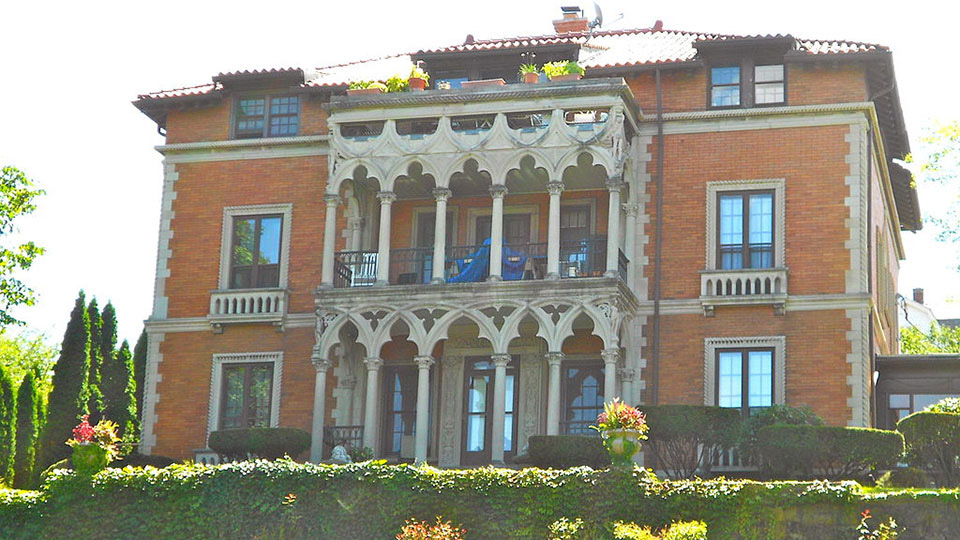 Photo: Joseph Cassese House, circa 1910 located at 1000 Clay Avenue, Scranton. Listed on the National Register of Historic Places in 1997. Photographed by User:smallbones (own work), 2013, via Wikimedia Commons, [public domain, cc-1.0], accessed January, 2022.
---
The "Electric City" is a nickname recognizing Scranton's claim for the operation of the first electric streetcar in the United States. The first run was on the evening of November 30, 1886 when passengers boarded after a lecture by African explorer Henry M. Stanley at the Academy of Music (on Wyoming Avenue opposite St. Luke's Episcopal Church) and rode to the Green Ridge section. Recently reelectrified, the "Electric City" sign atop the Board of Trade building dominates the north side of Courthouse Square. The eight-story building was once the tallest structure in Scranton. [www.nps.gov/nr/travel/delaware/textonly.htm]
Neighborhoods
Central City
East Mountain
Green Ridge
Hill Section
Hyde Park
Keyser Valley
Minooka
North Scranton
Providence
South Scranton
West Side
Beginnings [1]
Scranton – laid out on site of an Indian village, Muncy Tribe; began as an iron town; iron in large quantities was found in the hills three miles south of the city, and a suitable quality of limestone was also supposed to exist there; but the coal business superseded; the old ore mine, and abandoned road to furnaces at Scranton, are of historic and picturesque interest.
The courthouse, on Washington Avenue near center of town, stands in a square of ground, Romanesque, West Mountain stone, built 1881-84, architect, S. G, Perry. St. Luke's Protestant Episcopal Church. Wyoming Avenue near Linden Street, Gothic, West Mountain stone, built 1866-71, architect, R. M. Upjohn, New York; contains Tiffany mosaic panel, back of font, "Baptism of Christ," also Tiffany window in chancel, "The Ascension." St. Peter's Cathedral, at corner of Wyoming Avenue and Linden, Italian Renaissance, brick, built, 1866, architect, Joel Amsden; remodeled 1883 by Durand, Philadelphia. Administration Building of the International Correspondence Schools, Wyoming Avenue between Vine and Mulberry Streets, Gothic, West Mountain stone, built in 1898; architect, W. Scott Collins; window by Kenyon Cox, made in 1898, "Science Instructing Industry."
The Scranton Public Library (Albright Memorial) is placed as an accent of beauty, corner of Washington Avenue and Vine Street, French chateau style, fifteenth and sixteenth centuries, after Cluny Museum, Paris; gray Indiana limestone and brown Madina stone laid in coursed ashlar, built in 1893; architects, Green & Wicks, Buffalo, New York; contains portraits of Joseph J. Albright, painted in 1902, artist, Bayard Henry Tyler; and of John J. Albright, artist, Char-train, France; stained glass windows are illustrative of celebrated book bindings in the past; a marble mosaic floor is in the entrance hall.
Second Presbyterian Church, Jefferson Avenue between Vine and Mulberry Streets, Romanesque; West, Mountain stone, built 1885; has Tiffany windows, "Charity" and "Hope." Madison Avenue Synagogue, near Vine Street; Byzantine, West Mountain stone, built 1902, architect, George W. Kramer, New York. First Presbyterian Church, corner of Madison Avenue and Olive Street, perpendicular Gothic, Indiana limestone; built 1903, architect, Holden, New York; windows by John La Farge, " The Woman at the Well"; and by Tiffany, "The Ascension"; Tiffany mosaic, " Pentecost." Immanuel Baptist Church, corner of Jefferson Avenue and Mulberry Street, Gothic, Hummelstown redstone, built 1909, architect, Edward Langley, Scranton. Elm Park Church, corner of Linden and Jefferson Streets, Romanesque, West Mountain stone, built 1892, architect, George W. Kramer., Lackawanna Railroad Station, Lackawanna and Jefferson Avenues, Renaissance, Indiana limestone, granite base, built 1909, architects, Kenneth Murchison, New York, and Edward Langley; has interior finishings of Grueby tiles; and mosaic mural panels of views along the Lackawanna Railroad. The Everhart Museum of Natural History, Science and Art, in Nay Aug Park, south end of Milberry Street, given by the late Dr. I. F. Everhart, and sustained by generous endowment; Renaissance, terra-cotta, built 1908, architects, Blackwood & Nelson; contains also the Hollister collection of Indian curios. Much natural beauty centers about the water supply system of the Scranton Gas and Water Company, which has over ten miles of fine driveways, including the road to top of Mount Anonymous, overlooking the lake; and Long Swamp Drive and roads up about Scrub Oak Mountain.
History [2]
Scranton ... lies in the narrow crescent-shaped Lackawanna Valley in northeastern Pennsylvania. Mountains hem in the city — to the north and east the Moosic Mountains, to the west the West Mountains.
Despite the angular skyline formed by coal breakers and factory stacks, despite an occasional building resting askew on sunken foundations, Scranton as a whole is not dull or drab, though at places it is soot-begrimed. Close to the river, which winds in a southwesterly direction through the city, lies the downtown district, brightly lighted at night, as if to relieve the miner's surfeit of subterranean darkness. East of this is the 'Hill Section,' with clapboard and stuccoed dwellings predominating, because brick and mortar are scarce. More imposing houses are found in Green Ridge to the north. Generally, each of the national groups attracted here by the mining industry clings to a particular area: the Welsh concentrate in Hyde Park on the west; Germans and Irish in South Scranton; Poles, Russians, Lithuanians, and Italians in separate outlying sections.
Coal is the theme song of this city in the hills. Coal brought prosperity and also despair. Coal built its mansions, stores, banks, hotels, and hovels; it blackened the beautiful Lackawanna, scarred the mountain sides, made artificial hills of unsightly coal refuse, and undermined the city itself — but it created an anthracite kingdom, the importance of which merits a considerable place in American history. It exalted the hardihood of the Pennsylvania miner and brought into existence one of the most powerful labor unions in the country — the United Mine Workers of America. It did more than any other industry to diversify Pennsylvania's population and to develop its industry and commerce. Today 30 nationalities are represented in Scranton.
Until 1771 the Munsee Indians, under Chief Capoose, or Capouse, had their wigwams along both banks of the river. About the middle of the eighteenth century white settlers came and lived amicably with the natives, who gradually, between 1758 and 1771, moved westward to the Ohio Valley. The 'Wyoming Massacre' at Forty Fort in 1778 spread panic throughout the region, and the valley was depopulated of white settlers; it remained virtually uninhabited until 1788. Then Philip Abbott, who had migrated from Connecticut to the Wyoming Valley before the Revolution, came here and built a log hut and gristmill beside Roaring Brook. He was followed some ten years later by Ebenezer and Benjamin Slocum. The brothers began to acquire property in the settlement, which they named Unionville, although settlers called it Skunk's Misery. In 1816 they changed its name to Slocum Hollow. The Slocums built a forge and distillery in 1800, and operated both with more or less success — the forge until 1822, the distillery until 1826.
In 1840 two other brothers, George W. and Selden T. Scranton, came to the settlement from New Jersey. At that time it was a community of five weather-beaten old houses. Attracted by the abundance of iron ore and anthracite near by, the Scrantons and their partners — William Henry, Sanford Grant, and Philip Mattes — organized the firm of Scranton, Grant, and Company, and built a forge here. This firm was the nucleus of the Lackawanna Iron and Steel Company. Despite many discouragements, they finally succeeded in manufacturing iron with anthracite as a fuel. In 1845 the Scrantons named the place Harrison in honor of President William Henry Harrison.
With a view to expanding their plant, the Scranton brothers negotiated a loan of $10,000 from a cousin, Joseph Hand Scranton, of Georgia. In 1847 the cousin bought out Sanford Grant's interest, came north to help the new firm, and soon assumed command of the Lackawanna Iron Works. The post office at Scranton was established in 1850. Less than a year later the name of the town and post office was simplified as Scranton. In 1853 the first locomotive of the Delaware and Lackawanna Railroad came in, assuring an outlet for the iron industry. Development of the coal mines attracted thousands of immigrants, and by 1860 the population had reached 9,000.
In 1866 Scranton absorbed the two boroughs of Providence and Hyde Park, and the township of Providence, receiving its city charter in April of that year. In 1886, with a population exceeding 50,000, it introduced electric cars on the streets. The 1880's were also marked by the establishment of the Scranton Steel Company, which rolled the first steel rails in 1883. Eight years later Scranton Steel merged with the Lackawanna Iron and Coal Company, and the consolidated plants thereafter operated under the name of the Lackawanna Iron and Steel Company.
Scranton's first major clash between labor and capital involved the railroad and mining industries. This dispute, which resulted in riot and bloodshed, the call of troops, martial law, and collapse of the miners' union, occurred in 1877. In 1897, however, scattered units were organized into the United Mine Workers of America under the leadership of John Mitchell. Striking in 1900 for a 10 per cent increase in wages, they attained their objective; and, two years later, after a shutdown of mining operations from May 11 to October 23, they gained other substantial wage increases and better working conditions. Another strike, in 1923, resulted in higher wages and a basic eight-hour day. The longest and most disastrous general strike, from an economic standpoint, was that of 1925-1926. It lasted 170 days and its effects were felt for a decade.
In 1902 the city had received a severe setback when the Lackawanna Iron and Steel Company moved its plant to a site near Buffalo, New York, to be closer to the Great Lakes ore supply, but coal mining had already superseded steel as a leading industry, and many manufacturing plants were established here, among them the Scranton Lace Company plant, now one of the largest in the country. In 1914 the board of trade raised $1,000,000 to attract new industrial enterprises, which were soon turning out cotton, silk, woolen goods, shoes, mattresses, furniture, and mining machinery. In 1940 the number of employees in Scranton's 300 and more manufacturing plants exceeded 22,000, as compared with 16,000 at work in the coal industry.
Archambault, A. Margaretta, ed., A Guide Book of Art, Architecture, and Historic Interests in Pennsylvania, John C. Winston Company, Philadelphia, 1924
Writers Project, Works Project Administration, Pennsylvania, A Guide to the Keystone State, 1940, Federal Works Agency, John M. Carmody, Administrator
Nearby Towns: Avoca Boro • Blakely Boro • Duryea Boro • Old Forge Boro • Olyphant Boro •
---