Oxford Borough
Borough municipal offices are located at 401 Market Street, Oxford, PA 19363.
Phone: 610‑932‑2500. Oxford Public Library is located at 48 South Second Street.
Phone: 610‑932‑9625.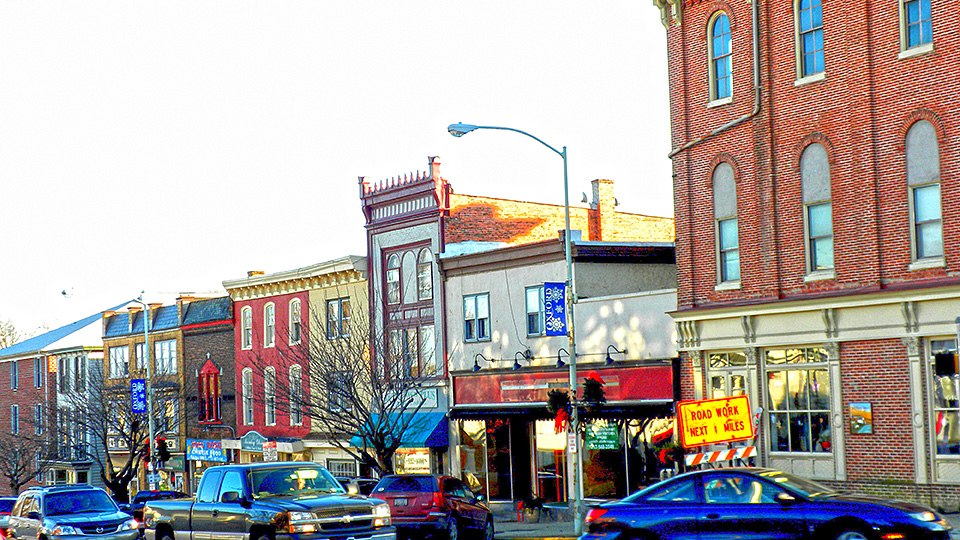 Photo: Home on 8th Street, circa 1915, compliments of Matthew Fetick, Realtor®, Keller Williams Realty, Kennett Square; 610‑427‑4420.
---
Neighborhoods
Oxford, [1] the hub of three arterial highways in the southwestern part of Chester County, was a bustling milk and trading center. Until Route 40 took traffic away from the center of town, the town of red brick houses was bright and busy and crowded each summer with tourists.
Incorporated as a borough in 1838, taken partly from Lower Oxford and principally from East Nottingham Township, Oxford grew slowly until a railroad was built in the 1850's. The village was first known as Hood's Tavern for Walter Hood, who purchased the first tavern from John Hayes shortly after it was opened in 1753. Not until the Oxford post office was established in Hood's Tavern in 1805 did the name of the village change from Hood's Tavern to Oxford.
The history of the village, however, is not as old as the township after which it was named. When Londonderry Township was divided in 1754, the western part received the name of Oxford after the English university town. It is said that this is the second place in America that some of the settlers named for the famous college seat. The first was Oxford township, now a part of Philadelphia. The area in Chester County was divided into two townships, Upper Oxford (pop. 997) and Lower Oxford (pop. 2007) in 1797.
Pinkowski, Edward, Chester County Place Names, Philadelphia: Sunshine Press, 1962.
Nearby Towns: East Nottingham Twp • Lower Oxford Twp • Rising Sun Town • Sadsbury Twp • Upper Oxford Twp • West Nottingham Twp •
---