Tulsa City
Tulsa City Hall is located at 200 Civic Center, Tulsa OK 74103.
Phone: 918‑596‑2100.
---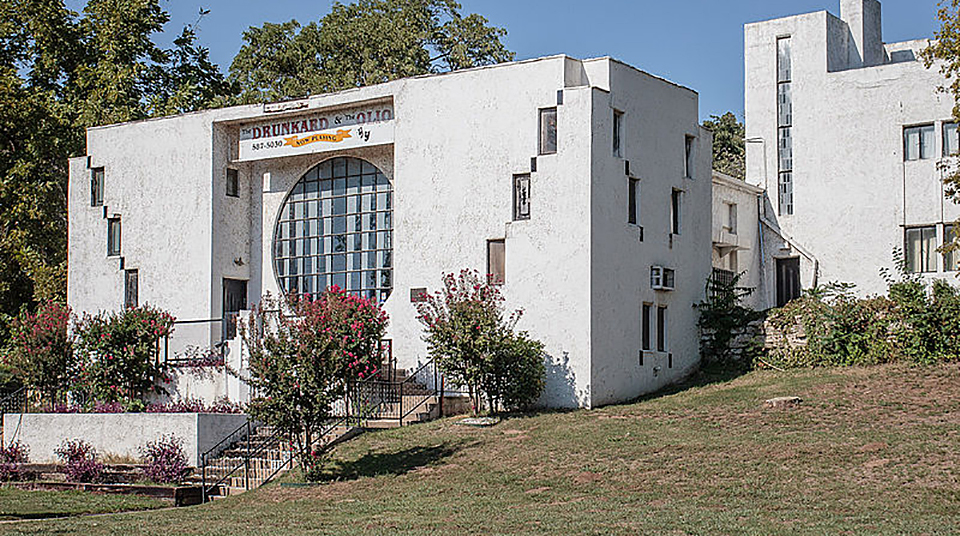 The Riverside Studio, also known as Tulsa Spotlight Club or Spotlight Theatre, was built in 1928 at 1381 Riverside Drive. It was designed by architect Bruce Goff in the International Style. It was built as a house with a studio wing for a music teacher named Patti Adams Shriner. It was listed on the U.S. National Register of Historic Places in 2001. Photographed by user:W. R. Oswald, 2012, (own work) [cc-3.0], via Wikimedia Commons, accessed July, 2021.
---
Neighborhoods
100 Block North Greenwood Avenue Historic District
Abdos Addition
Acre Gardens
Adams Estates
Adamson Heights
Anelen Heights
Annahlee Heights
Archer Heights
Arrowwood
Ashton Hollow
Ashton Woods
Audubon Park
Audubon Village
Avalon Place
Avondale
Barrington Place
Barrows Orchard Acres
Beekman Place Condos
Bellaire Heights
Belmont
Berry Hill Acres
Berry Hill Gardens
Birmingham Circle
Bolewood Acres
Bolewood Manor
Bolewood Terrace
Boman Acres
Bonnie Brae
Bowlin Acres
Braden Park
Braeswood
Brandy Chase Condos
Briardale
Briarglen Meadows
Briarglen Park
Briarview
Briarwood
Brighton Square
Bristol Park
Broadmoor
Brookline Square
Brookside
Brookwood
Bungalow Court
Burning Tree
Camelot Park
Candlelight
Canyon Creek Estates
Carbondale
Carol Acres
Cedar Gardens
Cedar Ridge Heights
Cedar Ridge Park
Cedar Valley Estates
Cedarcrest
Central Heights
Chandler Crest Estates
Charlane Estates
Charter Oak
Charyl Lynn Acres
Chelsea Pond
Cherokee Meadows
Cherokee Village
Chevy Chase
Chimney Hills Estates
Chimney Ridge
Clark Estates
Clarland Acres
Claypool
Clemishire Heights
Clinton Heights
Cloverdale
Colefax Hill
Corona Heights
Council Oak Estates
Crestview Estates
Crestwood at the River
Crosbie Heights
Crowell Heights
Crown Pointe
Crystal Creek
Cypress Creek
Danbrook
Darlington South
Deer Hollow Estates
Delaware Crossing Condos
Delaware Gardens
Delaware Pointe
Denwood Estates
Dilette
Eagle Ridge Condos
Eastland Acres
Eastland Acres
Eastpark
Elgin Heights
Esplanade Condos
Executive Estates
Fairway Estates
Fairway Manor
Federal Heights
Fieldstone Farm
Florence Park
Forest Acres
Forest Creek
Forest Estates
Forest Hills Estates
Forest Meadows
Forest Oaks
Forest Pointe
Forest Ridge
Forest Trails
Foxbriar at the Oaks
French Creek Patio Homes
Gladebrook
Hampton Oaks
Hanover Terrace
Hanwood Estates
Harvard Heights
Harvard Hills
Harvard Park South Amd
Harvard Pointe
Hearthstone Village Condos
Heatherridge
Highland Acres
Highland Hills
Hill Haven
Hillcrest
Holland Lakes
Holland Pointe
Holley Heights
Holliday Hills
Honey Creek
Houstonia
Howard Heights
Hudson Meadows
Hunters Hills
Hunters Pointe
Hunters Run
Imperial Estates
Indian Hills
Indian Woods
Irving Place
Jefferson Terrace
Kendall View
Kendalwood Park Townhouses
Kensington
Kingsridge Estates
Kingston
Kirkdale
Knollwood Estates
Kraatz-gerlach Addn
Lakeview Terrace
Laurel Heights
Layman Acres
Lazy Circle Acres
Legacy Park
Legends
Lewis Park Townhomes
Lewis Road Estates
Lewiston Gardens
Lexington
Liberty Towers Condos
Linda Vista Addn
Lindell Park
Loma Linda
Lombard
Longview Acres
Longview Lake Estates
Louisville Heights
Maple Ridge
Marion Gardens
Maryland Heights
Mayo Meadow
Memorial Estates
Mesa Park
Michael Heights
Midwestern Heights
Mill Creek Bridge
Mill Creek Pond
Millicent Crossing
Millspaugh Acrettes
Millwood Estates
Mingo Valley Estates
Minshall Park
Modern Heights
Moeller Heights
Morgan Heights
Mountain Manor
North Maple Ridge Historic District
Northgate
Oak Country Estates
Oak Crest
Oak Forest
Oak Hollow
Oak Leaf
Oak Ridge Park
Oak Tree Village
Oakbrook Estates
Oakbrook Village
Oakmont
Oakview Estates
Opportunity Heights
Oxford Court
Oxford Park
Ozark Garden Farms
Pamela Acres
Park Grove
Pebblecreek
Pecan Chase
Pinnacle Estates
Pleasant Valley Estates
Point South
Prestige Point Estates
Quail Creek
Quail Ridge
Quincy Lofts
Quincy Street Condos
Radio Heights
Raintree Estates
Ravens Crossing
Rayvern Park
Red Fork
Regency Park
Ridge Pointe
Ridgecrest
Ridgelawn
Ridgewood Hollow
River Oaks
Riverview Park Estates
Rockbridge Park
Rockhurst
Rockwood Hills Estates
Rockwood Hills Manor
Rolling Hills Estates
Rolling Oaks
Rondo Valley
Rondo Valley Ii
Rose Dew
Rosemont Heights
Royal Oaks Townhomes Condos-southern Cross
Rustic Hills
Saddlelane
Saddleridge
Scissortail at Wind River
Sequoyah Hill Ii
Seven Acres Place
Shadow Mountain Condo
Shadow Mountain Estates
Shadow Ridge Estates
Shadow Ridge Park
Shady Oaks Estates
Shannon Park
Shannonwood Park Condos
Sharmill Estates
Sheila Terrace
Sheridan Hills
Sheridan Oaks Estates
Sheridan Park
Sheridan Ridge
Sheridan Valley
Sherrelwood
Sherwood Forest
Signal Hill
Silver Oaks
Silverwood
Skyline Ridge
Skyview Acres
Smithview Estates
Snowcrest
South Country Estates
South Lewis Park
South Lewis View
South Shore Condos
South Springs
South Troost Gardens
South Yale Park
Southbrook
Southern Gardens
Southern Hills
Southern Hills View
Southern Oaks Estates
Southern Park Estates
Southern Pointe
Southern Village Estates
Southern Woods Estates
Southfield Estates
Southmont Estates Ext
Southridge Estates
Spicewood Pond
Stacey Lynn
Stachia Manor
Stone Creek Farms
Stonebriar Estates
Stonebridge
Stonebrooke Estates
Stonebrooke Glen
Stonebrooke Park
Stonegate
Stonewall Estates
Stratford Estates
Suburban Acres
Suburban Highlands
Suburban Hills
Summerfield
Summit Heights
Sun Meadow
Sun Valley
Sungate
Sunnybrook Acres
Sunnyland
Sunrise Terrace
Sunset Acres
Sunset View
Sunwood Hills
Sweetbriar
Tanglewood
Tanglewood Condos
Tanglewood Estates
Tanglewood Townhomes
Terrace Drive
Texana Park
The Cottages at Woodland Valley
The Crescent
The Enclave
The Estates at River Oaks
The Estates at Stone Creek
The Estates of Forest Park
The Gates at Forest Park
The Meadows
The Pouder and Pomeroy
The Reserve at Forest Hills
The Retreat at Brookside North
The Timbers of Tulsa Condos
The Treehouse Condos
The Trees
The Village
The Village at Central Park
The Village at Legacy
The Villages at Ashton Creek
The Villages of Highland Park
The Villas at Southern Hills
The Villas of Tuscany
The Wilderness
The Woodlands
Thousand Oaks
Tiffany Park
Timbercrest
Timberland
Town and Country Estates
Tracy Terrace
Tradition
Travis Heights
Travis Park
Trinity Creek
Tulsa Garden Acres
Tulsa Heights
Turnlawn Heights
University Park
University Place
Utica Place Condos
Valley Glen
Valley Homes
Valley South
Valley View Acres
Verndale
Victory
Vienna Woods
Villa Grove Gardens
Villa Grove Heights
Villa Grove Park
Vinson
Wagon Wheel
Wakefield
Walnut Creek
Walter Foster
Warren Heights
Warrenton
Waterstone
Wedgewood
Wenmoor
Wenmoor
Wentworth Acres
West Highlands
Western Village
Westful Vista
Westrope Acres
Whispering Meadows
White City Historic District
Wildwood
Williamsburg
Willow Creek Condos
Wilshire Manor
Wind River
Winnetka Heights
Winstead
Winwood Condos
Wistful View
Wood Niche
Woodbine
Woodchuck
Woodcrest Hills Townehomes Condos
Woodfield Village
Woodhill
Woodhill Estates
Woodhill Heights
Woodhill Hollow
Woodlake Village Condos
Woodland Heights
Woodland Hills South
Woodland Meadows
Woodland View
Woodland View Park Iv Amd
Woodridge
Woodside Village
Woodview Heights
Woodward Park
Woodward Terrace Condos
Woody Crest
Yahola Heights
Yale Crest
Yargee Acres
Beginnings [‡]
The town of Tulsa existed as early 1879 when a post office was established on the Perryman Ranch in the Creek Nation. The town, first called "Tulsey Town," grew slowly. During the early 1880s, the town was a haven for gamblers and "bad men" due to its isolation. At the time of the first government townsite survey in Indian Territory in 1900, Tulsa's population stood at merely 1,390. [1]
Shortly after this survey, a momentous event occurred near Tulsa, Indian Territory. This event not only had a major impact on Tulsa but the entire future state of Oklahoma. In 1901, the state's first important commercial oil well blew in. Located in Red Fork, this landmark well was across the Arkansas River from Tulsa. Two years later, the Secretary of the Interior allowed the leasing of restricted Indian Territory lands under Department of the Interior supervision. The oil rush was on as oil men from Pennsylvania and other states flocked to Indian Territory. In 1904, three men built a toll bridge over the Arkansas River connecting Red Fork and Tulsa. In addition to allowing Tulsa to benefit from the Red Fork strike, the toll bridge also enabled the town to profit from the fabulous Glenn Pool strike which blew in 1905. Within months of the discovery, the Glenn Pool field was "famous throughout the industry as the richest small field in the world." [2]
At the time of Oklahoma's statehood in 1907, Tulsa's population had jumped to 7,298, an increase of nearly six thousand in just seven years. In just three years, Tulsa's population more than doubled to reach 18,182 in 1910. As to be expected, a major commercial and residential building boom accompanied this tremendous population boom with brick plants working at capacity. Hotels, office buildings and fine residences were under construction as the streets were paved. By late August 1910, construction activity underway in Tulsa was valued at over one million dollars. Pipelines to the Gulf of Mexico opened as oil prices climbed. In 1912, a third major oil pool, the Cushing field, blew in. Although the incredible production from the Cushing field temporarily resulted in a drop in crude oil price by 1916, the United States' entrance into World War I rallied the market. Additionally, it was during this time that the first oil refining plant opened in Tulsa. By 1920, Tulsa's population had grown to 72,075, a tremendous increase of almost fifty-four thousand persons in merely ten years. Nearly doubling in the ensuing decade, Tulsa's population by 1930 was 141,258 and the city was the second largest in the state. Although oil drilling activity occurred allover eastern Oklahoma, the oil companies' headquarters were generally located at Tulsa and that is where the oil men in charge made their homes. As such, Tulsa became known as the "Oil Capital of the World." [3]
Like the rest of the nation, the oil business and Tulsa did not escape unscathed by the Great Depression of the 1930s. Further worsening the status of the oil industry in Oklahoma was the October 1930 discovery of oil in the East Texas field. Forty-five miles long and five to ten miles wide, the East Texas field quickly yielded a sufficient amount of oil by itself to satisfy national demand. The worsening economic conditions combined to such an extent that by 1933 the price of oil had reached bottom of the barrel prices and a good portion of Tulsa's residents were jobless. Although oil prices stabilized between 1934 and 1940, the decade of the 1930s proved to be difficult for Tulsans, as all Americans. In 1941, the city's population stood at only 142,157. This represented a growth of only 899 citizens since 1930.[4]
America's involvement in World War II proved to be a major redeeming event for Tulsa, as well as the nation as a whole. Although Tulsa and Oklahoma did not benefit from the increased military spending of early 1940, it quickly became apparent Tulsa enjoyed certain important characteristics that made it ideal for subsequent military spending. These features included its central, secure location in the middle of the country; ready sources of cheap fuel; a good network of roads and highways; and, a large pool of trained and unemployed workers. According to one source, the only drawback Tulsa had was the lack of available workers housing for the thousands of laborers necessary to make Tulsa" ... a center of war production." Nonetheless, in early 1941, the War Department named Tulsa as a potential site for the new $15 million Douglas Aircraft Company plant. On 2 May 1941, a ceremonial ground breaking heralded the start of construction on the mile long building which by the summer of 1942 occupied one-and-one-half square feet of floor space. By the fall of 1942, the Douglas plant was in need of expansion and the plant payroll included nearly fifteen thousand workers earning an average of just over $185 a month. [5]
The Douglas Aircraft plant was not the only wartime plant impacting Tulsa in the early 1940s. Although the aircraft industry expended more than twenty million dollars during the period to expand their facilities in Tulsa, other factories in Tulsa spent more than seven million dollars in expanding their industrial plants during the war. In 1939, Tulsa manufacturers employed eleven thousand Tulsans in primarily oil-related manufacturing jobs. By 1945 forty-two thousand residents worked in local manufacturing plants. The majority of these in non-oil related capacities. In 1945, the United States Department of Labor determined that Tulsa was among the top three cities impacted by the wartime industrial expansion. In terms of the number of residents, between 1940 and 1945, Tulsa's population expanded by nearly a third to reach 185,000. [6]
Following the end of World War II, Tulsa continued to enjoy a prosperity unthought of in the 1930s. Responding to consumer demands for goods of all types, Tulsa continued to expand its industrial base. Further boosting the city's economy was the continued spending by the Federal government on military-related industries during the Cold War of the late 1940s through the early 1990s. This remarkable varied industrial development spurred Tulsa's growth through the 1950s and 1960s. By the early 1970s, Tulsa led the state in manufacturing. [7]
Endnotes
[1] The WPA Guide to 1930s Oklahoma (Lawrence, Kansas: The University Press of Kansas, 1986),206-208.
[2] Ibid., 208. See also Angie Debo, Tulsa: From Creek Town to Oil Capital, (Norman, Oklahoma: University of Oklahoma Press, 1943),86-88.
[3] Ibid.,208-209. See also Debo, Tulsa, 88 and 97-99.
[4] Danney Goble, Ph.D., Tulsa! Biography of the American City (Tulsa, Oklahoma: Council Oak Books, 1998), 139-140, 143, 151 and 181. See also WPA Guide, 205.
[5] Ibid., 170-180.
[6] Ibid., 181.
[7] Ibid., 242-245.
‡ Savage, Cynthia, City of Tulsa, Stonebraker Heights Historic District, nomination document, 2006, National Park Service, National Register of Historic Places, Washington, D.C.
---