Oklahoma City
Oklahoma City "City Hall" is located at 200 North Walker Street, Oklahoma City, OK 73102.
Phone: 405‑297‑2345.
---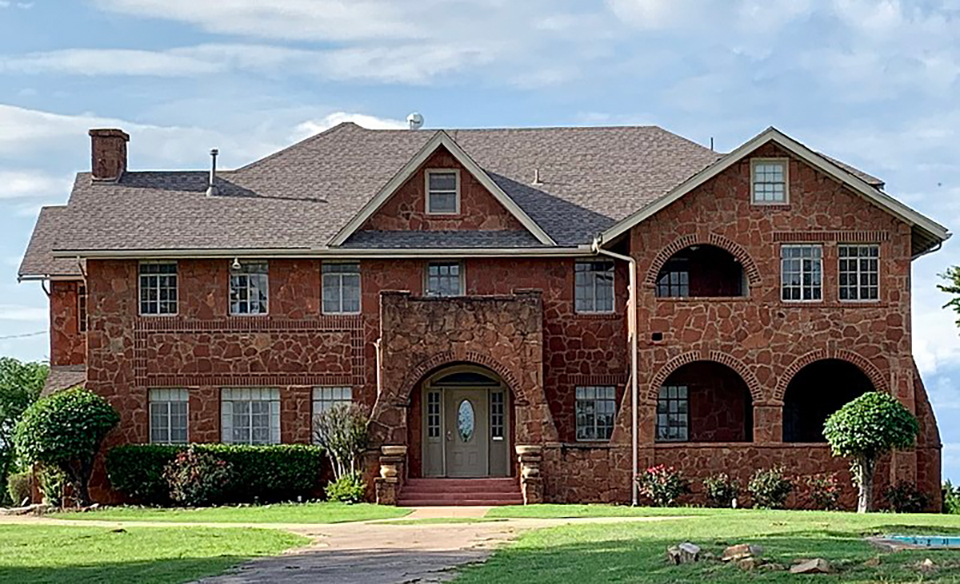 Photo: Dr. W.H. Slaughter House, circa 1937, located at 1521 North Hudson Avenue. Oklahoma City Listed on the National Register of Historic Places in 2018. Photographed by User:OKJaguar (own work), 2020, [cc-4.0], via Wikimedia Commons, accessed February, 2023.
---
Beginnings [1]
Oklahoma City was established as a result of the 1889 Land Run with an initial population of 4,138, which by 1910, three years after Statehood, had risen to 64,205. Extending in all four directions from the downtown, residential neighborhoods quickly developed. Toward the northeast, on the east side of the Santa Fe Railroad tracks, the Maywood Addition developed with stately Victorian residences. South of the downtown area, across the North Canadian River, the Capitol Hill neighborhood was established. And, northwest of downtown Oklahoma City, following the progress of the streetcar lines, were the majority of Oklahoma City's middle and upper class neighborhoods.
Neighborhoods
Academy Heights
Acropolis
Adventure District
Airport Heights
Altavue
Apple Valley
Arbor Grove
Artesian Heights
Arts District
Ashbury Square
Ashford Place
Asian District
Aspen Hills
Augusta Heights
Aurora
Automobile Alley
Bartlett Place
Bath Orchard
Beacon Hill
Beil Manor
Belle Isle
Bentwood Creek
Bergamo
Biltmore Estates
Blackwood Farms
Blueridge
Bluff Creek
Braden Park
Bradford Place
Brandywine
Briarcreek
Briarwood Estates
Bricktown
Brighton Pointe
Britton Heights
Britton Park
Brookhaven Estates
Brookhollow Estates
Brookwood
Brown Oaks
Burtondale
Bush Hills
Calistoga Crossing
Cambridge
Cambridge Park
Camden Place
Camelot Estates
Campbell Acres
Canyon Lakes
Capitol Hill
Carnegie Centre
Carney Heights
Casady Heights
Casady Hills
Casady Manor
Casady Terrace
Cascata
Cashion Place
Cedar Lake Estates
Cedar Ridge Farm
Centennial Lofts
Chadbrooke Esatates
Chapel Creek
Chatenay
Chaumont Condos
Chisholm Creek
Cinderella Est
Cinderella Estates
Cloverleaf Manor
Cobblestone
Coleys
College Hill
Copper Creek
Copperchase
Corbin Park
Coronado Heights
Cottonwood Farm
Council Oaks
Country Edge Estates
Country Hollow
Country Oaks
Country Place
Crab Orchard
Creekwood Estates
Crestwood
Crosby Heights
Crystal Gardens
Culbertson Heights
Deep Deuce
Deer Creek
Deerfield
Del Crest
Del Haven
Del Mar Hills
Del Rancho
Downtown
Draper Park
Eagle Lake
Eagle Ridge
Eagles Cove
East Britton
Eastlake
Edendale Estates
Edgecourt
Edgemere Heights
Edgemont
Edgewater
Edwards Heights
Edwards Historic District
Elizabeth Heighs
Enclave Garden
Englewood Young
Epperly Heights
Estes Park
Fairfax
Fairview
Falcon Pointe
Featherstone
Fieldstone
Floral Hill
Fox Garden
Fox Hollow
Fox Run
Frost Heights
Frost Hgts
Gaillardia
Garden Oaks
Gast Heights
Gatewood
Gatewood East Historic District
Gatewood West Historic District
Gemstone Acres
George Cornman
Gladys Place
Glenbriar Estates
Glenbrook
Glenhurst
Glenview
Goffs
Gold Medal Hill
Golden Oaks
Grady Lakeside
Gramercy Park
Grandview Place
Green Acres
Green Valley
Greens
Grenmoor
Griffin Park
Halbrook
Hamill
Harmony Hill
Harrison
Harvest Estates
Harvest Hills
Harvey Lofts
Hassman Heights
Hawthorne Place
Hefner Village
Hemingway Condos
Henry Acres
Heritage Oaks
Heritage Square
Hiawatha
Hickory Creek
Hidden Creek
Higgins Heights
Highland Terrace
Highland View
Hill Heights
Hillcrest
Hillcrest Heights
Hilldale
Hilltop Estates
Hilltop Lakes
Holiday Village
Holly Brook Estates
Homedale
Hope
Howard Grove
Hugh H Kelly
Hunters Green
Hunters Lot
Hunters Place
Huntington Acres
Hutchison
Imperial Terrace
Indian Creek
Ingleside
Ivanhoe
Jamestown
Jefferson Estates
Jefferson Heights
Jones Grove
Jordan Place
Kennington
Kimberly Place
Kings Creek Estates
Kingsridge
Kingswood
Kiva Commons
Knob Hill
Kroeger Heights
Lake Park Townhomes
Lake Ridge
Lakecrest
Lakehurst
Lakeridge Run
Lakeshore Estates
Lansbrook
Las Rosas
Las Vegas
Legacy
Lekecrest
Liberty Acres
Liberty Trails
Lincoln View
Linhurst
Linwood Place
Lumbermans
Macarthur Terrace
Markland Heights
Martindale
May Park
Mayfair
Mayfair Heights
Mayfair Hills
Mayfield
Maywood Park
Mclemore
Meadow Cliff
Meadow Creek
Meadow Lakes
Meadow Ridge Estates
Meadowlake Farm
Melrose Lane
Meridian Hills
Meridian Manor
Meridian Meadow
Midwest Heights
Milam Place
Mimosa Heights
Minton Orchard
Montereau
Moore Heights
Morgan Creek
Moultrie Manor
Mount Tuohy
Mount Vernon
Mustang Creek
Myers
Mystic Ridge
Nantucket Condos
Neal Heights
Nichols Gate
Nichols Hills
Nicholson Place
Normal Heights Addition
Normandie Condos
Northampton
Northaven
Northlake
Northridge
Northwood
Oak Park
Oak Wood Manor
Oakbridge Trail
Oakcliff
Oakdale Park
Oakdale Valley
Oakwood Manor
Oakwood Village
Oasis
Olde Tuscany
Olde West
Ole Windmill Estates
Overholser Manor
Park Estates
Park Terrance
Patrick Moore S
Penn Park
Penn South
Penshurst
Philbrooke
Pikes Pointe
Pine Oaks
Ponderosa
Portland Hills
Powers
Prairie Ridge
Preston Hills
Proffitts
Prosperity Acres
Putnam Hts
Quail Circle
Quail Creek
Quail Run
Quail Springs
Raintree Villas
Rambling Acres
Rancho Village
Ranchwood Manor
Raney
Ravenswood
Redbud Estates
Regal Lake Estates
Remington Place
Ridgecrest
Rio De Bella
Rivendell
Rivendell on the Lake
River Bend Estates
River Oaks
Riverlake Estates
Riverside
Rock Creek
Rock Knoll
Rockport
Rollingwood
Rose Rock
Rosewood
Ross Heights
Rowland Hills
Roxboro
Royal Oaks
Sabram Estates
Saddleback Estates
Santa Fe Sunset
Santa Fe Villas
Schillings
Settlers Ridge
Shadowlake
Shallow Brook
Shaws Heights
Sherwood
Shields Heights
Sierra Madre
Silver Lake
Silvertree
Sky Ranch
Skyview Village
South Glen
South Harbor
South Highland
South Lake Estates
South Meadows
Southern Hills
Southern Oaks
Southlake
Southridge
Southwood Hills
Speece
Spring Brook
Springdale
Springhollow
St Croix Villas
St James Pointe
St Johns Wood
Standers
Starview Heightd
Sterts Northwes
Stockyard City
Stone Heights
Stone Manor
Stone Meadows
Stonegate
Stonemill
Stoneridge Farm
Stratford Place
Strosler Heights
Success Heights
Summit Condos
Summit Place
Summitt Heights
Sun Vallet Acre
Sun Valley Acre
Sunny Pointe
Sunnybrook
Sunnydale
Sunset Gardens
Sunset Park
Sunvalley Ridge
Sutton Place
Sycamore Creek
Sycamore Square
Talavera
Tanglewood Hill
Tappan Heights
Tara Plantation
Taylors Ridge
Tealwood
The Arbors
The Barrington
The Commons
The Crescent
The Eagles
The Embers
The Falls
The Fountains
The Greens
The Grove
The Legacy
The Manors
The Oaks
The Oasis
The Village
Thomason
Thousand Oaks
Timber Creek
Tinker Town
Treadwell Hills
Turtle Creek Estates
Turtle Lake
Tuxedo Park
Twin Lakes
Upland
Val Verde
Valencia
Victorias Place
Village Green
Vinehaven
Vintage Farms
Vintage Gardens
Vizcaya
Volz Addition
Wahldale
Walden Creek
Walden Estates
Walnut Creek Estates
Warr Acres
Warrior Heights
Warwick Estates
Warwick Heights
Warwick Place
Warwick West
Waterford Condos
Waterview
West End
West Oaks
West Point
West Winds
Westbrooke
Westcliffe
Western Hills
Westlake
Westlawn
Westminster
Westmont
Westmoor
Weston
Westridge Hills
Wheeler Addition
White Orchard
Whitehall
Wildewood Hills
Wildflower
Wileman
Wileman Vi
Wileman Viii
Williamson Farm
Willow Bend
Willow Creek
Willow Oaks
Wilmont Place
Wilshire Estates
Wilshire Hills
Wilshire Ridge
Wilshire Square
Wimberley Estates
Winds West
Windsor Court
Windsor Forest
Windsor Hills
Windsor Lakes
Windsor Oaks
Winepark
Winfield
Wingspread
Wingspread Ii
Woodhaven
Woodlake
Woodland Hills
Zurline Park
By the mid-1910's, frame and brick homes lined the streets of the city and, while many were located south of Northwest 10th, there were some as far north as Northwest 23rd. The Oklahoma City economy boomed during the 1920's and neighborhoods continued to develop rapidly with almost every street from the centrally located downtown north to North 36th and south to South 29th completely filled with homes of varying sizes. These neighborhoods represent the residential architectural styles of the mid-1910's and 1920's. These styles include Bungalow, Colonial Revival, Prairie School, Tudor Revival, and many others typical of the two decades.
The discovery of the Oklahoma City Oil Field in 1928 resulted in one final economic boom before the effects of the Great Depression reached the city. This economy encouraged developers such as G.A. Nichols to continue to develop parcels of land and build and sell houses. Crown Heights was the largest middle class neighborhood platted from 1928 until after World War II.
Maryjo Meacham, Kerri Robinett and John R. Calhoun, City of Oklahoma City, Crown Heights Historic District, nomination document, 1995, National Park Service, National Register of Historic Places, Washington, D.C.
Nearby Towns: Del City • Forest Park Town • Lake Aluma Town • Nichols Hills City • Smith Village Town • The Village City • Warr Acres City •
---