---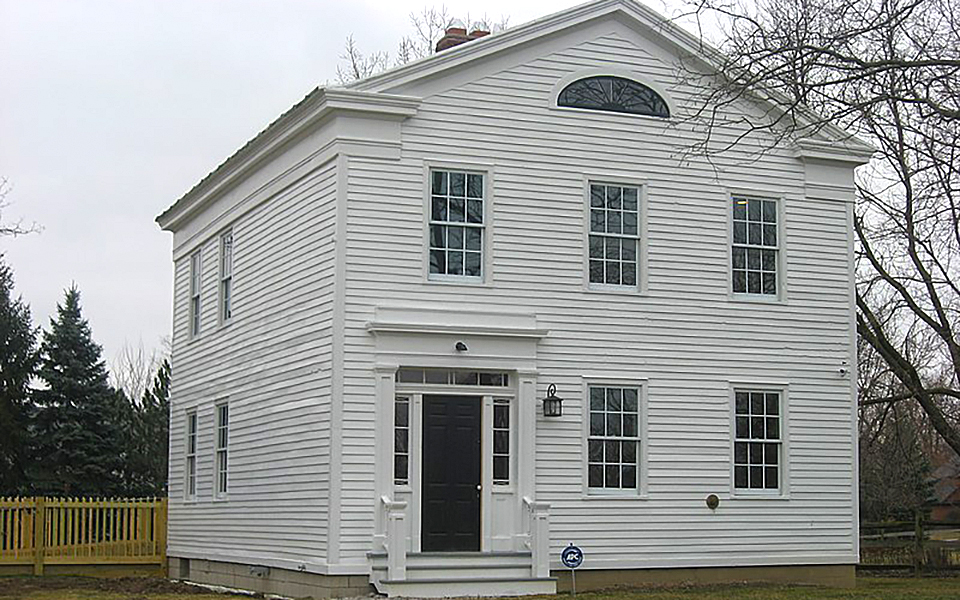 Photo: Spafford House, circa 1830, located at 27338 West River Road (State Route 65), Perrysburg. Listed on the National Register of Historic Places in 1974. Photographed by User:Nyttend, own work), 2013, [public domain], via Wikimedia Commons, accessed December, 2022.
---
Wood County administrative offices are located at One Courthouse Square, Bowling Green, OH 43402; phone: 419-354-9000.
Wood County [1] was named after Colonel Eleazor D. Wood, a graduate of West Point, a gallant soldier, and the engineer who planned Fort Meigs. The County was organized on February 12, 1820 when the legislature carved 14 counties from the lands purchased from the Wyandot, Seneca, Delaware, Shawnee, Potawatomi, Ottawa, and Chippewa tribes as a result of the Lower Maumee Treaty of September 28, 1817. The City of Perrysburg was the County Seat from 1822 through 1868. However, in 1868, the City of Bowling Green was made the County Seat. The County has nineteen townships, twenty-one villages, and five cities.
Wood County is located at the intersection of major transportation infrastructure in Northwestern Ohio. Interstate and intrastate highways, commercial air transportation systems, and numerous railroad lines all provide the County and the region with excellent access to local, state, national, and international markets. Interstate 75, along with State Routes 25, 23, 420, 199 and 235, runs in a North-South direction in the County. Similarly, U.S. Routes 6, 20, 23 and the Ohio Turnpike (I-80/I-90), State Routes 64, 65, 795, 579, 51, 163, 582, 105 18 and 281 run in an East-West direction in the northern part of the County connecting it with the rest of the State of Ohio. Interstate 475 runs along the North-East corner of the County, with Interstate 280 connecting Wood County to Lucas County on the northern side.
Additionally, the County is home to two higher educational institutions—Bowling Green State University and Owens Community College. Professional services, manufacturing and farming provide the economic foundation for the County. Because of the high quality of the soil, Wood County possesses some of the most prime farmland in the State of Ohio, and indeed the nation. This unique mix of business, education, manufacturing, and farming provides Wood County with excellent potential for economic stability.
Wood County, Ohio, Wood County Comprehensive Plan Update, 2007, planning.co.wood.oh.us, accessed October, 2015.