Closter Borough
Closter Borough Hall is located at 295 Old Closter Dock Road, Closter, NJ 07624.
Phone: 201‑784‑0600.
---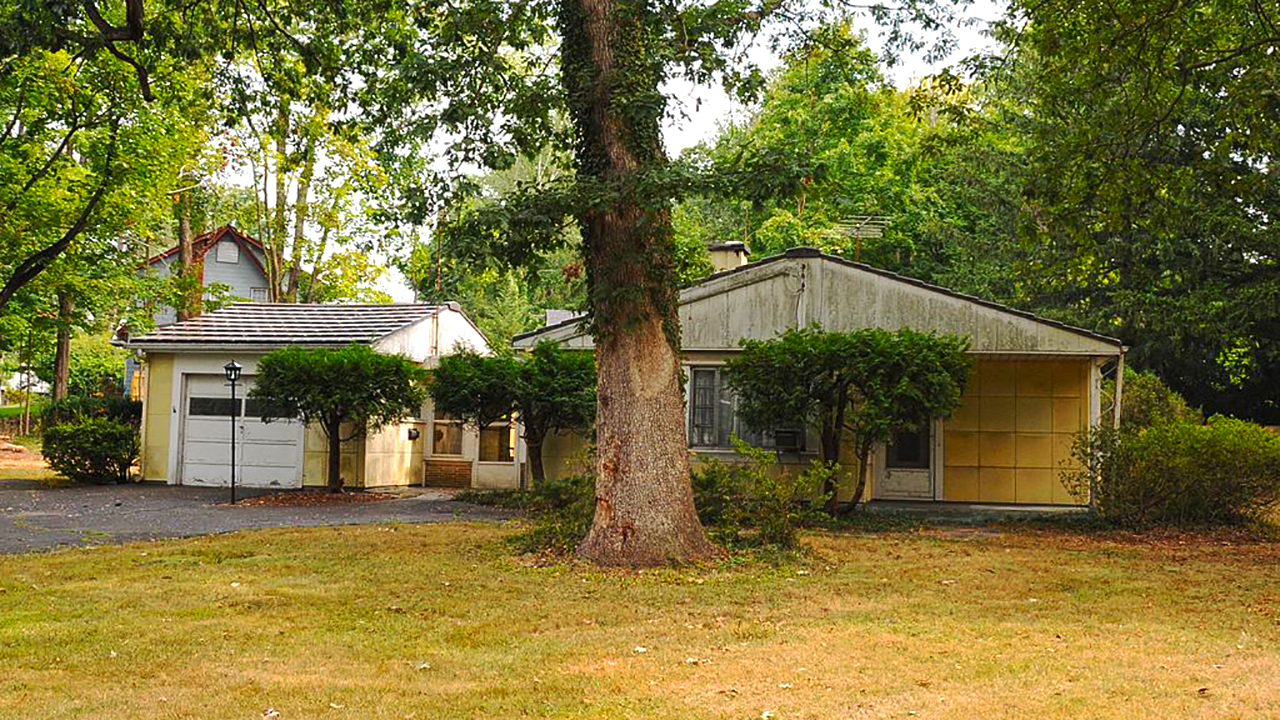 Photo: Harold Hess, deluxe model Lustron Steel House, circa 1950, located at 421 Durie Avenue, Closter. Listed on the National Register of Historic Places in 2000. Photographed by User:Jerrye & Roy Klotz MD (own work), 2014, [cc-4.0], via Wikimedia Commons, accessed September, 2021.
---
Settled in the early 1700s, Closter Borough was incorporated in 1904 from part of Harrington Township.
Although it is situated in this densely populated region, the Borough [1] contains nearly 230 acres of open space and woodlands. According to NJDEP 2002 land use data, Closter Borough is 68% urban, 13% wetlands, 12% forest, 6% water and 1% agriculture. Closter maintains a leadership role as the "Hub of the Northern Valley," with shopping centers, recreational facilities, religious services, and medical, educational and legal resources. Closter is also rich in ethnic and cultural diversity. The community has had an active Recreation Commission since shortly after World War II, which sponsors a major portion of Closter's recreational activities. In addition, the municipality has had a dedicated Environmental Commission, which was established in 1976, as well as a Shade Tree Commission. Together, these Commissions are actively working with the Borough Planning Board, the Mayor and Council to preserve, protect, and enhance the open space and recreational resources within the community.
Neighborhoods
Closter as described in 1939 [2]
Closter is a village of frame buildings with new facings of brick or composition shingle. The town was the scene of a spontaneous strike in 1936 during the course of which a sympathizer was shot and eventually died. The killing provided a vigorous controversy over civil liberties, accentuated when the police forbade a memorial mass meeting, which, however, was finally held after an injunction had been obtained. The shop foreman was found guilty of the killing and was sentenced to serve from 6 to 10 years in the State Penitentiary. The strikers were persuaded to return to work.
Sustainable Closter Initiative, 2008, www.closterboro.com, accessed September, 2021.
Federal Writers' Project of the Works Progress Administration for the State of New Jersey, New Jersey: A Guide to Its Present and Past, American Guide Series, The Viking Press, 1939, New York
Nearby Towns: Alpine Boro • Bergenfield Boro • Bogota Boro • Dumont Boro • Englewood City • Hackensack City • Hastings-on-Hudson Village • Montvale Boro • New Milford Boro • Norwood Boro • Oradell Boro • Orangetown Town • River Edge Boro • Rockleigh Boro • Tenafly Boro •
---