Indianapolis City
Indianapolis City Hall is located at 200 East Washington Street (City County Building), Indianapolis IN 46204.
Phone: 317‑327‑5014.
---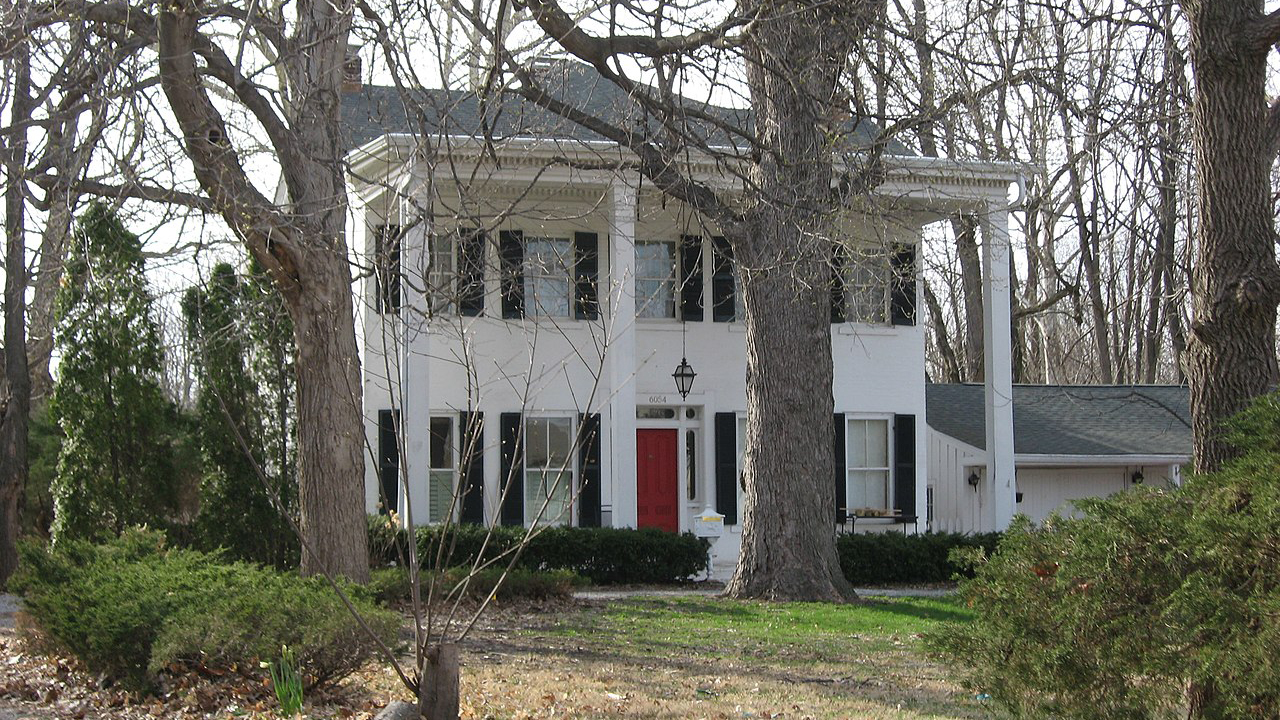 Photo: Hollingsworth House, built circa 1854, located at 6054 Hollingsworth Road. Listed on the National Register of Historic Places in 1984. Photographed by User:Nyttend (own work), 2011, public domain, via Wikimedia Commons, accessed July, 2021.
---
Indianapolis is, today, virtually co-extensive with Marion County. References to towns and townships within the county are for historical reference.
Beginnings [1]
With the admission of Indiana to the union in 1816, Congress had made a donation of four square miles of land for the site of a capitol wherever the State might choose. Indiana's capital had moved with the State's growing population, first at Vincennes, and then to Corydon; however, in January 1820, a reluctant General Assembly, realizing that Corydon was an inconvenient location for a capitol, appointed a commission for the selection of a permanent seat of government. Politics dictated a central location, but transportation needs of the era demanded a riverside location. These two criteria seemed to determine a site on the White River near a trading station operated by William Conner.
Neighborhoods
Acton
Acton
Addison Meadows
Adler Grove
Admirals Bay
Admirals Cove
Admirals Landing
Admirals Pointe
Admirals Sound
Admirals Woods
Aidan Acres
Airesworth Addition
Alamo Terrace
Alcove at Greenbriar
Alder Grove
Alexander Heights
Allangale Woods
Allenby Addition
Allison Commons
Allison Heights
Allisonville Estates
Alton Place
Alton Terrace
Alverna Estates
Ambassador Park
Ambassador Park North
Ambassador Park South
Amber Ridge
Amberley Crossing
Ambleside
Amos Jones Addition
Anchorage
Andorra Park
Andre Heights
Ansar Village
Arapaho Point
Arapaho Ridge
Arbor Village
Arbor Woods
Arbordale Highlands
Ardelle
Ardmore
Arlington Acres
Arlington Acres East
Arlington Acres North
Arlington Commons
Arlington Estates
Arlington Heights
Arlington Manor
Arlington Manor South
Arlington Meadows
Arlington Park
Arlington Place
Arlington Ridge
Arlington Woods
Armstrong
Armstrong Park
Arrow Head Estates
Arrowhead
Arrowhead Estates
Arsenal Park
Arvin Lofts
Ashbys
Ashland
Ashland Pointe
Ashlawn
Ashton
Askren House
Aspen Ridge
Atlantic Addition
Atwell Acres
Auburn Addition
Audubon Gardens
Audubon Terrace
August Place
Augusta Crossing
Augusta Green
Augusta Heights
Augusta Meadows
Augusta Way
Autumn Creek
Autumn Creek East
Autumn Glen
Autumn Ridge
Autumn Woods
Avalon Estates
Avalon Forest
Avalon Hills
Avalon Meadows
Avalon Trails
Avery Woods Estates
Avon Creek Estates
Avondale
Avondale Heights
Ayrshire
Backbay
Baden Manor
Bailey Highlands
Ballinshire
Ballinshire Estates
Bancroft Addition
Banta South
Banta Trails
Barrington Commons
Barrington Gardens
Bartons
Bates-Hendricks
Bay Colony
Bay Forest Estates
Bay Landing
Bay Point
Bay Ridge
Bay Ridge Estates
Bayberry Village
Bayshore Villas
Bayside Woods
Bayswater at Eagle Creek
Beacon Heights
Beam Reach
Beatys Addition
Beau Jardin
Beau Terra
Beaumont Farms
Beaumont on the Green
Bechtold
Becker Estates
Beechcrest
Beechcroft
Beechler Estates
Beechwood
Beechwood Heights
Bellaire
Belle Arbor Estates
Belle Meade
Belle Meade Estates
Bellmore
Bells Run
Belmont Garden Place
Benjamin Square
Bentley Commons
Bentley Estates
Bentley Farms
Bentwood
Bentwood Park
Berkeley
Berkley Place
Berkshire
Berkshire Heights
Berwick Addition
Bethel Heights
Beverly Heights
Bicknells
Bierman Estates
Big Run
Bigneys
Biltmore
Biltmore Gardens
Bishops Pond
Blackburn Terrace
Bloomfield Lakes
Bloomfield Lakes Estates
Blue Overlook
Blue Ridge
Blues Overlook
Bluff Acres
Bluff Meadows
Bluff View Meadow
Bluff View Meadow South
Boardwalk
Boatrights
Boehning
Bohnes Garfield Park
Bolander Woods
Bonges
Bonham Place
Boston Commons
Boulder Gate Terrace
Boulders at Geist
Boulevard Manor
Boulevard Park
Boulevard Square
Boulevard Terrace
Bradford Creek
Bradford Meadows
Bradford Place
Bradford Pointe
Bradford Trace
Bradford Woods
Brady Village
Braemoor
Branch Creek
Brandywine
Breckenridge
Bremers
Brendon Forest
Brendon Park
Brendonridge
Brendonshire
Brendonwood
Brendonwood
Brennan Woods
Brentwood Hills
Brentwood Park
Bretton Woods
Briarbrook Farms
Briarbrook Village
Briargate
Briarpatch Woods
Briarstone Villas
Brickenwood
Bridgefield
Bridgefield Villas
Bridgeport Commons
Bridgeport Heights
Bridgeport Road Manor
Bridgewater
Brightwood
Brittnay Estates
Broad Ripple
Broad Ripple Village
Broadhurst
Broadmoor Terrace
Broadway Lofts
Broadway Terrace
Brockton
Brodleigh
Brook Knoll
Brookacre
Brookdale Heights
Brookfield
Brookfield Estates
Brookfield Place
Brookfield Village
Brookhaven
Brookside
Brookside Park
Brookston
Brookstone at Twin Creeks
Brookville Village
Brookwood Crossing
Browndale
Brownstones at Lockerbie
Bruce Baker Addition
Bruce Place
Bruces Home Gardens
Brunson Acres
Brydons
Buck Creek Meadows
Buck Creek Village
Buck Creek Woods
Buffalo Creek
Buffalo Trails
Bullman Heights
Bungalow Park
Bunker Hill
Burge Terrace
Burris
Burton Crossing
Butler-Tarkington
Cambridge Heights
Camby
Cameron Meadows
Campus Terrace
Canby Home Place
Candlelite Village
Canfield Place
Canfield Row
Canterbury
Canterbury Condos
Cape Cod Village
Cardinal Cove
Carefree Estates
Carey Ranch
Carlton Place
Carpenters Home Place
Carriage Courts
Carriage Estates
Carrington Commons
Carroll Crossing
Carroll Farms
Carsons Farm
Carters
Carters Park
Casa De Pinon
Casa De Prado
Casa Verde
Caseys Manor
Castillia
Castle Cove
Castle Knoll Farms
Castle Ridge
Castlebay Woods
Castlebridge
Castlebrook
Castleton
Castleton Estates
Castleton Farms
Castlewood
Catalina Estates
Catherine Blue Addition
Cedar Cove
Cedar Crest
Cedar Grove
Cedar Knolls
Cedar Park
Cedar Ridge
Cedar Springs
Central Avenue Heights
Central Avenue Townhomes
Central Park Addition
Champion Acres
Champions Village
Chapel Bend
Chapel Glen
Chapel Hill
Chapel Pines
Chapel Ridge
Chapelwood Creek
Chapelwood Glenn
Chapman Streets Realty
Char-Le-Mac Village
Char-Le-Sumac Estates
Charlotte Place
Charmwood Terrace
Charter Pointe
Chatham Arch
Chatham Courts
Chatham Manor
Chatham Place Townhomes
Chatham Pointe
Chatham Walk
Chelsea Heights
Cherry Lake
Cherry Tree Estates
Chesapeake
Chessington Grove
Chester Place
Chesterfield
Chesterton
Chestnut Hills
Cheswick Place
Cheyenne at Southern Dunes
Cheyenne Lakes
Chimney Heights
Chippewa Lakes
Christian Park Heights
Churchman Estates
Clarks Addition
Classic View Estates
Claybrooke
Clear View Farms
Clearview Estates
Clearview Farms
Clearvista Townhomes
Clearwater
Clearwater Cove
Clearwater Estates
Clemons Place
Clermont
Clermont Heights
Clermont Lakes
Cleveland Place
Clevelander
Clevland Place
Clifford Place Addition
Clifton Place
Clover Leaf Village
Cloverleaf Farms
Cloverleaf Village
Cobblestone
Coffmans
Coil Park
Cold Spring Estates
Cold Spring Heights
Cold Spring Highlands
Cold Springs Estates
College Avenue Highlands
College Corner
College Courts
College Crest
College Heights
College Hills
College Meadows
College Park
College Plaza
College Way
Colonial Manor
Colony Estates
Colony Woods
Colorado Hills
Columbia Place
Columbia Terrace
Commons of Fall Creek
Compton Farm
Concord Heights
Conrad Residences
Cooper Pointe
Copeland Mills
Copeland Mills Estates
Copper Grove
Copperfield
Coppermill at the Park
Coronado Estates
Corydon
Cottage Grove
Cottage Home
Cottage Park on the River
Coulter Flats Condos
Coulters East
Country Air Estates
Country Charm
Country Club Estates
Country Club Heights
Country Club Pines
Country Club Place
Country Creek Villas
Country Estates
Country Farms
Country Junction
Country Meadows
Country Place
Country Pointe
Country Village
Country Walk
Countrybrook
Countryside
Courtyard Homes
Coventry Park
Coventry Woods
Craigwood
Craigwood Estates
Cranbrook Addition
Creekbend
Creekside Crossing
Creekside Meadows
Creekside Woods
Creekview Estates
Creekwood Hills
Creekwood Homes
Crestline
Creston
Crestview
Crestwood Addition
Cricket Tree
Crippins River Park
Crooked Creek
Crooked Creek Heights
Crooked Creek Villages
Cross Creek
Crossfield
Crossgate
Crown Hill
Crows Nest
Crows Nest Estates
Crystal Lake
Crystal Lake South
Crystal Pointe
Cumberland
Cumberland Cove
Cumberland Estates
Cumberland Heights
Cumberland Lakes
Daggys Star
Dahlia Gardens
Dandy Trail Estates
Daughertys
Davidsons
Davidsons
Davis Sugar Grove
Dawnbury
Dawsons
De Ville Place
Dean Meadows
Deauville Estates
Debello
Debello Estates
Decatur
Decatur Commons
Decatur Ridge
Deer Creek
Deer Ridge
Deer Run
Deerfield Village
Delaware Heights
Delaware Oaks
Delaware Trails
Denwood
Desoto Condos
Desoto Townhomes
Detwiler Condos
Deville Place
Devington Acres
Devon Hills
Devon Lake
Devon Ridge
Devon Woods
Devonshire
Diamond Place
Diamond Pointe
Diamond Ridge
Dickson Place
Dora Additio
Dorseys
Douglas Park
Douglas Pointe Lofts
Douglass Park
Downeys Southeast
Drakeshire
Drexel Gardens
Driftwood Hills
Dukane Court
Dumonts
Durham Park
Eagle Bay
Eagle Cove
Eagle Creek
Eagle Creek Estates
Eagle Creek Manor
Eagle Creek Meadows
Eagle Creek North
Eagle Creek Overlook
Eagle Creek Woods
Eagle Crossing
Eagle Nest
Eagle Pines
Eagle Ridge
Eagle Springs
Eagle Trace
Eagle Trace Village
Eagle Valley
Eagle Valley Farms
Eaglebrook Park
Eagledale
Eagles Crest
Eagles Crossing
Eagles Knoll
Eagles Landing
Eagles Nest
Eagles Watch
Eagles Way
Eaglewood
East 21St St Gardens
East Avalon Hills
East Boulevard Heights
East Lawn Addition
East Meridian Heights
East Monticello Point
East Woodlawn
East Woodruff
Eastbrooke
Eastbrooke Meadows
Easterbrooke
Eastern Heights
Eastgate
Eastland Terrace
Eastmoreland
Eastmoreland Place
Easton
Eastowne Homes
Eastridge
Eastwood
Eastwood Park
Eastworth Point
Echo Crest
Echo Pointe
Eden Village
Eden Woods
Edenwilde
Edgehill
Edgewater Place
Edgewater Terrace
Edgewood
Edgewood Acres
Edgewood Place
Edgewood Trace
Edmondson Addition
Edmors Alton Terrace
El Rico
Elder Eastern Heights
Elders
Elders Washington Place
Eleventh Street Townhomes
Ellenberger Terrace
Ellersee
Elmwood Addition
Emblegarde
Emerald Green
Emerald Ridge
Emerald Village
Emerleigh
Emerson Crest
Emerson Gardens
Emerson Highlands
Emerson Park
Emerson Place
Emerson Terrace
Emerson Woods
Englewood
English Crossing
English Heights
Enrights
Epler Avenue
Ermerson Highlands
Estates of Normandy Farms
Ettinger Schrerber
Eubanks
Evergreen Acres
Executive Manor
Exeter Park
Factory Park
Factory Place
Fair Meadows
Fairfax
Fairfield Heights
Fairhaven Estates
Fairhurst College
Fairlawn
Fairview Heights
Fairview Park
Fairview Terrace
Fairway Estates
Fairway Village
Fairway Woods
Fairways at Winding Ridge
Fairways East
Fairwood Hills
Falcon Creek
Falcon Lakes
Falcon Ridge
Falcon Run Village
Falcons Nest
Falenders Meadow
Fall Creek
Fall Creek Estates
Fall Creek Heights
Fall Creek Highlands
Fall Creek Manor
Fall Creek Place
Fall Creek Village
Fallenders Meadowood
Farhill Downs
Farhill Woods
Farley
Farley Meadows
Farleys Speedway
Farmington
Fawn Lake Estates
Feather Bay
Feather Cove
Feather Run
Feather Trace
Feeneys River Heights
Ferguson Commons
Ferguson Hill Place
Ferndale
Ferrell Estates
Fieldstone at Twin Creeks
Finks Addition
Firehouse Square
Firethorn Trace
First Devington Addition
First Seed Addition
First State Addition
Fisher Creek
Fisher Creek Condos
Fishers Homesites
Five Points
Flanders Meadow Lake
Flat Branch
Flat Branch Estates
Fleming Garden Place
Fletcher Highland
Fletcher Place
Fletchers
Foothill Farms
Forest Creek
Forest Glen
Forest Manor
Forest Manor Estates
Forest Park
Forest Ridge
Forest View Estates
Forrest Commons
Forrest Manor
Fountain Springs
Fountain Square
Fountain Village
Fox Hill Acres
Fox Hill Estates
Fox Orchard
Fox Pointe
Fox Ridge
Foxchase
Foxfire
Foxhill Manor
Foxhill Terrace
Franklin Gardens
Franklin Heights
Franklin Meadows
Franklin Park
Franklin Park Estates
Franklin Shire
Franklin Trace
Franklin Trail Estates
Franklin Woods
Frazee Home Place
Frontgate
Furgason Home Place
Gale Estates
Galecrest
Garden City Addition
Garden Court Village
Garden Walk
Garfield Heights
Garfield Park
Garfield Terrace
Gateway Townhouses
Gateway West
Gehrleins
Geist Pointe
Geist Valley Estates
Geist Woods
Georgetown Crossing
Georgetown Village
Gerards
German Park Heights
Geyers
Glass Works Addition
Glastonbury Court
Glen Cove
Glen Ellen
Glen Oaks Village
Glen Ridge
Glen Ridge Estates
Glen Ridge South
Glencoe
Glencroft
Glendale
Glendale Heights
Glendale Meadows
Glendale Terrace
Glendale Townhomes
Glennroy Village
Glenns Valley
Glennurban Estates
Glennwoods
Glenridge
Glenroy Village
Glenurban Estates
Glenview Estates
Glenview Park
Glenwoods
Glicks
Gln Oaks Village
Golden Acres
Golden Hill
Golden Oaks
Golden West Condos
Golden Woods
Goldsberrys
Golf View Estates
Golf View Manor
Golfmoor
Good Homes Addition
Goodlet Homes Addition
Goose Creek Estates
Gordon Acres
Gordons Addition
Governors Pointe
Grace Hill
Grafs College
Graham Avenue Heights
Grand View Estates
Grandview Acres
Grandview Estates
Grandview Gardens
Grandview Meadows
Grasmere
Grassy Creek
Grassy Creek Village
Gray Arbor
Gray Farms Estates
Gray Manor Addition
Gray Meadows
Green Acres
Green Braes Estates
Green Hills
Green Lea
Green Meadows
Green Rock
Greenbriar
Greenlawn
Greentree
Greenway Estates
Greer Dell Estates
Gregorys Hill Place
Grey Fox Woods
Greystone
Greythorne
Grossmans
Grove Place Addition
Guffins
Guion Creek Woods
Guion Lakes
Guion Pointe
H Lauter Lofts
Hadleys
Halcyon Park
Hamantsadd
Hamilton Heights
Hamilton Hills
Hammond Estates...
Hampton Cove
Hampton Ridge
Hamptons at Geist
Hanna Heights
Hannaman
Hanover
Hanover Chase
Hanover Grove
Hanover North
Hansing
Hansing Park
Harbour Club
Harbour Pines
Harbour Pines North
Harcourt Springs
Harmony
Harness Lakes
Harrison
Harrison Heights
Harrison Park
Harrison Ridge
Harrison Run
Harrison Square
Hartman Farms
Hartman Village
Hartmandale Addition
Harvest Glen
Harvey
Hasselman Place
Hastings Trace
Hathaway Homes
Hatherleigh
Haugjhville
Havenfair
Hawthorne Manor
Hawthorne Meadows
Hawthorne Place
Hawthornes
Hawthornes at the Crossing
Hearthstone
Heather Hills Gardens
Heatherlea
Heatherwood
Heatherwood Estates
Heathery
Heathwood
Heawich Cul De Sacs
Hendricks Heights
Heritage Commons
Heritage Park
Heritage Place
Heron Lake
Hi-Acre Manor
Hiawatha Gardens
Hickory Park
Hickory Square
Hidden Bay
Hidden Creek
Hidden Lake Estates
Hidden Oak
High Gate
High Knoll Estates
High Ridge
Highland Creek
Highland Park
Highlands
Highlands at Eagle Creek
Highlands at Eagle Crossing
Highlands at Geist
Highlands Trail
Highridge Place
Highway Park
Highwoods
Hiland Manor
Hildebrands Addition
Hill Valley
Hill Valley Estates
Hillcrest
Hillcrest Acres
Hillside
Hillside Villas
Hillton Addition
Hillvalley Estates
Hilton Manor
Hoergers
Holcomb Estates
Holiday Addition
Holiday Manor
Holly Creek
Holly Heights
Holly Hills
Hollywood
Holy Cross Commons
Home Lawn Addition
Homecroft
Homedell
Homestead Lakes
Homewood
Homewood Park
Honey Manor
Hoods Addition
Hoover Crest
Horace Mann Condos
Horizon Estates
Hubbard
Hubbard Park
Hubbard Park Heights
Huddleston Estates
Hudson Bay at Southern Dunes
Hunters Crossing
Hunters Crossing Estates
Hunters Glen
Hunters Green
Hunters Run
Hunters Woods
Huntington Estates
Huntington Heights
Huntington Pointe
Huntington Ridge
Huntwick
Huntwick
Hy-View Meadows
Hyde Park
Iac Lofts
Illinois Terrace
Imperial Estates
Imperial Gardens
Indian Creek
Indian Creek Meadows
Indian Lake
Indian Pointe
Indiana Avenue
Indiana Park
Indianapolis Heights
Inverness at Country Club
Iron Springs
Irongate
Irving Ridge
Irvington
Irvington Circle Condos
Irvington Gardens
Irvington Hills
Irvington Manor
Irvington Terrace
Island Park
Islands East
Ivanhoe Heights
Ivic Estates
Ivy Hills
Ivy Ridge
Jackson Park
Jellico Twins
Jennings Sugar Grove
Jensen Garden Heights
Johnsons &Amp; Hogshires E Wa
Journeys End
Justus Southern Manor Est
Karrmann Heights
Kathy Heights
Kealing Place
Keeneland Crest
Keller Park
Kenmore Heights
Kennys
Kensington Commons
Kensington Farms
Kenwood Addition
Kenwood Forest
Kenwood Park
Kesslar Pointe
Kessler Commons
Kessler Court
Kessler Estates
Kessler Gardens
Kessler Green
Kessler Park
Kessler Place Condos
Kessler Pointe
Kessler Ridge
Kesslerwood
Ketcham Place
Kevin Crest
Keystone at the Crossing
Keystone Heights
Keystone Lakes
Keystone Manor
Keystone Park
Killarney Heights
Killarney Hill
Kimberlins
King Estates
Kings Cove
Kirkwood Estates
Kissel Heights
Knoll Condos
Knollton Heights
Knollwood
Knollwood Valley
Kollers
Kuhns Addition
Lady Hamilton
Ladywood Bluff
Ladywood Estates
Ladywood Gardens
Lafayette Heights
Lafayette Highlands
Lafayette Square
Lafayette Villas
Lake Charlevoix
Lake Clearwater
Lake Clearwater Pointe
Lake Forest
Lake in The Woods
Lake Kesslerwood
Lake Kesslerwood East
Lake Maxinhall Estates
Lakeland Manor
Lakeland Trails
Lakes at the Crossing
Lakes at Winding Ridge
Lakes of Grassy Creek
Lakeside
Lakeside Manor
Lakeside Manor West
Lakeside Woods
Lakewood Gardens
Lakewood Village
Lancastershire
Lanesville
Langenburg
Lantern Forest
Lantern Hills
Lantern Park
Lappin Way
Lascala Villas
Latonia Park
Lattas Resub
Laurel Hall
Lawrence
Lawrence Lakes
Lawrence Manor
Lawrence Park
Lawrence Terrace
Lawrence Woods
Lawson Estates
Lawton Estates
Lawton Place
Laymans
Leeds Addition
Legendary Hills
Legends Creek
Leland Heights
Leland Place
Lenore Homes Addition
Lenox Place
Lentz
Leonards
Lexington Farms
Liberty Creek
Liberty Creek North
Liberty Gardens
Liberty Oak
Liberty Village
Lighthouse Cove
Lincoln Park
Lincolnwood
Lindbergh Highlands
Linden Square
Lindenwood
Linhurst Addition
Links at Eagle Creek
Links at Winding Ridge
Lions Gate
Lions Head
Listers
Little Farms
Little Flower
Little Oak Lake
Lloyd Meadows
Lockefield Gardens
Lockerbie
Lockerbie Corners
Lockerbie Park
Lockerbie Square
Lockerbie Terrace
Lockwood
Lombardi Row
Longacre
Longacre Addition
Longwood Glen
Lookout Gardens
Lowe Terrace Addition
Lowell Manor
Lucas Place
Lukenbills
Lyndale
Lynhurst Gardens
Lynhurst Heights
Machlan Terrace
Madinger Heirs
Madison Drive Addition
Madison Heights
Madison Terrace
Madlingers North
Mallard Crossing
Mallard Lake
Malott Park
Malvern Addition
Manderley
Mannville Park
Mansur Park
Mansur Park
Mansur Square
Maple Bluffs
Maple Court
Maple Creek Commons
Maple Creek Country Club
Maple Crest
Maple Downs
Maple Glen
Maple Grove
Maple Grove Estates
Maple Heights
Maple Hill Addition
Maple Hills
Maple Lawn
Maple Lawn Farms
Maple Ridge
Maple Ridge Estates
Maplecrest Addition
Maplewood
Marbar Homes Addition
Marcarla
Mardosia
Margisons Home Park
Marina Village
Marion Highlands
Marion Park
Marlin Meadows
Marquis Manor
Mars Hill
Marshall Park
Martindale
Martindale South
Maryknoll Park
Masthead
Matmore Addition
Mayfair Addition
Mayfair Lane
Mayfair Village
Mayflower Meadows
Mayflower Park
Mayflower Village
Maynards
Maywood Manor
Mc Ilvain's Central Avenu
Mccabe Park
Mccartys
Mccords Crossing
Mcfarland Estates
Mcfarland Farms
Mcgregor Highlands
Mcilvains East Meridian
Meadlawn
Meadow Bend
Meadow Brook Farms
Meadow Park
Meadow Vue Court
Meadowbrooks
Meadowlark Lakes
Meadowlark Villas
Meadowood
Meadowview Add
Meadowview Farms
Meadowvue
Medallion Meadows
Meehs
Melbourne Heights
Melvin
Mendenhall Meadows
Mendenhall Pleasant Acres
Meridian Arch Condos
Meridian Gardens
Meridian Heights
Meridian Highlands
Meridian Hills
Meridian Homes
Meridian Knolls
Meridian Lofts
Meridian Manor
Meridian Meadows
Meridian Park
Meridian Park Estates
Meridian Place
Meridian Square
Meridian Terrace
Meridian Village
Meridian Westfield
Meridian Woods
Meridian Woods Manor
Meridian Woods Park
Meridian Woods Village
Merrill Street Townhomes
Merritt Place
Metz Forest
Meyer Estates
Michigan at Park Lofts
Michigan Estates
Michigan Highlands
Michigan Road Gardens
Michigan Terrace
Mill Pond
Millena Estates
Millerdale
Minerva Heights
Minnehaha Add
Misty Lake
Misty Ridge
Misty Woods
Moeller Estates
Moller Village
Monon Row
Monteo Village
Monticello
Montrose
Moodys Add
Moorings
Mootz Add
Morgans Sub
Morningside
Morningside
Morris
Morris Park
Morrisons Addition
Morrow Wood
Morton Place
Moss Creek
Mount Auburn
Mozel Sander
Muesing Creek Estates
Muir Woods
Muirfield
Murphys Se Add
Myers Manor
Myron Place
Mystic Bay
Nantucket Bay
National Park
New Augusta Woods
New Beth-El
New Fields
New Heritage
New Ralston Estates
Newberry Glen
Newbury Place
Newells North Place
Newlynn
Newport Bay
Niermeyers Add
Nixon Condos
Nobles Add
Noel Forest
Nora Woods
Noraleigh
Normandy Farms
North Arsenal Park
North Brookside Park
North Butler Terrace
North Central Manor
North College Woods
North Crows Nest
North Eastwood
North Euclid Place
North German Church Woods
North Kessler
North Kessler Manor
North Kessler Park
North Lawrence Park
North Meadow
North Meridian Highlands
North Meridian Hills
North Meridian Manor
North Meridian Place
North Plaza
North Pointe Bay
North Ridge
North Shore
North Side Add
North View Addition
North Willow Farms
North Willow Park
North Willow Way
North Willow Woods
North Woods
Northampton
Northborough
Northbrook
Northcliffe
Northcroft
Northdale
Northeastern Park Heights
Northeastwood
Northern Estates
Northern Heights
Northern Hills
Northmead
Northolm
Northpoint Village
Northridge
Northside Add
Northup Add
Northup Addition
Northview
Northview Manor
Norwaldo
Nottingham Park
Nowakowski Home Sites
Oak Lawn
Oak Park Addition
Oak Park Village
Oak Ridge Manor
Oak Trace
Oakforge Lakes
Oakforge Woods
Oakhaven
Oakland Hills
Oakland Park
Oakland Terrace
Oakland Village
Oakland Woods
Oaklandon
Oaklandon Meadows
Oaklandon Northeast
Oaklandon Point
Oaklawn
Oakmont
Oakridge
Oaks Addition
Oakwood Estates
Old Colony
Old Mill Park
Old Northside
Old Northside Lofts
Olde Mill
Oldfields Country Homes
Oliver Johnsons Woods
Orchard Acres
Orchard Estates
Orchard Hills Estates
Orchard Lawn
Orchard Park
Orchard Valley Farms
Orchard View Estates
Osborn Ridge
Overlook at Williams Creek
Owens
Oxbow Estates
Oxford Park
Oxford Place
Oxford Terrace
Oxford Village
Packard
Palmers Addition
Palmers Home Place
Pamela Add
Parc Estates
Parc Estates North
Park 100
Park Avenue Heights
Park Crest
Park Hoover Village
Park Lafayette
Park Meridian
Park North
Park of the Four Seasons
Park Valley Estates
Park View at Wellingshire
Park Wood Terrace
Park-View at Wellingshire
Parke Place
Parks at Winding Ridge
Parkside Addition
Parkside at Georgetown
Parkside Crossing
Parkview Add
Parkview Estates
Parkview Place
Parkwood Court
Parkwood Terrace
Parliament Park
Pasadena Heights
Patterson Knoll
Pattman Craft Addition
Peachtree Condos
Pebblebrooke at Geist
Pendleton
Pendleton Heights
Penn Heights South
Penn Park Add
Penn Square
Penn View Heights
Pennridge
Pennsylvania Heights
Pennwood
Perry Commons
Perry Lakes
Perry Manor
Perry Oaks
Perry Pines
Perry Woods Estates
Persimmon Creek
Persimmon Grove
Persimmon Ridge
Pheasant Run
Phillips Subdivision
Pickwick Commons
Pickwick Village
Pikewood
Pine Hill Estates
Pine Point
Pine Ridge Estates
Pine Springs
Pine Woods
Pinecrest
Plantation Meadows
Pleasant Heights
Pleasant Hills
Pleasant Lake Estates
Pleasant Run Eminence
Pleasanton
Polks
Polley Woods
Pomona Place
Pope Place
Post Homes
Post Way Manor
Potomac Place
Potters Cove
Prairie Acres
Preserve at Eagle Creek
Preserve at Fall Creek
Preserve at Indian Lake
Primrose Village
Princeton Lakes
Princeton Place
Pritcher And Hohlt
Prospect Heights
Pyramid Pointe
Quail Creek
Quail Pointe
Quail Ridge
Rahkewood Addition
Rainbow Acres
Rainbow Highlands
Rainbow Ridge
Rainbow Valley
Ralston Heights
Ransome Place
Ravenswood
Raymond Park
Raymond Park Heights
Raymond Park Village
Reagan Park
Real Silk Lofts
Red Fox Commons
Red Fox Woods
Red Maple Grove
Reflections at Waterwood
Regency Circle Courts
Renaissance Place
Renaissance Tower
Reserve at Broad Ripple
Reserve at Springmill
Richland Add
Richmond Hill
Riddle Manor
Ridenours
Ridge Creek Pines
Ridge Field East
Ridge Hill Trails
Ridge View
Ridgefield East
Ridgegate
Ridgehill Trails
Ridgeview Commons
Ridgewood Hills
Ridgewood Manor
Ritter Park
Ritters
River Heights
River Oaks
River Park
River Ridge
River Run
Rivers Edge
Riverside
Riverwood Addition
Roberts Creek
Robertson Village
Robey Glen
Robey Meadows
Robin Run
Robin Run Village
Robinwood Addition
Rockhurst Homes
Rocklyn Addition
Rockville Gardens
Rockwood Park
Rocky Ripple
Roland Park Addition
Rolling Fields
Rolling Knolls
Rolling Meadows
Rolling Ridge Pines
Rosalia Place
Rose Haven
Rose Hill Add
Rose Lawn Park
Rose Manor
Rosebay Commons
Rosebrock Estates
Rosedale
Rosedale Hills
Rosedale Park
Rosemont
Roses of Lawrence
Rosslyn Addition
Rosswood
Roundtree
Roundtree Park
Rouths
Roxbury Arms
Royal Oaks
Royal Parkview
Royal Pine Estates
Ruddells
Rupp Park
Rural-Sherman
Rutherglen
Rybolts Home Park
Saddle Brook South
Saddle Ridge
Saddlebrook North
Saddlebrook South
Sail Place
Salem Creek
Salem Pointe
Samuel Clarks Add
San Rose Estates
Sandalwood
Sandalwood Park
Sandpiper Bay
Sandy Point
Sargent Creek
Sargent Hills
Sargent Manor
Sargent Woods
Sawyers Add
Scarborough Village
Schloss Home Place
Schuberts Orchard
Seerley Creek
Seneca Point
Seven Oaks
Shadeland Acres
Shadeland Manor
Shadeland Park
Shadeland Station
Shadeland Terrace
Shadeland Village
Shadow Pointe
Shadow Ridge
Shadow Wood
Shadow Wood South
Shady Hills
Shady Knoll
Shamrock Heights
Shangri-La
Shannon Lakes
Shannon Park
Shawnee at Southern Dunes
Sheffield Woods
Shelby Gardens
Shelton Heights
Shenandoah
Shenandoah Valley
Shenandoah Valley Estates
Sheridan Heights
Sherman Commons
Sherman Drive Park
Sherman Oaks
Sherman Park
Sherwood Forest
Sherwood Village
Shiloh Acres
Shiloh Creek Estates
Shorewalk
Silver Hills Estates
Silverleaf
Silverleaf Estates
Simko Heights
Six Over Meridian
Sleepy Hollow
Smithfield
Somerset
Somerset Hills
Sonesta
Sonesta Estates
Sonoma
South Butler Terrace
South Haven Manor
South Lakeshore Homes
South Park Add
Southcreek
Southdale Addition
Southdowns
Southern Dunes
Southern Heights
Southern Hills
Southern Lakes
Southern Lakes Estates
Southern Oaks
Southern Ridge
Southern Springs
Southern Trails
Southern View
Southgate Farms
Southport
Southport Green
Southport Trace
Southridge Village
Southwest Hills
Southwind Villas
Southwinds Circle
Southwinds Court
Spades Park
Sparrowood
Speedway City
Speedway Estates
Speedway Gardens
Speedway Manor
Speedway Woods
Spinnaker Cove
Spirit Lake
Spring Creek
Spring Hill
Spring Hill Place
Spring Hollow
Spring Lake
Spring Meadow
Spring Mill Court
Spring Mill Estates
Spring Mill Heights
Spring Mill Ridge
Spring Mill Woods
Spring Mist
Spring Oaks
Spring Run at Winding Ridge
Spring Street Condos
Spring Valley
Springbrook
Springdale
Springmill Estates
Springmill Hills
Springmill Lake at Tamarack
Springs of Hamptons
Spruce Knoll
St Andrews Add
St Clair Place
St Joseph Neighborhood Historic District
St Judes Add
St Marys Commons
Stable Chase
Stable Chase Estates
Stantons Add
State Square
Steeplechase
Steeplechase West
Steinmeier Addition
Steinmeier Estates
Steinmeier Farms
Steinmeier Village
Stephens
Stone Bridge
Stone Crest
Stone Mill
Stone Pointe
Stonebriar
Stonecrest Addition
Stonegate
Stonegate Estates
Stonehouse
Stonekey
Stonepointe
Stonybrook
Stovall Manor
Stratford Add
Stratford Glen
Strathmore
Sugar Tree
Sullivans
Summer Ridge
Summer Walk
Summerfield Place
Summerfield South
Summerhill
Summerwood
Summit Place West
Sun Lakes
Sun Meadow
Suncrest Add
Sundown at Eagle Creek
Sungate
Sunningdale
Sunningdale Commons
Sunny Breeze
Sunny Slopes Estates
Sunny Sylvan Estates
Sunnybrooke
Sunnymeade
Sunnyview
Sunset Acres
Sunset at Eagle Creek
Sunset Cove
Sunset Heights
Sunset Lake
Sunset Park
Sunshine Gardens
Superior Gardens Addition
Surrey Park
Sutherland Place
Swains Su
Swarthmoor Hills
Sweetwater Estates
Sycamore Grove
Sycamore Run
Sycamore Springs
Sycamore Terrace
Sycamore Woods
Sylvan Estates
Sylvan Meadows
Sylvan Ridge
Sylvan Ridge Lakes
Sylvania
Tacoma Village
Talbotts Add
Tallgrass at Eagles Crossing
Tamarack
Tanglewood
Tanglewood Estates
Tansel Crossing
Tansel Grove
Tansel Park
Tansel Wood
Tara Add
Tarkington Tower
Tatman Manor
Teal Point
Tempo Addition
Tempo North
Terra Addition
Terra Vista
Terra Vista East
The Arbors
The Arbors On Bluff
The Boulders
The Bronx Addition
The Commons on Fall Creek
The Depot
The Enclave at Moller Road
The Estates of Wynbrooke
The Fort Condominiums
The Fountains
The Gardens at Eagle Creek
The Gardens North
The Glen at Eagle Creek
The Greens at Winding Ridge
The Hideaway
The Highlands
The Holcomb Estates
The Holcomb Estates Horiz
The Islands
The Lakes at Grassy Creek
The Links at Eagle Creek
The Magnolia
The Maples
The Meadows at Eagle Crossing
The Moorings
The Overlook
The Park at Buffalo Creek
The Parks at Winding Ridge
The Patios of Buffalo Creeek
The Pines
The Preserve at Eagle Creeek
The Retreat Condos
The Ridge
The Sanctuary
The Springs
The Timbers
The Timbers Ii Horizontal
The Townes at Wellingshire
The Trails
The Trees
The Village at Eagle Creek
The Village at Eagles Landing
The Villages of Cobblestone
The Villas at Thompson Place
The Villas of Lake Lakota
The Waldorf
The Woods at Beech Grove
The Woods at Grassy Creek
The Woods at Indian Lake
The Woods at Liberty Park
The Woods of North Kessler
Thompson Meadows
Thompson Park
Thornberry Place
Thoroghbred Farms
Thoroughbred Acres
Thoroughbred Estates
Thoroughbred Farms
Three Mass Condos
Thunderbird Heights
Thurston Place
Timber Mill
Timber Ridge
Timberfield
Timberlakes
Timberleaf
Timberline
Timbers
Timberview at Eagle Creek
Topp Garden Place
Town And Country Estates
Towne Park
Towne Park South
Townes at Winthrop
Townhomes at Meridian Square
Townhomes at Sycamore Spring
Traders Cove
Traders Hollow
Traders Point
Traders Point Farm Estates
Traders Point North
Traders Point West
Traditions
Traditions of Westmount
Traubs West Add
Trebla Acres
Treeholm Park
Treetops
Tremont Gardens
Tresters Add
Treyburn Green
Treyburn Lakes
Treyburn Manor
Trilobi Hills
Trinity Estates
Trinity Manor
Trophy Club
Troy Heights
Troy Terrace
Trrophy Club
Tudor Park
Turnberry
Tuxedo Park
Tweeds
Twin Brooks
Twin Oaks
Two West Condominiums
Union Laundry Lofts
Union Park Place
University Heights
University Highlands
University Place
Valley Brook Farms
Valley Brook Farms
Valley Creek
Valley Mills Forest Manor
Valley Ridge Farms
Valley View Addition
Valley View Farms
Valley View Park
Valley Ville
Vernon Acres
Vernon Park
Vernon Ridge
Veronica University
Victoria Woods
Victory Terrace
Vilages at Drake
Villa Heights Addition
Villa Park Addition
Village at Eagle Creek
Village at New Bethel
Village Gate
Village of Eagle Creek
Village of Orchard Park
Village Woods
Villages at Drake Landing
Villages of Cobblestone
Villages of Longwood
Villaggio at Page Pointe
Villas at Chapel Hill
Villas at Franklin Crossing
Villas at Kensington
Villas at Quail Run
Villas at Rivers Edge
Villas at Winding Ridge
Villas of Oakbrook
Vineyards of Fall Creek
Vinton Woods
Virginia Highlands
Virginia Manor Add
Wacema
Wagner Addition
Waldemere
Walden Glen
Walden Pond
Walden Trace
Walker Farms
Walkerhurst
Walkers
Wallace Crossing
Wallingwood
Wallis
Walnut Farms
Walnut Hill
Walsh Estates
Wanamaker
Wanamaker Estates
Wanamaker Village
Warfleigh
Warmans
Warren Lakes
Warren Park
Warren Pines
Warren Plaza
Warren Terrace
Warren Woods
Warrington
Washington Boulevard Heights
Washington Boulevard Meadows
Washington Boulevard Terrace
Washington Heights
Washington Meadows
Washington Park
Washington Place
Washington Square
Washington Trails
Washington Village
Waterbury
Watermark
Waters Edge
Waterwood at Eagle Creek
Watson
Watson Farms
Watson Park
Waverly Commons
Wayco South West
Waymans North Meridian
Wayne Commons
Wayne Park
Waynecroft
Wedgewood
Weesner Add
Wellington Commons
Wellington Estates
Wellington Green
Wellington Park
Wellington Park Heights
Wentz
West Crows Nest
West Gimber Court
West Haven
West Hill Valley
West Kessler Addition
West Kessler Homes
West Meridian Heights
West Newton
West Park
West Troy Addition
West Wayne Woods
West Wood
Westborough at Winding Ridge
Westbourne
Westbrooke
Westchester Estates
Westcreek
Westerfield Garden Acres
Westerleigh
Westerleigh Park
Westfield Heights
Westhaven Commons
Westlane Terrace
Westminister Park
Westmore Heights
Westmount Park
Westover
Westridge
Westridge Place
Westridge Village
Westwood
Westwood Park
Wetherburn
Whalen Heights
Whispering Falls
Whispering Pines
Whitaker Farms
Whitaker Valley
Whitcomb Lane
White Oak Farms
White Oak Woods
Whitehall Commons
Whites
Wholesale District
Wichita Hill
Wild Ridge Addition
Wildcat
Wildcat Park
Wildcat Run
Wildridge
Wildwood
Wildwood Farms
Wildwood Hills
Wileys South Add
Willard Place
Williams Cove
Williams Creek
Williams Creek Estates
Williams Creek Heights
Williams Creek Ridge
Williams Woods
Williamsburg
Williamsburg Village
Willington Park
Williston Green
Willow Lake
Willow Lakes
Willow Oaks
Willow Pond
Willow View
Willowmere
Willowood
Wilmington Park
Wilshire Glen West
Wilsons
Winchester Village
Windcombe
Windermere Heights
Windham Lake
Windhorst Place
Winding Ridge
Windjammer Bay
Windridge
Windsong
Windsor Place
Windsor Village
Windstar
Winmar Place
Winona Park
Winona Place
Winslow Crossing
Winston Island Woods
Winthrop Court
Wolf Run
Wolfington
Wood Creek
Wood Fox Estates
Wood Lyn Addition
Woodacre
Woodbrook
Woodcliffe Manor
Woodcroft
Wooden Estates
Woodfield
Woodford
Woodland Estates
Woodland Golf Club
Woodland Heights
Woodland Place
Woodland Trace
Woodland Trails
Woodlawn Gardens
Woodlyn
Woodmont
Woodpointe
Woods at Grassy Creek
Woods at Indian Lake
Woods Edge
Woods N Meadows
Woodside Addition
Woodsong
Worthington at West 86th
Wrighthurst Addition
Wrights Addition
Wynbrooke
Wyndemere Court
Wynfield
Wynnedale
Wynnedale Estates
Wynnedale Heights
Wynterway
Wynterway Estates
Yorkshire
Youngs
This commission met at Vincennes in May 1820 and ascended the River, investigating many sites along the way. Eventually, the commission returned to the confluence of the White River and Fall Creek and decided to locate the capital there. The site was ideal for future milling sites and the level landscape promised both ample farmland and room for extensive urban expansion. However, the site was plagued by swampy creeks and bayous, which would ultimately affect the City in many unforeseen ways. The General Assembly approved the site selection on January 6, 1821; however, the Assembly argued for many days concerning the name of the new Capital. The names of many Native American chiefs were proposed; however, Jeremiah Sullivan proposed a hybrid English-Greek name meaning "the city of Indiana". After some initial derision but little opposition, the new state capitol was named Indianapolis.
The area selected for the new capitol was not uninhabited by settlers. William Conner had set up his trading post (now the Conner Prairie Pioneer Settlement) north of Marion County in 1806. Jacob Whetzel and his son Cyrus settled in the bluffs of the White River in 1819. George Pogue, a blacksmith, allegedly settled in Marion County in 1819; however this claim is disputed. Indiana had been a state for four years when, in early 1820, John and James McCormick packed up their families and proceeded north, from Connersville. Finding a suitable location along the east bank of the White River, near the location of the present day Washington Street Bridge, the McCormick families built a log cabin, and, traditionally, became the first settlers of Marion County.
Planning came to Indianapolis shortly thereafter in the form of two surveyors: Alexander Ralston and Elias Fordham. Ralston was associated with Pierre L'Enfant's survey of Washington D. C., and Fordham had close ties to English settlements in Illinois. Ralston and Fordham laid out the city on a grid, a mile on each side. At the center, on a rounded hill of sugar maples, they placed a circular street as the site for the Governor's residence. The residence was constructed but never occupied, since the activity of the Circle made the location unsuitable for a family residence. Finally, four diagonal streets were added, each ending a block short of the Circle.
In those early days, the form of the City began to take shape. Malaria, caused by the mosquito infestation around Pogue's Run and White River, devastated early settlers and pushed residential construction to the north and east away from those swampy marshlands. Property along Washington Street attracted speculators, who often purchased lots on hopes of the higher future prices demanded for commercial property. The riverfront area developed into a commercial and industrial area, with a scattering of working-class homes.
While the sales of lots associated with the original Donation were brisk, Indianapolis remained, at most, a pioneer village until 1824, when the Capital arrived from Corydon on a 4-horse wagon after a 10-day journey. The population of Indianapolis was between 400-500 people by the end of 1821; however, the delay in relocating the capital caused the forfeiture of property, purchased on a speculative basis. The economy of the City became based around agriculture, and most of those not engaged in agriculture were employed in food processing. By 1822, the town had a gristmill, two sawmills, three groceries, two mercantile houses, several small workshops, and seven taverns.
Department of Metropolitan Development, The Comprehensive Plan for Marion County Indiana: Indianapolis Insight, 2002, Indianapolis, www.indygov.org, accessed September 2007.
Nearby Towns: Beech Grove City •
---