Hammond City
Hammond City Hall is located at 5925 Calumet Street, Hammond, IN 46320.
Phone: 219‑853‑6300.
---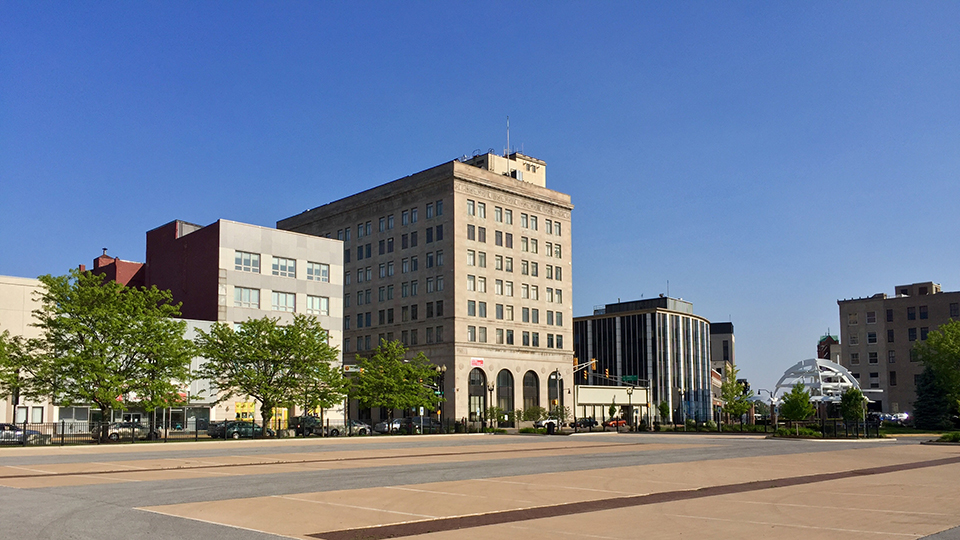 Downtown Hammond, Indiana. Photographed by User:HammondMan (own work) 2016 [cc-4.0], accessed August, 2022.
---
Neighborhoods
Avondale
Baldwin Addition
Baldwin Manor
Bells Addition
Beverly
Birkhoffs
Blackmuns
Briargate
Buena Vista Addition
Calumet Center
Calumet Highlands
Calumet Lawn
Cline Gardens
Clineway
Columbia Heights
Dawson Park
Douglass Manor
Dyers
East Lawn
Eastgate
Ellyson
Eschenberg
Evergreen Park
Forest-Ivanhoe Residential Historic District
Forest-Moraine Residential Historic District
Forest-Southview Residential Historic District
Forestdale
Forsyth
Forsyth Highlands
Franklin
Green Lawn
Hammond Heights
Hammondale
Harrison Park
Hartmans Gardens
Hessville
Hessville Gardens
Hessville Heights
Hessville Park
Higgins Park
Hoffmans
Homestead Gardens
Homewood
Hyde Park
Jackson Terrace
Kenwood
LaSalle
Lindberg Terrace
Lyndora
Madison Terrace
Maplewood
Margenaus
Marshalls Addition
Maywood
Morris
Morris Park
Normans Addition
North Hammond
Northside
Oak Crest
Oak Park
Oakland Addition
Orchard Acres
Palmers Addition
Parkland
Parkland Estates
Parkland Terrace
Ridgewood
Riverview
Robertsdale
Roselawn
Roxanna
Russells
South Hammond
South Homewood
Southmoor
Sunshine Addition
Tewes Park
Tri-State Gardens
Tri-State Manor
Turners
University Gardens
Van Til Addition
Vine Court Meadows
White Oak
White Oak Manor
Wilson Square
Woodlawn Terrace
Woodmar
Woodmar Estates
Beginnings [1]
Hammond sits in the very northwest corner of the State of Indiana. The Potawatomi Indians occupied the area until the Indian Removal Act of 1832, forced all Native Americans to relocate to lands west of the Mississippi River. The area's first permanent European settlers came in 1847. They were German immigrant farmers, Francis and Margaritha Humpfer, who settled north of the Little Calumet River, the present southern border of Hammond, in the general vicinity of present day Indi-Illi Park. The area drew many other German immigrants becoming known as Saxony until the area was annexed into the city of Hammond in 1923. Settlement in what would later become the commercial center of Hammond began in 1851, when Ernest and Caroline Hohman settled on the north side of the Grand Calumet River building a toll bridge over the river and opening an inn nearby. Settling near them were Caroline's sister and her husband, Louisa and William Sohl. In 1852, the Michigan Central Railroad was completed through the area and William Sohl built the area's first store near the railroad station and from these early settlements the city of Hammond would develop. Hammond's location, immediately southeast of Chicago, and the railroads that traversed the area entering Chicago are what made the city of Hammond possible. Almost all railroads heading into, or out of Chicago, from the east and southeast passed through the city. In 1868, George Hammond established a meat packing plant on the south side of the Grand Calumet not far from the Hohman's Inn. The workers from the factory required shelter and began to settle and build nearby and the area began to grow. The town would be known variously as Hohman, Hohman's Bridge and State Line Slaughterhouse before becoming Hammond.
Marcus Towle, a partner with George Hammond in the slaughter house, arrived in 1869. Towle, besides partnering with Hammond, opened a lumber yard and saw mill, a bank and several other businesses in the area. Towle, who saw the financial potential that could be made by developing residential areas for his employees, purchased sixteen acres on the south side of the Grand Calumet River, surveyed and platted it in 1875, and established the town of Hammond, naming it after his partner in the slaughterhouse. The town was incorporated by the State of Indiana in 1883, with Towle serving as its first mayor. With convenient access to railroad transportation other industries were attracted to the new city. This brought many more workers into the area that needed a place to live. This in turn attracted merchants and professionals to the area. Hammond grew rapidly from a population of 689 in 1880, to 36,004 by 1920. The original town sat south of and parallel to the Michigan Central Railroad corridor and it was along this corridor where the early industries were located and Hammond developed, eventually expanding to both sides of the Grand Calumet River. The railroads intersected the city from the east and south and left very few areas where they did not have an influence upon everyday life. One area the railroads did not traverse was the Hohman Avenue corridor that ran south from Towles's original plat paralleling the Indiana-Illinois state line. It was along this corridor between Hohman Avenue and the state line that many of Hammond's middle class neighborhoods would develop. Indi-Illi Park is situated in this corridor.
Gregg Abell, Indi-Illi Park Historic District, Lake County, IN, nomination document, 2010, National Park Service, National Register of Historic Places, Washington, D.C.
Nearby Towns: Munster Town •
---