Noblesville City
Noblesville City Hall is located at 10 South 10th Street, Noblesville, IN 46060.
Phone: 317‑773‑4614.
---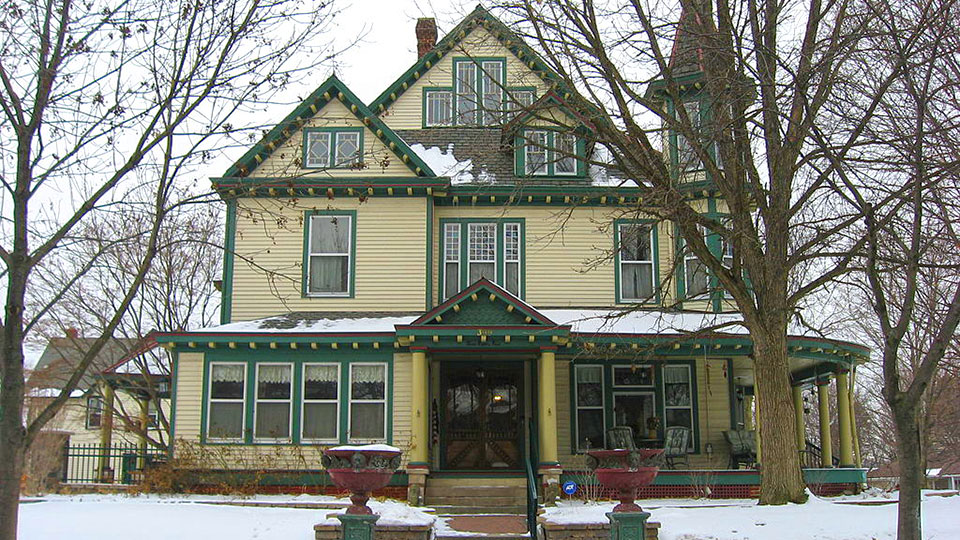 Photo: Dr. Samuel Harrell House, circa 1898, located at 399 North Tenth Street, Noblesville. Listed on the National Register of Historic Places in 1984. Photographed by User:Nyttend (own work), 2011, [public domain] via Wikimedia Commons, accessed July, 2022.
---
Beginnings [1]
The City of Noblesville is the county seat of Hamilton County. It is situated on the east bank of White River. It was laid out by William Conner and Josiah F. Polk in January, 1823. There were 26 squares in the original town plat, exclusive of fractional lots. The lots were 66 x 132 feet. The alleys were 16-1/2 feet. Additions to the town have been made from time to time by different persons to meet the demand for lots.
Neighborhoods
Allison Trails
Andover
Andover Place
Ashfield
Bbrookside
Bridgewater Club
Broadview Manor
Brooks Riverview Addition
Brookside
Browns
Carey
Carlton Heights
Carrigan at The Levee
Carrigan Cove
Catherine Street Historic District
Chapel Woods
Cherry Tree
Cherry Tree Acres
Cherry Tree Farms
Cherry Tree Meadows
Clareview
Combes
Conner Crossing
Conner Street Historic District
Copper Pointe
Country Lake Estates
Countrywood
Courtyards at Lochaven
Craig Highlands
Creeks Edge at Oakmont
Creekside at Cedar Path
Creekside Farm
Crest View
Crystal Lake
Cumberland Place
Deer Path
Deer Ridge
E Potter
East Harbour
East Haven at Noble West
Emerald Village
Emlee
Emmons
Enclave at Deer Path
Enclave at Sagamore
Essex of Noblesville
Essex of Noblesville
Estates at Lochaven
Fairfield Farms
Fairways at Prairie Crossing
Falcon Creek
Feather Cove
Fishers Woodland
Forest Hills Estates
Fox Glen
G H Voss Addition
G M Shaw Addition
Gascho Heights
Gast Estates
Green Valley
Greens at Praire Crossing
Harbor View
Harbour Acres
Harbour Overlook
Harbour Point
Harbour Village
Harbour Woods
Hart Acres
Hazel Dell Woods
Highland Prairie
Highlands at Stony Creek
Highlands Prairie
Hillsdale
Hinkle Creek Estates
Hinkle Creek Townehomes
James Place
John Bauchert
Kentre Meadows
Kingsley
Lakecrest
Lakes at Prairie Crossing
Lakeside Estates
Lamplighter
Lincoln Park
Lions Head
Lloyds Addition
Lochaven
Logans Pointe
Mallards Pointe
Marilyn Ridge
Meadows Estates
Meadows Glen
Meadows Knoll
Meadows of Shelborne
Mill Creek
Mill Creek Estates
Mill Grove
Monarch Springs
Monterey Village
Morse Overlook
Morse Park Estates
Morse Pointe
Noble West
Noblesville Commerial Historic District
North Harbour
Northridge
Northside
Oakbay
Oakbay Harbour
Oakmont
Oakmont Glen
Oakmont Green
Oakmont Ridge
Oakmont Village
Oakmont Woods
Old Fairgrounds Addition
Orchard Crest
Orchard Heights
Park Place
Peacemaker Addition
Pebble Brook
Pebble Brook Village
Pebble Run at Sandpiper
Pine Knoll
Pinehurst Village
Pleasant Acres
Potters Woods
Prairie Crossing
Prairie Lakes
Preserve at Deer Path
Reflections at Cumberland
Ridge at Prairie Crossing
River Park
River Run
Riverwood
Roudebush Farms
Roudebush Woods
Sagamore
Sandpiper
Sandpiper Forest
Sandpiper Lakes
Settlers Mill
Shady Nook Acres
Shamrock Acres
Simmerman
Slater Farms
Slater Ridge
Slater Run
Slater Woods
Sly Run
South Harbor
South Ninth Street Historic District
Southeastern Addition
Stardust Village
Stone Harbour
Stoney Creek Estates
Stoney Creek Village
Stony Creek
Stony Ridge
Strawtown
Summit Lakes
Sylvan Woods
Twin Oaks
Valentine
Villages at Pebble Brook
Villas on Morse Lake
Waterscape
Watershed
Waterside Northlake
Wellington Heights
Wellington Overlook
West Harbour
West Haven at Noble West
West Ridge
Westmont
Westridge
Whitcomb Ridge
Willow Lake
Windwood
Woods at Prairie Crossing
Woodshire
After the town had been laid out, Josiah F. Polk, one of the proprietors who was at the time engaged to a Miss Noble, of Indianapolis, asked the privilege of naming the town. This was granted and he named it in honor of the lady to home he was engaged. This was before Noblesville was chosen as the county seat.
In March, 1824, a majority of commissioners appointed to select a site for the county seat of Hamilton, after examining all the sites offered as well as inducements offered, except Strawtown, located the county seat at Noblesville, since which time it has remained.
A post office was established in 1823. John D. Stephenson was appointed postmaster. Joseph Willison soon after that time opened a blacksmith shop on the corner of Eighth and Cherry Streets. Dr. John Finch located on the last lot on the south side of the west end of Conner Street. J. D. Stephenson and J. F. Polk lived at Noblesville. In 1824 F. B. Cogswell settled in Noblesville. Dr. H. W. Clark settled here.
In the year 1827 George Shirts, Sr., opened the first tavern in town. Other early tavern keepers were Beth Dunning, James Grovers, Joshua Cottingham, A. Thompson, Thomas DeMoss and a Mr. Good.
Augustus Finch Shirts, A History of the Formation, Settlement and Development of Hamilton County, Indiana, from the Year 1818 to the close of the Civil War, Augustus Finch Shirts, Noblesville, 1901.
Nearby Towns: Carmel City • Fishers Town •
---