Boise City
Boise City Hall is located at 150 North Capitol Boulevard, Boise City, ID 83701.
Phone: 208‑384‑3830.
---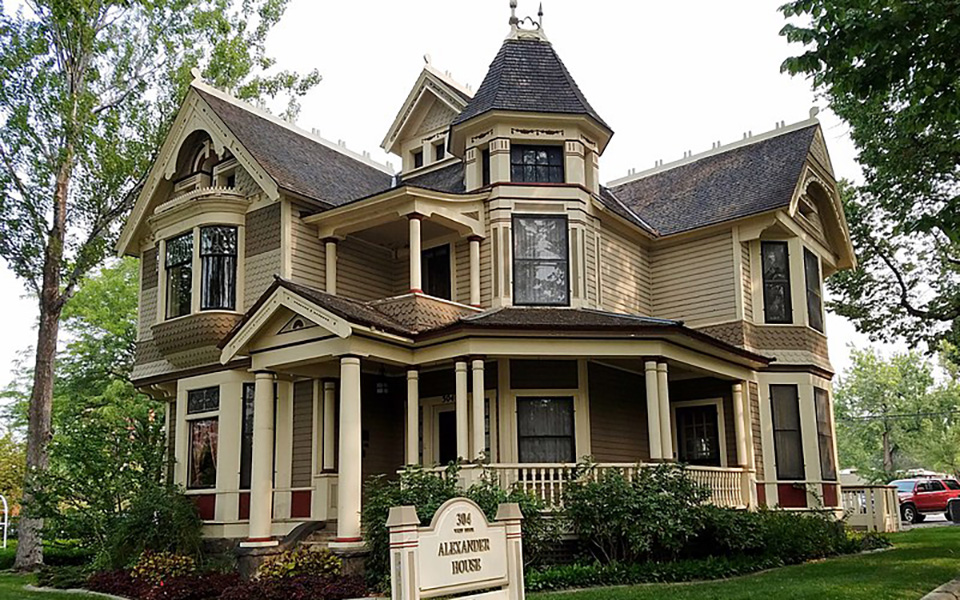 Photo: The Alexander House, ca. 1897, 304 West State St, Boise, ID. Listed on National Register of Historic Places in 1972. Photographed by Larry. D. Moore, 2009, (own work) [cc-by-3.0], via Wikimedia Commons, accessed November, 2020.
---
The birth of the City of Boise [1] was coincident with the historic gold rush of 1862, when it was told with baited breath that the yellow metal, in quantities exceeding the wildest dreams of the prospector, had been found in the mountain fastness of Southern Idaho. Idaho City, about 36 miles from Boise, was established, and in 1864, only 2 years later, had a voting population of 16,000. In 8 years the camp produced approximately $200 million in placer gold. In 1863 Fort Boise was established on the Boise River, and in the same year, Boise City, then with a population of 3,000, was made the capital of the State, and attained thereby, some degree of public attention. The early years of its existence were full of uncertainties and struggles that characterize the development of every community in a new land. But, surmounting all obstacles, full of faith in the future, believing in themselves and in the glorious region which had been given them as a rich heritage, these sturdy pioneers built well the firm foundation of the city.
Neighborhoods
Aiden Place
Aldape Heights
Alder Point
Allen Hardy
Ambassador Estates
Amber Estates
Amberwood
Ames
Andola Addition
Andrews
Annelise
Anthem
Appallosa
Appleridge
Arabian Meadows
Arnolds Addition
Arrowhead Canyon
Arrowhead Ridge
Arrowleaf
Ash Park
Ashbrook
Ashleigh Commons
Atlantis
Atticus Acres
Augustine Park
Austin Creek
Autumn Leaf
Avimor Village
Azalea
Azure Meadows
Bali Hai MHP
Balsam Cove
Barbary
Barber Point
Barberton
Baron
Basalt Bluffs
Bayhill Springs
Baywood
Beatrice
Bel Air
Bellevue
Bellflower
Belmont Park
Bentwood
Big Sky East
Binghamshire
Birchwood
Bitterroot
Blasers
Bloomfied
Blue Meadows
Bluegrass
Boca Raton
Bogart
Bogus Basin
Boise Bench
Boise Capitol Area District
Boise City Park
Boise Hieghts
Boise Historic District
Bonita Hills
Boulder Creek
Boulder Heights
Bown Crossing
Boxwood
Bradford
Breckenridge
Brenson
Brentwood
Brentwood
Briarhill
Bridgeport
Bridgewalk
Brightons Bluff
Brightwood
Brisbane
Bristol Heights
Broadmoor
Brookhollow
Brownstone
Brumbacks Addition
Brysons
Buckley Downs
Burtons Woods
Bush Meadows
Byron Court
Cahill Manor
Cambridge Estates
Camden
Camelot
Cameron Park
Candleridge
Candlestick Park
Cantrell Estates
Canyon Point
Capitol Manor
Caribou Place
Carmichael
Carolina Place
Carriage Park
Cartwright
Cascading Meadows
Cascara Ranch
Castle Hills
Castle Park
Castlewood
Cathedral Pakr
Cattail
Cedarhollow Townhomes
Central Bench
Central Foothills
Central Rim
Chaparral
Charleston Place
Charleston Village
Charter Pointe
Chatham Towne
Chelmsford Place
Chelsea Square
Chestnut Hills
Christine Park
Cimarron Spring
Clardene
Clarendon Hill
Clayton
Clearbridge
Clover Creek
Clover Meadows
Cloverdale Estates
Cloverdale Park
Cole Reed Townhomes
Colehaven
Collinwood
Collister
Columbia Village
Combes Acres
Combes Park
Constantine Place
Copper Canyon
Corona
Coronado
Cory Brook
Cory Brook
Country Estates
Country Grove
Cove East
Coventry Manor
Crawford Place
Creekwood
Crosscreek
Crystal Estates
Dalton
Danielson
Darcy Cove Condominiums
Darien
Davis Elmer
Dehaviland Square
Delamar Addition
Demeyer Estates
Denise Place
Depot Bench
Deschutes Place
Devonshire
Dodes Manor
Donegal
Downtown
Dundee
Eagle Springs
East Lake Estates
East Meadow
East Park Woods
Eastside Addition
Echanove Ranch
Edenhome Addition
Edgeview Estates
Edmonton Place
Edwards
El Dorado
El Paseo
El Pelar Estates
Eleganza
Elgin
Ellies Path
Ellis Addition
Elm Grove Addition
Elmer Davis
Emerald Park
Enterprise Townhomes
Eugene
Evening Breeze
Eyrie Canyon
Fairbanks
Fairchild Estates
Fairmont Park
Fairview Acres
Falling Brook
Fenwick Park
Fernwoods
Fiddlers Glen
Five Mile Estates
Flanagan
Foothills East
Forge Village
Foster Heights
Four Seasons
Fox Ridge Estates
Frank Davis Addition
Freedom Estates
Freiman
Gables
Gallahers
Garden Heights
Garverdale
Gary Lane Meadows
Georgia Place
Ginger Creek
Ginzels
Glasgow
Glen Ellyn
Glenbrier
Glenbrook Townhomes
Glenn
Gold Nugget
Gold Rush
Golden Dawn MHP
Grandee
Graystone
Green Valley
Greenwood Acres
Greylock
Greystone Village
Halls Addition
Halstead Place
Hamilton Park
Happy Land
Hardcastle
Harris Ranch
Harrisburg Place
Harrison Hills
Hays Street Historic District
Hazelwood Village
Heather Meadow
Heatherglen
Hennessey Court
Hepburn
Herar Estates
Heron Cove
Hewett Park
Hickory Grove
Hidden Springs
Highland Park
Highlands
Highlands Nine
Hill Park
Hobble Creek
Hobbler Place
Holcomb Greens
Holly Estates
Huntington Park
Imel Terrace
Imperial Acres
Indian Lake
Indian Ridge
Indigo Park
Ironwood
Ivywild
Johnson Park
Joliette Place
Jonathan Park
Jordans Landing
Jude Park
Juniper Townhomes
Kelton Crossing
Kenzie Cove
Kepner Place
Kimball Place
Kingsdale
Kingsgate
Kingston
Klugherz
Knoll Acres
Knotts Landing
Krieger
Kylee Cove
LaGrange
Lake Harbor
Lake River Estates
Lakeland Village
Lakewood
Lakewood Meadows
Lambertons Addition
Lamplighter Estates
Lanarose
Landover Estates
Latona
Laura
Legends
Leisher Townhomes
Leisure Villa
Leonardson
Lillian
Linshire
Little Lane Estates
Littletree
Lochsley Court
Loggers Creek
Londoner Commons
Loosli Place
Lower Main Street Commercial Historic District
Luna Vista Townhomes
Luscombe
Macanudo
Madison Park
Madronawood
Mahogany park
Mallon
Manorwood
Maple Cove
Maple Grove
Maple Hill
Mapleton
Maplewood
Mariposa Ridge
Marisa
Marsala Springs
Maryglen
Matlock Place
Matthers
McMillin Park
Meadow Lake Village
Meadow Place
Melbourne
Meridian
Merl
Mesa
Michigan Park
Mill Creek
Millstream
Milo Place
Mitton
Montivideo
Moon Ridge
Moriah
Morningside Heights
Morningwind Estates
Morris Hill
Mortons
Myrna
Myrtle Creek
New York Landing
Newcastle Heights
Newhouse
Nibler
North Cole
North End Historic District
North Park
North Ridge Estates
Northview
Northwest
Oak Park
Oakhurst Townhomes
Oakmont
Old Boise Historic District
Oradell
Orchards at Cloverdale
Orchards at Fairview
Orchid Point
Orida RIdge
Osprey Meadows
Outlook Heights
Overland Estates
Overland Heights
Overlool Park
Palisades
Palm Court
Pandion
Panther Creek
Par Condominiums
Paradise Estates
Paradise North
Park Manor
Park Place
Parkcrest
Parkhill
Partridge Point
Payette Creek
Peachtree Townhomes
Pender Village
Penn Dell
Penns Manor
Pepper Hills
Pepperwood Estates
Phantom Creek
Picabo
Pierce Park
Pierce Park Meadows
Pilgrim Cove
Pine Creek
Pine Meadow
Pine Meadows Estates
Pine Terrace
Pinebrook
Pinecrest
Pioneer
Pioneer Point
Piper Glen
Plainridge Place
Plumtree
Pocono Place
Ponderosa Acres
Poplar Glen
Princeton Place
Providence Place
Quail Ridge
Race Court
Raintree
Ranchero Estates
Red Feather
Redway
Resseguie
Riddle
Ridgemont
Riggs
Riley Village
River Estates
River Glen
River Pines
River Run
Riverland East
Riverland Terrace
Rivers Edge
Riverside Addition
Riverside Ranch
Riverside Village
Riviera Park
Rochester Heights
Rockcress
Rolling Meadow
Rosecreek
Rosedale
Roth Townhomes
Rounseville
Rowell
Royal Plaza
Ruby
Rustic Acres
Saddleback Park
Sage Acre Ranch
Sage Acres
San Marino Park
Sandpiper Bay
Sandy Creek
Sarona
Sawtooth Townhomes
Sawyer Creek Townhomes
Scarlet
Schultz
Seaman
Sequoia Ridge
Serrano Court
Settlers Meadows
Shadow Hills
Shamrock West
Shaw
Shenandoah West
Sherman Oaks
Sherwood Park
Shiloh
Silver Wood
Silverpine
Silverton Park
Skyline
Sleepy Hollow
Smith Estates
Snowberry
Solano
Somerset Hills
Somerset Ridge
South Boise
South Eighth Street Historic District
South Grove
Southeast
Southfork
Southpoint
Southshore
Spoke Ranch
Spring Creek Estates
Spring Meadow
St Charles Place
Stanford
State Street Historic District
Steamboat
Stonegate
Stonehedge Park
Stratford
Stratton Place
Straughn Park
Stuary Gulch
Suburban Park
Summerdawn
Summerhill
Summerwind
Sun Meadow
Sunberry
Sunflower Park
Sunningdale Estates
Sunpoint
Sunrise Rim
Sunset Rim
Sunset Villa
Sunset West
Sunstone
Superior Ridge
Surprise Valley
Sybils Meadow
Sycamore
Sylvan Park
Taft Manor
Tamarindo Park
Tana Heights
Taragon
Terra Grande
Terra Nativa
Terrace Park
Terrace Ridge
The Pines
The Springs
Thorn Hill
Three Oaks
Timbers
Tivoli Gardens
Tombrink
Traditions
Trailcrest
Trailside Place
Tredwell Place
Triplett Ranch
Trolley Estates
Ustick Grove
Ustick Village
Valley Green Village
Valmore Townhomes
Veazey Park
Victory View
Village Creek
Village II
Village Square
Vista
Wakefield Meadows
Walden Pond
Walnut Creek Estates
Walnut Grove
Walnut Ridge
Warm Springs
Warm Springs Estates
Warren Townhomes
Washington Square
Waterford Park
Waterside Village
Wattles
Way Bar Estates
Wayne Addition
Wellington Heights
Wellswood Plaza
West Bench
West Cloverdale
West Meadow Estates
West Moreland
West Valley
West Warm Springs Historic District
Westbridge
Westbury Estates
Westby
Westchester Place
Westdale Park
Westfield Place
Westgate Acres
Westland Acres
Westowne
Westview
Westwind
Whistler Ridge
Whitney Station
Wildhorse Ranch
Wildwood
William Park
Willow Lane
Willow Springs
Willowgreens
Winchester
Windemere
Windstream Townhomes
Winesap
Winstead Estates
Winstead Park
Winters Run
Woodbury Estates
Woodland Estates
Woods at Riverside
Wylie
Wymosa
Zach Place
The growth of Boise was slow for many years, owing to the fact that many of the people who came to Boise did not intend to remain, The idea seemed to be, as it was in so many new towns, that they would make some money and return to their old homes. Among the first who built and started in business was J. D. Agnew and H. C. Riggs. These men built an adobe house on the northeast corner of Main and Seventh Streets, where they opened a saloon and had a feed and livery stable in the rear of the building.
In December, 1864, the second session of the legislature assembled at Lewiston and passed an act locating the capital permanently at Boise City in Boise County. The act was approved December 7, 1864. In the same month, the legislature passed an act dividing Boise County and creating Ada County and locating the county seat at Boise City. This act was approved December 22, 1864. This encouraged residents and a number of businesses were soon built: hotels, shops and saloons as well as residences. The farmers also seemed to take new courage and began work in earnest to improve their farms and make homes for their families.
Boise Idaho, published by the Boise Commercial Club, ca. 1908.
John Hailey, The History of Idaho, Press of the Syms-York Company, Boise, 1910.
---