Joseph Bown House
Post Office: Boise
Zip Code: 83706
---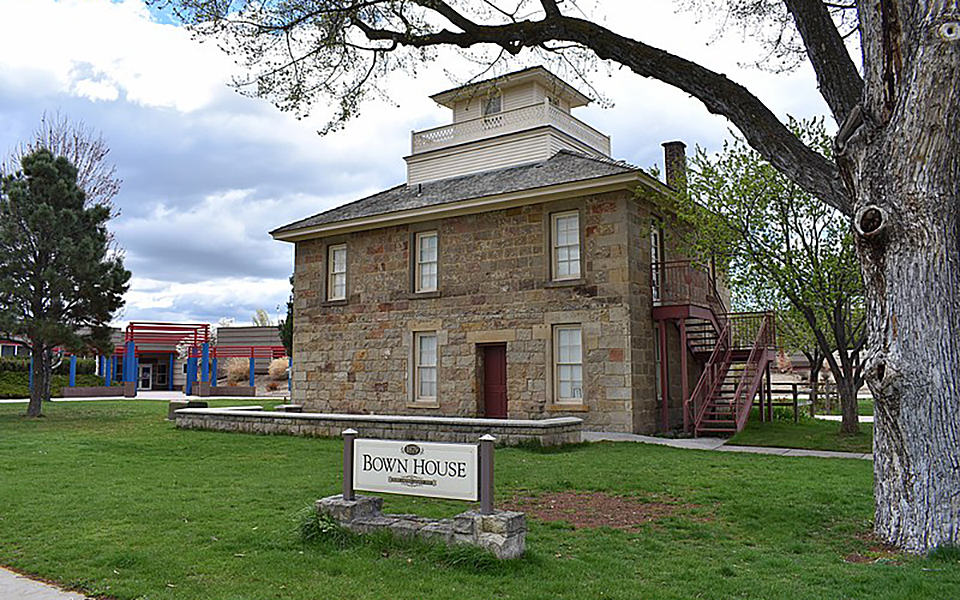 Photo: Joseph Bown House, circa 1879, located at 2020 East Victory Road, Boise.. Listed on the National Register of Historic Places in 1979. Photographed by User:Tamanoeconomico (own work), , [cc-4.0], via Wikimedia Commons, accessed December, 2021.
---
The Joseph Bown residence [†] is a two-story sandstone house which sits in a large field, and overlooks the Boise River. Two giant oaks dwarf the house. The house has a hipped roof and is three bays wide and two bays deep. All windows are double hung sash and have sandstone frames and sills. The present front porch replaces an earlier enclosed porch. The walls are 22" thick. Originally there was also a rear porch and a cupola. These are no longer extant. There are no additions.
The Joseph Bown residence is significant as a surviving example of early Idaho farm house architecture employing stone.
Joseph Bown came to Idaho in 1863, and mined gold at Idaho City. In 1865 he brought his family out from Iowa and in 1869 started his ranch three miles east of Boise. At first the family lived in a log house, but in 1879 the present structure was built. The stone was quarried across the river at the "Buckley quarry," near Table Rock. When completed it was considered the grandest dwelling in Boise's outlying districts. The Bowns lived in this house until 1893 when they moved to farm south of Boise. W. T. Booth, a realtor, purchased the property and held it until 1927 when it was sold to J. R. Bright.
The house, still surrounded by open pasture land, remains a significant local landmark. It is a substantial, rare, and well preserved example of a pre-1890s Idaho stone farm house.
The architectural significance of the Bown house is as "what may be the oldest stone residence extant in Idaho." It was built in 1869, three miles east of the military post/settlement which would become a state capitol when Idaho was admitted to the union in 1890. Boise City was already a territorial capital in the 1860 T s, and its architectural endowment was modest: an early resident recalls"nothing more than a few little board houses and scattered tents." That is certainly an exaggeration,but substantial stone structures which were sibling to the Bowne house and which survive in Boise today are public or quasi-public, rather than private, in nature: e.g. the Assay Office (1870-72); stone buildings at Fort Boise dating from the 1860s; or the gothic-revival State Penitentiary at the east end of Warm Springs Avenue, the sandstone for which was quarried, as was the material for the Joseph Bown house, from a site near Table Rock. The Bown house, however, represented one of the few private dwellings of any substantiality and pretension. Bown was an English immigrant, a respected stockman, married to an energetic New York stater named Temperance Statira Hall. The impressive home on their 240-acre ranch was a social gathering place3 as well as a citadel in which neighbors gathered when the threat of Indian attack occured.
† Don Hibbard, Architectural Historian, Idaho State Historical Society, Joseph Bown House, nomination documemt. 1978, National Register of Histoic Places, Washington, D.C., accessed December, 2021.
Street Names
Victory Road East
---