San Bernardino County, California
San Bernardino County administrative offices are located at 385 North Arrowhead Avenue, San Bernardino, CA 92415; phone: 888‑818‑8988.
---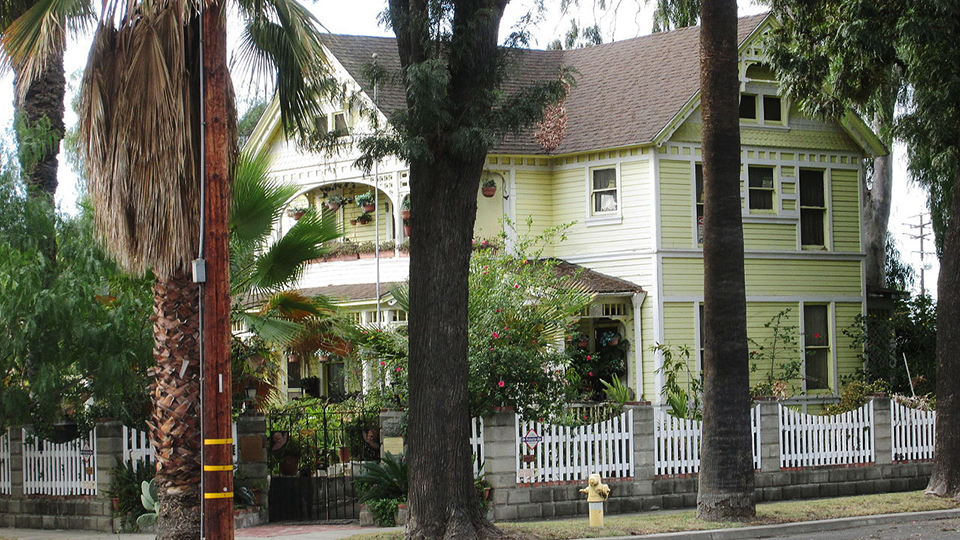 Photo: Doctor Orville S. Ensign House, circa 1893, located at 304 South Laurel Avenue, Ontario. A 14 riin, 2-story house built to be used as a residence and medical practice. Listed on the National Register of Historic Places in 2012. Photograph by Einbierbitte, 2015, [cc-4.0]. voa wikimedia commons, accessed January, 2023.
---
TOWNS
Adelanto City
Apple Valley Town
Barstow City
Big Bear City
Big Bear Lake City
Bloomington
Bluewater
Chino City
Chino Hills City
Colton City
Crestline
Fontana City
Grand Terrace City
Hesperia City
Highland City
Lake Arrowhead
Lenwood
Loma Linda City
Mentone
Montclair City
Morongo Valley
Mountain View Acres
Muscoy
Nebo Center
Needles City
Ontario City
Rancho Cucamonga City
Redlands City
Rialto City
Running Springs
San Antonio Heights
Searles Valley
Trentynine Palms City
Upland City
Victorville City
Wrightwood
Yucaipa City
Yucca Valley Town
The San Bernardino County Courthouse, on Arrowhead Avenue between Third and Fourth Streets, is on the site of a fort that was the first structure erected by the Mormon pioneers from Salt Lake City. The fort was a large walled enclosure, holding numerous buildings, including a school and meeting house, storehouses, and the colony offices. [1]
Federal Writers' Project, Works Progress Administration, California: A Guide to the Golden State, American Guide Series, Hastings House, Publishers, New York, 1939.
HISTORIC SITES
Aiken's Wash National Register District
Arrowhead, The
Barton Villa
Beverly Ranch
El Garces
Fontana Farms Company Ranch House, Camp No. 1
Highland Historic District
Hofer Ranch
Keys Desert Queen Ranch
Kimberly Crest
Maloof, Sam and Alfreda, Compound
New City of Mentalphysics Historic District
Rains, John, House
Redlands Santa Fe Depot District
San Bernardino County Court House
Smiley Park Historic District
Yorba-Slaughter Adobe