Salt Lake City
City Hall is located at 451 South State Street, Salt Lake City UT 84111.
Phone: 801‑535‑7671.
---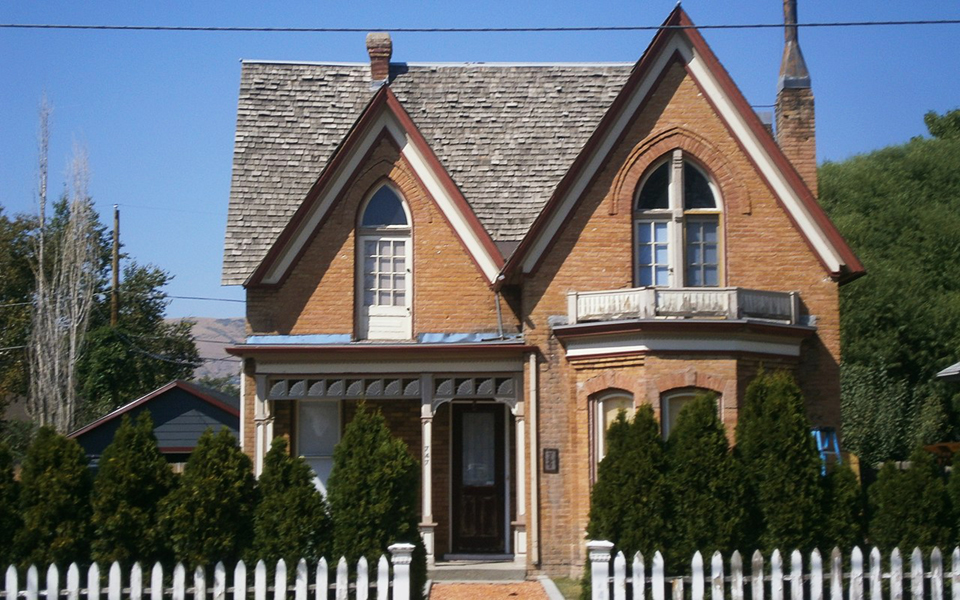 The George Arbuckle House, at 747 East 17th South in Salt Lake City's Sugar House neighborhood was built around 1890. It was listed on the National Register of Historic Places in 1982. Photo by wikipedia username: Ntsimp, 2016, public domain; commons.wikimedia.org, accessed February, 2021.
---
Salt Lake City was the second city in the United States to require building permits. Preceded only by New York City, Salt Lake's building permit records date back to 1890.
Beginnings [1]
Salt Lake City lies between the Wasatch Mountains and the Great Salt Lake at an altitude of 4,200 feet. Permanent settlement of the City began on July 24, 1847, when Brigham Young with a party of 148 Mormon pioneers entered the Salt Lake Valley after a 1,500-mile trek westward. Salt Lake City was incorporated on January 6, 1851 and soon became a major center for trade and commerce with the wagon trains carrying settlers and miners westward. Within a few years of the pioneers' arrival, other communities were settled throughout the Salt Lake Valley. Due to continuous economic and population growth, most of these cities in the valley survived and prospered, and have grown into a single large metropolitan area of over 700,000 people. Salt Lake City is the commercial center of this metropolis.
Neighborhoods
Academy Park
Adams Park
Aix La Chapelle
Alberly
Alpine Chateaux
Alvera Condominiums
Alvern
Amblewood Springs
American Towers
Angelinas Corner
Angelinas Corner
Apollo Hills
Apple Valley
Arcadia Heights
Archer
Arlington Cove
Arlington Heights
Arlington Hills
Arlington Place
Armista
Arnette Acres
Ashwood
Aspen Heights
Auburn Gardens
Ball Park Acres
Beacon Heights
Bella View
Belmont
Belvedere
Benneville Tower
Bennion-Douglas Historic District
Berkley
Beverly Heights
Beverly Hills
Bolton Place
Bonneville Garden
Bonneville Heights
Bonneville Tower
Bonnie Brae
Brentwood
Brickyard Village
Bridle Farms
Bristle Pines
Broadway Lofts
Broadway Tower Condos
Brookfield
Brookhaven
Brooklyn
Brookstone
Bryant Historic District
Burlington
Butler Hills
Cambridge Condos
Cambridge Estates
Cannon Farms
Cannon Oaks
Canyon Creek
Canyon Crest
Canyon Ranch
Canyon Ridge
Canyon Rim
Canyon Road Towers
Capital Gardens
Capri Park
Capstone Condos
Carlton Towers
Carolee Condominiums
Carrigan Canyon
Cedars at Millcreek
Centennial Park
Central City Historic District
Central Pointe
Century Park East
Century Villa Condos
Chacon
Champignon
Charlestown
Chateau Village
Cherry Blossom
Chesterfield
Clermont
Cliffwood
Clover Hollow
Cobblecreek East
College Heights
College View
Colony West
Columbus Court
Commonwealth Place
Concord Park
Connaught Place
Connor Park
Continental Estates
Copper Hill Heights
Cornwall Subdivision
Cottonwood Acres
Cottonwood Glade
Cottonwood Meadows
Cottonwood Village
Country Club Acres
Country Club Estates
Country Club Heights
Country Club Ridge
Creek Bend Estates
Creekside Cove
Crestfield
Crosspointe
Crown Colony
Dairy Meadows
Dakota Lofts
Dakota Lofts
Danish Downs
Davis Estates
Daw
Delara Place
Delmar Downs
Diamond Summit
Donner Crest Condos
Donner Place
Dorchester Pointe
Douglas Park
Dunfords
East Bench
East Meadows
Edgemont Estates
Edison Street Condos
El Ray
El Serrito
El Verda Gardens
Elaine Gardens
Emerson Heights
Emigration Oaks
Emigration Place
Emma Lou Heights
Ensign Downs
Evergreen Glade
Feather Stone
Federal Heights
Federal Heights
Federal Pointe
Fontaine Bleu
Foothill Gardens
Foothills
Forest Creek Cove
Forest Dale
Forest Glen
Forest Green
Forest Hills
Forest Park
Forest Place
Forestdale Historic District
Four Seasons
Fox Shadow
Free Country Estates
Gabbotts
Garden Acres
Garden Green Estates
Garden Towers
Garner Chalet Condos
Gateway Townhouses
Georgetown
Gillmor Meadows
Glen Aire
Glen Heather
Glendale
Glendale Gardens
Godfrey Manor
Golden Hills
Governors Plaza
Governors Row
Governors Square
Grand View
Granite Cove Condos
Granite Mill
Granite Park
Granite Point
Grape Ivy Townhouses
Graystone Arms
Graystone Manor
Graystone Pines
Hamiltons
Hamptons
Hansens
Haven Grove
Hawker Heights
Hawthorne
Hazelhurst
Heather Ridge
Hidden Oaks
Highland Acres
Highland Cove
Highland Park
Highland Springs
Highland Woods
Hillcrest Gardens
Hillsborough Estates
Hillsdale
Hillside Gardens
Hodges
Hoffman Heights
Holladay Highlands
Holladay Hills
Holladay Park Estate
Holladay Springs
Holladay Villa
Hollywood Condos
Homestead
Homestead Farms
Hopkins Meadows
Hunter Cove
Hunter Cove Estates
Hunter Village
Huntly Manor
Idlewild Addition
Imperial Square
Indian Hills
Indian Terrace
Indian Village
Irving Park
Iverness Square
Ivy Court Condos
Ivy Gate
Ivy Terrace
Jackson Heights
Jackson Heights
Jardine Park
Jensen Meadows
Johnsonville
Jordan Meadows
Jordan Place
Kim Court
Kimballs Addition
Kings Row
Kingsgate
Kirtland
La Hoya Heights
La Veta Place
Lakeview Farms
Lakeview Heights
Lakewood
Larsen Estates
Laurel Estates
Laurelhurst
Laurelwood Estates
Liberty Acres
Liberty Gardens
Liberty Heights
Liberty Park
Liberty Wells
Liberty Wells Historic District
Library Square
Lincoln Gardens
Locust Grove
Lombardy Cottages
Loraine
Loran Heights
Lower Mill Creek
Madison Estates
Majestic Heights
Majestic Oaks
Maple Cove Estates
Maple Meadow
Maple Ridge
Maple View Condos
Maplewood Park
Market Street Condos
Marlborough Place
Marmalade Square
Mary Hills
Matonis Landing
Mayflower
McClains Mountain
Meadow Creek Estates
Meadow Heights
Meadow View
Meadow Wood Estates
Meadowbrook Village
Melrose Gardens
Meridien
Mill Creek Terrace
Millbrook Heights
Millcreek Hollow
Millcreek Park
Millcrest
Millwheel Acres
Misty Hills
Monte Bello
Monte Cristo
Monte Vista Estates
Montego Place
Montgomery Villa
Moon River
Morningside Heights
Morton Meadows
Mount Aire
Mountain Acres
Mountain Men Estates
Mountain View
Mountair Acres
Mt Crest Heights
Mt Meadows
Mt Olympus Acres
Mt Olympus Cove
Mt Olympus Gardens
Mt Olympus Hills
Mt Vernon Estates
Murray Meadows
Newsome Village
Nibley
Ninth and Ninth
North Cove Estates
North Hills
North Inglewood
North Temple Condos
Northcrest
Northpointe
Northwest Historic District
Norwood Place
Oak Crest Gardens
Oak Hills
Oak Springs
Oakbrook
Oakcliff Park
Oakcrest Gardens
Oakley
Oakview Estates
Oakwood Gardens
Olympus Pines
Olympus Shadow Estates
Oxford Manor
Painter Place
Panorama
Paramount Park
Parc at Gateway
Park Hill Manor
Park Meadows
Park Place Townhomes
Park Ridge
Park Terrace
Park View
Parkfield Place
Parkwood
Partridge Place
Peachwood
Phillips Park
Pierpont Lofts
Pinecrest
Pleasant View Heights
Poplar Grove
Potomac Building
Powell
Presidential Club
Presidential Villas
Progress Heights
Prospector Hills
Quail Crossing
Quail Run
Quailbrook
Quailbrook East
Redondo Park
Redwood Village
Reed Avenue Flats
Rippe Acres
Rivendell
River Glen
River Park
River Run
Riviera Heights
Robin Manor
Rockwell
Rolling Rock
Romans Court
Rose Park
Rose Park
Rosecrest
Rosehaven
Roxborough
Royal Crest
Royal Oaks
Salt Creek Condos
Sanjim Acres
Shadybrook
Shaughnessy
Shenandoah
Sherman Addition
Silver Maple
Silverwood
Silverwood Estates
Skyline Heights
Skyline Park
Skyview
South Olympus Heights
Southgate
Southridge
Spring Haven
Springbrook
Spyglass Hill
St Mary Hills
Stone Haven
Stone Hollow
Stonecrest
Stoney Brook
Sugar House
Sugarhouse Park
Sugarhouse Villa
Sun Ridge
Suncrest
Sunny Dale Terrace
Tahnia Park
Tall Oaks
Tanner Gardens
Tara Gardens
Terrace at Rose Park
Terrace Hills
Terrace View
Three Fountains East
Tidewater
Top of The World
Tower Hills Condos
Towne Park
Tree Farm Estates
Trevi Towers
Trolley Village
University Heights
Upland Terrace
Valley Downs
Valley View Estates
Valley View Park
Valley View Place
Vandelay Meadows
Veeran Heights
Verdant Heights
Villa Park
Village Three Condos
Virginia Heights
Vistas at Westridge
Walker Place
Walnut Hills
Walnut Ridge
Warehouse Historic District
Wasatch Heights
Wasatch Hills
Washington Place
Watchwood
Waterbury
Waverly Station
Wedgewood Willows
Welford Place
Wendel Glen
West Hills
West Ridge Estates
West View Terrace
Westgate Lofts
Westminster Heights
Westpointe Farms
Westridge Estates
Westview Terrace
Westwood Village
White Lane Condos
Whitewood Estates
Wicklow Woods Estate
Willow Bay
Willow Grove
Willow Heights
Willowbrook
Wilmington
Wilshire
Winder Meadows
Windsor Estates
Wingate Village
Wolf Hollow
Woodcrest
Woodcrest Condos
Woodhollow
Woodledge
Woodstock Meadows
Woodview Estates
Woodview Heights
Wrenhaven
Zion Park
Zion Summit Condos
Salt Lake City is also the center of the scenic inter-mountain west. Within a day's drive of the City, travelers can visit 70% of the officially designated national parks and monuments of America. The Wasatch Mountains, east of the City, are well known for their ski resorts, which are within a 45-minute drive from downtown Salt Lake City. Over 200,000 out-of-state skiers come to these resorts each year. The scenic Wasatch Front provided an excellent backdrop, as the City hosted the 2002 Winter Olympics. In 2004, Salt Lake City was chosen by the State of Utah as a Quality Growth Community. This designation shows that the community has completed a comprehensive planning process covering economic development, housing, conservation, and infrastructure efficiency. This further shows that Salt Lake City is a leader in the region.
Salt Lake City is the international headquarters of The Church of Jesus Christ of Latter-day Saints, or "Mormon" Church. At Temple Square in downtown Salt Lake City, 2-1/2 million visitors see the famous Salt Lake Temple, Tabernacle, and visitor centers each year.
The Salt Palace Convention Center (located in downtown Salt Lake City) plays host to many different activities. This facility has a 45,000 square foot ballroom, 365,000 square feet of exhibit space, and a total of 100,000 square feet of meeting space. It is wired with miles of wire and fiber optic cable for up-to-date computer and communications, including satellite uplink capability and includes a wireless network. Several universities and colleges are located in or near Salt Lake City. The University of Utah is located on the east bench of Salt Lake City. This university was founded in 1850 and is the oldest mainland university west of the Missouri River. Approximately 29,000 full and part-time students are enrolled. The Utah Museum of Fine Arts and the Utah Museum of Natural History are located on the University of Utah campus. The University includes a medical school and hospital.
Westminster College of Salt Lake City, Salt Lake Community College, and LDS Business College are also located in Salt Lake City. Three other universities—Utah State University, Weber State University, and Brigham Young University — as well as Utah Valley State College are all located within a two-hour drive from Salt Lake City. These institutions reflect the community's emphasis and dedication to higher education and job skill development.
Salt Lake City also has many opportunities for recreational and cultural activities. The Energy Solutions Arena, located three blocks directly west of Temple Square, is the home of the Utah Jazz, the 1997 and 1998 Western Conference Champions of the National Basketball Association. Franklin Covey Field, just south of downtown, is the home field of the Salt Lake Stingers, a minor league baseball team. In 2007, the University of Utah Rice-Eccles Stadium hosted Real Salt Lake, a Major League Soccer team.
Salt Lake City Corporation, Comprehensive Annual Financial Report, for the Year ended June 30, 2007, www.ci.slc.ut.us, accessed July 2008.
Nearby Towns: Holladay City • Millcreek City • Murray City • North Salt Lake City •
---