Fairfax County administrative offices are located at 12000 Government Center Parkway, Fairfax, VA 22035; phone: 703‑324‑7329.
---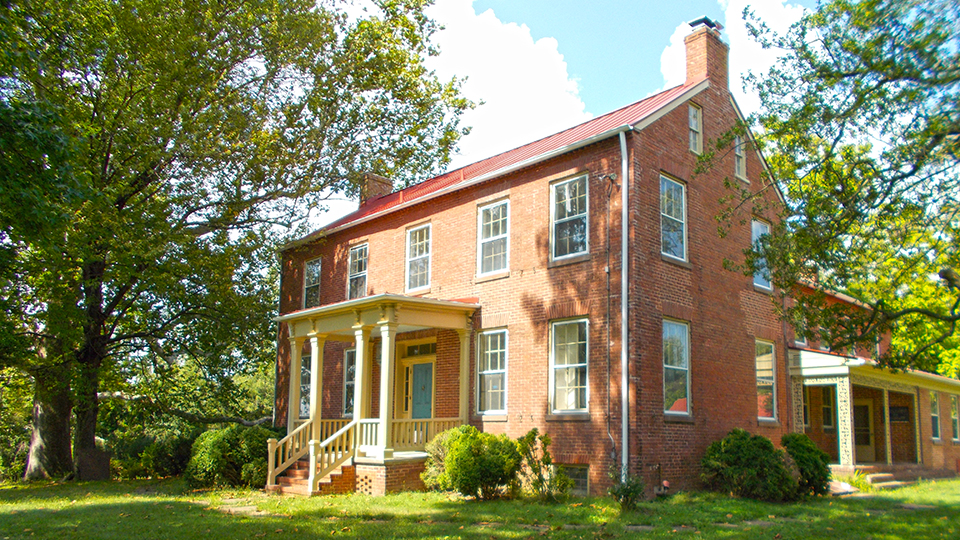 Photo: Bloomfield (Holly Knoll), ca. 1858, 12000 Leesburg Pike, Herndon, VA. Listed on the National Register of Historic Places in 2013. Photographed by User:LeiferJM (own work), 2014, [cc-3.0], via Wikimedia Commons, accessed June, 2021.
---
TOWNS
Baileys Crossroads
Belle Haven
Burke
Dunn Loring
For Hunt
Fort Belvoir
Franconia
Groveton
Huntington
Hybia Valley
Idylwood
Jefferson
Lake Barcroft
Lincolnia
Lorton
Mantua
Merrifield
Mount Vernon
Newington
North Springfield
Oakton
Pimmit Hills
Rose Hill
Seven Corners
Tysons Corner
Vienna
West Springfield
Wolf Trap
The county was established in 1742 and named for Thomas Fairfax [1693-1781] a British Lord who inherited substantial land in the Virginia Colony.
In 1969 Fairfax County created 13 Historic Overlay Districts (HOD) to better protect certain unique areas of historical significance to residents and visitors. These districts are: Bull Run Stone Bridge, Centreville, Colvin Run Mill, Dranesville Tavern, Huntley, Lake Anne Village Center, Langley Fork, Mount Air, Pohick Church, Robey's Mill, Saint Mary's Church, Sully and Woodlawn. These heritage resources continue to be recognized as major contributors to the quality of life in Fairfax County and to its reputation as one of the major centers for cultural tourism in Virginia and the United States. [1]
Historic Overlay Districts of Fairfax County, www.fairfaxcounty.gov, accessed September, 2016.
HISTORIC SITES
Blenheim
City of Fairfax Historic District
Clifton Historic District
Cornwell Farm
D.C. Workhouse and Reformatory Historic District
Fairfax County Courthouse
Four Stairs
Green Spring
Gunnell, John, House
Gunnell, William, House
Herndon Historic District
Hollin Hills Historic District
Hope Park Mill and Miller's House
Huntley
Langley Fork Historic District
Manassas Battlefield Historic District
Moorefield
Mount Vernon
Oak Hill
Pope-Leighey House
Potomac Canal Historic District
Ratcliffe-Logan-Allison House
Salona
Spring Hill Farm
Sully
Tauxemont Historic District
Tower House
Woodlawn Plantation
---