Ogden City
Ogden City Hall is located at 2549 Washington Boulevard, Ogden UT 84401.
Phone: 801‑399‑4357.
---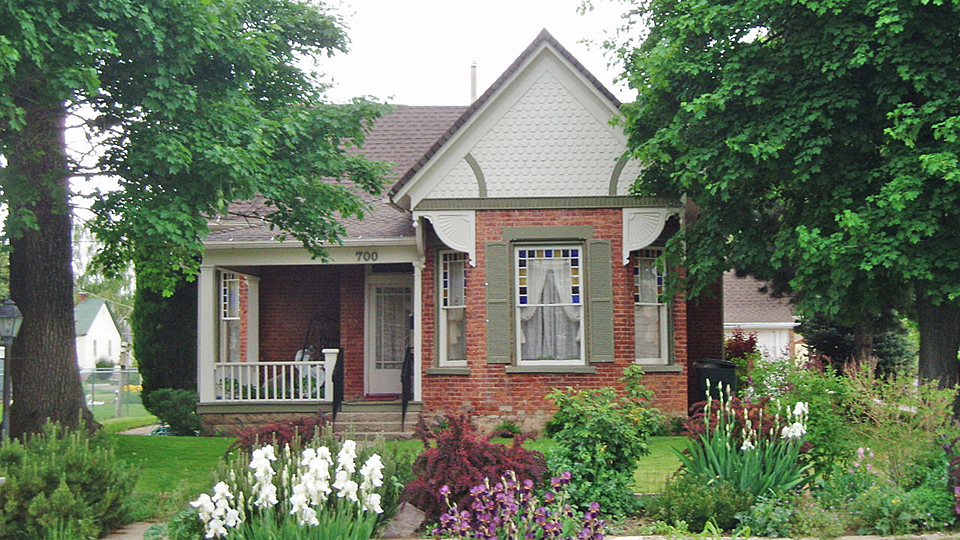 Photo: The Valasco Farr House, ca. 1887, 700 Canyon Road, Ogden, Utah. The architect was William Wilson Fife, a brother-in-law of the original owner, Valasco Farr. Listed on the National Register of Historic Places in 1978. Photographed by User:Ntsimp (own work), 2009, [public domain], via Wikimedia Commons, accessed February 2021.
---
Neighborhoods
Alta Vista Addition
Argonre Park
Arlington Heights
Aspen Acres
Aspen Run
Aspen Village
Avelon Apartments
Avon Apartments
Avondor Apartments
Backcountry Estates
Ben Lomond Condos
Beus Hills
Bona Villa Park
Boulder Canyon
Bowers Addition
Briarwood
Brummitts Addition
Burton Park
Canyon Park
Canyon Place
Canyon Terrace
Canyon Woods
Centennial
Charlesworth
Chateau River Estates
Cherrywood
Chimney Hills
Circle
Clubview Condos
Cobbles Condos
Combe Meadows
Cornerstone
Cottonwood
Country Club Heights
Country Hills
Country Hills Manor
Creston Plaza
Cropseys Addition
Crossroads of the West Historic District
Dankowskes Central
Dans Cove
Denver Place
Downs
Drumilers Addition
Dunns Addition
East Oaks
East Park Addition
Eastwood
Edgemont
El May
El Rancho
Emerson Addition
Eyrie Meadows
Farr Orchard
Florence Park
Forest Green
Forest Grove
Forestdale
Fort Bingham
Franklin Place
Grand Heights
Grand Teton Villlage
Green Acres
Grove Addition
Hamptons
Harrison Depot
Herrimans Addition
Heslop
Highland Addition
Hillcrest Addition
Hunter
Hunter Hill
Jackson View
Jakes Place
Jefferson Avenue Historic District
Jumpoff Canyon
Keystone Acres
Kiesel Kove
Kingston Heights
Kissocks
Knollwood
Lakeview Addition
Lakeview Terrace
Lincoln Court
Lliff College Addition
Lomond View
Lovelock
Lower 25th Street Historic District
Madison Square
Maguires
Mainpoint South
Mariah Cove
Meadow Brook
Meadow Crossing
Meadowlark Meadows
Meadows East
Melody Lane
Memory Hills Estates
Mile High Estates
Mill Creek
Millcreek Manor
Millcreek Meadows
Millstone Manor
Millstream
Montana Estates
Monte Vista
Montery
Mountain Meadows
Mountain Oaks Estates
Mountain Pines
Mountain Ridge
Mountain Terrace
Mountain View
Mystic Mountain
Nelson Park
Nelson Park Addition
Nob Hill Addition
North Park
North Park Meadows
North Star
Oak View Estates
Old Mill
Olympus Heights
Orchard Grove Addition
Paradise Acres
Park Meadows
Park Place
Parkwood Estates
Pearwood
Pointe at Stone Mountain
Quinn Court
Ranchview Estates
Redford Estates
River Glen
Riverside
Riverview
Robinsons
Rolling Hills
Rolling Oaks
Rukavina
Rushton Addition
Sanfords
Saunders
Shadow Brook
Shadow Mountain Estates
Shadow Valley
Shadow Valley Estates
Shady Brook
Sherwood Park
Shoshone Hills
Simoron Park
Skyline Towers
Solitude
South El Rancho
South Park Addition
South Pointe
Spring Valley
Stephens
Stone Mountain Estates
Stonewood
Sullivan Hollow
Summer Meadows
Sun View
Suncrest
Tanner
Terrace
The Cottages
Tru-ridge
Tyler Place
Union Square
University Heights
University Place
Valle Grande
Valley View Addition
Vesticor
Victorian Estates
Viking Villa
Village at Plum Creek
Vonita Village
Wade Park
Wallace
Wasatch Gardens
Washington Place
West Oaks
West View Terrace
Whispering Oaks
Willowwood
Wilson
Woodland
Woodland Heights
Woodmansee Addition
Yorkshire Meadows
Beginnings [1]
The first European-American settler of Ogden, Miles Goodyear, built a fur trading post in 1845 on an attractive spot of the Weber River, not far from where the Weber and Ogden Rivers converge. In 1847 he sold the property to Captain James Brown, a one-time leader of the Mormon Battalion. Soon after, numerous Mormon families started to migrate to the area. In 1850 Brigham Young, President of the Church of Jesus Christ of Latter Day Saints, established the basic plan for the city. More Mormon families were sent to settle the area, and in 1851 Deseret incorporated the city of Ogden, with Lorin Farr being called to serve as its first mayor. Later in 1851, Henry Sherwood surveyed the streets, blocks, and lots as planned by Brigham Young. An early Ogden journalist noted, "Those who planned the future of Ogden intended that the city should be a mile square; that they made the blocks to contain 10 acres, divided into 10 lots of one acre each; the blocks were 660 feet square and the streets were 99 feet wide excepting Main Street (Washington Boulevard) which was 132 feet wide; the first plat provided for 56 blocks, arranged in seven rows of eight blocks each."
Ogden Valley's geographical make-up played an important role in the early settlement of the city and subsequent development in the Central Bench District. On the eastern border of Ogden lies the Wasatch Mountain Range, with the Weber and Ogden Rivers flowing through it and emptying into the Great Salt Lake, lying just west of the city. In the early 1850s as Mormon families began to move to Ogden in large numbers, the most desirable land was that which was located between the two rivers in the northwest corner of town, with its rich soil and easy irrigation. A good portion of the area was surveyed into farming tracts and large numbers of people settled portions of the riverbanks. By the mid-1850s this desirable portion of town was largely populated and the community started to look eastward for expansion. And in 1855, under the direction of Isaac N. Goodale, appointed by Brigham Young, construction of the Ogden Bench Canal had begun. Canals and irrigation ditches were a common feature in almost all Mormon platted towns.
The building of the canal was an important endeavor, as an editorial in the Ogden-Standard Examiner stated in 1945, "The story of the Ogden Bench Canal is pretty much the history of early Ogden." The purpose of the canal was to use the canyon streams east of Ogden to provide irrigation to the bench area in order to sustain the newly developing community. Running north to south the canal flowed from the northern tier of the city (at the time 21st Street) to the southernmost boundary (28th Street), and from east to west it cut through just below 2nd East (Van Buren Avenue) and ended up near Green Street (Monroe Boulevard). Another important early canal was the Weber Canal.
Adapted from the National Register nomination document, 2002, prepared by Chris Hansen, Utah State Historic Preservation Office, Ogden Central Bench Historic District, National Park Service, National Register of Historic Places, Washington, D.C.
Nearby Towns: Clinton City • Roy City • South Weber City • Sunset City •
---