Tarrant County, Texas
The Tarrant County Courthouse is located at 100 West Weatherford Street, Fort Worth TX 76196; phone: 817-884-1111.
---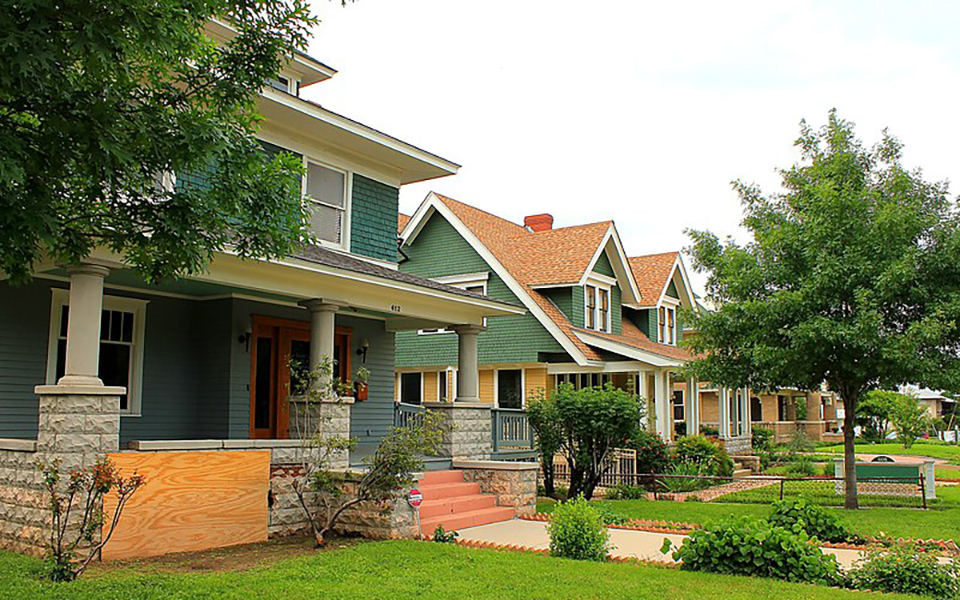 Photo: Residences in the Eighth Avenue Historic District, Fort Worth, TX. The Historic District was listed on the National Register of Historic Places in 2006. Photographed by user:Renelibrary, 2012, accessed November, 2021.
---
TOWNS
Blue Mound City
Edgecliff Vlg Town
Everman City
Forest Hill City
Haltom City
Haslet City
Hurst City
Kennedale City
Lake Worth City
Lakeside Town
North Richland Hills City
Pelican Bay City
Richland Hills City
River Oaks City
Sansom Park City
Watauga City
Westlake Town
Westover Hills Town
Westworth Vlg City
White Settlement City
Beginnings [1]
Tarrant County, with Fort Worth as its chief city, was created by act of the Legislature December 20, 1849, about a year after the establishment of the military garrison at Fort Worth. This act contains some directions as to the location of the county seat, "the place receiving the highest number of votes shall be the place established as the county seat of said county of Tarrant and shall be called Birdville." The county was organized in August, 1850, and the county offices located at Birdville, an old settlement now marked by a few weather-beaten buildings that hardly tell the story of its ambitious struggles to become a metropolis. The rivalry between Fort Worth and Birdville over the county seat was an important chapter in the early history of the county. An original election was contested and a subsequent re-vote favored Fort Worth, being closer to the center of the county.
Tarrant County until after the Civil War was on the frontier. Its settlement began under the auspices of the Peters Colony grant of 1841, and the first settlers came into Tarrant County about 1843-1844. A place known as Bird's Fort was in existence as early as 1843, and an important council with the Indian tribes was held there. The establishment about 1848 of Fort Worth and Fort Graham, the latter in Hill County, was the signal for the influx of permanent settlers.
Frank W. Johnson, Eugene C. Barker, Ph.D., editor and assisted by Ernest William Winkler, M.A., A History of Texas and Texans, Volume II, The American Historical Society, Chicago and New York, 1914.
HISTORIC SITES
Benton, M. A., House
Botts-Fowler House
Bratton, Andrew "Cap" and Emma Doughty, House
Bryce, William J., House
Buchanan-Hayter-Witherspoon House
Buck Oaks Farm
Central Handley Historic District
Chorn, Lester H. and Mabel Bryant, House
Cotton Belt Railroad Industrial Historic District
Eddleman-McFarland House
Eighth Avenue Historic District
Elizabeth Boulevard Historic District
Fairmount--Southside Historic District
Fort Worth Stockyards Historic District
Grand Avenue Historic District
Grapevine Commercial Historic District
Hutcheson-Smith House
Johnson-Elliott House
Leuda-May Historic District
Man, Ralph Sandiford and Julia Boisseau, House
Marine Commercial Historic District
Markeen Apartments
Masonic Widows and Orphans Home Historic District
Near Southeast Historic District
Old Town Historic District
Original Town Residential Historic District
Pollock-Capps House
Ponton, Dr. Arvel and Faye, House
Rogers-O'Daniel House
Sanguinet, Marshall R., House
Shaw, Thomas and Marjorie, House
South Center Street Historic District
Vaught House
Waggoner, W. T. Building
Wallace-Hall House
Westover Manor
Wharton-Scott House
---