Rutherford County, Tennessee
---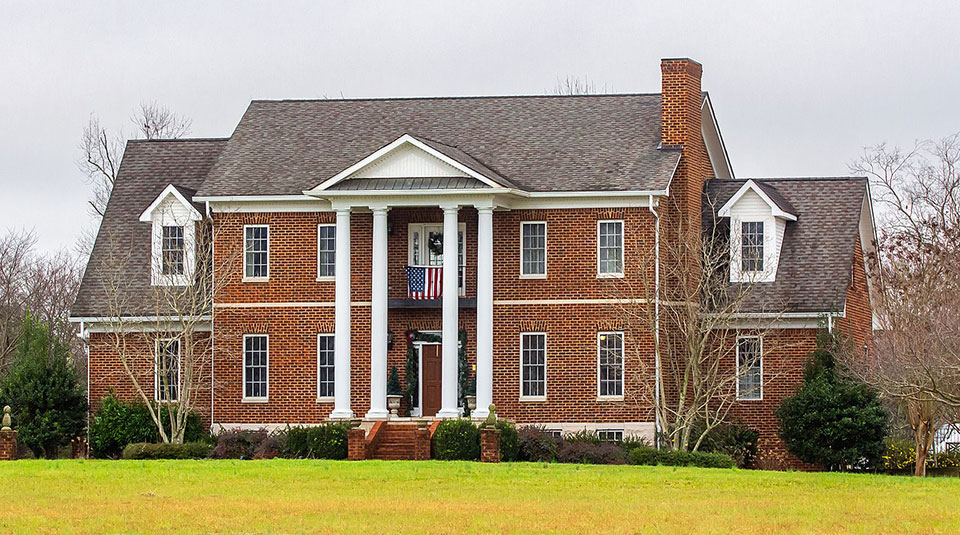 Photo: Benjamin Rucker Hosue, circa 1832, located at 3978 Betty Ford Road, Compton. Listed on the National Register in 1984. Photographer: wikipedia username: rossograph, 2021, [cc-4.0] via wikimedia commons, accessed February, 2023.
---
TOWNS
Eagleville City
La Vergne City
Rockvale
Smyrna Town
Walterhill
Rutherford County judicial offices are located at 20 Public Square North, Murfreesboro, TN 37130; phone: 615-898-7812.
Beginnings [1]
Prior to settlement, Rutherford's lands were prime hunting and fishing lands for several Native American tribes. Rutherford County, named for Griffith Rutherford, a North Carolina legislator, Indian War soldier, and Chairman of the legislature of the Territory South of the Ohio River (later Tennessee), was created in 1803 from parts of Davidson, Williamson, and Wilson Counties. After the Revolutionary War, much of Rutherford County was divided through land grants to Revolutionary War soldiers, some of whom sold the grants to others. Like most counties, communities were settled in Rutherford County based on common factors: access to water, railroad lines, or location along toll pikes and other regional travel ways. The Stones River was a transportation route as well as source of water and fish. The first county seat, Jefferson, was on its banks, but is now under the waters of Percy Priest Lake, which was created to control downriver flooding. The rail line that connected Nashville to Chattanooga became a draw for settlers, including present-day Lavergne, Smyrna, and Murfreesboro.
Rutherford County Regional Planning Commission, Rutherford County Comprehensive Plan: June 2011, www.rutherfordcountytn.gov, accessed November, 2011.
HISTORIC SITES
Arnold--Harrell House
Black, Thomas C., House
Boxwood
Caff-E-Hill Farm
Childress-Ray House
Collier-Crichlow House
Collier-Lane-Crichlow House
Davis, Sam, House
Dement House
East Main Street Historic District
Elmwood
Henderson, Logan, Farm
Jarman Farm
Jenkins, Hiram, House
Jones, Enoch H. House
Jordan, William B., Farm
Landsberger-Gerhardt House
Macon, Uncle Dave, House
Marymont
McCord, William Harrison, House
McGill-Becton-Cates Family Farm
Morgan House
Murray Farm
North Maney Avenue Historic District
Oaklands
Palmer, Gen. Joseph B., House
Ready, Charles, House
Riverside Farm
Rucker, Benjamine, House
Rutherford County Courthouse
Scales, Absalom, House
Smith, Robert Andrew, Farm
Spence, John C., House
Williamson, Thomas, House
---