Mechanicsburg Borough
Municipal Offices: Mechanicsburg Borough, 2 West Strawberry Avenue, Mechanicsburg, Pa 17055.
Phone: 717‑691‑3310
---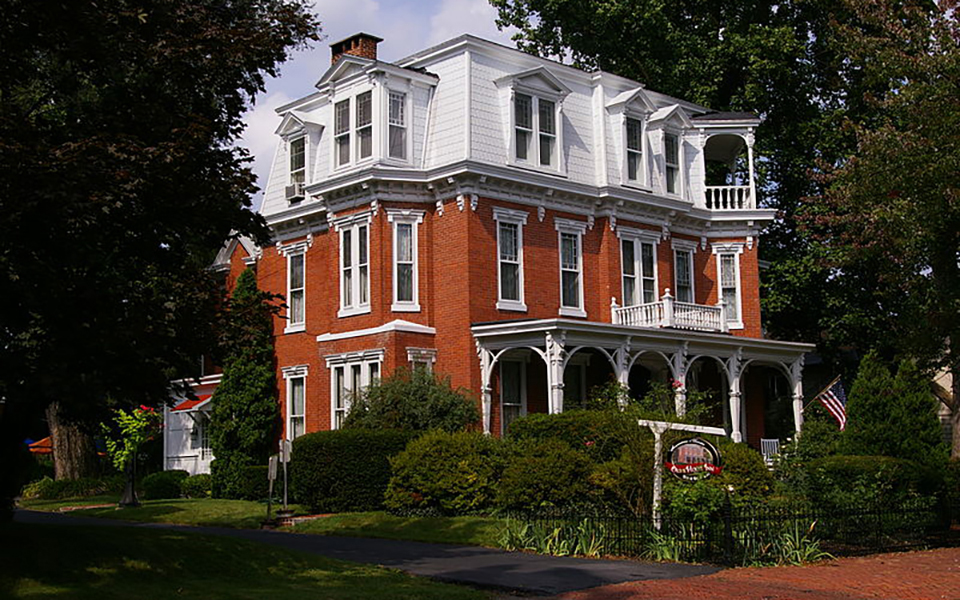 Photo: Adam Orris House, circa 1887 Second Empire, located at 318 West Main Street, Mechanicsburg. Listed on the National Register of Historic Places in 1987. Photographed by User:Vamanos2000 (own work), 2013, [cc-3.0], via Wikimedia Commons, accessed March, 2023.
---
Neighborhoods
Allen Estates
Allenview
Arlington Hills
Ashcombe Farms
Bali Hai
Bella Vista
Blackburn Village
Bowmans Hill
Brandywine
Brighton Place
Bumble Bee Hollow
Bunker Hills
Camelot Meadows
Canterbury
Canterbury Estates
Carmella
Center Square Manor
Cider Press Estates
College Park
Colonial Heights
Country Chase
Country Estates
Courts at Brandywine
Creekstone Manor
Cross Creek
Cumberland
Dartmouth Green
Deer Haven
Delbrook
Delbrook Manor
Devonshire Square
Diemler Manor
Dove Ridge
Edgewood
Evergreen
Fair Hill
Fair Oaks
Fairwinds
Flintlock Ridge
Gable Park
Ginger Fields
Golden Triangle
Good Hope Farms
Good Hope Farms
Good Hope South
Good Hope Terrace
Governors Glenn
Grand Meadows
Grandon Farms
Green Ridge Estates
Hamlet Square
Hampden Court
Hampden Hearth
Hampden Summit
Heritage Acres
High Meadow
Highlands
Hillside Farms
Holiday Crest
Hunters Gate
Indian Creek
Jamestown Square
Kimberly Meadows
Kingswood
Laurel Hills
Liberty Cove
Liberty Point
Lindenwood
Manor at Fair Oaks
Manor at Westport
Manor at Westport
Manor of Fair Oaks
Meadowcroft
Meadowview
Meadowview Estates
Mechanicsburg Common
Mechanicsburg Commons
Melbourne Place
Millfording Highland
Monroe Acres
Mountain View Village
Mt Allen Heights
Mulberry Crossing
Noll Acres
Northfield Farms
Peninsula
Pennington
Pinehurst
Pinehurst Hills
Rebert Acres
Regency Hills
Rich Valley
Ridgeland
Rivendell
Rolo Court
Roxbury Crest
Salem Park
Samplebridge Estates
School House Condos
Schoolhouse Crossing
Sheepford Crossing
Signal Hill
Silver Brook
Silver Creek
Silver Spring
Southfield Crossing
Southridge
Spacious Acres
Spring Run
Spring Run Acres
St Marks Place
Stanford Court
Sterling Glen
Stonecrest
Stonehedge
Stratten Chase
Sunnyland
The Highlands
The Peninsula
The Preserve
Timber Chase
Tower Hill
Trindle Acres
Trindle Estates
Trindle Spring
Trindle Spring Heights
Trindle Station
Truffle Glen
Turnberry
Versant at Pinehurst
Village at Fair Oaks
Village of Moreland
Village of Westover
Walnut Point
Walnut Villas
Waterford Square
Webercroft
Westfields
Westover
Westport
White Acres
Whitebrier
Winding Hills
Windsor Park
Witney Ridge
Wyndham Place
Wynnewood Park
Beginnings [1]
Mechanicsburg was founded in the early nineteenth century by men who settled in the area and serviced the wagons that traveled west through the Great Valley. Because of its location, at the junction of two major east-west Cumberland County roads and because the Cumberland Valley Railroad was extended to Mechanicsburg in 1837, the borough became an important commercial center in the county by the middle of the nineteenth century.
In the late eighteenth century, settlement was begun directly to the west of Mechanicsburg at Trindle Springs. The availability of water and the fine grazing land made the site an attractive stopping point for drovers on their way to eastern cattle markets. In the early 1800's, westward migration increased along the new roads from the crossings of the Susquehanna River at Harris' Ferry (Harrisburg) and Simpson's Ferry. The influx of travelers created a demand for artisans and mechanics to repair and build wagons. The area was alternately called Pinchgut, Drytown, Stoufferstown and Mechanicsburg. The contribution of the mechanics was recognized in 1828 when the borough was incorporated as Mechanicsburg.
Henry Stouffer was one of several landowners in the borough who tried to subdivide and develop their property in the early decades of the nineteenth century. He laid out lots in the central part of the borough, the intersection of Main and Market Streets in the 1820's. By standardizing lot sizes, 200 feet in depth by 50 feet in width (later subdivided to 25 feet), and by setting geographic boundaries, Stouffer Alley to Strawberry Alley, Stouffer set the guidelines for future development of the downtown section.
By mid-century, Mechanicsburg had become a commercial community as well as a settlement of mechanics. Located midway between Harrisburg and Carlisle in eastern Cumberland County, Mechanicsburg not only served the on-road travelers who had historically utilized its facilities but also the growing number of commercial transients who were brought by the Cumberland Valley Railroad. The smaller, neighboring communities and rural areas also relied on the borough to provide shopping services.
The 1850's was a period of tremendous growth in the borough. The population more than doubled and many business firms were established during that decade. Grocery, hardware, dry goods, drug stores, specialty shops and the first local bank were joined by newly established cultural, religious and public institutions.
Lott, Susan G., Mechanicsburg Landmarks and Preservation Committee, Mechanicsburg Commercial Historic District, nomination document, 1983, National Park Service, National Register of Historic Places, Washington, D.C.
Nearby Towns: Camp Hill Boro • East Pennsboro Twp • Hampden Twp • Silver Spring Twp • Upper Allen Twp •
---