Village Shires
School District: Council Rock
Post Office: Southampton
Zip Code: 18966, 18954
Builder(s): Gigliotti
---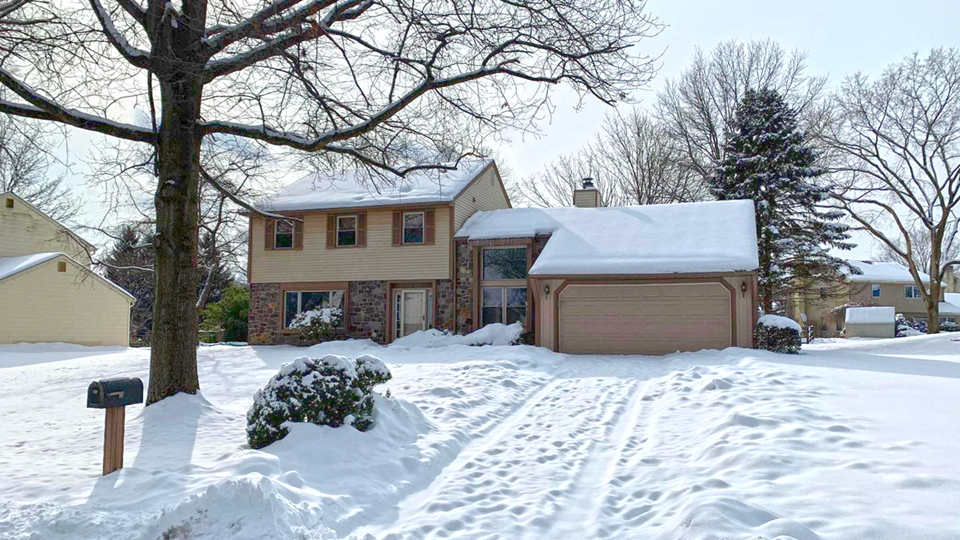 Circa 1980 Colonial on Heather Valley Road sold by Keller Williams Real Estate, Newtown; (215) 860‑4200..
---
Village Shires is a collection of 11 different neighborhoods of varied residential styles that include (see below) apartment-type condominiums, condominium (flats_, townhomes, carriage homes, and single family homes. Each neighborhood developed to provide community atmosphere, with no through traffic patterns. The primary builder was Gigliotti.
How large is Village Shires? Large enough to have three separate community recreation centers, each with its own swimming pool, as well as its own centrally-located shopping center.
Neighborhoods in the Village Shires Subdivision:
A Country Place
Street Names: Burnley Place, Durham Place East, Durham Place West Stafford Place, Weymouth Place
Models: Amhurst II, Cambridge II, Dartmouth II, Eaton II
Beacon Hill
Street Names: Beacon Hill Drive
Once Upon a Time in Beacon Hill In 1983, the builder's advertised, pre-construction pricing ranged from $54,990 (Chelsea) to $68,990 (Amherst).
Models: Amherst, Brockton, Chelsea, Devon, Essex, Foxboro
Bridleridge
Models: Dartmoor, Morgan, Suffolk, Westbridge
Canterbury Croft
Models: Eastham I, Eastham II, Stafford I, Stafford II, Townsend
Hamlet
Street Names: Banbury Court, Portsmouth Court
Models: Andover, Hancock, Ipswich, Jaffrey, Kent, Villager
Heather Valley
Street Names: Hayhurst Drive, Iron Rock Court, Signal Hill Court, Signal Hill Road
Once Upon a Time in Heather Valley In 1979, the builder's advertised, pre-construction pricing ranged from $66,890 (Hartford III) to $97,790 (Rochelle).
Heather Valley II
Street Names: Brentwood Place, Heather Valley Road, Victoria Court, Westwood Place
Heritage Place
Street Names: Heritage Drive, Southwark Court
Models: Amchester, Barchester, Chadwick
Mill Pond
Street Names: Bromley Common, Henley Common, East Village Road, Sturbridge Common, Weybridge Common
Models: Brougham I, Brougham II, Hansom, Hansom II, Landau I, Landau II, Surrey I, Surrey II, Victoria I, Victoria II
Signal Hill
Street Names: Heritage Court, Southwark Court
Models: One Bedroom, Two Bedroom
Tamerlane
Models: Ashley, Bentley, Danbury, Essex
Nearby Neighborhoods
Street Names
Atkinson Place • Averstone Court • Averstone Road • Banbury Court • Beacon Hill Drive • Bedlington Place • Bennett Place • Blakers Way • Brentwood Place • Bromley Common • Burnley Place • Coopers Place • Coventry Place • Doris Avenue • Durham Place East • Durham Place West • Exeter Court • Freemans Lane • Garrison Court • Gate Place East • Hayhurst Court • Hayhurst Drive • Heather Valley Road • Henley Common • Heritage Place • Iron Rock Court • Norwood Place • Pennington Place • Plumly Way • Portsmouth Court • Potters Court • Potters Place • Seton Hill Court • Sheffield Place • Shepherds Way • Signal Hill Court • Signal Hill Road • Southwark Court • Spring House Lane • Spring House Lane • Springwood Place • Stafford Place West • Stockton Place • Sturbridge Common • Sunbury Court • Taylors Way • Van Horn Place • Victoria Court • Village Road East • Village Road West • Westwood Place • Weybridge Common • Weymouth Place • Wyncoop Court
---