Eaton City
Eaton City Hall is located at 328 North Maple Street, Eaton, OH 45320.
Phone: 937-456-4125.
---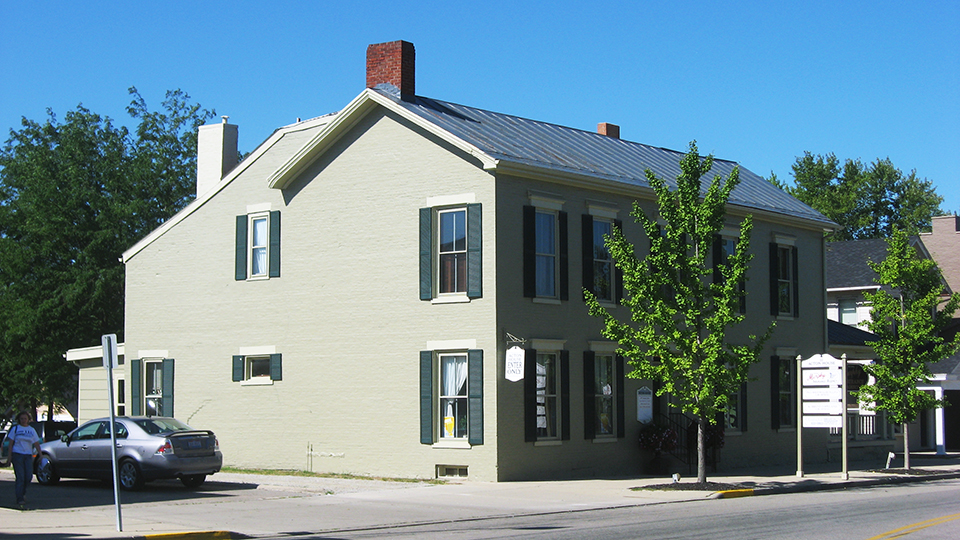 Photo: Acton House, circa 1817, located at 1115 W. Main Street (U.S. Route 35), Eaton, OH. Listed on the National Register of Historic Places in 1985. Photographed by User:Nyttend (own work), 2010, [cc-1.0 public domain), via Wikimedia Commons, accessed October, 2020.
---
Neighborhoods
Eaton Centre
Edgewood
Fairgrounds
Five Points
Fort St Clair
Fredericks
Green Acres
Jamesway
Junction Village
Meadowbrook Estates
North Public
Rolling Hills
Romadoor
Stonybrook
Sugar Hill
Victoria Place
Washington Landing
Wayne Trace
Whisper Way
Beginnings [†]
In March of 1803, Ohio was admitted to the union as the seventeenth state of the United States. In Preble County, New Lexington was platted in 1805. William Bruce, who emigrated from Kentucky in search of a site for his gristmill, recorded Eaton's first plat on 233 lots along Seven Mile Creek. He chose this site because of its potential for water power.
Eaton was named for William Eaton, the U.S. Consul at Tunis, who led a diverse army in a harrowing march from Egypt to Tripoli to meet the U.S. Naval forces during the Tripolitan War against the Barbary Pirates in 1805. Interestingly, Barron, Decatur, Israel, Wadsworth and Somers Streets in Eaton were all named in honor of other heroes of the Tripolitan War.
Preble County was founded on March 1, 1808, from parts of Butler and Miami Counties. All of Preble County's townships (Dixon, Gasper, Gratis, Harrison, Israel, Jackson, Jefferson, Lanier, Monroe, Somers, Twin and Washington) were designated between 1808 and 1824. The State legislature granted Eaton's incorporation in 1836.
The Eaton and Hamilton Railway Company began operations in 1852. It later became the Cincinnati, Hamilton and Dayton System, and still later a part of the Pennsylvania Railway Company. The railway remains today as a major component of the Norfolk and Southern Railroad. Although many other railways traversed the county during this time period, the Norfolk and Southern is the only one that remains in operation today.
Electric power was introduced to Eaton and the rest of the County by the Eaton Electric Light, Power, and Ice Company in the 1880's, and the telephone followed in 1898.
† Miami Valley Regional Planning Commission, City of Eaton Ohio Comprehensive Plan, 2003, www.cityofeaton.org, accessed October, 2020.
---