Reynoldsburg City
Reynoldsburg City Hall is located at 7232 East Main Street, Reynoldsburg, Ohio 43068
614.322.6800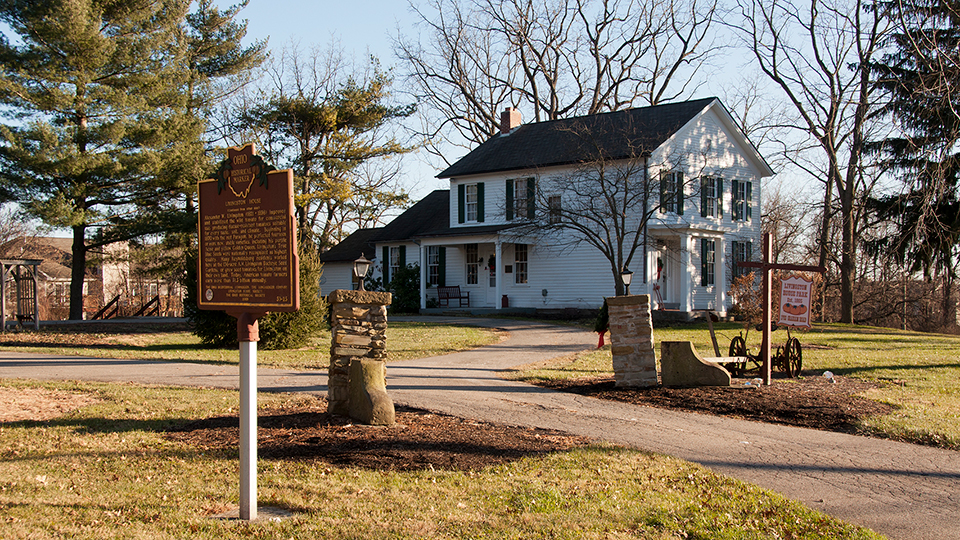 Photo: Alexander W. Livingston House, circa 1800, 1792 Graham Road, Reynoldsburg; Listed on the National Register of Historic Places in 1994. Photographed by User:Nyttend, public domain, via Wikimedia Commons, accessed September, 2020.
Neighborhoods
Asbury Park
Ballman
Barcelona Square
Blacklick Heights
Braeburn
Brent
Briarcliffe
Brice Estates
Brook Farms
Brookside
Burkey Ridge
Cobblestone Run
Coronado Woods
Creekside Condos
Crystal Lakes
Deerfield Estates
Eastshire
Farmington Meadows
Glenmeadows
Huber Homes
Independence
Indian Creek
Jordan Crossing
Kings Ridge
Lakeland Hills
Leighton Village
Ludlow
Marabar Heights
Park Place
Quail Hollow
Quarry Cliff
Quarry Park
Red Fox Hollow
Reserve at Reynoldsburg
Retreat at Coronado Woods
Reynolds Crossing
Reynoldsburg Park
Rose Hill
Rosetree
Russel Heights
Shepherds
Slate Ridge
Stoney Creek Village
Stony Ridge
Summit Ridge
Summit Ridge Heights
Summit Woods
Taylor Chase Condos
Taylor Ridge
Taylor Square
Taylor Woods
Timber Creek
Traditions at Slate Ridge
Treebourne Village
Turnberry Farms
Turnberry Place
Village at Reynolds Crossing
Village at Slate Ridge
Willow Creek
Woods at Reynoldsburg
Woods at Slate Ridge
The origin of Reynoldsburg [†] can be traced to 1801 when Thomas Jefferson signed an Act of Congress granting land to Lt. Colonel Bradford to be appropriated for refugees from Canada. The first settler was Thomas Palmer, who came from Massachusetts in 1803. The Village of Frenchtown was platted in 1831 on land owned by John D. French. The name was changed in 1839 to Reynoldsburg in honor of John C. Reynolds, the Postmaster and a representative in the Ohio General Assembly. The village was incorporated in 1839 and granted city status in 1960.
Reynoldsburg is noted as "the birthplace of the tomato" because of its famous resident horticulturist Alexander W. Livingston (1821-1898), internationally known for his development of the "Paragon" tomato.
Reynoldsburg is located ten miles east of downtown Columbus and comprises the eastern edge of the Columbus metropolitan area. It was the first Franklin County city to expand into two other counties: Licking County to the east and Fairfield County to the south. Encompassing approximately thirteen square miles, the City lies near the geographic center of the state and is easily accessible from all areas in Ohio. The City is seven miles from Port Columbus International Airport and offers immediate accessibility to interstate highways I-70 and I-270 via three major interchanges. Reynoldsburg is situated 833 feet above sea level and experiences mean temperatures of 71.97 degrees during the summer and 29.8 degrees during the winter.
† Comprehensive Financial Annual Report, City of Reynoldsburg, 2016, ci.reynoldsburg.oh.us, accessed September, 2020.
Nearby Towns: Pickerington City • Violet Twp •
---