Northumberland Town
The Northumberland Town Hall is located at 17 Catherine Street, Gansevoort NY 12831.
Phone: 518‑792‑9179.
---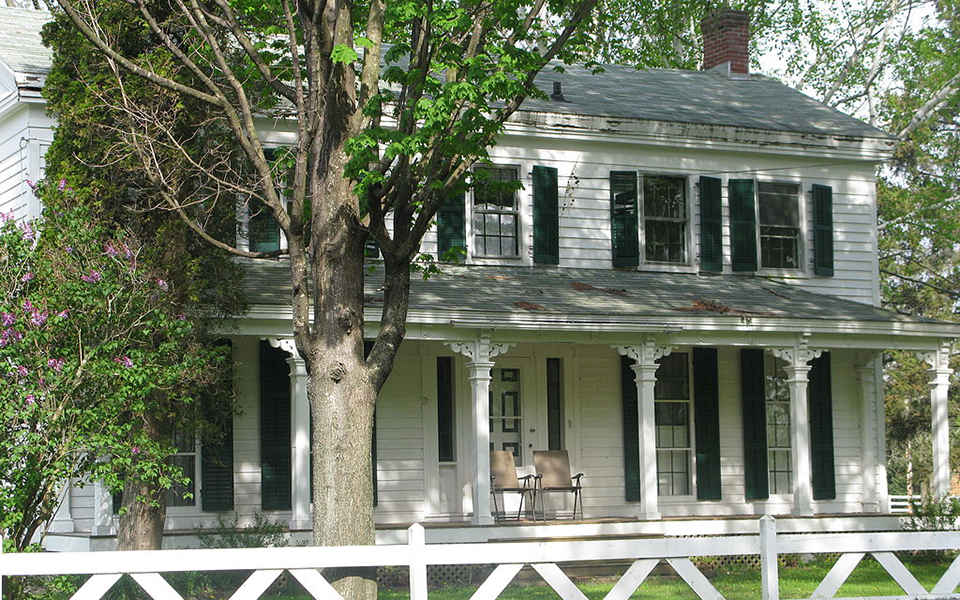 Colonel Sidney Berry House, circa 1800, located at 725 West River Road, Northumberland. Listed on the National Register of Historic Places in 2003. Photographed by User:Hammersit173 (own work), 2010, [cc-3.0], accessed July, 2022.
---
The Town of Northumberland [1] lies in northeastern Saratoga County, bordered on the east by the Hudson River, on the north by the Town of Moreau, on the west by the Town of Wilton and on the south by the Town of Saratoga. Northumberland was created early in the history of Saratoga County. It was taken from the Town of Saratoga in 1798 and originally included, in addition to its current boundaries, Wilton, Moreau, and parts of Hadley and Corinth.
Early settlers in the late 18th century found much to admire in Northumberland. There were plentiful farmlands, forests for logging and streams to power mills. Ferries were established across various points of the Hudson to facilitate trade and transportation. Hotels and taverns characterized settlement clusters that were surprisingly well populated before the Revolution.
The agricultural economy of the post-revolutionary war times resulted in many more hamlets in the town than exist today. Hamlets at that time had 20 to 30 families and also had a mix of industry, retail and public facilities. The hamlets of Gansevoort, Bacon Hill and Northumberland are still in existence today. The opening of the Champlain Canal in 1823 made the hamlet of Northumberland an important shipping point for goods.
Neighborhoods
Forest Hills
Forest Hills
Hickory Forest
Jewell Corner
Lindsay Hills
Morgan Manor
Queens Court
Rimbrave Estates
Stonegate
Tannager Woods
Beginnings [2]
Northumberland was formed from Saratoga March 16, 1798. A part of Hadley was taken off in 1801, Moreau in 1805 and Wilton in 1818.
The town shares with Fort Edward, the Fort Edward Falls.
The first settlers probably came in before the Revolution. Among them was a Tory named Munroe, who built the first saw mill at Gansevoort. He was compelled to flee to Canada and his property was confiscated. The mill was destroyed, and afterwards Gansevoort discovered the irons and erected a new saw mill. Soon after he built a grist mill. Fort Miller bridge was erected across the Hudson at this place, by a company incorporated in 1803. Another bridge was erected in 1845, containing a single road track and a towing path for the canal.
The Reformed Church of Gansevoort was organized in 1839 by Reverend Benjamin VanZant, Reverend C Wycoff and Elder Hones Olmsted. There were 14 members and Reverend Wycoff was the first pastor. The first house of worship was erected in 1841, seating about 300. By 1871, the membership grew to 35 with a new pastor, Reverend Charles Rockwell.
Town of Northumberland, Comprehensive Land Use Plan, 2003, www.townofnorthumberland.org, accessed July, 2022.
Child, Hamilton, Gazetteer and Business Directory of Saratoga County NY and Queensbury, Warren County, for 1871, The Journal Office, 1871, Syracuse.
Nearby Towns: Moreau Town • Saratoga Town • Schuylerville Vlg • Victory Vlg •
---