Skaneateles Town
Skaneateles Town Hall is located at 24 Jordan Street, Skaneateles, NY 13152.
Phone: 315‑685‑3473.
---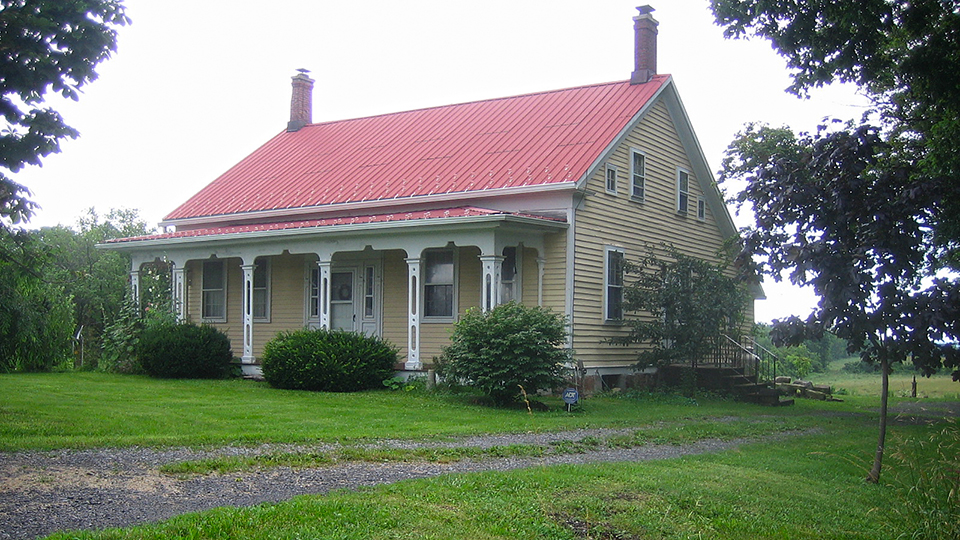 Photo: Kelsey-Davey Farm, ca. 1810, 1861 Old Seneca Turnpike, Skaneateles, NY. Listed on the National Register of Historic Places in 1980. Photographed by user:Doncram (own work), 2013, [c‑3.0], via Wikimedia Commons, accessed June, 2021.
---
Neighborhoods
Bacon Hill
Blankney
Butters Farm
Long Bridge
Mandana
Marysville
Mottville
Parcell Wodds
Shamrock
Skaneateles Falls
The Enclave
Whitegate
Winding Way
Beginnings [1]
The first white settler, Abraham Cuddeback, came to survey the Central New York Military Tract of Skaneateles under Moses Dewitt. At first a part of the township of Marcellus, the town of Skaneateles was separated and established independently on February 26, 1830, and the Village, at the head of the lake, was incorporated on April 19, 1833. Early turnpikes facilitated development and the town was noted for participation in reform movements prior to the Civil War. Some Skaneateles men volunteered for the ill-fated campaign (Patriot War, 1848) to liberate Canada and were imprisoned by the British in Tasmania. Quaker congregations were involved in abolition activity. Underground Railroad sites have been documented in the Town of Skaneateles. Although the larger City of Syracuse nearby was known nationally as center of abolition and Underground Railroad activity, Skaneateles was said (by Beauchamp, an early historian) to have "eclipsed Syracuse as an anti-slavery town."
Tetra-Tech EM, Inc. for Syracuse-Onondaga County Planning Agency, Onondaga County Multi-Jurisdictional All-Hazards Mitigation Plan, Volume I, 2010.2011, www.ongov.net, accessed June, 2013.
Nearby Towns: Elbridge Town • Elbridge Vlg • Marcellus Town • Marcellus Vlg • Skaneateles Vlg •
---