Oakland Borough
Oakland Borough Hall is located at One Municipal Plaza, Oakland NJ 07436.
Phone: 201‑337‑8111.
---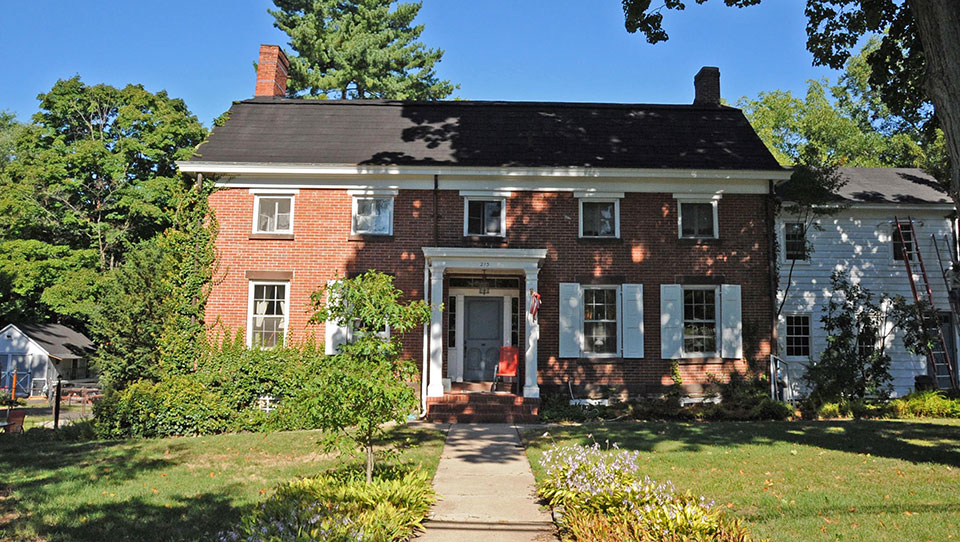 Photo: Demarest House, circa 1825, located at 213 Ramapo Valley Road, Oakland. Listed on the National Register of Historic Places in 1983. Photographed by User:Jerrye & Roy Klotz MD (own work), 2015, [cc-4.0], via Wikimedia Commons, accessed February, 2023.
---
Neighborhoods
Heights
Ramapo River Reserve
Oakland as Viewed in 1940 [1]
Oakland, one of the oldest communities in Bergen County, NJ, is a cluster of frame buildings. It was known successively as Yawpaw (an Indian name meaning wild plum), The Ponds, Scrub Oaks, Bushville, and now Oakland. Its public edifices include a one-story brick borough hall and a brilliant red Post Office, set in a two-story yellow frame building.
Hanging from a bracket in the public square is a sign announcing "Oakland, Bergen County, N.J., established 1869." The legend is topped by a portrait of one Chief Iaopogh and the words, "Once There Was Indians All Over This Place." The sign was a donation of Robert T. Sheldon, a resident of Valley Road; Oakland people assert that the ungrammatical construction was insisted upon by Mr. Sheldon, who, they recall, said it was "a quotation from some author."
A Silk Label Plant is the borough's sole factory. Its principal point of interest is the white stucco and stone Borough Hall, constructed by WPA as a reproduction of the Ponds, built at Oakland in 1829. The hall, a Georgian edifice, is adjacent to the present brown-shingled Dutch Reformed Church, whose congregation celebrated its 225th anniversary in November 1935. A former pastor of the church, the Reverend Ilsley Boone, became the center of a local controversy some years back when he espoused nudism, of which he is today one of America's leading exponents.
South of Oakland, following the Ramapo River, US 202 swings through a district of bathing beaches, tourist camps, and hot dog stands.
Federal Writers' Project of the Works Progress Administration for the State of New Jersey, New Jersey: A Guide to Its Present and Past, American Guide Series, The Viking Press, 1939, New York
Nearby Towns: Franklin Lakes Boro • Hawthorne Boro • Ramsey Boro • Wanaque Boro •
---