Johnston County Courthouse is located at 207 East Johnston Street, Smithfield, NC 27577; phone: 919-989-5100.
---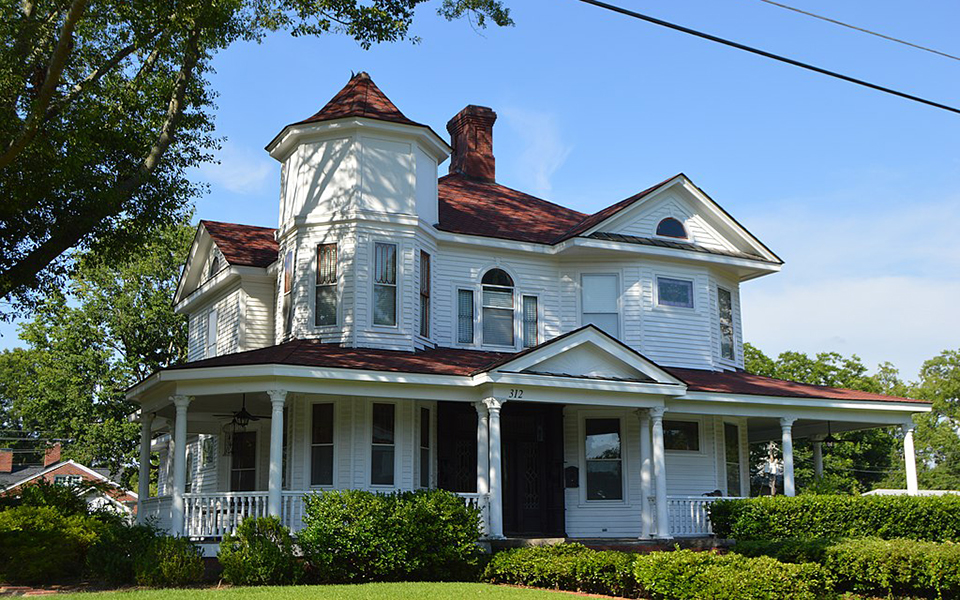 Photo: Nowell-Mayerburg-Oliver House, circa 1912, located at 312 W. Anderson Street, Selma, NC. Listed on the National Register of Historic Places in 1982. Photographed by User:Nyttend (own work), 2020, [cc-by-1.0, public domain], via Wikimedia Commons, accessed October, 2021.
---
TOWNS
Four Oaks Town
Kenly Town
Micro Town
Pine Level Town
Princeton Town
Selma Town
West Smithfield
Wilsons Mills Town
Johnston County was created in 1746 from Craven County and named in honor of Gabriel Johnston, North Carolina's royal governor at the time. Johnston County originally contained most of what is now Wake, Wayne, Greene, and Lenoir counties and part of Wilson. Johnston County has been an agricultural community since its founding. Agriculture is a valued and defining feature of the history, landscape, and culture of the county.
HISTORIC SITES
Atkinson-Smith House
Boyette Slave House
Brooklyn Historic District
Clayton Historic District
Downtown Smithfield Historic District
Edgerton, Noah Edward, House
Ellington-Ellis Farm
Four Oaks Commercial Historic District
Harper House
Hastings-McKinnie House
Hood-Strickland House
Johnston County Courthouse
Moore, Walter R. and Eliza Smith, House
North Smithfield Historic District
Nowell-Mayerburg-Oliver House
Sanders-Hairr House
Smith, William E., House
Stallings-Carpenter House
Stevens, Everitt P., House
Waddell-Oliver House
Watson-Sanders House
---