Greensboro City
Greensboro City Hall is located at 300 West Washington Street, Greensboro NC 27401.
Phone: 336‑373‑2489.
---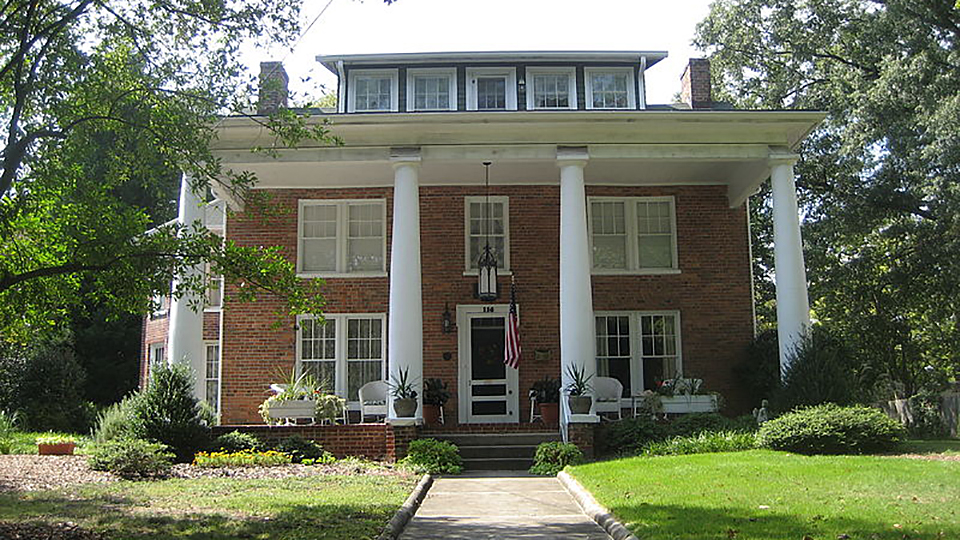 Photo: Bumpas-Troy House, circa 1847, located at 114 South Mendenhall Street. Listed on the National Register of Historic Places in 1977. Photographed by user:Rhpotter (own work), 2012, [cc-by-3.0 (creativecommons.org/licenses/by/3.0)], via Wikimedia Commons, accessed August, 2021.
---
Beginnings [1]
Greensboro, the County seat of Guilford, had [in 1902] a population of about twenty-two thousand. Situated on a plain slightly inclined toward the sunrise, is Greensboro, Queen of Piedmont Carolina. Surrounded by beautiful, undulating fields covered with soft Japanese clover, buffalo grass and abundant wild flowers, she is called the "City of Flowers." Once this section was prairie, it is said, but there are now tall oaks, poplars and elms of such strength and size as to suggest forest primeval. Greensboro, the Gate City, is the open door of transportation between North and South. This advantage alone would have made her strong industrially. Her hotels are famous. Her people are kind, cultured and hospitable. Her health is perfect. Greensboro, City of Flowers, Garden of Roses, Abode of the Birds, is the centre of Guilford County.
[ continue ]
Neighborhoods
Adams Farm
Alexander Pointe
Amherst Village
Anderson
Anniston
Apple Ridge
Appletree
Arbor House
Arcadia
Arcadia Woods
Ardmore
Ariel Farm
Arlington Park
Arlington Street Lofts
Armfield
Armfield Acres
Arrowwood
Asbury
Ascot Point
Asher Downs
Auburn Hills
Audubon Park
Autumn Woods
Avalon Heights
Ballinger Manor
Bar-Mot Acres
Barkers Ridge
Barrington Place
Battle Forest
Beacon Hill
Beechcroft
Bellevue Vance
Bellwood Village
Benbow Park
Benfield
Benjamin Park Condominiums
Bessemer Park
Bethany Woods
Billimore
Blakeney at Old Irving Park
Blakeshire Estates
Bluford Park
Bon Aire Acres
Bothwell Acres
Boxelder Landing
Boxwood Acres
Brackenlake
Bramblegate
Brandermill
Branderwood
Branderwood Estates
Brandonshire
Brandt Ridge
Brandt Village
Brandywine
Breckenridge
Brentwood Acres
Brentwood forest
Briarmeade
Briarwood
Briarwood Estates
Bridford Downs
Brightleaf
Brighton Place
Brightwood Landing
British Woods
Brittany Woods
Broadacres
Bromley Woods
Brookfield
Brookglen Village
Brookside at Irving Park
Brookstone
Brookwood
Brookwood Gardens
Brownstone
Brushwood
Brushwood Park
Bryson Ridge
Buchanan Heights
Buffalo Park
Buffer Hills
Burlwood
Burnette Acres
Cabot Park
Caldwell Square
Cambridge Square
Camden Falls
Camelot Estates
Campbell Farms
Canaan at the Noles
Canaan Place
Candace Ridge
Canterbury Square
Cape May
Cardinal Commons
Cardinal Cove
Cardinal Downs
Cardinal Lake Estates
Cardinal Manor
Cardinal Vista
Cardinal West
Cardinal Woods
Carlisle Estates
Carlson Farms
Carlson Terrace
Carmel By The Lake
Carriage Crossing
Carriage Hills
Carriage Village
Cedar Bend
Cedar Chase
Cedar Hollow
Cedar Hollow Estates
Cedar Park
Cedar Ridge Farms
Center Grove
Center Pointe
Chadbury
Chantille Place
Chapel Ridge
Chapel Watch
Charles B Aycock Historic District
Charlestown Square
Charlestown Village
Charlestowne Crossing
Charlestowne Square
Checkerberry Square
Chelsea Commons
Chestnut Bend
Chimney Springs
Chiswick Park
Church Hill Lakes
Church Meadows
Churchhill Lakes
Churchill
Clay
Clinton Hills
Coachmans Trail
Cobblestone
Coble Farm
College Forest
College Heights
College Hills
College Park
College Woods
Collinswood
Commons on The Lake
Commons River View Condos
Cone Mills
Coopers Farm
Corbin Woods
Corinth Village
Cotswold Park
Cotswold Pointe
Cotswold Village
Country Club Condos
Country Lane
Country Park
Country Park Acres
Country Woods
County Farm
Courthouse Square
Courtyards
Covington Place
Creekside
Crescent Estates
Creswell Court
Cromwell Oaks
Cypress Lakes
Danbury Court
Davidson Place
Deep River Forest
Deep River Plantation
Deerfield
Delancey Heights
Dellwood Park
Desmond Woods
Diamond Head
Dogwood Estates
Dogwood Forest
Dolly Madison Homes
Dover Hills
Dover Villas
Doverstone Village
Dresden Woods
Dudley Heights
Dudley Park
East Market Street
East Side Park
Eastern Oaks
Eastern Shores
Eastside Park
Eastside Village
Eastwood
Edgeville Terrace
Edinburgh
Edison Village
Elk Park
Elm Park
Elms at Manchester
Elsiewood
Englewood Forest
Fairbrother Homes
Faircrest
Fairfield
Fairview Homes
Fairwood Forest
Farrington
Fenwood
Fenwood Forest
Fieldstone
Fisher Park
Fleming Meadows
Fleming Woods
Flora Vista
Fogleman
Forest Edge
Forest Hills
Forest Oaks
Forest Oaks Country Club
Forest Oaks Estates
Forest Oaks Hills
Forest Oaks North
Forest Ridge
Forest Valley
Forest Village
Fountain Manor
Four Farms
Four Seasons
Fox Hollow
Foxcroft
Foxfire Village
Foxtrails
Francisco Place
Franklin Acres
Franklin Downs
Friendly Acres
Friendly Acres North
Friendly Acres Townhomes
Friendly Lakes
Friendly Plantation
Friendly West
Friendly West Townhomes
Friendship
Friendship Farms
Friendswood
Garden Apartments
Garden Homes
Garden Lake Estates
Georgetown Square
Gillispie
Gilmer
Glen Hollow
Glen Laurel
Glendale Forest
Glendale Hills
Glendale Oaks
Gorrell Street
Governors Court
Gramercy Park
Gramercy Park West
Grandover
Granville Estates
Green Acres
Green Valley
Greenbriar Court
Greenes Crossing
Greenfield
Greenhaven
Greentree
Greenway Park
Greenwood Park
Grey Oaks
Greybridge
Greystone Estates
Greystone Point
Griffin Mills
Guilford College Estates
Guilford Colony
Guilford Crossing
Guilford Greene
Guilford Heights
Guilford Hills
Guilford Oaks
Guilford Park
Guilford West
Hamilton Forest
Hamilton Hills
Hamilton Lakes
Hamilton Village
Hamilton Woods
Hanner Heights
Harbor Homes
Harts Landing
Harvest Glen
Hawthorne Chase
Hazelwood
Hearthstone Townhouses
Heather Acres
Hickory Trace
Hickory Woods
Hidden Forest
Hidden Oaks
Hidden Valley West
High Acres
High Meadows
Highgate
Highland Meadows
Highland Park West
Hillsdale Park
Hilltop Acres
Hobbs Landing
Hodgin
Holden Crossing
Holden Farms
Holden Village
Holiday Hills
Holland Hills
Holly Crest
Holly Hills
Holts Chapel
Homewood
Hope Valley
Howards Walk
Hunter Hills
Hunters Run
Huntingdon
Hyde Park
Irving Park
Irving Park North
Irving Park Village
Irving Park West
Ivey Ridge
Jefferson
Jefferson Gardens
Jefferson Place
Jefferson Woods
Jessup Ridge
Kauffmans Corner
Kelly Heights
Kensington Park Condos
Kensington Trace
Kentwood Park
Kersey
Keswick Place
Kildare Woods
Kingfield
Kinglet Commons
Kings Arms
Kings Forest
Kings Mill
Kings Pond
Kingsbury Estates
Kingsfield
Kinwood Estates
Kirkwood
Knightwood
Knollwood
Lacy Allred Farms
Lake Daniel Forest
Lake Daniel Park
Lake Jeanette
Lake View Hills
Lakehaven Estates
Lakeland Acres
Lakeshore Village
Lakeside Square
Lakeview Hills
Lamrocton
Landon Creek
Lands End
Lansdowne
Latham Park
Laurel Ridge
Laurel Run
Lawndale Estates
Lawndale Homes
Lenox Park Commons
Liberty Square
Liberty Valley
Lincoln Grove
Lincoln Heights
Lindhurst
Lindley Park
Lipscomb
Lochwood
Long Meadows
Longview Hills
Lowdermilk
Lynwood Lakes
Madison Farms
Madison Woods
Magnolia Place at Fisher Park
Magnolias
Manchester
Maple Ridge
Marelee
Marshall Square
Martin Luther King Acres
Mayfair
Mayfair South
Maywood Street
McAdoo Heights
McAlister Place
McAlister Woods
McAllister Place
McKenzie Place
McKinley Park
McKnight
McNairy Pointe
Meadow Creek
Meadow Oaks
Meadow Run
Meadowood Glen
Meadowood Homes
Meadows at Richland Creek
Mears Fork Estates
Menlo Park
Millicans Pond
Millstream
Mizelle Acres
Monroe
Monroe Heights
Montibello
Morehead
Morgan Ashley Terrace
Morgan Place
Mount Vernon Heights
Mountainbrook
Nacho Park
Nantucket
Natchez Trace
Nealtown
Nealtown Farms
Nelson
New Garden Park
New Irving Park
Nocho Park
North Beech
North Hampton
North Haven
North Hills
North Oaks
Northbrook
Northern Point
Northern Shores
Northern Shores Estates
Northfield Valley
Northwest Acres
Northwood
Notting Hill
Nuggett Ridge
O Henry Oaks
Oak Bend
Oak Grove
Oak Grove Forest
Oak Meadow Court
Oak Ridge Meadows
Oakgate at Reedy Fork
Oakgreen Forest
Oakhurst Acres
Oakland Farms
Oakmont
Oaks of Brassfield
Oaks West
Odell
Old Irving Park
Olde Forest
Oliver Hills
Orchard
Osborn Acres
Overland Park
Overlook Park
Owls Roost
Park at Lawndale Place
Park Grove
Park Place
Parkway Village
Pear Tree
Pecan Ridge
Peggys Place
Pennydale
Penton Ridge
Pershing Court
Philadelphia Lake
Piedmont Heights
Piedmont Park
Piedmont Trace
Pilots Ridge
Pine Haven Estates
Pine Hill Village
Pine Wood Forest
Pineburr
Pinecrest
Pinecroft
Pinehurst Village
Pinewood Forest
Pinewood Hills
Piney Forest
Pipers Glen
Pleasant Oaks
Pleasant Ridge
Pleasant Ridge Farms
Pleasant Ridge Farms East
Pleasant Ridge Farms West
Pomona Heights
Pomona Village
Poplar Hill
Poplar Ridge
Portico Heights
Prestbury
Prestwick
Provincetown
Quail Oaks
Quail Ridge Estates
Quails Nest
Quaker Acres
Quaker Commons
Quaker Landing
Quaker Run
Queens Court
Rachels Keep
Raine Meadows
Random Woods
Rankin Forest
Raven Ridge
Reedy Fork Ranch
Reynolds Estates
Richlands
Ridgecrest
Ridgewood
River Hills
River Hills Plantation
River Hills Plantation North
River Ridge
River View Condos
River View Townhomes
Riverdale Ridge
Robin Woods
Robinridge
Robyns Glen
Rolling Acres
Rolling Acres West
Rolling Roads
Roseway
Rosewood Park
Rotherwood
Saddle Creek
Salem Hills
Savannas Run
Schoolfield
Scott Park
Scotts Glen
Scotts Grant
Sedgefield
Sedgefield Forest
Sedgefield Gate
Sedgefield Lakes
Sedgefield Park
Seven Gates
Shady Grove
Shady Lawn Acres
Shady Villa
Shamrock Glen
Shannon Hills
Shannon Woods
Sharpe Acres
Shelley Acres
Sheppard
Silver Run
Smothers Place Lofts
Somerset Village
South Bessemer
South Village Place
Southborough Sqaure
Southern Gates
Southmont
Southside
Southside
Spaulding Heights
Spencer Crossing Condos
Spencer Ridge
Spicewood Crossing
Springhaven
Stafford Mills Estates
Staffordshire
Stagecoach Village
Stanley
Starmount Farms
Starview Acres
Sterling Ridge
Sterlingshire
Stone Gables
Stonebridge
Stonebrook Farms
Stonebrook Farms West
Stonegate Acres
Stonegate Crossing
Stonehaven
Stratford Green
Streamside
Styers Park
Sullivans Lake
Summers Pointe
Summit Hills
Sumner Heights
Sunrise Acres
Sunrise Park
Sunset Hills
Sunset Ridge
Sunset Woods
Sutton Oaks
Sycamore Glen
Sydney Shores
Tallwood
Tamannary Forest
Tanner Woods
Tennessee Acres
The Commons at Riverview
The Elms of Irving Park
Thicket
Thomas Oaks
Thomas Ridge
Thornblade
Thornton
Thorpe Square
Thousand Oaks
Three Meadows
Timberbrooke
Tollesbury
Tower Glen
Trailwood Acres
Trinity Downs
Trinity Lake
Triple Lakes
Truman Gant Woods
Turlington
Turner Grove
Turning Point
Turnstone Village
Tuscany
Tyler Run
Tyson Place
Vantage Point
Vickrey Park
Victory Forest
Villa Roma
Villa Tuscana
Village A
Village at Northside
Village at Windsor Park
Village Oaks
Village Pines
Villas at Eagle Pointe
Villas at Lake Jeanette
Villas at New Garden
Voss Forest
Wagon Wheels
Walker Commons
Warnersville
Washington Park
Watercrest
Watlington Forest
Weatherstone
Wedgewood
Westbrook Village
Westbury
Westbury Park
Westerwood
Westlake
Westmeade
Weston at Friendly Acres
Weston Woods
Westridge Crest
Westridge Forest
Westridge Heights
Westridge Valley
Westwood
Wheatfield
Whilden Place
Whispering Pines
Whispering Woods
White Horse Farms
White Oaks Heights
Whitehall
Whitestone
Wiley Park
Wilhoit Estates
William Theodore Acres
Williamsborough Commons
Williamsburg Square
Willora Woods
Willoughby Crest
Willoughby Park
Willoughby Run
Willow Bend
Willow Oaks
Willow Ridge
Wilson Estates
Wimbledon
Windsor Park
Winstead Commons
Wolf Run Trail
Wolf Trail Run
Woodberry Forest
Woodberry Park
Woodbriar Estates
Woodbridge Condos
Woodfield
Woodland Hills
Woodland Park
Woodland Village
Woodlawn Park
Woodlea
Woodlea Acres
Woodlea Lake
Woodlea Manor
Woodmere Park
Woodridge
Worthing Chase
Wynnmere
Wynterhall
Young Acres
Zornbrook Valley
[ continued ]
One lucky morning in May, 1809, the Court of Guilford County was removed from Martinsville to the centre of the county, Greensboro.
When Greensboro was made the chief town of Guilford County, Raleigh, as the capital of the North Carolina, was still very young; Wilmington was possibly a month's journey distant; Fayetteville, the chief trade centre for Piedmont North Carolina; and Hillsboro, almost royal in its degree of aristocracy. The great Highway between Salisbury and Hillsboro, leading by the little town of Greensboro, was traversed by stage coach, not hourly, as the trains pass today [1902], but a lumbering stage coach drawn by six horses. A daily newspaper was something undreamed of, but unconsciously the stage coach driver fulfilled the functions of newsmonger as well as engineer, conductor, baggage master and expounder of the law and Constitution.
The University of North Carolina, established in 1796, was not very old when Greensboro became a town. The first degree conferred by that seat of learning was upon a Guilford man, Dr. David Caldwell.
Stockard, Sallie W., The History of Guilford County, North Carolina, Gaut-Ogden Co., Printers and Book Binders, Knoxville TN, 1902.
---