Minneapolis City
Minneapolis City Hall is located at 350 South 5th Street, Minneapolis MN 55415.
Phone: 612‑673‑3136.
---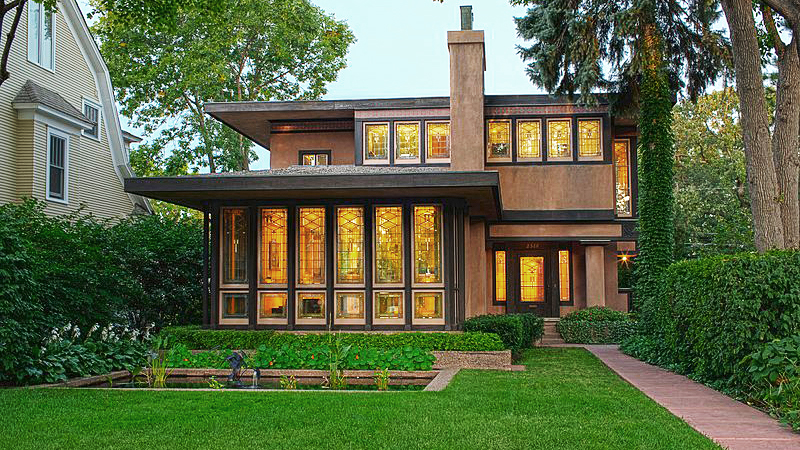 Photo: Edna S. Purcell House (Purcell-Cutts House), circa1913, located at 2328 Lake Place, Minneapolis, MN Listed on the National Register of Historic Places in 1974. Photographed by Charles Walbridge (own work), 2011, [cc-1.0, public domain], via Wikimedia Commons, accessed September, 2021.
---
Beginnings [1]
Minneapolis, founded by Col. John H. Stevens, builder of the first house on the west side of the Mississippi here in 1849-50, organized as a township May 11, 1858, was transformed in 1886 to the village organizations of Golden Valley and St. Louis Park, excepting the eastern part of the township, which had been comprised in the city area. On the original site of this city, platting of village lots was begun in the spring of 1854 by Stevens, to which other plats were added in 1854-5. The state legislature, in an act approved March 1, 1856, authorized a town government with a council, which was inaugurated July 20, 1858. The city of Minneapolis was incorporated under an act of March 2, 1866, and its first election of officers was held February 19, 1867. It was enlarged, through union of the former cities of Minneapolis and St. Anthony, by a legislative act approved February 28, 1872, and the new city council was organized April 9, 1872.
Neighborhoods
Bancroft
Bottineau
Bryant
Bryn Mawr
Carag
Cedar-Isles-Dean
Cedar-Riverside
Central
Cleveland
Como
Cooper
Diamond Lake
Dinkytown Historic District
Downtown East
Downtown West
East Bank
East Calhoun
East Harriet
East Isles
East Phillips
Ecco
Elliot Park
Ericsson
Field
Fifth Street Southeast Historic District
Folwell
Fulton
Hale
Harmon Place Historic District
Harrison
Hawthorne
Healy Block Historic District
Hiawatha
Holland
Howe
Jordan
Keewaydin
Kenny
Kenwood
King Field
Lind-Bohanon
Linden Hills
Logan Park
Longfellow
Loring Heights
Loring Park
Lummhurst
Lyndale
Marcy-Holmes
Marshall Terrace
McKinley
Midtown Phillips
Milwaukee Avenue Historic District
Minnehaha
Minnehahha Historic District
Morris Park
Near North
Nicollet Island
North Loop
North Loop Warehouse Historic District
Northeast Park
Northrop
Page
Phillips West
Prospect Park
Regina
Saint Anthony East
Saint Anthony West
Seward
Sheridan
Shingle Creek
South Ninth Street Historic District
St Anthony Falls Historic District
Standish
Sumner-Glenwood
Tangletown
University
University of Minnesota Greek Letter Chapter House Historic District
Ventura Village
Victory
Waite Park
Washburn Fair-Oaks Historic District
Webber-Camden
Wenonah
Whittier
Willard Hay
Windom
Windom Park
The earliest announcement and recommendation of this name was brought by Charles Hoag to the editor of the St. Anthony Express, George D. Bowman, on the day of its publication, November 5, 1852. It was then published, without time for editorial comment, which was very favorably given in the next issue, on November 12. Soon this new name, compounded from Minnehaha and the Greek "polis," city, displaced the various earlier names which had attained more or less temporary acceptance, including All Saints, proposed by James M. Goodhue of the Minnesota Pioneer, Hennepin, Lowell, Brooklyn, Albion, and others. The distinguished parts borne by both Hoag and Bowman in this opportune coinage of the name Minneapolis have been many times related, with gratitude to Hoag for the bright idea and to Bowman for his effective advocacy of it by his newspaper.
But a new claim, for the origination of the name by Bowman during a horseback ride from St. Anthony to Marine Mills, on the St. Croix river, was published in the summer of 1915 by a posthumous letter of Benjamin Drake, Sr., a cousin of Bowman, printed on page 1583 in Volume III of the late Captain Henry A. Castle's History of Minnesota. The circumstantial evidences of truthfulness there shown for Bowman, as the first to receive the inspiration of uniting "Minnehaha" and "polis" to form this city name, seem quite conclusive. It is probable, however, that Bowman had mentioned this idea to his friend, Mr. Hoag, and that some days or weeks later, when Hoag had entirely forgotten this, it may have come again to his mind and been thought new and original with himself, immediately before his writing the short article by which this name was proposed in November, 1852.
So each of these excellent early citizens of Minneapolis may have honestly believed himself the favored first originator of the city's name. They worked together unselfishly and successfully for its adoption, and they seem equally deserving of enduring fame for this service to the young city.
The claims for each are quite fully stated and discussed in the Minneapolis Journal, by Hon. John B. Gilfillan, January 7, 1917, and by the present writer a week later, on January 14.
Upham, Warren, Minnesota Geographic Names, Minnesota Historical Society Collection, Volume XVII, 1920, Minnesota Historical Society, Saint Paul
---