Red Wing Residential Historic District
Post Office: Red Wing
Zip Code: 55066
---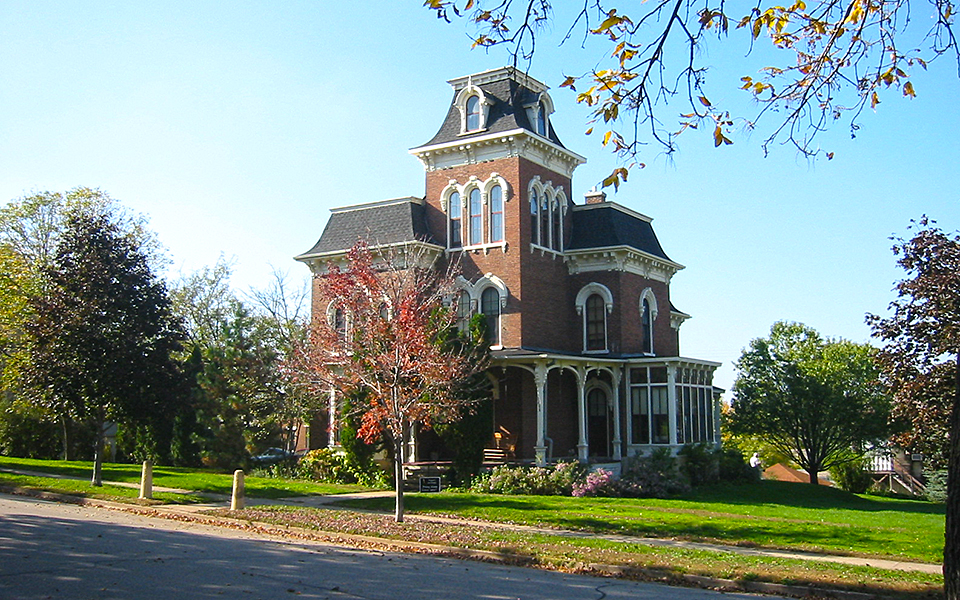 Philander Sprague House, circa 1897 Second Empire, located at 1008 West Third Street, Red WIng. Listed on the National Register of Historic Places in 1981. Photographed by User:Elkman (own work), 2007, [cc-4.0], via Wikimedia Commons, accessed August, 2022.
---
The Red Wing Residential Historic District was listed on the National Register of Historic Places in 1982. It is an excellent representation of an evolving residential district, beginning in the late 1850s and culminating in the early 1930s with a slight majority of buildings dating from the city's period of greatest construction; the late 1880s to pre-World War I. Some of the earliest remaining buildings have been architecturally updated during subsequent fashionable periods and lend an acceptable, if curious, architectural and educational value to the character of the district. There are very few buildings without either architectural or historical value which would qualify as "intrusions" (Examples include 1103 3rd Street, 311 Franklin Street, 316 Fulton Street and 312 Dakota Street).
Overall the environmental continuity and integrity of the district is exceptionally good, exhibiting a high degree of ongoing, sensitive maintenance to both buildings and their surroundings. The result is a residential environment more commonly experienced in finer small towns at the turn of the century, but which are now a rarity. The district's amenities include an excellent assortment of randomly distributed stone curbs, retaining walls, hitching posts and buggy "step-downs."
The District embodies the complex history of an important upper Midwest community, retaining a physical cohesiveness coupled with an aesthetic quality which has no known remaining counterparts in Minnesota and few in the Midwest. It contains buildings associated with noted Swedish emigrants who were instrumental in establishing Minnesota as one of their most noted immigrant centers during the 19th century; buildings associated with families who established industrial, financial, commercial and communication enterprises of local, state and national significance; buildings associated with individuals who helped create some of the earliest educational, medical, religious and social institutions in Minnesota and the upper Midwest; buildings related to families who made lasting contributions to the political history of the community, county and state; buildings retaining a rare link to individuals who made important contributions to American military history and to preserving American Indian culture. Lastly, the historic district is one of the better collections of mid-19th through early 20th century residential architecture in Minnesota, sporting examples of pre-Civil War, Victorian and classical revival residential periods, and which rival the best examples in the state.
‡ Thomas J. Lutz, Red Wing Residential Historic District, Goodhue County, MN, nomination document, 1981, National Park Service, National Register of Historic Places, Washington, D.C.
Street Names
3rd Street West • 4th Street West • 5th Street West • Cedar Street • Dakota Street • Franklin Street • Fulton Street • Hill Street • Main Street • Pine Street
---