St Joseph City
St. Joseph City Hall is located at 700 Broad Street. St. Joseph, MI 49085.
Phone: 269-983-5541.
---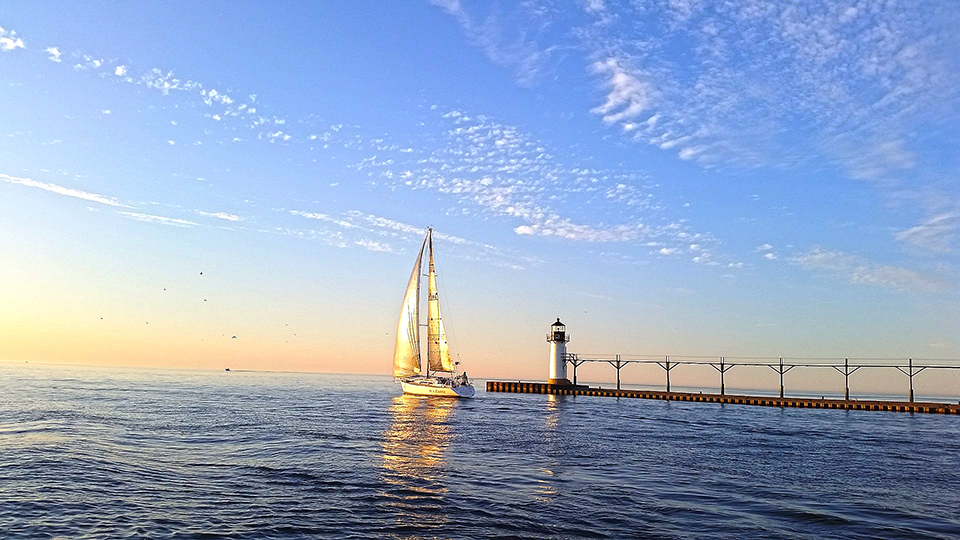 Photo: St. Josph Lighthouse, circa 1906, Located at the mouth of the St. Joseph River into Lake Michigan, Listed in the National Register of Historic Places in 2005. Photographed buy wikipedia username: Dariam12, (own work) 2017, [cc-4.0], accessed March, 2023.
---
St. Joseph's history began almost 100 years before the Ameri-can Revolution. In 1679 the explorer LaSalle and his 14 men cleared a piece of land and constructed a fort on the bluff above the St. Joseph River. LaSalle's stay was not long, and the area remained unsettled until 1785 when William Burnett established a trading post and became the first permanent settler.
The Carey Mission Treaty of 1828 opened the area and St. Joseph began to grow in earnest. The settlement grew into a village, which was originally called Newberryport in honor of a prominent businessman. The village grew so rapidly that it was incorporated on March 7, 1834 and was renamed St. Joseph. In 1891 the village officially became the City of St. Joseph. The original name "St. Joseph" was first given to the mission which was established at the mouth of the river about 1700, and desig- nated in the records of the Catholic church as "The Mission of St. Joseph of Lake Michigan." St. Joseph was the patron saint of Canada, or New France, from where Jesuit priests came to convert the Indians. At its first village meeting, $400 was set for operating funds and a tax was levied. Struggling villagers, un- able to pay the tax, dug stumps from village streets at $.25 per stump in lieu of payment to the village tax collector. The shrewd quickly pulled the small stumps to pay their taxes, while those who were not as ambitious paid a heavier physical toll because they were left with the large, difficult-to-pull stumps.
The City became the permanent seat of County government in 1894. By the 1890's tourists had discovered St. Joseph. Hotels were erected and the Silver Beach Amusement Park was opened not long after. This park remained a popular tourist attraction until the late 1960's. Although no longer an amuse- ment park, Silver Beach is once more a tourist attraction.
Industry also prospered in the City. Steamers, freighters, and pleasure boats found the St. Joseph River to be an ideal Lake Michigan port that continues to the present day. The City of St. Joseph prospered by encouraging a balanced mixture of industry, commercial, and residential development. This philosophy has not changed and the City continues to offer a high quality of life to all.
---