Belfast City
Belfast City Hall is located at 131 Church Street, Belfast, ME 04915.
Phone: 207‑338‑3370.
---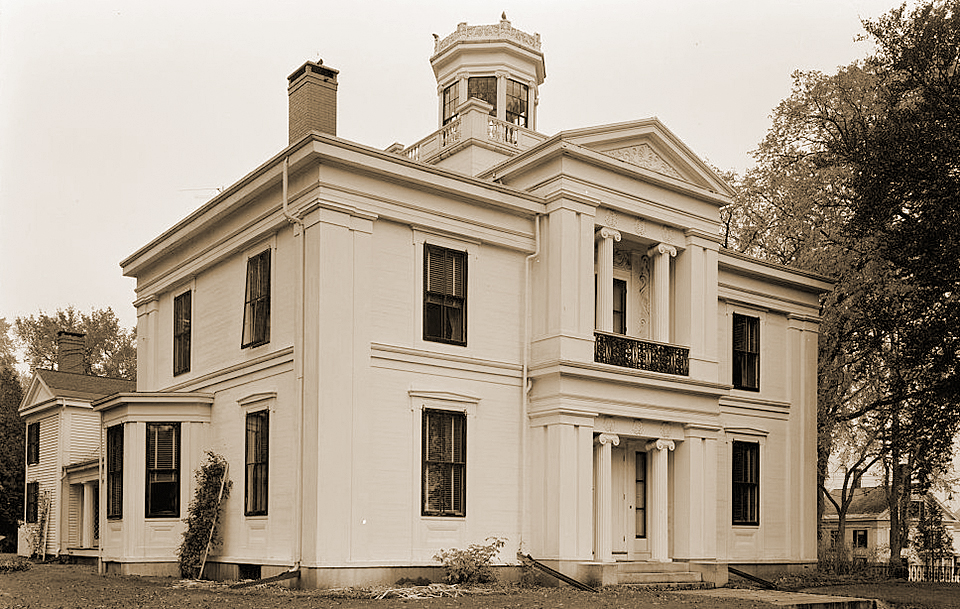 Photo: James P. White House, circa 1825, located at 1 Church Street, Belfast. Listed on the National Register of Historic Places in 1973. Photographed by Cervin Robinson (Historic American Buildings Survey), 1960, [public domain, HABS ME-92], accessed March, 2023.
---
Neighborhoods
Church Street Historic District
Commercial Historic District
Primrose Hill Historic District
Belfast as described in 1937 [1]
Belfast, a popular tourist center and seat of Waldo County, has parallel streets that follow a rolling terrain which rises in a majestic sweep from the banks of the Passagassawakeag. Its highest points command a view over the island-sprinkled waters of Penobscot Bay.
The town was named for Belfast, Ireland, by a group of Scotch-Irish settlers who came to the place in 1770 after having tried settlement at Londonderry, New Hampshire. Belfast was harassed by the British in 1779 and its settlers were driven away, but they successfully re-established themselves five years later. The city reached its peak of population in 1860 with 5,520 inhabitants, but has since achieved prosperity by catering to the many summer residents and visitors.
Reminiscent of an earlier prosperity are the many fine old houses whose chief interest lies in their variation on the standard 19th-century architecture.
Works Progress Administration, Federal Writers' Program, Maine: A Guide Down East, Riverside Press, 1937, Maine Development Commission
---