Elkhart City
Elkhart City Hall is located at 229 South Second Street, Elkhart, IN 46516.
Phone: 574‑294‑5471.
---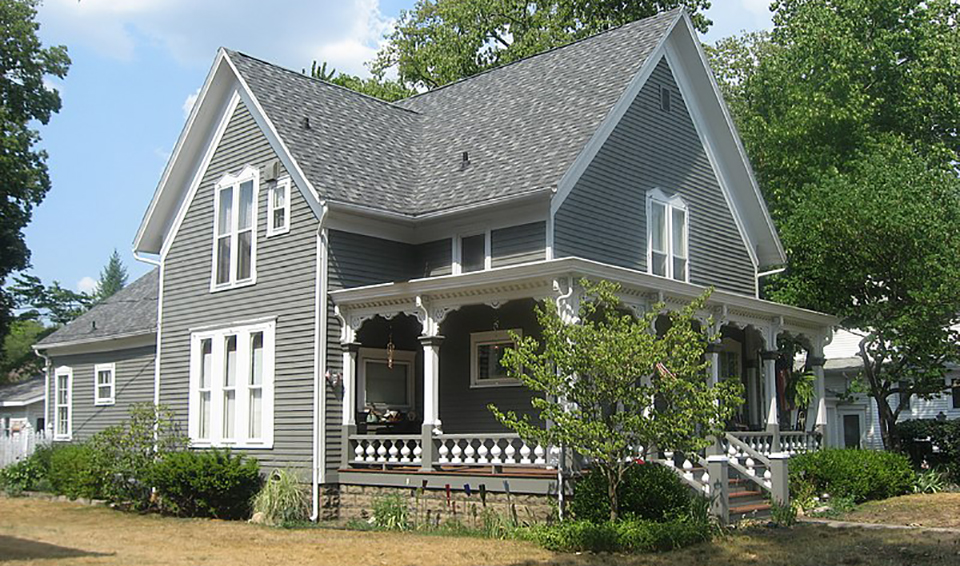 Photo: Emmanuel C. Bickel House, circa 1870, located at 614 West Bower Street, Elkhart, IN. Listed on the National Register of Historic Places in 1979. Photographed by User:Nyttend (own work), 2012, [cc0-by-1.0 public domain], via Wikimedia Commons, accessed October, 2021.
---
Elkhart as described in 1941 [1]
Elkhart, a city of diversified manufacturing, lies at the confluence of the St. Joseph and Elkhart Rivers. These rivers, with Christiana Creek, divide Elkhart into several sections, and it is almost impossible to go far in any direction without crossing at least one of the city's 10 bridges. At the confluence of the Elkhart and St. Joseph Rivers is a small island in whose shape the imaginative Indian saw an elk's heart and so named the island. This name was recorded by Isaac McCoy, a Baptist missionary, in 1822, and was gradually adopted by the white settlers. The site was long popular with the Indians and lay at the junction of several of their trails.
Neighborhoods
Auburn Estates
Baugo Cove
Bent Oak
Cleveland Trails Estates
Cobblestone Crossing
Cobus Lake Estates
Concord Grandview
Cornerstone
Dover Trace
Dunhill Crossing
East Lake Estates
Glenco
Green Valley Estates
Greenleaf Manor
Hampton Woods
Harmony Acres
Howland Place
Hunters Pointe
Hunters Run
Huntington Square
Karington Cove
Lexington Landing
Meadow Glen Estates
Millers River Manor
Morehouse Residential Historic District
Northfield Estates
Old Mill Estates
Orchard Ridge
Pine Bluff
Prairie Pointe
River Shore
Riverian Isles
St Joseph Manor
Stonebridge
Stonegate
Sturdy Oak
The Oaks
Timberstone
Villas of Brookhill
Westleaf Manor
Woods & Water
Yellow Creek Trail
Dr. Havilah Beardsley, who had bought a section of an Indian reservation from Pierre Moran (Pierish), a Patawatomi chief, platted the town of Elkhart in 1832. Settlement started immediately and by 1835 there was a village of 50-odd dwellings and 200 to 300 inhabitants. Through the influence of Dr. Beardsley the Michigan Southern Railway Company built its shops here in 1870, and from that time on, Elkhart's growth was inseparably linked with the development of the railroad and the evolution of the New York Central system. After 1850 Elkhart grew rapidly and 23 years later was incorporated as a city. The water power attracted industries and after the construction of a hydraulic system in 1867, several small factories sprang up. In 1875, Charles G. Conn, who had been making cornet mouthpieces in his home, rented a one-room building and started the manufacture of plain brass cornets. From this beginning sprang the largest band instrument factory in the world. Nine years later, Dr. Franklin Miles established the Dr. Miles Medical Company, manufacturing proprietary medicines. These and other manufacturers have given to Elkhart its essentially industrial character.
Indiana Writers' Project, Federal Works Agency, Works Progress Administration, Indiana: A Guide to the Hoosier State, American Guide Series, 1941, Department of Public Relations, Indiana State Teachers College.
Nearby Towns: Baugo Township • Osolo Township •
---