Fort Wayne City
Fort Wayne City Hall is located at 1 East Main Street, Fort Wayne, IN 46802.
Phone: 260‑427‑1111.
---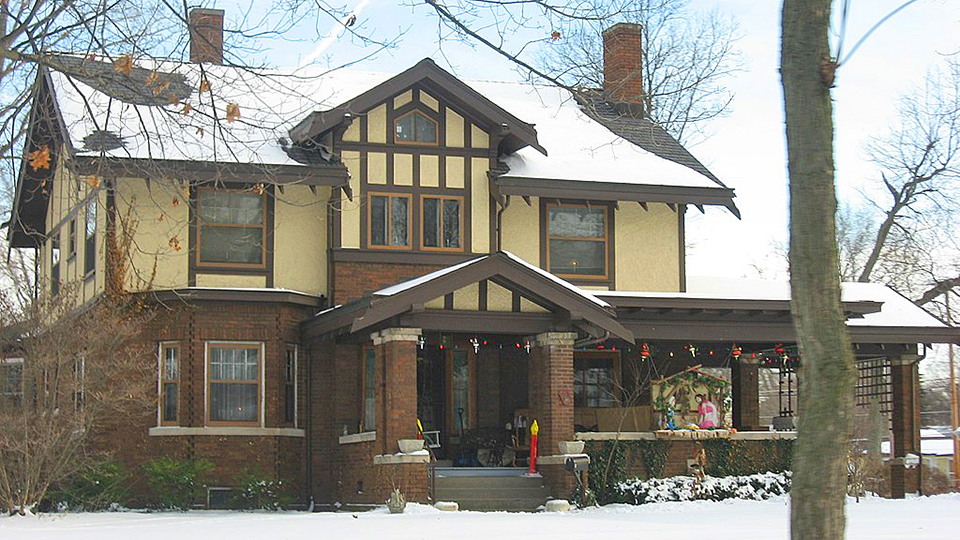 Photo: John H. and Mary Abercrombie House, built circa 1914, located at 3130 Parnell Avenue, Fort Wayne. Listed on the National Register of Historic Places in 2013. Photographed by User:Nyttend (own work), 2014, via Wikimedia Commons, accessed May, 2021.
---
Beginnings [†]
Incorporated in 1840, the City of Fort Wayne received a portion of land through a donation by Samuel Hanna, who came to the area about 1820. On that site was erected in 1855 a City Hall and attached market place at a cost of $2,800. On July 27, 1869, the City Council ordered the municipal structure at the market place to be replaced with a new building that could house all the branches of the City's ever increasing departments.
Neighborhoods
Abbey Place
Abbey Villas
Aboite Lakes
Amber Ridge
Ansley Acres
Anthony Wayne
Ardmore Knolls
Arlington Heights
Arlington Park
Aspen Village
Auburn Farms
Audubon Park
Avalon Place
Azbury Woods
Barrington Lake Estates
Barrington Woods
Beacon Heights
Becketts Run
Becketts Run
Bellair
Belle Vista
Bellshire
Birkdale Villa
Bittersweet Estates
Bittersweet Lakes
Bittersweet Moors
Blackhawk Farms
Blackhawk Forest
Bloomingdale
Blue Creek
Bluewater Estates
Blum Addition
BOHDE
Brandonwood
Branning Hills
Brentwood Park
Brickshire Village
Bridlewood
Brierwood Hills
Broad-River
Broadview Terrace
Brookmill
Brookside
Brookside Estates
Brookside Park
Bullerman Park
Burnham Woods
Burning Tree
Cambridge Oaks
Camelot
Candlelite Park
Canterbury Green
Caribe Colony
Casa Grande Place
Casselwood Terrace
Cedar Ridge
Centaur Acres
Centerhurst
Centlivre Apartments
Chadwick
Chandlers Landing
Chapel Oaks Apartments
Chapmans Bridge
Cherry Hill
Colonial Heritage
Colonial Park
Columbia Avenue Historic District
Concord Hill
Concord Place
Concordia Gardens
Continental Park
Copper Hill
Country Club Gardens
Countrybrook
Countryside Estate
Coventry Villas
Coves of Chandlers Landing
Coves of Jacobs Creek
Coves of West Lakes
Covington Bluffs
Covington Chase
Covington Club Condos
Covington Creek Condos
Covington Dells
Covington Homesteads
Covington Knolls
Covington Lake Estates
Covington Pines
Covington Place
Covington Pointe
Covington Reserve
Creekwood
Creekwood Villas
Creighton
Crestwood Colony
Crown Colony
Curdes Homewood Acres
Deer Field Estates
Dells of Bittersweet
Eagle Creek
Eagle Lake
East Central
East gate
East State Village
Eastland Gardens
Eastside
Edgewood Park
Eldorado Hills
Elmhurst
Emeral Lakes
Estates of Sandy Pointe
Fairfield
Fairfield Terrace
Fall Creek
Fallen Timbers
Falls of Keefer Creek
Ferndale
Fieldstone Place
Five Points
Forest Creek at Chandlers
Forest Ridge Estates
Foxchase Condos
Foxwood
Georgetown Place
Glens of Bittersweet
Glens of Liberty Mills
Glenwood Park
Golden Acres
Greendale
Greentree
Greenview
Hacienda Village
Hamilton Village
Hamlets East
Hamlets West
Hampton Village
Harris Meadows
Harvester
Haverhill
Hazelhurst
Hazelwood
Hearthstone
Heather Ridge
Hickory Grove
Hickory Hill
Hidden Pointe
Highland Garden
Highland Park Forest
Hillcrest
Hillsboro
Hillside Acres
Hoagland Masterson
Hoevelwood
Homestead Hills
Hunters Glen
Hunters Knoll
Hunters Point
Imperial Gardens
Indian Reserve
Indian Village
Indian Village Historic District
Interurban Acres
Inverness Hills
Inverness Lakes
Irvington Park
Ivywood
Jacobs Creek
Jefferson Place Condos
Jonathon Oaks
Kekionga Shores
Kensington Downs
Kensington Downs Villas
Kern Valley Meadows
Kingston Park
Kirkwood Park
Kyle Road
Lacabreah
Lake Forest
Lake of the Woods
Lake Pointe Villas
Lakes of Buckingham
Lakes of Liberty Mills
Lakeshores
Lakeside
Lakewood Park
Langford Oaks
Lexington Heights
Lima Meadow
Lima Valley
Lincoln Park
Lincoln Village
Lincolnshire
Linerty Hills
Lockville
Lofton Woods
Log Cabin Park
Longwood
Ludwig Circle
Ludwig Park
Manor Park
Maplewood Downs
Maplewood Gardens
Maplewood Park
Maplewood Terrace
Maumee Terrace
Maysville Heights
McCormick Place
McMillen Park
Memorial Park
Michigan Avenue
Mill Ridge
Monarch park
Morgan Creek
Morningside Terrace
Mount Vernon
Mystic Woods
New Glenwood
New Kirkwood Park
Newfield
North Anthony
Northside
Oak Glen
Oakdale
Oakdale Historic District
Oakhurst Park
Oakland Park
Oakmont
Old Brook Farm
Oxford
Papermill Bluffs
Park Place Condos
Park State East
Parkerdale
Parkview Addition
Parkway Hills
Pine Hollow
Pine Tree Condos
Pine Valley
Pine View Farms
Plantation of Aboite
Pontiac Place
Poplar
Quail Hollow
Ranchwood
Rapids of Keefer Creek
River Bend Woods
River Hollow
River View
Rolling Hills
Rothman Pointe
Royal Oaks
Sand Point
Saratoga Park
Sawmill Woods
Shannonside
Shawnee Place Historic District
Sheffield Woods
Shoaff Park River Estates
Shores of Coventry
Shores of Oakborough
Shores of Rock Creek
Shorewood
Somerset Acres
South Calhoun Place
South Stone Lake
South Suburban
South Wayne
South Wayne Historic District
Southdown Meadows
Southeast Waynedale
Southwest Waynedale
Southwick
Southwood Park
Southwood Park Historic District
Springfield
Springfield Glen
Springmill Wodds Condos
Springwood Orchard Woods
Spy Run
Sqaw Creek
St Vincent Villa Historic District
Statewood Park
Steeplechase
Stillwater Place
Stillwood Condo
Stone Lake
Stonefield
Suburban Heights
Summit Ridge
Sunny Meadows
Sunnybrook Acres
Sycamore Hills
Tall Oaks
Tamara Gardens
Tamarack
Tanbark Trails
Tara
Tartan Glen
The Hollows
The Homesteads
The Knolls
The Landing Historic District
The Parke
Timber Lake
Tower Heights
Trier Ridge Park
Turnberry Ridge
Valley Park Forest
Valley Place
Vesey
Victoria Park
Village of Buckingham
Village of Buckingham Villas
Village Woods
Villas of Chandlers Cove
Villas of Dawson Creek
Villas of Lacabreah
Villas of Stone Cove
Villas of the Marketplace
Villas of Valencia
Walden
Wallen
Wallen Chase
Wallen Hills
Waterford
Waterswolde
Wedgewood Place
West Lakes
West Lawn
West Rudisill
Westchester
Westchester Glens
Westchester Glens Vilals
Westchester Lakes
Westchester Ridge
Westfield
Westowwd
Westwood North
Westwood Valley
Wheatridge
Whispering Meadows
Wild Meadows
Williams Park
Williams-Woodland Park Historic District
Willshire Estates
Wilmarbee
Windmill Ridge
Windrift
Windsor Woods
Windswept
Winterfield
Winterset
Woodhurst Condos
Woodland Hills
Woodland Lake
Woodland Ridge
Woodlands of Riverside
Woodlea
Woodmark Condos
Woodmont
Woodmont Ridge
Wyndemere
[continued ]
Because Samuel Hanna by then a judge liked things done with dispatch, the second City Hall was finished that very year but it failed to provide all the room necessary to house the entire City government. By 1885, new noises were heard calling for a new City Hall that could house all the City's offices and bring pride to the community. A committee was formed to study details of a new building and 1892, after several annual tax levies, the committee provided $69,919.68 in the building construction fund. On April 20 1893, the new City Hall was completed at a cost of $57,489.00 and praised as "an ornament to the City," ... "the best, the most complete, most elegant appearing and most economically constructed City Hall in Indiana or anywhere else," stated one of the City's newspapers.
For a long time the forks of the three rivers located in Fort Wayne was considered one of the most strategic positions in the new world. It is possible now, as it was in the early 17th Century, to travel from Quebec, Canada up the St. Lawrence River through the Great Lakes, up the Maumee River to its junction with the St. Mary's and St. Joseph. Then, by portage only about eight miles, launch a boat into the headwaters of the Wabash River which, in turn, flows into the Ohio River. Thus, the travel from Quebec, Canada to New Orleans can be made completely by water except for an eight mile portage located here at Fort Wayne.
As early as 1632 the French saw the importance of a fort located here in order to secure a trade route, and in 1686 they built a fort called Miami after the Indian trip which controlled the area. In 1760 the French fort was captured by the British who were intent upon controlling the fur trade in the area. After that time, and until the American Revolution, the Union Jack flew over the fort.
On July 10, 1787, Secretary of War Henry Knox recommended a chain of posts in the now Indiana, Ohio area. These forts were to be built "to awe the savages, cover the surveyors and prevent (British) intrusions." One location he mentioned for such a post was the headwaters of the Maumee River. General Anthony Wayne, chosen by President Washington after the defeat of two American armies, was asked to secure the area for American settlement. The bold defeat of the Shawnee Chief Blue Jacket at the Battle of Fallen Timbers quickly settled the Indian uprising, and on September 17, 1794, General Wayne and his army reached the junction of the three rivers. On October 24th, five days after the general's army completed the building of a new American fort, the fort was formally named Fort Wayne by Colonel John Hamtranch. By 1819 all Indian trouble in this area had ended and the American troops left the post. However, several settlers were already establishing farms, and commercial trade stores. Among these settlers was a man named Samuel Hanna, who later would become one of the area's first judges. Around 1840, Samuel Hanna donated to the City of Fort Wayne the land in which the old City Hall now sits.
† David R. Vervalin, Assistant Director, Department of Urban Affairs, Fort Wayne, Fort Wayne Indiana, CIty Hall, 1973, National Park Service Nomination Document, National Park Service, Washington, D.C., accessed September, 2021.
---