Ridgeland-Oak Park Historic District
Post Office: Oak Park
Zip Code: 60302
---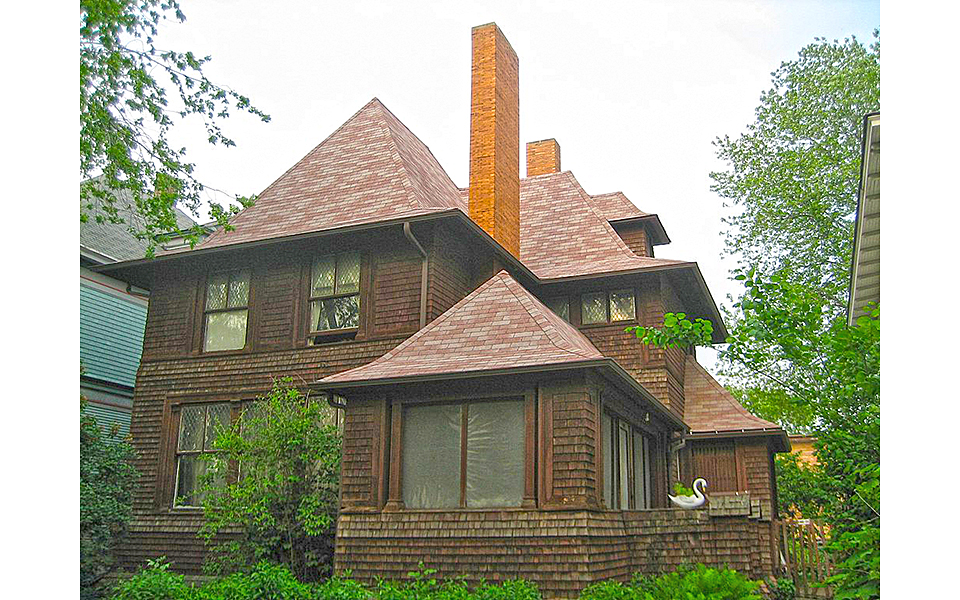 Photo: Circa 1914 W.H. Griffith House located at 418 South Harvey Street, in the Ridgeland-Oak Park Historic District, Oak Park. J.S. Van Bergen, Architect. The District was listed on the National Register of Historic Places in 1983. photo by Kershaw, 1978, for the Historic District nomination document, National Park Service, Washington, D.C.; accessed January, 2023.
---
Residential structures and a fairly spacious suburban character dominate the Ridgeland Oak Park District's [†] 539 acres and 1,653 buildings. Spanning the decades from the the 1870s to the 1920s, the District's residential architecture embodies a myriad of building styles and types. The major reorientation of domestic architecture embodied in the District, from nineteenth-century eclecticism to twentieth-century modernism, was accompanied by a growing use of stucco in the place of wood i n house exteriors. The spacious character of the single-family house lots i s enhanced by wide parkway lawns between the street and the sidewalks. The streets are laid out in a grid pattern. The District's single family residence areas are bounded by streets lined with brick apartment buildings. Rising from two to four stories,the apartments were built for the most part between 1905 and 1929. An important physical aspect of the District is its alternating quality between busy apartment-lined streets and quiet single-family areas. The District also includes many of Oak Park's finest religious and commercial buildings, ranging in style from Romanesque to Pairie School modern. The overall integrity and historic character of the District has been well preserved.
Architecture and community planning are the Historic District's leading areas of significance.. Ranging in date from the 1870s to the 1920s, the District encompasses models of suburban residential architecture which possess high merit and quality. The District significantly embodies the major stylistic reorientation of domestic architecture from nineteenth-century historical eclecticism, captured in the ' area's Victorian homes, to twentieth-century modernism, represented i n houses designed by or influenced by Prairie School architects. The district also includes civic, commercial and religious structures possessing high artistic value. The largely successful attempts in the early twentieth century to plan, order and regulate the merging of the urban apartment building form and the suburban single-family neighborhood, within the District, represented a significant precedent i n American community planning. Both the architectural and planning precedents went beyond the local community to share i n and influence national developments. The District's significance is also in terms of the broad pattern of suburban development; on a local level and to some extent, on the State and National level, "the architects who designed buildings in the District are "lives of persons significant in our past."
† Adapted from: Daniel M, Bluestone and the Oak Park Landmarks Commission, Ridgeland-Oak Park Historic District, 2002, nomination document, National Register of Historic Places, Washington, D.C.
Street Names
Austin Boulevard North • Clinton Avenue • Cuyler Avenue North • Cuyler Avenue South • East Avenue South • Elmwood Avenue South • Erie Court • Euclid Avenue South • Grove Avenue South • Harlem Avenue North • Harvey Avenue North • Harvey Avenue South • Home Avenue • Humphrey Avenue North • Hunphrey Avenue South • Kenilworth Avenue North • Kenilworth Avenue South • Lake Street • Lombard Avenue North • Lombard Avenue South • Maple Avenue South • Marion Street South • North Boulevard • Oak Park Avenue North • Oak Park Avenue South • Ontario Street • Pleasant Street • Randolph Street • Ridgeland Avenue North • Ridgeland Avenue South • Scoville Avenue South • South Boulevard • Superior Street • Taylor Avenue North • Taylor Avenue South • Washington Boulevard • Wesley Avenue • Wisconsin Avenue
---