Sarasota City
Sarasota City Hall is located at 1565 1st Street, Sarasota, FL 34236.
Phone: 941‑365‑2200.
---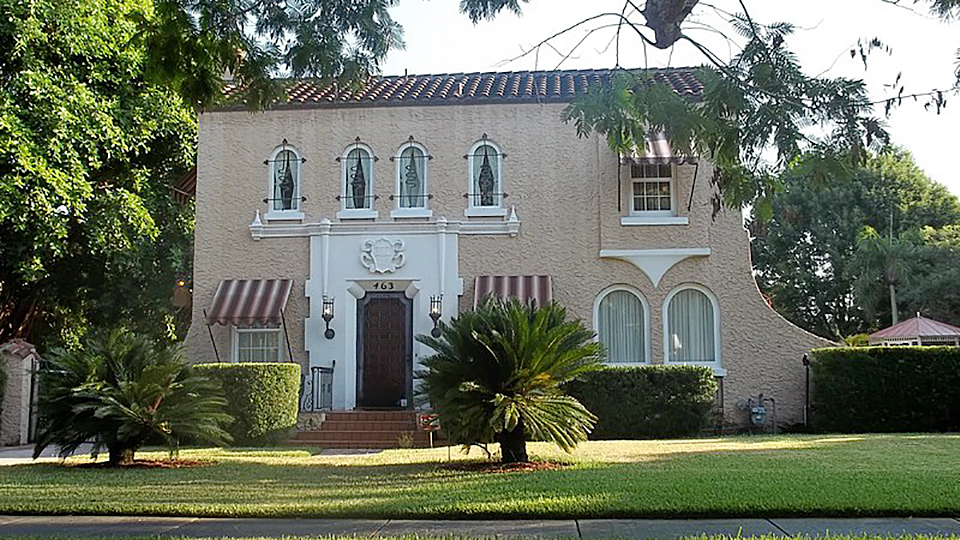 Photo: Corrigan House (Nagirroc), circa 1920, located at 463 Sapphire Drive, Sarasota, FL. Listed on the National Register of Historic Places in 1994. Photographed by User:Ebyabe (own work), 2010, [cc-3.0], via Wikimedia Commons, accessed August, 2021.
---
Beginnings [1]
The once numerous Native American groups of Florida, including the Safety Harbor Culture groups in Sarasota, had been decimated by diseases like smallpox and yellow fever brought from Europe. By the early 1760s native groups of Florida were reduced to almost nothing. Handfuls of individuals were taken to Cuba when the Spanish population withdrew from Florida in 1763. While their groups disintegrated, others migrated into the state such as the Creeks. The Seminoles were originally part of the Creek Indian groups from Georgia and Alabama and historically a late arrival to Florida. Many members of their culture live primarily in South Florida today. Historians believe that the name "Seminole" came from the Spanish word cimarrone, used by early Spaniards to refer to Indians living apart from mission settlements. By the early 1800s, Seminoles had traveled as far south as Tampa and Sarasota. Between 1812 and 1820 pressure from settlers in Alabama and Georgia forced many Creeks to move into Florida.
Neighborhoods
Adams Estates
Admirals Walk
Akin Acres
Alinari
Almeria
Aloha Kai Apartments
Alta Mer
Alta Vista Heights
Amaryllis Park
Amberlea
Amnesty
Anchorage
Angus Acres
Aqualane Estates
Arbor Lakes
Arbor Oaks
Arbor Thicket
Arbor Trace
Arboreal
Arborfield
Arielle On Palmer Ranch
Armstrong Acres
Armstrong Acres Resub
Ashley
Ashley Lakes
Ashley Oaks
Ashton Glen
Ashton Lakes
Ashton Manor
Ashton Park
Ashwood
Ashworth Park
Atwater
Audubon Place
Avenida De Cortez
Avion
Avista Of Palm-Aire Condos
Avon Heights
Avondale
Avondale Heights
Badger Heights
Bahama Heights
Bahia Vista Heights
Bahia Vista Highlands
Baileys
Ballantrae
Ballantrae
Ballentine Manor Estates
Bannock
Banyan Club
Barrington Woods
Barton Farms
Bay Acres
Bay Haven
Bay Island
Bay Island Shores
Bay Oaks
Bay Point Apartments
Bay Point Park
Bay Tree
Bay View Acres
Bay View Heights
Bayou House Apartments
Bayou Louise
Bays Bluff Apartments
Bayview
Bayview Acres
Bayview Heights
Bayview Homes
Baywinds Estates
Baywood Colony
Baywood Colony Garden Apartments
Beach Residences
Beach Villas at The Oasis
Beach Walk
Beachaven
Beachway
Beachway Apartments
Bearded Oaks
Beau Ciel
Beau Ciel Condo
Bee Ridge Estates
Bee Ridge Farms
Beechwood
Beechwood Estates
Beekman Estates
Beekman Place
Bel Air
Bel Air Estates
Bella Villino
Bellevue Terrace
Beneva Oaks
Beneva Oaks
Beneva Pines
Beneva Ridge
Beneva Square
Beneva Village
Beneva Woods
Bent Tree
Bent Tree Village
Bermuda On Osprey
Bermuda Park
Bern Creek Ranches
Beverly Terrace
Bird Key
Biscayne Gardens
Bispham-Wilson Historic District
Bliss Estates
Blossom Brook
Blue Ridge
Blueleaf
Boatyard
Bobcat Trail
Boca Siesta
Booker Park
Booth Preserve
Botanica On Palmer Ranch
Boulevard Addition
Bradford Manor
Braeburn
Brentwood Estates
Briarfield
Bristol
Broadmoor Pines
Broadway Promenade
Brookside
Brunks Addition
Bryants Pond
Buccaneer Bay
Bungalow Hill
Bunker Oaks
Burns
Burns Court Historic District
Burns Court Villas
Callaway Glen
Callista Village
Calumet
Canal Villas
Caples-Ringling Estates Historic District
Captiva Gardens
Carlton House
Carlyle at The Villages Of Palm Aire
Carolina Estates
Carrington Place
Carver Park
Casa Blanca Villas
Casa De La Playa
Casa Del Sol
Casa Di Compagni
Casa Mar
Casa Museo
Casa Siesta
Casarina
Cascades
Castaway Cove
Castel Del Mare
Catalina
Cathedral Oaks Estates
Cayman Apartments
Cedar Cove Estates
Cedar Creek
Cedar Grove
Cedar Grove
Cedar Hammock
Cedar Hollow
Cedars Of Siesta Key
Center Gate
Center Gate Estates
Center Gate Woods
Central Cocoanut Historic District
Central Park
Chamberlain
Chambery
Chandlers Ford
Chanteclaire
Charleston Park
Chartley Court
Chartwell Green
Chateau Village
Chatsworth Greene
Chatwick Court
Chelmsford Close
Cherokee Park
Chimney Creek
Citrus Square
City Hall Square
City Place at Pineapple Square
Cityscape at Courthouse Centre
Citywalk Condos
Clark Lakes
Clark Meadows
Cocoanut Bayou
Coffman Manor
Colonial Gables
Colonial Oaks
Colonial Terrace
Colony Groves
Colony Lake
Colony Meadows
Constitution
Copperfield
Coquille
Coral Cove
Coral Shores
Cordova Gardens
Cornerstone Acres
Coronas Park
Coronas Park
Correll
Corwood
Cottages at Blu Vista
Cottages Of Callista
Country Club East
Country Club Estates
Country Club Ridge
Country Creek
Country Manor
Country Meadows
Country Oaks
Country Palms
Country Place
Country Walk
Court House
Court Of Palms
Courtyard Creek
Courtyard Villas
Covington Place
Cozy Cove
Cranberry Fields
Cranes Landing
Crescent Arms
Crescent Lakes
Crescent Royale
Crescent Siesta Key
Crescent Towers
Crestline
Crestwood Village
Crestwood Villas
Crooked Creek
Crossings
Crystal Lakes
Crystal Sands
Cypress Falls
Dav-Mar
De Soto Lakes
De Soto Oaks
Deer Creek
Deer Hammock
Deer Hollow
Deer Run
Deerfield
Del Sol Village at Longwood Run
Denham Acres
Derby Bay
Derby Bay South
Derringers
Desoto Acres
Desoto Lakes
Desoto Lakes Country Club
Desoto Park
Desoto Pines
Desoto Terrace
Desoto Woods
Dixie Heights
Dolphin Bay
Dolphin Tower
Dolphin Tower
Duck Key
Eagle Chase
Eagle Creek at Palm Aire
Eagle Creek Villas
Eagles Point
East Englewood
Eastlake
Eastwood Oaks
Ebbtide
Edgemont
Edgewater
El Presidente
Embassy House
Embassy Villas
Emerald Gardens
Emerald Harbor
Enclave at Ashton
Encore
Espanola
Essex House
Ethan Allen
Euclid
Evergreen Park
Excelsior Beach
Fabian
Fairview
Fairway
Fairway Lakes at Palm Aire
Fairway Oaks
Fairway Villas
Fairway Woods
Fairways And Greens
Fiddler Bayou
Field Club Estates
Firethorne Estates
Fishermans Cove
Fishermans Haven
Fishermens Bay
Flora Villa
Floral Park Homesteads
Florence
Florence
Florence Manor
Floriana Highlands
Floribanna
Florida Pines
Ford
Forest at Hi Hat Ranch
Forest Creek
Forest East
Forest Hills
Forest Lakes
Forest Lakes Country Club Estates
Forest Lakes South
Forest Oaks
Forest Pines
Founders Club
Foxfire
Foxfire West
Fruitville
Gardens at Palm Aire
Gardenside
Gator Creek
Gator Creek Estates
Georgetowne
Giannini Place
Giannini Place
Gillespie
Gillespie Park
Glen Elyn
Glen Oaks Country Club Estates
Glen Oaks Garden Apartments
Glen Oaks Manor
Glen Oaks Ridge
Glen Ridge
Glenallen
Glenbrooke
Glenbrooke Iii Sub
Glenwood Park
Golden Acres
Golden Bay
Golden Gate Point
Golden Springs
Golf N Pines
Golf Pointe at Palm Aire Count
Golfview
Gordons
Graham Heights
Granada
Granada Park
Grand Bay
Grand Oaks
Grand Siesta
Grande Oaks Preserve
Grande Paradiso
Grande Riviera
Green Acres
Green Manor Estates
Green Tree
Greenbriar Homes
Greenfield
Greenley Place
Greers Addition
Gremley
Greymoss Estates
Greystone
Grove at Beekman Place
Grove Heights
Grove Lawn
Grove Park
Grove Point
Groves
Gulf And Bay Club
Gulf Gate
Gulf Gate East
Gulf Gate Gardens
Gulf Gate Glen
Gulf Gate Manor
Gulf Gate Woods
Gulf Haven
Gulf Holiday Condos
Gulfmead Estates
Gulfmead Estates
Gulfstream Towers
Haberland
Hadfield Greene
Halls
Hamilton Club
Hamlets Grove
Hammocks
Hampstead Heath
Hamptons
Hansens
Harbor Acres
Harbor House
Harbor House South
Harbor House West
Harbor Oaks
Harbor Towers
Harbor View On Golden Gate Point
Harbour Club
Harbour Towne
Harding Circle Historic District
Harmony
Harpers Croft
Hartland Park
Hartsdale
Harvest Acres
Heather Lakes
Heritage Harbour
Heritage Oaks
Heritage Oaks Golf And Country Club
Heritage Oaks Verandas
Heron Creek
Heronmere
Hibiscus Park
Hidden Forest
Hidden Harbor
Hidden Hollow
Hidden Lagoon
Hidden Lake Village
Hidden Lakes
Hidden Oaks
Hidden Oaks Estates
Hidden Oaks North
Hidden Oaks North
Hidden Woods
High Acres
Highland Crest
Highland Park
Highland Pines
Highland Ridge
Hillcrest
Hillcrest Park
Holiday Harbor
Holiday Harbor Unit
Holiday Park
Hollows at Palm Aire
Hollywood Gardens
Homecroft
Homewood
Hope Acres
Horizons West
Hornbuckle
House Of The Sun
Houses Of Indian Beach
Hudson Crossing
Hudson Harbour
Hudson Landings
Hudson Oaks
Hudson Park
Hunt Club
Hunters Grove
Hunters Run
Hunters Walk Hamlets
Huntington Pointe
Huntingwood
Hyde Park
Hyde Park
Hyde Park Terrace
Hymount
Idlewild Court
Imperial Place
Indian Beach
Indian Beach Estates
Indian Beach Highlands
Inlet Apartments
Irvington Heights
Island House
Island Reach
Island Reef
Islandwalk
Isles Of Sarasota
Isles On Palmer Ranch
Jackson Highlands
Jamaica Royale
Jefferson Club
Jefferson Pines
Jockey Club
Johnson Estates
Kanaya
Kenilworth
Kenilworth Estates
Kennel Club Park
Kensington Oaks
Kensington Park
Kensington Woods
Kentwood Estates
Kenvil
Kew Gardens
Key Point Village
Key Tower South
Kimmick Sub
Kingsmere
Kingston Arms
Klein Terrace
L Elegance
La Bellasara
La Linda Terrace
La Siesta
Ladyslipper
Lagrange
Lake Arrowhead
Lake Geraldine
Lake Ridge
Lake Rittwood
Lake Sarasota
Lake Tippecanoe
Lake Vistas
Lakeridge Falls
Lakes Estates
Lakeshore Village
Lakeshore Village South
Lakeside Club Of Sarasota
Lakeside Plantation
Lakeside Woods
Lakewood
Lancaster
Lancelot
Landings
Landings South
Landings Treehouse
Landmark Estates
Lands End
Langlais
Largo Preserve
Las Casas
Las Lomas De Sarasota
Las Palmas
Laurel Lakes
Laurel Lakes
Laurel Landings
Laurel Meadows
Laurel Oak
Laurel Oak Estates
Lawrence Pointe
Le Chateau
Leisure Lakes
Leisure Villas
Lenray Heights
Lexington
Lido Ambassador
Lido Beach
Lido Dorset
Lido Harbor Towers
Lido Harbour South
Lido Key
Lido Regency
Lido Royale
Lido Shores
Lido Surf And Sand
Lido Towers
Lincoln Park
Links at Palm Aire
Lockwood Gardens
Lockwood Meadows
Lockwood Ridge
Loma Linda
Loma Linda Park
Long Meadow
Longboat Key
Longboat Terrace
Longpond at Mote Ranch
Longwater Chase
Longwood Run
Longwood Villas
Lords Addition
Lorraine Park
Los Lagos
Lost Forest
Lynnhurst
Madagascar
Madison Park
Magellan Park
Magnolia Place
Magnolia Place
Maine Colony Historic District
Majestic Bay
Majestic Bay
Mandarin Park
Mangroves
Maple Hammock
Maple Lakes
Maple Ridge
Mapleloft
Mara Villa
Marbella
Marblehead
Marina Del Sol
Marina Tower
Marina View
Mariners Inlet
Marius
Mark Twain
Mark Twain
Marlow Gardens
Marlowe Park
Marquee En Ville
Matoaka Heights
McClellan Park
McIntosh Lake
McIntyre
McKunes
Meadow Walk
Meadowbrook
Meadowlake
Mediterranea Garden Homes
Melody Heights
Mentone Court
Meridian
Meroni Paradise
Midnight Cove
Midnight Harbor
Midnight Sea
Mill Creek
Mira Lago
Mira Mar
Misty Creek
Misty Oaks
Mobile Estates
Moller
Monterey
Monticello
Moorings
Morning Glory Ridge
Morningside
Morrill Enclave
Morris Enclave
Morton Terrace
Mote Ranch
Mote Ranch
Museum Area
Myakka Valley Ranches
Nacirema
Nashs
Nathaniel Place
Navajo Place
Navarra On The Key
New Harlem
New Hollywood Gardens
New Orleans Apartments
New Pearce
Newburn Village
Newman
Newtown
Newtown Estates
Newtown Farms
Newtown Heights
Newtown Highlands
Newtown Park
Newtown Terrace
Nichols
North Audubon Place
North County
North Isles
North Port
North Port Palms
North Riverside Park
North Sarasota
North Vamo
Nottingham
Nutmeg
Oak Court
Oak Ford
Oak Ford Golf Club
Oak Ford Golf Club
Oak Forest Villas
Oak Grove Park
Oak Run
Oak Shores
Oak Vistas
Oak Woods
Oakford
Oakhurst
Oakleaf
Oakley Green
Oaks at Woodland Park
Oakwood Gardens
Ocean Beach
Ocean View
Old Miakka
Old Oaks
One Hundred Central
One Watergate
Orange Blossom Tower
Orange Crest Park
Orange Grove Park
Orchid Beach Club
Orchid Oaks
Osprey Avenue
Otter Creek Estates
Overtown Historic District
Oyster Bay
Oyster Bay East
Oyster Bay Estates
Oyster Bay Landings
Paddocks Central
Paddocks East
Paddocks North
Paddocks West
Palisades at Palmer Ranch
Palm Aire
Palm Avenue Villas
Palm Bay Club
Palm Grove
Palm Island
Palm Isles
Palm Lakes
Palm Oaks
Palm Place
Palm-Aire at Desoto Lakes Coun
Palmer Club at Prestancia
Palmer Farms
Palmer Glen
Palmer Oaks
Palmer Ranch
Palmer Square West
Palms View
Palmyra
Panama
Panther Ridge
Paradise Cove
Paradise Shores
Parisienne Gardens
Park East
Park Lane
Park Place Villas
Park View
Parkridge
Parkstone
Paver Park Estates
Peaceful Vista Homes
Pelican Cove
Pelican Gardens
Peppertree
Peppertree Bay
Peppertree Bay I
Peppertree Gulfside
Petrecca Terrace
Phillipi Gardens
Phillippi Cove
Phillippi Crest
Phillippi Gardens
Phillippi Harbor Club
Phillippi Lake
Phillippi Landings
Phillippi Park
Phillippi Pines
Phoenix
Pier 550
Pine Gardens
Pine Ridge
Pine Shores Estates
Pine Trace Condos
Pine Tree Acres
Pine Tree Village
Pine Valley Ranches
Pine View Terrace
Pinebrook Hollow
Pinecrest
Pinehurst
Pinehurst Park
Pinehurst Village
Pinestone
Pinestone at Palmer Ranch
Pinewood Village
Plaza De Flores
Plaza Gardens
Pleasant Acres
Poinsettia
Poinsettia Park
Point Crisp
Point Of Rocks
Point Of Rocks Terrace
Pointe On Midnight Pass
Polynesian Gardens
Pomello Park
Poms Park
Ponce De Leon Crossings
Port Charlotte
Porter Gardens
Portofino On The Bay
Preserve at Heron Lake
Preserve at Misty Creek
Preserves at Palm Aire
Prestancia
Price End
Prime
Princess Gate
Proctor Oaks
Provincial Gardens
Purdons
Pursell Acres
Quail Hollow
Quail Run
Quail Tract Estates
Racimo Ranches
Rainbow Club
Ramblewood Acres
Ranches at Bern Creek
Ravenwood
Red Hawk Reserve
Red Rock Terrace
Regency House
Regent Lake
Renaissance
Residences at University Groves
Restful Pines
Ridge Park
Ridgewood
Ridgewood Estates
Riegels Landing
Rigbys
Rigbys La Plaza Historic District
Ringling Garden Apartments
Rio Vista
Riomar
Ritz Carlton Beach Residence
Ritz Carlton Tower Residences
River Club North
River Forest
Riverbay
Rivers Edge
Riverside Park
Riverside Park North
Riverview Estates
Riverview Manor
Riverwood
Riverwood Estates
Riverwood Oaks
Riverwood Park
Riverwood Pines
Riviera Club Village at Longwood Run
Riviera Of Lido Beach
Rivo at Ringling
Roberts Point
Robin Hood Woods
Robin Hood Woods
Roland Oaks Estates
Rolando
Rolling Green Golf Village
Rolling Green South
Roseland Park
Rosemary District
Royal Palm
Royal Palm Harbor
Rustic Oaks
Rydbergs
Sabal Cove
Sabal Palms
Sable Trace
Saddle Creek
Saddle Oak Estates
Saint Armands
Saint Louis Terrace
Salford
San Marco
San Mateo
San Michele
San Palermo
San Remo Estates
San Souci South
Sand Dollar
Sanderling
Sandleheath
Sandringham Place
Sandy Cove
Sandy Cove Iv
Sandy Hook
Sapphire Heights
Sapphire Shores
Sara Lakes Estates
Sara Sands
Sara Sea
Sarabande
Sarabay Harbour
Sarabay Woods
Sarapalms
Sarasota Bay Club
Sarasota Bay Park
Sarasota Beach
Sarasota Gardens
Sarasota Golf Club Colony
Sarasota Harbor
Sarasota Harbor East
Sarasota Harbor West
Sarasota Heights
Sarasota Highlands
Sarasota Homes Inc
Sarasota Palms
Sarasota Pines
Sarasota Plantations
Sarasota Polo Club
Sarasota Ranch Club
Sarasota Springs
Sarasota Surf And Racquet
Sarasota Venice
Savannah at Turtle Rock
Savoy On Palm
Schindlers
Sea Breeze
Sea Club
Sea Village
Sea Winds
Seagrove
Seaplace
Seashell
Seaside Villas
Secluded Harbour
Secluded Oaks
Seminole Heights
Serenade On Palmer Ranch
Serenata
Serenoa
Serenoa
Serenoa Lakes
Seville at Center Gate
Shadow Lakes
Shadow Oaks
Shadow Oaks Estates
Shady Creek
Shady Oaks
Shadybrook Village
Shawnee Way
Sheffield Greene
Shells On Siesta Key
Shenandoah
Sherman-Stuart Sub
Sherwood Estates
Sherwood Forest
Shoreland Woods
Sienna
Siesta
Siesta Bayside
Siesta Bayside South
Siesta Beach
Siesta Beach House
Siesta Breakers
Siesta Cove
Siesta Dunes Beach
Siesta Estates
Siesta Gardens
Siesta Gulf View
Siesta Harbor
Siesta Heights
Siesta Heights Manor
Siesta Isles
Siesta Key
Siesta Manor
Siesta Pines
Siesta Pointe
Siesta Sands
Siesta Shores
Siesta Sun
Siesta Sunrise
Siesta Towers
Siesta Villas
Siesta Woods
Siestas Bayside
Silver Leaf
Silver Oak
Singletarys
Skyview
Sleepy Lagoon
Smiths E A Resub
Snug Harbor Village
Solymar
Somerset
Somerset Cay
Somerset Cove
Sonada
Sonoma
Sorrento South
South Cocoanut Bayou
South Gate
South Gate East
South Gate Manor
South Gate Ridge
South Gate Village Green
South Highland
South Pointe Shores
South Side Park
South Venice
Southbay
Southfield
Southgate
Southpointe Meadows
Southpointe Shores
Southridge
Spearman
Spice Bay
Spring Lake
Spring Oaks
Springlake
Springwood Estates
St Armand Towers
Sterling Lake
Sterling Park
Stevens
Stickney Point Park
Stillwater On The Bay
Stonebridge
Stonehaven
Stoneridge
Stoneybrook
Stoneybrook Golf And Country Club
Stoneybrook Terrace
Stoneybrook Veranda Greens
Stratfield Park
Strathmore Riverside
Strathmore Villa South
Strathmore Village Green
Strathmore Villas
Strongs Point
Summer Cove
Summer Lakes
Summer Wind
Summerside
Summerwood
Sumter Gardens
Sumter Green
Sun Haven
Sunbeam Acres
Sunburst
Suniland
Sunland Garden Apartments
Sunnybrook
Sunnyside
Sunnyside Park
Sunridge
Sunrise Cove
Sunrise Estates
Sunrise Golf Club
Sunrise Village
Sunset Place
Sunset Point
Sunset Royale
Sunset Towers
Sunway
Swifton Villas
Sylvan Lea
Sylvan Shores
Sylvan Woods
Sylvan Woods
Tahiti Park
Tallywood
Talon Bay
Tamaron
Tamiami Terrace
Tangled Oaks
Tanglewood
Tara
Tatum Ridge
Terrace East
Terrace Gardens
Terraces Of Forest Lakes
Tessera
The Alinari
The Beach Residences
The Enclave Villages at Pinetree
The Gardens
The Isles On Palmer Ranch
The Knolls at Bent Tree
The Lake Club
The Landings
The Mangroves
The Meadows
The Moorings
The Preserves at Palm-Aire
The Ritz Carlton Tower Residences
The Terrace
The Trails
The Uplands
The Village at Town Park
Three Oaks
Three Oaks Preserve
Tiffany Sands
Timberland
Timberwood
Tivoli By The Sea
Tobero Woods
Tocobaga Bay
Toledo Blade
Tortoise Estates
Tortuga
Tortuga Beach
Towles
Town And Country Estates
Town Of Bee Ridge
Townhouse Residences at University Groves
Tradition at Palm Aire
Tregate East
Tregate Manor
Treymore
Tri Par Estates
Trillium
Trinity Village
Tropical Shores
Turnberry Trace
Turtle Bay
Turtle Cove
Turtle Creek
Turtle Rock
Tuscana
Tuxedo Park
Twin Oak Pond
Twin Palms Of Siesta Key
University Groves
University Park
Uplands
Uplands The
Valencia at Prestancia
Valencia Terrace
Vamo
Venetian Estates
Vereda Verde
Versailles
Villa D Este at Villagio
Villa Gardens
Villa Majorca
Villa Maria
Villa Mirada
Villa Navarra
Villa Nova Shores
Villa Palmeras
Villa Rosa
Village at Beekman Place
Village at Park East
Village Brooke
Village Gardens
Village Green
Village Green Club Estates
Village Green Forest
Village In The Pines
Village Lake
Village Oaks
Village Sands
Village Walk
Villagio
Villas at Bellagio Harbor Village
Villas at Charleston Park
Villas at Deer Creek
Villas Of Papillion
Villas Of Papillon
Villas On Laurel
Vineyards Of Silver Oak
Vintage Creek
Vintage Grand
Virginia Heights
Vista Bay Point
Vista Hermosa
Vistas On Beneva
Vivienda
Vivienda at The Meadows
Walden Pond
Walpoles
Washington Heights
Washington Park
Waters Edge
Waterside East
Waterside South
Webber Heights
Wedgewood Lake
Wellington Chase
Weslo Willows
Westbrook
Westchester
Westlake Estates
Westlakes Estates
Westwood By Myakka
Westwoods at Sunrise
Weybridge
Whispering Crane
Whispering Sands
Whitaker Bayou
Whitaker Views
Whitakers Landing
White Sands Village
Whitfield
Whitfield Acres
Whitfield Country Club Estates
Whitfield Estates
Whitfield Groves
Whitfield Manor
Whitfield Pines
Wild Dove Estates
Wildwood Gardens
Wilkinson Woods
Willow Green
Willow Links
Willowbrook
Windward Passage
Winter Gardens
Woodbridge
Woodbridge Estates
Woodhaven
Woodlake Villas at Palm Aire
Woodland Green
Woodland Grove
Woodland Park
Woodlands
Woodridge
Woods Of Whitfield
Woodside South
Woodside Terrace
Woodside Terrace
Woodside Village East
Woodside Village West
Wrens
Wyndham
Yorkshire
Conflict arose between the settlers from Georgia and the Carolinas and the Seminoles, which ultimately resulted in warfare. In 1840, General Armistead, commander of the Army of Florida, established a new headquarters in Sarasota. Fort Armistead was situated on the mainland north of present-day Whitaker Bayou. Fort Armistead was one of the few posts that sent soldiers to Charlotte Harbor to pressure Seminoles into surrender and deported them to reservation areas west of the Mississippi. Although the location appeared good, illnesses such as diphtheria weakened the troops. After seven months the fort was abandoned.
The 2nd Seminole War (1835-1842) resulted in troops moving more Seminoles to Oklahoma. Yet a small group of 200-300 remained in the Everglades using the swamps as a refuge. The 3rd Seminole War, also known as the Billy Bowlegs War, pushed troops south, eventually removing 200 Seminoles to Oklahoma. A small group still remained in the swamps of south Florida, which were nearly impossible for federal troops to reach. The descendants of these groups are the modern day Florida Seminoles.
Before the Civil War, there were few people living in the part of Manatee County that would become Sarasota County in 1921. Ft. Armistead, built in the Indian Beach area during the Second Seminole War, was closed less than one year after it became operational due to a high rate of illness and death. When William Whitaker moved here in the 1840s, his mailing address was "Yellow Bluffs, Sarasota Bay." Not until after the Civil War was there a community named Sara Sota, located between Hudson Bayou and Phillippi Creek and one of a number of early communities formed by a steady immigration of pioneers. Most settlers came by boat to live in coastal communities. Others came overland in ox-drawn wagons to settle in the interior parts of the region.
This was frontier territory. Pioneers grew or caught their food, made their clothes, shopped in Manatee or Tampa, and fought the ever-present mosquito. Another characteristic of frontier life was the absence of a local judiciary. When a vigilante group in Sara Sota believed their first postmaster, Charles Abbe, was plotting to cheat some out of their homestead claim, they murdered him in 1884. The New York Times carried the story of the "Sarasota Assassination Society" on the front page.
Colonists sailed from Glasgow, Scotland in 1885 to settle in a new community of Sarasota. Laid out around Five Points, the new town was advertised by its owners as a sub-tropical paradise. Reality was harsh and most of the colonists left within a few months. John Hamilton Gillespie, sent by the town's owners to protect their investment, facilitated construction of a dock, laying out the streets, and the building of homes and a hotel. Gillespie became the first mayor when the town incorporated in 1902.
Sarasota City Plan, 2008, www.sarasotagov.com, accessed February, 2011.
---