Sarasota County, Florida
Sarasota County administrative offices are located at 1660 Ringling Boulevard, Sarasota, FL 34236; phone: 941‑861‑5000.
While there are many variations on the origin of the name Sarasota, they range from the speculative to the fanciful, with none being authoritative.
---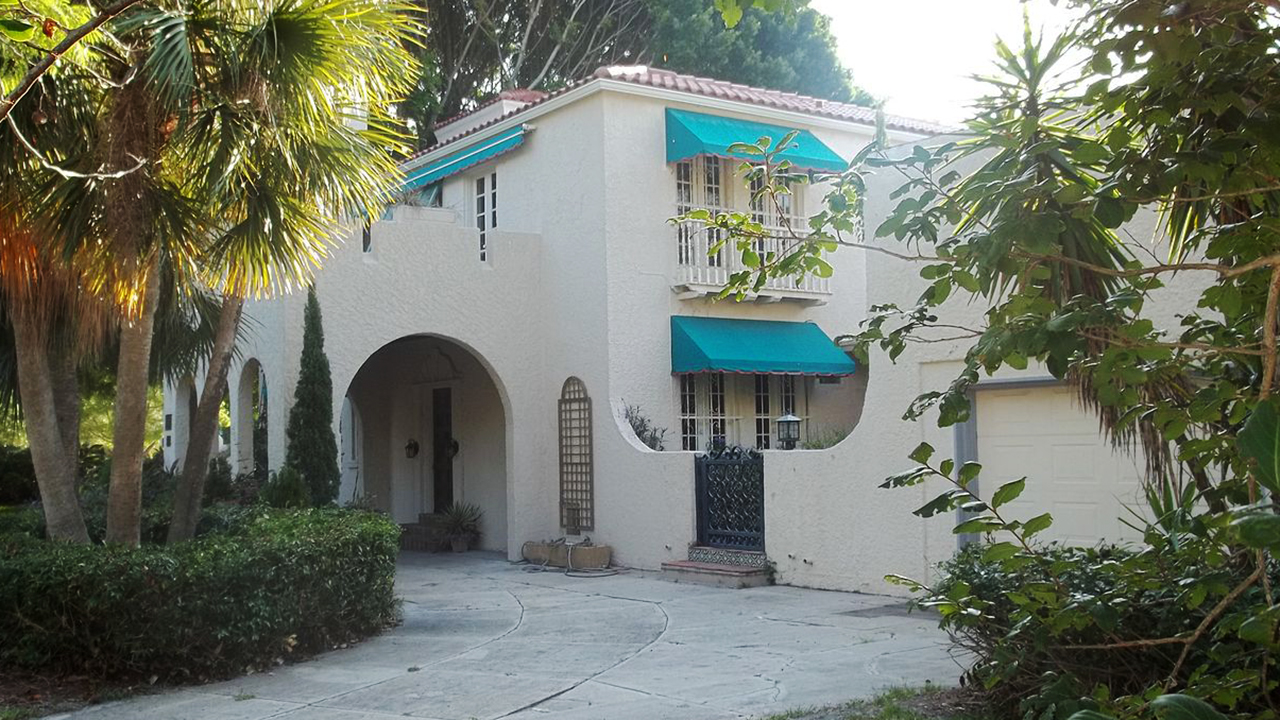 Frank and Matilda Binz House, circa 1926, located at 5050 Bay Shore Road. Listed on the National Register of Historic Places in 1994. Photographer: wikipedia username: Ebyabe, 2011, via Wikimedia Commons, accessed July, 2021.
---
TOWNS
Bee Ridge
Desoto Lakes
Gulf Gate Estates
Kensington Park
Lake Sarasota
Laurel
Longboat Key Town
Nokomis
North Sarasota
Osprey
Ridge Wood Heights
Sarasota Springs
Siesta Key
South Gate Ridge
South Sarasota
South Venice
Southgate
The Meadows
Vamo
Venice Gardens
Warm Mineral Springs
HISTORIC SITES
American National Bank Building
Appleby Building
Armada Road Multi-Family District
Atlantic Coast Line Passenger Depot
Bacheller-Brewer Model Home Estate
Bacon and Tomlin, Inc.
Bay Haven Hotel-John Ringling School of Art
Bay Haven School
Bee Ridge Woman's Club
Binz, Frank and Matilda, House
Bispham-Wilson Historic District
Blackburn Point Bridge
Blalock House
Bryson-Crane House
Burns Court Historic District
Burns Realty Company-Karl Bickel House
Burns, William J., House
Caples'-Ringlings' Estates Historic District
Casa Del Mar
Central-Cocoanut Historic District
City Electric Light & Power Plant
City Waterworks
Corrigan House
Crisp Building
Cunliff Residence
DeCanizares, F.A., House
DeMarcay Hotel
Eagle Point Historic District
Earle House
Edgewood Historic District
Edwards Theatre
El Patio Apartments
El Vernona Apartments-Broadway Apartments
Field Estate
Frances-Carlton Apartments
Gillespie House
Halton, Dr. Joseph, House
Harding Circle Historic District
Hermitage-Whitney Historic District
Hiss House
House at 507 Jackson Drive
House at 710 Armada Road South
Iwersen Block
Johnson Chapel Missionary Baptist Church
Keith, Edson, Estate
Kennedy, Dr. Walter, House
Laurel Park Historic District
Leech, Hilton, House and Amagansett Art School
Lemon Bay Woman's Club
Levillain-Letton House
Little Salt Springs
Maine Colony Historic District
Miakka School House
Nolen, John, Plan of the City of Venice
Osprey Archeological and Historic Site
Osprey School
Overtown Historic District
Payne, Christy, Mansion
Purdy, Capt. W. F., House
Reagin, L.D., House
Reid, Leonard, House
Rigby's La Plaza Historic District
Sarasota County Courthouse
Schueler, George, House
Southwick-Harmon House
Thoms House
Valencia Hotel and Arcade
Venezia Park Historic District
Whitfield, J. G., Estate
William, H.B., House
Wilson, Dr. C. B., House
Worth's Block
---