Clearwater City
Clearwater City Hall is located at 112 South Osceola Avenue, Clearwater, FL 33756.
Phone: 727‑562‑4040.
---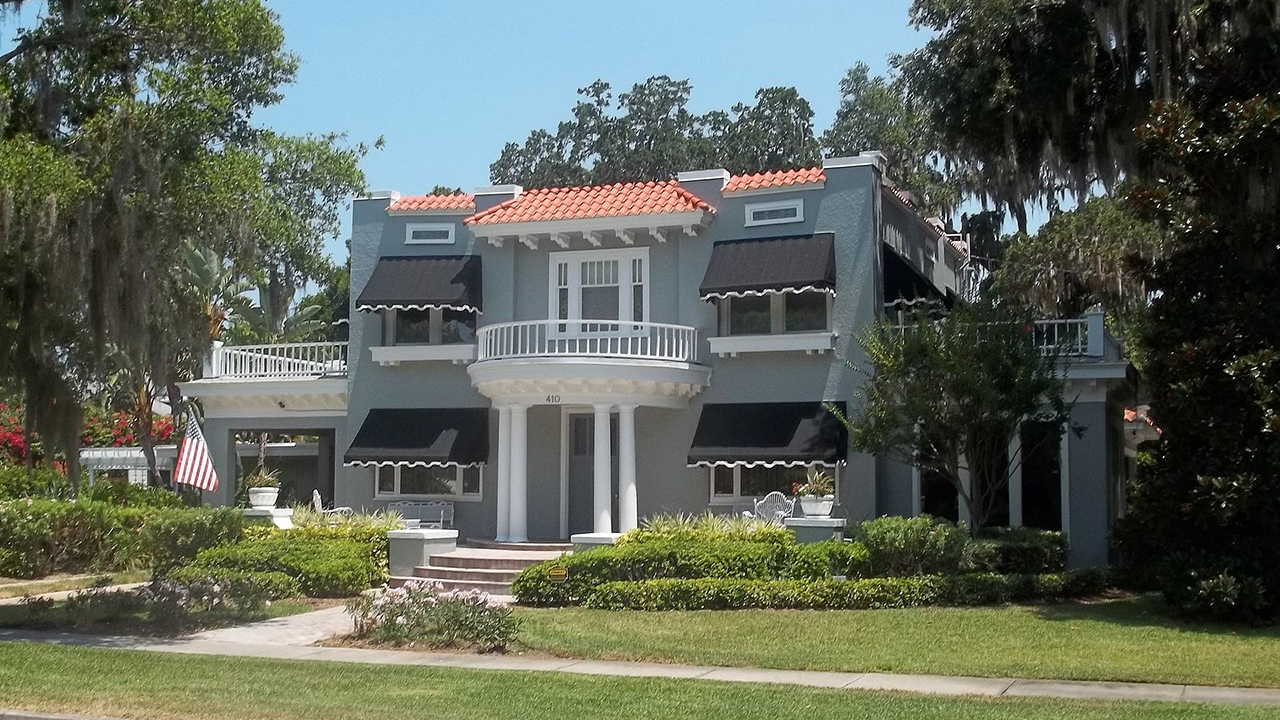 Photo: Home located in the Harbor Oaks Historic District. The District on the National Register of Historic Places in 1988. Photographed by Ebyabe, 2010, (own work) [cc-3.0], via Wikimedia Commons, accessed August, 2021.
---
Clearwater as Described in 1939 [1]
Clearwater, seat of Pinellas County, occupies a high coastal elevation extending along the narrow part of Pinellas Peninsula. A tall white hotel, dominating the skyline, dwarfs the buff brick courthouse nearby. Proximity to the Belleview Hotel has brought to the city wealthy winter residents, whose Elizabethan manors, Florentine villas, and Spanish casas crowd the landscaped bluffs southward along the bay.
Neighborhoods
Aiken
Allens Creek
Alpine Condos
Ambleside
Arbor Trace
Archwood
Ardmore Place
Arvis Circle
Ashland Heights
Audubon at Feather Sound
Avalon
Avondale
Azalea Woods
Baeha
Barrett Manor
Bassadena
Bay Aristocrat Villa
Bay Esplanade
Bay Harbor
Bay Oaks Condo
Bay Terrace
Bayedge Terrace
Bayshore Townhouses
Bayside
Bayside Gardens
Bayview
Bayview Bluff
Bayway Shores Condos
Beckett Lake Estates
Bel Keene
Belchery Springs
Bell Cheer
Bella Rosa Condos
Bella Sol at Edgewater
Belle Aqua Villas
Belle Harbor
Belle Harbor Condo
Belle Haven
Belleair Commoms
Belleair Cove
Belleair Forest
Belleair Grove
Belleair Highlands
Belleair Lane
Belleair Park Estates
Belleair Preserve
Belleair Terrace
Belleair Village Condos
Belleview Court
Bellrose Park
Belmont
Betty Drew Apartments
Betty Lane Heights
Beverly Terrace
Blackacre
Blackburns
Blackshire Estates
Boltons Acres
Bonair Hill
Bordeaux Estates
Bordeaux Village Condos
Boulevard Heights
Boulevard Pines
Boylan
Bradford Acres Condos
Braeloch Village Condos
Breeze Hill
Brentwood Estates
Brigadoon
Brightwater Point Condos
Brookfield
Brookhill
Brooklawn
Brookside
Brookstone
Brookwood Terrace
Browns Court
Bryn Mawr at Countryside Condos
Brynnwood Condos
Cabana Club Condos
Camelot Oaks Condos
Caribay Condo
Caribay Condos
Carlton Terrace
Carolina Terrace
Casa Del Sol
Castle Woods
Cedar Groves
Cedar Heights
Charmant Courtyards
Charter Oaks
Chateau Bayonne
Chateau Belleair
Chateaux De Ville
Chateaux Woods
Chautauqua Lake Estates
Chelsea West
Chelsea Woods
Chester Villa
Chesterfield Heights
Chestnut Court Condos
Citrus Heights Manor
Clearbrooke
Cleardun
Clearview Heights
Clearview Lake
Clearview Lake Estatates
Clearwater Highlands
Clearwater Manor
Clearwater Point Condos
Clearwater Village
Cleveland Grove
Cliftons Manor
Club at Feather Sound
Clubhouse Estates
Coachman Creek Condos
Coachman Hill Estates
Coachman Lake Estates
Coachman Reserve
Coachman Ridge
Coastal Oaks
Coldstream Condos
College Hill Park
Colonial Isles Condos
Colony Surf Condos
Continental Square
Continental Towers
Cornerstone Estates
Country Club Addition
Country Club Estates
Country Lane
Countrypark
Countryside
Countryside Pines
Countryside Woods
Court Square
Cove Cay
Cove Cay Village
Crescent Beach Club
Crest Lake
Crest Lake Park
Crystal Bay
Crystal Heights
Curlew City
Cutter Cove Condos
Cypress Bend
Cypress Point
Dans Island
Del Oro Estates
Del Oro Gardens
Del Oro Groves
Del Oro Heights
Del Oro Place
Del Robles
Diamond Isle
Diane Heights
Dockside Condos
Dolphin Bay Condos
Dolphin Cove Condos
Dolphin Landing
Dolphin Point Condos
Douglas Manor
Douglas Manor Estates
Douglas Manor Lake
Douglas Manor Park
Downing
Drew Crest
Drew Garden
Drew Heights
Drew Manor
Drew Park
Drew Ridge Condos
Drew Terrace
Druid Acres
Druid Estates
Druid Groves
Druid Heights
Druid Hills
Druid Manor
Druid Oaks Condos
Druid Park
Duncan Court
Eagle Estates
Eagle Pointe
Eagle Run
Eagles Crossing
Eagles Glen Condos
Eagles Landing
Eagles Landing Condos
Eagles Walk
East Druid Estates
East Druid Park
Eastwood Pines
Eastwood Shores
Eastwood Terrace
Eden Court
Edenville
Edgewater Townhomes
Elde Oro Lake Estates
Elde Oro West
Elysium
Emerald Hill Estates
Enghurst
Estancia Condos
Estancia Place
Europa Countryside
Evergreen Acres
Evergreen Village
Ewing Place
Fair Oaks
Fairburn Addition
Fairmont
Fairway Village Mobile Homes
Fairwood Forest
Feather Cove
Feather Point Condos
Feather Sound
Feather Tree
Featherwood
Floradel
Floridena
Forest Wood Estates
Forest Wood Estates
Forest Wood Estates
Forrest Hill Estates
Fountain Square Condos
Fountains at Countryside Condos
Four Pines
Four Seasons Townhomes
Gates Knoll
Georgas
Glen Ellyn Estates
Glenwood
Glenwood Estates
Golf View Gardens
Gracemoor
Grand Bellagio
Grand Venezia at Baywatch
Grand View Terrace
Grande On Sand Key
Greenbriar Condos
Greenbrook Estates
Greenwood Hills
Greenwood Manor
Greenwood Park
Grove Circle
Grovewood
Gulf Bay Acres
Gulf Bay Estates
Gulf Breeze Estates
Gulf To Bay Acres
Gulf To Bay Gardens
Hammock Pine Village
Harbor Bluffs Condos
Harbor Oaks Pace Condos
Harbor Vista
Harborage Condos
Harborview Grande
Harbour Light Towers
Harbour Towne
Harvard Arms
Harvey Park
Heather Trail
Hibiscus Gardens
Hickory Grove Condos
Hidden Cove
Hidden Oaks Place
High Point
High Point Gardens
Highland Acres
Highland Estates
Highland Glen
Highland Groves
Highland Hill
Highland Lake
Highland Manor
Highland Park
Highland Pines
Highland Terr Mnr
Highland Terrace Manor
Highpoint Estates
Hillcrest
Hillcrest Estates
Hillcrest Villas
Hollingsworth Estates
Homestead Oaks
Homewaters
Horizon House Coop
Hulett Estates
Imperial Court
Imperial Cove Condos
Imperial Oaks
Imperial Park
Imperial Pines Condos
Inverness Condos
Island Escape Condos
Island Estates
Island in Sun Co-Op
Island Key Condos
Island Point Condos
Island View Condos
Island Walk Condos
Island Way Condos
Island Yacht Club Codos
Islander Condos
Jade Heights
Japanese Gardens
Kalmia Condos
Kapok Forest
Kapok Manor
Kapok Manor Village
Kapok Terrace
Keene Acres
Keene Estates
Kenwood Garden Apartments
Kenwood Town House
Kersey Groves
Keystone Manor
Knights Acres
Knollwood
La Jolla
Lake Belleview Addition
Lake Chautauqua Estates
Lake Chautauqua Reserve
Lake Citrus Estates
Lake Lela Manor Addition
Lake Pines Estates
Lakepointe Villas
Lakes Villas
Lakeside Crossing
Lakeview Estates
Lakeview Heights
Lakeview Road
Lakeview Townhomes
Lakeview Vista
Landmark One
Landmark Palms
Landmark Place Condos
Landmark Towers
Landmark Woods
Langes
Laura Street
Laurelwood Condos
Lauretta Terrace
Lawtons
Leisure Acres
Lembo
Lighthouse Towers
Lincoln Place
Lions Point
Little Pete
Live Oak Estates
Long Branch Creek
Longbrooke
Longview
Maddox
Magnolia Heights
Magnolia Park
Magnolia Square
Majestic Point
Mandalay
Mandalay Point
Mangrove Cay
Manor Pines
Marilyn Pines
Marina Del Rey
Marla Grove Estates
Marymont
Mayfair
McVeigh
Meadow Creek
Meadow Dale
Mediterranean Village
Melody
Meridian On Sand Key
Midway Acres
Milton Park
Mission Hills
Missouri Heights
Misty Springs Condos
Monaco Resort Condos
Montclair Cove
Montclair Lake Estates
Monterey Gardens
Monterey Heights
Moorings of Sand Key
Morningside
Morningside East
Morningside Estates
Morningside Heights
Mosell Acres
Moss Oak
Mount Orange
Murphys Place
Myrtledale
Navajo Park
Nelson Place Condos
New Marymont
Newport
Nichols
Norma Mae
Normandy Park
Normandy Park South
North Shore Park
North Whitney Pines
Northwood Estates
Northwood West
Norwood Addition
Nottingham Acres
Nursery Terrace
Oak Acres
Oak Forest
Oak Forest Countrysi
Oak Grove Estates
Oak Haven
Oak Heights Park
Oak Heights Terrace
Oak Hills
Oak Knoll
Oak Lake Condos
Oak Lake Estates
Oak Lake Park Condos
Oak Park Estates
Oak Ridge Court Estates
Oakbrook Village
Oakland Heights
Old Clearwater City
On Top of the World
Orange Blossom
Overbrook
Overlook
Palm Bluff
Palm Park
Palm Terrace
Palmetto Terrace
Paradise Cove
Park Place
Parkwood
Parkwood Estates
Parkwood Towns
Peale Park
Pelican Pointe
Pennwood Estates
Pennwood Manor Condos
Penthouse Groves
Penthouse Shores Condos
Penthouse Villas
Pierce 100 Condos
Pine Brook
Pine Brook Highlands
Pine Crest
Pine Oak
Pine Ridge
Pinebrook
Pinellas Farms
Pinellas Groves
Pinellas Terrace
Pines Clearwater
Pinewood Village
Plantation Pointe
Plaza Park
Pleasure World
Prelude 80 Condos
Premier Village
Professional Center
Quail Run
Rainbows End
Rainforest
Raintree Village Condos
Regatta Beach Club
Regency Heights
Renaissance Oaks
Renaissance Square
Reserve at Chautauqu
Reserve at Chautauqua
Rogers
Rolling Heights
Roosevelt Highlands
Rose Ann
Rosery Grove Villa A
Rosery Grove Villas
Rosewood
Royal Camelot Resort Condos
Royal Pines Condo
Russells
Rustlewood
Salls
Salls Lake Park
Salls Sub
Sand Key Condos
Sand Key Condos South
Sandpearl Residences
Sandpearl Suites
Sandy Oaks
Scotia Heights
Sea Island North
Sea Island South
Seabrooke
Serendipity Mobile Homes
Seville Condos
Shadow Lawn
Shady Oak Farms
Shaffers Acres
Sharon Oaks
Shelley Gardens
Sherwood Gardens
Sherwood Heights
Sherwood Manor
Shore Oaks
Sirmons Heights
Skiff Point Condos
Sky Harbor Estates
Skycrest
Skycrest Greens
Skycrest Terrace
Skyline Groves
Solar Crest
Sound South
Sound West
South Beach Condos
South Binghamton
South Gate Mobile Homes
South Haven
Southwood
Spring Lake
Spring Lake Heights
Springfield
St Andrews Cove
St Tropez Condos
Starboard Tower
Station Square
Stevensons Heights
Stone Crest
Stonegate
Subans
Suites at Sandpearl
Summer Place
Summerdale
Sun Ketch
Sun Tree Estates
Sun West Palms Condos
Sunburst Court
Suncrest Terrace
Sunfish Bay
Sunny Park Groves
Sunnybrook Farms
Sunnydale
Sunrise Vista
Sunset Gardens
Sunset Grove Condos
Sunset Highlands
Sunset Knoll
Sunset Lake Estates
Sunset Lake Manor
Sunset Point
Sunset Ridge
Sunset Ridge
Sunset Woods
Sunshine Groves
Sunshine Heights
Sunshine Terrace
Sunshine Towers
Surfside Condos
Tagarelli
Tanglewood Estates
Temple Terrace
Tennessee Terrace
Terra Alto Estates
Terra City Townhomes
Terra-Alto Estates
Terrace Lake Add
The Lakes
The Meadows
Timber Ridge
Top of the World
Town Centre Condos
Townhome Manors Coun
Townhomes Northwood
Tradewinds Condo
Tradewinds Condos
Trails Countryside
Treetops at Druid
Tropic Hills
Turtle Brooke
Twin Lakes Manor
Twin Oaks
Ultimar Condos
University Park
Utopia Condos
Valencia Park
Varsity Estates
Velventos
Venetia Cove
Venetian Gardens
Venetian Point
Venetian Shores
Via Verde
Viewpoint On Bay
Villa Del Mar
Villa Del Sol
Village on the Green
Villas at Countryside
Villas at Lakepoint
Villas Lake Arbor
Villas of Sunset Grove
Virginia Groves
Virginia Groves Estates
Vizcaya
Walden Woods
Wallaces Addition
Washington Square
Waterford Townhomes
Waterford Townhomes
Waterford Townhomes
Waters Edge Condos
Waverly Manor
Waverly Towers Condos
Wedgewood Estates
Westchester
Whispering Oaks
Whispering Wings
Whitney Lakes
Whitney Pines
Wildwood Countryside
Willow Brooke Condos
Willow Ridge
Willowbrook
Wind Tree Village
Winding Creek
Winding Wood
Windsor Park
Windsor Woods
Windward Passage
Winwood
Woodgate of Countryside
Woodlake Condos
Woodland Villas
Woodmere Heights
Woodmont Park
Woodmont Park Estates
Woodridge
Woodridge Estates
Woodside Village
Woodsong
Woodvalley
Wynwoods Landing
Zephyr Gardens
Zephyr Hills
After Fort Harrison was established here in 1841, several families purchased land in and near the present site of the city. English and Scotch families followed and set out citrus groves. Clearwater today has 11 packing houses, in addition to several fruit and fruit-juice canning plants. Strings of red and yellow refrigerator cars line the tracks in the freight yards on the east side of town.
The town was incorporated as Clearwater in 1891, three years after the narrow-gauge Orange Belt Railroad reached the city, en route to St. Petersburg. After the freeze of 1894-1895, having lost revenue from decreasing fruit shipments, the railroad was taken over by Henry Plant as part of his system. In 1896 Plant built on the Gulf coast the first of his large tourist hotels, the Belleview.
Pinellas County was severed from Hillsborough in 1912, and in a wrangle over the position of the county seat, Clearwater stole the march on St. Petersburg by building a makeshift courthouse 'over Sunday,' conforming to a legislative act providing that once a courthouse was built, the county seat could not be moved for 20 years. A second railroad, the Tampa and Gulf Coast, now a part of the Seaboard Air Line, was routed through the city in 1914.
Landscaped with petunias, marigolds, and date, cabbage and Washingtonian palms, the Soldiers' and Sailors' Memorial Causeway extends from the mainland to Clearwater Island, with miles of white sand beaches. Here, screened by Australian pines, is a large municipal trailer/car camp. The Clearwater Yacht Club, with clubhouse and boat slips on the bay, conducts a number of races during the winter. Numerous cabanas, cottages and hotels are scattered along the shore. Salt water fishing in the passes and the Gulf waters is excellent.
Federal Works Agency, Works Progress Administration, Federal Writers' Program, Florida: A Guide to the Southernmost State. American Guide Series, Florida Department of Public Instruction, 1939.
Nearby Towns: Dunedin City • Safety Harbor City •
---