Geisel Library Building
Post Office: San Diego
Zip Code: 92093
---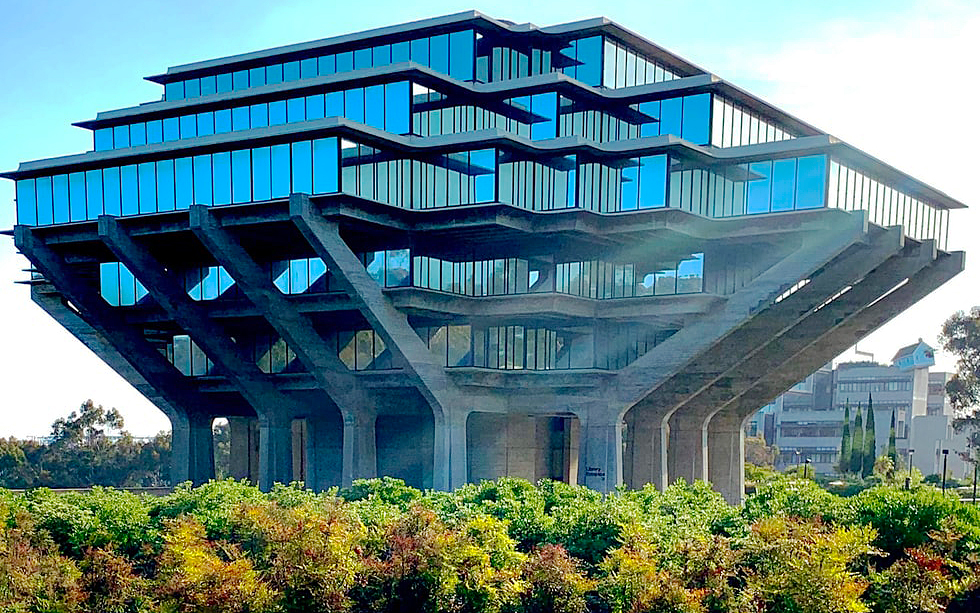 The Geisel Library is located at 9500 Gilman Drive, La Jolla, CA 92093. Photo by Photo by Ashish Kapoor on Unsplash.
---
Named one of the world's 25 most modern libraries, the futuristic concrete and glass Geisel Library [†] building was designed by world-renowned architect William Pereira in 1970. This campus landmark was named for Audrey and Theodor Geisel (aka Dr. Seuss) in 1995. The building's unique geometric design has inspired descriptions such as "a beacon" or "a grounded spaceship bringing knowledge to an imperfect world." Pereira, admired for his futuristic designs, is also known for works such as the Transamerica Tower in San Francisco, the master-planned community of Irvine, space‑launch facilities at Cape Canaveral, and the Houston Center. In 1992, underground wings on the east and west sides of the building were built by Gunnar Birkerts & Associates. The addition was designed to add extra space while preserving the original silhouette of the building. The underground wings are a remarkable architectural feat; in spite of their subterranean nature they let in as much natural light as is found on the upper floors.
† Geisel Library Self-Guided Tour, 2013, library.ucsd.edu, accessed July, 2022.
Street Names
Gilman Drive
---