San Diego City
San Diego City Hall is located at 202 C Street, San Diego, CA 92101.
Phone: 619‑533‑6387.
---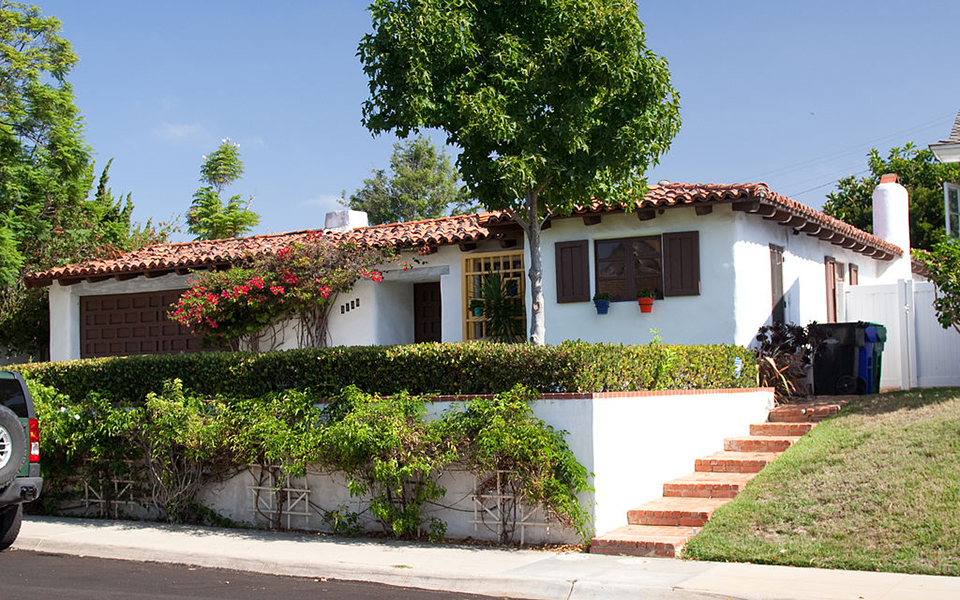 Photo: John R. and Florence Porterfield Beardsley House, circa 1933, located at 3130 Shadowlawn Street, San Diego. Listed on the National Register of Historic Places in 2003. Photographed by User:Visitor7 (own work), 2011, [cc-3.0], via Wikimedia Commons, accessed December, 2021.
---
Beginnings [1]
Prehistoric Period (8500 BC to AD 1769)
Neighborhoods
Adams North
Adelaide Villas
Adobe Bluffs
Adobe Falls
Alamo Villas
Alcala at Del Sur
Alcala Knolls
Alcott Estates
Alhambra Park
Allegra
Allied Gardens
Allied Terrace
Allure Condos
Alta Carmel
Alta Mar
Alta North
Alta View
Alta Vista
Altadena Manor
Altamont
Altavista
Alvarado Estates
Amador
Amante
Amber Ridge
American Park
American Pie
Americana Condos
Antares
Antique Row
Aqua Vista
Arabella
Aragon Heights
Arbor Lakes
Arbor Ridge
Arlington
Arnold Heights
Arnold Knolls
Arnold Park
Arroyo Canyon
Astoria in Stonebridge Estates
Asure Coast
Aurora at Riviera Del Sol
Aurora Heights
Autumn Crest
Autumn Ridge
Avalon Point
Avanti
Avocado Vista
Azalea
Azalea Park
Azure Coast
Azure Vista
Balboa Arms
Balboa Green
Balboa Park
Balboa Ridge
Balboa Towers
Balboa Vista
Ball Park
Bankers Hill
Barbados
Barber Tract
Barcelona
Barrio Logan
Barrio Logan
Bartlett Estate
Bay Canyon
Bay Colony
Bay Crest
Bay Heights
Bay Ho
Bay Ho Condos
Bay Ho North
Bay Ho Palisades
Bay Park
Bay Park Village
Bay Park Vista
Bay Ridge
Bay Terrace
Bay Terrace Estates
Bay Terrace Glens
Bay Terrace Greens
Bay Terrace Pines
Bay View Quarter Acres
Bayberry
Bayridge
Bayshore
Bayside Country Club Estates
Bayview
Bayview Heights
Bayview Knolls
Bayview Mobile Estates
Bayview Ridge
Baywood West
Beach And Barber Tract
Beacon Hill
Bella Pacific
Bella Vista
Bellaire Terrace
Bellarado
Belle Crest
Belle Fleur
Belleview Estates
Belleview Heights
Bellevue Terrace
Benson Heights
Berkeley Heights
Bermardo Heights
Bernado Heights
Bernardo Gardens
Bernardo Greens
Bernardo Greens West
Bernardo Heights
Bernardo Hills
Bernardo Pines
Bernardo Point
Bernardo Ridge
Bernardo Springs
Bernardo Terrace
Bernardo Trails
Bernardo Villas
Bernardo Vistas
Beverly Manor
Beyer Hill Estates
Bingham
Birchwood Estates
Bird Rock
Birdland
Birdland
Birth Wood Estates
Black Mountain Meadows
Black Mountain North
Black Mountain Ranch
Black Mountain View Estates
Black Mountain Villas
Black Mountain Vistas
Blackhorse
Blackhorse Farms
Blairs Highland Addition
Blossom Walk
Boardwalk
Boardwalk at Spectrum
Bonita Paradise
Bonita Villa
Bonita Vista
Bonnie Brae
Bonnieview
Bonniewview
Bordeaux
Boston Village
Bougainvillea
Bougainvillea Estates
Bouganvillea
Bowmans Tract
Boyce Heights
Braemar
Brentwood
Briarwood
Briarwood Vistas
Bridgeport
Bridgeport at Stonecrest
Bridgeview
Bridgeview Lofts
Bridle Ridge
Brierwood
Bright Side Estates
Brighton Manor
Broadmoore Summit
Broadway Heights
Brockbank Manor
Brooklyn Terrace
Brookside Glen
Brookview
Bungalow Park
Bungalows at Escala
Cabrillo at The Bay
Cabrillo Heights
Cabrillo Mesa
Cabrillo Point Loma
Cabrillo Terrace
Cabrillo Village
Cairo
Cajon Terrace
Calabria
California Terraces
California Villages
Callo
Callwood Manor
Cambridge
Camelot Mesa
Cameo
Cameo Glen
Camino Bernardo
Camino Villa
Camino Villas
Campana Villas
Campanile Terrace
Campo
Camyob Ridge
Canberra Park
Candelight Condos
Candelight Estates
Cantabria
Canyon Bluffs
Canyon Colony
Canyon Country
Canyon Haven
Canyon Park Villas
Canyon Point
Canyon Pointe
Canyon Ridge
Canyon Rim
Cape La Jolla
Cape La Jolla Gardens
Capri Aire
Cardiff
Carlsbad Views
Carlyle at Montelena
Carmel Country Highlands
Carmel Del Mar
Carmel Grove Park
Carmel Heights
Carmel Highlands
Carmel Mountain
Carmel Point
Carmel Pointe
Carmel Trails
Carmel Valley
Carousel Isle
Carraige Run
Carriage House
Carriage Run
Carroll Canyon Gardens
Carter Hill
Casa Blanca Villas
Casa Bonita
Casa Capricorn
Casa De Alvarado
Casa Del Mar
Casa Dorada
Casa Dorado Condos
Casa Gold Coast
Casa Marina
Casa Mayora
Casa New Salem
Casa New Salem Ii
Casa Norte
Casa Sierra Condos
Casabella
Casablanca
Cascade Gardens
Cascadia
Casitas
Cassey Heights
Castle
Castle Glen
Catalina Estates
Catalina Manor
Catalina Villas
Cavalier Terrace
Cedar Creek
Center City
Central Homestead
Central Park
Cerritos
Chapala
Chateau Bernardo
Chateau Marquis
Chateau Pacific
Chateau Village
Chatsworth Estates
Chatsworth Terrace
Cherokee Canyon
Cherokee Point
Chester Park
Chester Square
Chiara
Choates Addition
Cholla Creek Channel
Chollas Creek
Chollas Park
Chollas Point
Chollas View
Christmas Card Lane
Chula Vista
Churchward
Churchward Heights
City Courtyard
City Heights
Cityfront Terrace
Clairemont
Clairemont Heights
Clairemont Manor
Clairemont Mesa
Clairemont Mesa East
Clairemont Mesa South
Clairemont Mesa West
Clairemont Mountain Streets
Clairemont Park
Clairemont Point
Clairemont Village
Clairemont Villas
Clairemont Vista
Clairermont
Clearview Manor
Cleveland Heights
Cliffbridge Estates
Clifton
Climax
Cobblecreek
Cole Manor South
Colina Del Sol
College Canyon
College East
College Gardens
College Glen
College Grove
College Grove Center
College Heights
College Knolls
College Manor
College Park
College Park Towne Homes
College Ranch
College View Estates
College West
College Woods
Collgege
Collins Ranch
Collwood
Collwood Glen
Collwood Manor
Collwood Meadows
Collwood Park
Collwood Point
Collwood Terrace
Collwood Villas
Colony Estates
Colony Hill
Columbia Place
Concord Square
Concord Villas
Conrad Terrace
Copperwood
Coral Cove
Coral Gable
Coral Gate
Cornerstone
Coromandel
Coromandel Park
Corona
Corona Estates
Coronado
Coronado Glen
Coronado Grove
Coronado Highlands
Coronado Terrace
Coronado Views
Corral Gate
Corridor
Cortez
Cortez Hills
Cortina
Cosgrove Heights
Cosgrove Mesa
Cosgrove Park
Country Canyon
Country Club
Country Club Heights
Country Paradise
Courtyards at Escala
Coutyards
Cowels Mountain
Creek Park Estates
Creekside Village
Creekview
Creekwood at River Run
Crest at Carmel Valley
Crest at Del Mar
Crestmont
Crestview
Crestview Estates
Crosby Villas
Crown Collection
Crown Pacific Ridge
Crown Point
Crown Point Villas
Crystal Bay
Crystal Spring
Cunninghams Addition
Cypress
Cypress Canyon
Cypress Townhomes
Cypress Valley
Darnall
Darnell
Deerfield
Del Cerro
Del Cerro Heights
Del Cerro Highlands
Del Cerro Hillside
Del Cerro Knolls
Del Cerro Shores
Del Cerro Terrace
Del Charro Woods
Del Mar Bluffs
Del Mar Estates
Del Mar Heights
Del Mar Highlands
Del Mar Mesa Estates
Del Mar Place
Del Mar Terrace
Del Mar Trails
Del Mar Villas
Del Mar Windmill Estates
Del Monte Condominums
Del Norte Cottages
Delta Heights
Delta Street Condos
Dennery Ranch
Dennstedt Heights
Dennstedt Point
Derby Hills
Derby Point
Desty Heights
Devon Hills
Devonshire Woods
Diamond Point
Diamond Terrace
Dolphin Cove
Donna Estates
Down Town Sd
Downtown
Eagle Ridge Estates
East Bluff
East Clairemont
East Mission Valley
East Pacific Beach
East Park Village
East San Diego
East Village
East Windansea
Eastbay Terraces
Eastgate Village
Eastridge Canyon
Eastview
Eden Rock Estates
Edendale
Edgewater
Egger Highlands
El Cerrito
El Cerritos Heights
El Dorado
El Dorado Hills
El Dorado Ridge
Eldorado
Elm Tree Homes
Elysian
Embarcadero
Emerald City
Emerald Cove
Emerald Hills Estates
Emerald Rivera
Emerson Heights
Empire Addition
Encanto
Encanto Heights
Encanto Park
Encanto View Estates
Encanto View Ridge
Encinitas
Escala Courtyards
Escala Village
Esmeralda
Esperanza
Estates at Stonebridge
Euclid Gardens
Euclid Manor
Euclid Mesa
Euclid Minor
Euclid View
Evergreen
Evergreen Village
Fairbanks Highlands
Fairhaven
Fairhaven Acres
Fairmont Park
Fairmount Addition
Fairmount Park
Fairmount Village
Fairway Heights North
Fairway Park
Fairway Pointe
Fairway Village
Fairway Vistas
Fashion Heights
Fashion Hills
Fashion Valley
Feather Ridge
Fieldstone
Fleetridge
Fleetridge Heights
Floral Terrace
Fort Stockton
Fortune Park
Fox Canyon
Fox Run
Frairs Pointe
Frary Heights
Friar Gardens
Friars Estates
Friars Mission
Friars Pointe
Friars Village
Furlow Heights
Gables Crossing
Garden Acres
Garden Gate
Garden Grove
Garlands Addition
Gas Lamp District
Gaslamp
Gateway
Gateway Estates
Gatewood Hills
Genesee Court
Genesee Estates
Genesee Gardens
Genesee Highlands
Genesee Vista
Giselle Manor
Glen Oaks Heights
Glenclift
Glencoe Heights
Glenwood Springs
Gold Creek Townhomes
Golden Hill Historic District
Golden Hills
Golden Triangle
Golfview Estates
Granada
Grande at Santa Fe Place
Grande South
Grandview Heights
Grant Hill Historic District
Grantville
Greenbrier
Greenfield
Greens East
Greens Knolls
Greens North
Greens West
Grossmont College
Grove Heights
Gurwell Heights
Hadden Trails
Halcrest Heights
Halcyon
Halcyon West
Halecrest Heights
Halifax Estates
Hamilton Row
Harbor Club
Harbor Crest
Harbor View
Harbor Vista
Harborview
Harborview Heights
Harbour Heights
Hartleys North Park
Hartson Terrace
Harvest Run
Hazelwood Heights
Heatherwood
Heights
Herberts
Heritage Addition
Heritage Concord
Heritage Heights
Heritage Hills
Heritage Park East
Heritage Park West
Heritage Villas
Hermosa
Hermosa Terrace
Hermosa Villas
Hermosillo Manor
Hidden Trails
Hidden Valley
Hidden Valley Estates
Hidden Valley Hills
High Country
High Country Estates
High Country Villas
High Country West
High Ridge
Highdale Addition
Highland Addition
Highland Bluffs
Highland Estates
Highland Hills
Highland Park
Highland Ranch
Highland Square
Highlands Village
Highridge at Summit
Hilcrest
Hill N Dale
Hillcrest
Hillsborough
Hillsborough Bluffs
Hillsborough East
Hillsborough Greens
Hillsborough Hills
Hillsborough Knolls
Hillsborough Madows
Hillsborough Meadows
Hillside Colony
Hollister Coronado
Holly Hills Village
Holly Hills Vista
Hollywood Park
Hollywood Park
Hollywood Station
Home Gardens
Homestead Union
Hoover Heights
Horizon House
Horton Canyon
Horton Park
Horton Plaza
Horton Plaza
Hortons Purchase
Hubner Estates
Hubner Knolls
Hubner Park
Hunters Point
Huntington Heights
Huntington Park
Hyde Park
I.B Gardens
Iittle Italy
Imperial Beach Gardens
Imperial Heights
Indian Hills
Inspiration Heights
Iris Gardens
Iris Gardens West
Ivy Crest
Ivy Gate
Ivy Hill
Jarrett Heights
Judson Park
Just Outside of Santaluz
Kearney Lodge
Kearney Mesa
Kearny Mesa
Kellogg Beach
Kensington
Kensington
Kensington Heights
Kensington Manor
Kensington Park
Kentwood Estates
Kimberly Manor Condos
Kings Row
Knightsbridge
Knolls of Del Cerro
Knolls of Fox Run
Knollwood Park
La Alta South
La Boheme
La Collinda
La Cresta
La Florentine
La Huerta
La Jolla
La Jolla Colony
La Jolla Colony U6
La Jolla Estates
La Jolla Farms
La Jolla Gables
La Jolla Garden Villas
La Jolla Golf And Tennis Club
La Jolla Heights
La Jolla Hideaway
La Jolla Highlands
La Jolla Hills
La Jolla Mesa
La Jolla Renaissance
La Jolla Shores
La Jolla Shores Heights
La Jolla Village
La Merida
La Mesa Colony
La Mirada
La Playa
La Playa Highlands
La Playa Hills
La Playa Pooles
La Playa Village
La Quintana
La Strada
Lake Murray
Lake Murray Terrace
Lake Park Gardens
Lake Park Villas
Lake View Country Club
Lake View Estates
Larchmont
Larkspur
Larwin Mesa View
Las Alturas
Las Brisas
Las Palmas
Laurel Heights
Le Boheme Condos
Le Chateau
Legacy
Legacy Walk
Legends
Leisureland
Lexington Park
Liberty Manor
Liberty Station
Limita Village
Lincoln Acres
Lincoln Heights
Lincoln Park
Lincoln Park
Linda Vista
Linda Vista
Linwood Villas
Little Italy
Logan Heights
Logan Heights
Loire Valley
Loma Alta
Loma Heights
Loma Portal
Loma Riviera
Loma Sorrento
Loma Terrace
Lomita Village
Lomtia
Los Arboles
Los Terrinitos
Lotus Point
Lower Bird Rock
Lower Hermosa
Lucera
Ludington Heights
Lynda Heights
Madeira at Del Sur
Madison Avenue Manor
Madrone Estates
Magnolia Downs
Mannon Terrace
Maplewood Hills
Mardi Gras Village
Marilou Park
Marina
Marina District
Marine View
Mariposa
Market Street Addition
Market Street Knolls
Marlborough
Marmil Park
Marmil Terrace
Marston Hills
Martinique
Masters Hill
Maybeck
Mayberry Estates
Mayfield
Mcbrayer Estates
Meadow Run
Meadowbrook
Meadowood
Meadows Del Mar
Medallion Terrace
Melissa Park
Memorial Park
Menlo Village
Mercedes Hills
Mercy Road Homes
Mesa College
Mesa Cove
Mesa Hills
Mesa Park
Mesa Ridge
Mesa Summit
Mesa Verde
Mesa View
Mesa Village
Mesa Woods
Michelle Manor
Middletown
Middletown Addition
Middletown Terrace
Midtown
Midway District
Mill Creek
Millbrae Terrace
Mills at Cortez Hill
Milton Park
Mira Mesa
Mira Mesa Crest
Mira Mesa East
Mira Mesa North
Mira Mesa Ridgecrest
Mira Mesa South
Mira Mesa Verde
Mira Mesa View
Mira Mesa West
Mirabella
Mirabella Point
Mirador
Mirador Park
Miramar
Miramar Lake
Miramar North
Miramar Ranch
Miramar Ranch North
Miraposa
Mission Bay
Mission Bay Park
Mission Beach
Mission Cliff Gardens
Mission Estates
Mission Gorge
Mission Greens
Mission Heights
Mission Heights Condos
Mission Hills
Mission Hills North
Mission Hills South
Mission Plaza
Mission Ridge
Mission Trails
Mission Valley
Mission Valley East
Mission Valley Heights
Mission Valley West
Mission Verde
Mission Village
Mission Walk
Missions at Rio Vista
Misson Hills
Misssion Village
Mm Verede
Monarch at Carmel Valley
Monarch Estates
Monarch Pointe
Montana Lofts
Montclair Park
Monte Rio
Montefaro
Montelena
Monteloma
Montezuma Park
Montezuma Townhomes
Montgomery
Montgomery Palisades
Montgomery Park Estates
Montoro
Morely Field
Morena
Morena Village
Morley Field
Morningside
Morrison
Morse Heights
Mount Helix
Mount Hope
Mount La Jolla
Mount Soledad
Mountain Heights
Mountain View
Mountain View Manor
Mt Carmel Heights
Mt View
Muirlands Crest
Muirlands Panorama
Muirlands Point
Muirlands Riviera
Muirlands Terrace
Muirlands Village
Muirlands Vista
Muirlands West
Muirlandswest
Muirpoint Estates
Murray Ridge Estates
National Highlands
Navajo Park
Nazareth Park
Nestor Acres
Nestor Park
New Roseville
Nob Hill
Nordica Heights
Normal Heights
Normal Heights North
Normal Heights Village
North Bay Terraces
North Arroyo Canyon
North Bay Terraces
North Bonita Hills
North City
North Clairemont
North Creek Homes
North East Clairemont
North Florence Heights
North La Jolla
North Mission Beach
North Mission Hills
North Mission Valley
North Pacific Beach
North Park
North Penasquitos
North Point
North Rim
North Shore Highlands
North Sunset Cliffs
North Talmadge
North Terrace
Northblock Lofts
Northcreek
Northfield
Oak Park
Oak Park
Oakcrest
Oaks North Estates
Oakwood
Ocaanview Hills
Ocean Beach
Ocean Beach Hills
Ocean Beach Ob
Ocean Beach Park
Ocean Crest
Ocean Hill Views
Ocean View Heights
Ocean View Hills
Ocean View Terrace
Ocean Vista
Old Paradise Hills
Old San Diego
Old Scripps Ranch
Old Town
Olive Hill
Olvera Estates
Olympic Park
Orange Blossom Park
Orange Walk
Oregon Park
Orleans East
Osborn Hill
Otay Mesa
Overlook Heights
Pacific Beach
Pacific Beach
Pacific Beach Vista
Pacific Bluffs
Pacific Heights
Pacific Highlands
Pacific Hills
Pacific Isle
Pacific Regents
Pacific Ridge
Pacific Shores
Pacific Valley Estates
Pacifica
Pacifica Hills
Pacifica Valley Estates
Padre Glen
Palisades
Palm City
Palm Heights
Palm Hill
Palm Manor
Palm Ridge
Palm Terrace
Palmview Terrace
Panama Heights
Panasquitos Knolls
Panorama Park
Paradise Gardens
Paradise Gardens West
Paradise Hills
Paradise Valley
Park Cerro Estates
Park Glen Estates
Park Lido
Park Mesa
Park Place Estates
Park Ridge Manor
Park Terrace
Park View Estates
Park Villa
Park Village Estates
Park Villas
Park West
Parkman Estates
Parkridge Condos
Parkwood
Paseo Lucido
Patina
Pegasus
Penasquitos Estates
Penasquitos Glens
Penasquitos Greens
Penasquitos Knolls
Penasquitos Park
Penasquitos Pines
Penasquitos Pointe
Penasquitos Views
Pennant Village
Peublo Del Rio
Piazza Palermo
Picard Estates
Picasso Villas
Pico Palms
Pinetree
Pinnacle
Plamosa Park
Playa Blanco
Playa Parque
Playmor Terrace
Plum Tree Condos
Plumosa Manor
Plumosa Park
Point Loma Estates
Point Loma Heights
Point Loma Highlands
Point Loma Manor
Point Loma Park
Point Loma Terrace
Point Loma Village
Point Loma Woods
Ponderosa Homes
Porters Addition
Positano
Potomac Valley
Powers Terrace
Presidio
Presidio Park
Presidio Place
Presidio Vistas
Princess Gardens
Princess Park
Princess Park Estates
Princess Park Terraces
Princess View Estates
Prospect Manor
Pueblo Del Rio
Quail Creek
Rainbow Greens
Rancho Bernardo
Rancho Cabrillo
Rancho Carmel
Rancho Chula Vista
Rancho De Alvarado
Rancho De La Playa
Rancho De Las Flores
Rancho Domingo
Rancho Encantado
Rancho Glen Estates
Rancho Hills
Rancho Jarana
Rancho La Cresta
Rancho Mission Trails
Rancho Mission Villas
Rancho Penasquitos
Rasonia Estates
Ravenna
Redwood Village
Regatta Point
Regency Park
Regency Villas
Regent La Jolla
Regents Sqare
Regents Square
Remington Hills
Renaissance
Rexford Terraces
Rexview Estates
Reynard Hills
Rice Addition
Richmond Hills
Ridgegate
Ridgepointe
Ridgeview
Ridgeview Acres
Ridgewood
Riley Street Villas
Rimcrest
River Colony Condos
River Gorge
River Run
River Valley
River View
River Walk
Riveria Del Sol
Riverwalk
Riviera Shores
Robin Ridge
Robinhood
Robinhood Creek
Robinhood Estates
Robinhood Ridge
Robinhood Village
Robinson Royal
Rolando Glen
Rolando Hills
Rolando Knolls
Rolando Park
Rolando Village
Rose Canyon
Rosemont Addition
Roseville
Roseville Heights
Roseville-Fleetridge
Royal Highlands
Royal Park
Russel Heights
Ryan Manor
Saber Springs
Sabre Highlands
Sabre Hills
Sabre Ridge
Sabre Springs
Sabre Springs
Sabre Springs South
Sabre Terrace
Sagewood Crest
San Carlos
San Carlos Country Club
San Carlos Estates
San Carlos Greens
San Clemente View
San Diego State University
San Lucerna
San Marcos
San Mortiz
San Raphael
San Remo
San Tropico
Sanctuary
Sanctuary at Stonebridge Estates
Santa Brarbara
Santa Fe Downs
Santa Fe Hills
Santa Fe Place
Santa Fe Summit
Santa Fe Valley
Santa Rosa
Santaluz
Santaluz Community
Santaluz Village
Saratoga
Sausalito
Sausalito-Torrey Hills
Savannah Terrace
Scenic Heights
Scenic View
Scenic West
Scipps Ranch
Scripps Addition
Scripps Miramar Ranch
Scripps Poway
Scripps Ranch
Scripps Ranch Deerfield
Scripps Ranch Highlands
Scripps Ranch North
Scripps Ranch Villages
Sea Breeze
Sea Colony
Sea Country
Sea Ridge
Seabreeze Farms
Seabridge
Seagate
Seahaus
Sears Heights
Senic Knoll
Serena
Serenity in Stonebridge Estates
Serra Mesa
Seven Oaks
Shadow Glen Condos
Shadow Tree
Shattuck Highlands
Shaw Addition
Shell Town
Shelltown
Shelter Island
Sherman
Sherman Heights
Sherman Oaks
Shermans Addition
Shirley Ann Place Historic District
Shirley Heights
Shona at The Bay
Shores Tower
Sierra Lomita
Sierra Mesa
Sierra Park
Sierra Vista
Silver Terrace
Sitella
Sky View Estates
Skyline
Skyline
Skyline Heights
Skyline Hills
Skyline Paradise
Skyline Park
Skyline Terrace Estates
Skyline Villas
Skyview
Smithers Heights
Soladad Mountain
Soledad
Soledad Corona Estates
Soledad Mountain
Soledad South
Soledad West
Somerset View
Sorrento
Sorrento Hills
Sorrento Mesa
Sorrento Valley
Souhcrest Park
South Bay Estates
South Bay Manor
South Bay Terrace
South City Heights
South Clairmont
South Encanto
South Florence Heights
South Mission Beach
South Mission Hills
South Ocean Beach
South Oceanside
South Park
South Rancho Hills
Southcresstt
Southcrest
Southcrest Park Estates
Southland Manor
Southpark
Southpointe
Spinnaker Point
Spring Canyon
Spring Valley
Spruce Canyon
Spyglass Hill
St Andrews
St Augustine
St Croix
Stallions Crossing
Star Village
Stargaze Estates
Steeplechase
Sterlingworth
Stetsons Addition
Stockton
Stone Canyon
Stone Crest
Stone Gate
Stonebridge
Stonebridge Estates
Stonecrest
Stonecrest Village
Stonehaven
Stoney Brook
Stonybrook
Story Book Park
Strand
Stratford Park
Stratford Place
Streamview
Summer Hill
Summerfield
Summerset
Summerset Court
Summerton Hills
Summerwind
Summit
Summit Place
Summit Ridge
Sun Dale
Sun Harbor
Sun Shine
Sunburst
Suncrest
Sundance
Sundrige Vista
Sunland Sorrento
Sunny Slope Addition
Sunridge
Sunridge Vista
Sunrise Addition
Sunrise Point
Sunset Cliffs
Sunset Cove
Sunset Gardens
Sunset Glen
Sunset Meadows
Sunset Point
Sunset Ridge
Sunset View
Sunset Village
Sunshine Gardens
Sunstream
Superba Heights
Swan Canyon
Swans Addition
Sweetwater
Swift Homes
Swiss Estates
Switzer Canyon
Sycamore Canyon
Sycamore Crossing
Sycamore Walk
Talmadge
Talmadge Park
Talmadge Park Estates
Talmadge Park Manor
Tampico
Tanglewood
Tapestry
Tealata East
Tecolote Canyon
Tecolote Highlands
Tecolote Terrace
Temecula Heights
Teralata West
Teralta Heights
Terra Vista
Terrace Green
Terrace Pines
Terraces at Escala
Terrance Green
Terraza
Terreno at 4S Ranch
Terry Heights
The Bluffs of Foxrun
The Boardwalk
The Courtyards at Escala
The Crest at Del Mar
The Crosby at Rancho Santa Fe
The Falls at Camino Bernardo
The Greens of Rancho Bernardo
The Regents
The Summit
The Terraces at Escala
The Trails of Fox Run
The Trails of Rancho Bernardo
The Verandas at Escala
The Village at the Cove
The Village in Bernardo Heights
The Villas at Escala
The Vistas at Fashion Heights
Three Canyons
Three Seasons
Tiburon at Stonebridge Estates
Tierasanta
Tierra Mesa
Tierra Santa Norte
Tierra Vista
Tierrasanta
Tierrasanta Highlands
Tierrasanta Norte
Timberlane
Timbers
Tingsley Estates
Tinkerbell
Tocayo Ranch
Tonawanda Terrace
Torrey Glenn
Torrey Highland Village
Torrey Highlands
Torrey Hills
Torrey Pines
Torrey Pines
Torrey Pines Summit
Torrey Point
Torrey Preserve
Torrey Ranch
Torrey View
Torrey Woods Estates
Treasure Hill
Tremont
Tribeca
Trilogy
Triple Crown
Triumph
Trolley Barn
Turnbulls
Tuscany Place
Twain Heights
Ucsd Med Ctr
Union Square
Univ.Heights
University Canyon
University Center
University City
University Estates
University Garden Villas
University Gardens
University Heights
University Hills
University Park
University Town Center
University Towne Centre
University View
University Village
Unversity City
Upper Hermosa
Upper La Jolla Shores
Upper Shores
Uptown District
Valencia Heights
Valencia Park
Valencia View
Valle Vista Terrace
Valley Crest
Valonia
Vantage Point
Venezia Del Mar
Venice Park
Ventana
Victory Manor
View Point
View Ridge
Villa Antigua
Villa Balboa
Villa Barbados
Villa Bonita
Villa Campana
Villa Costa
Villa Dominique
Villa Escondido
Villa Europa
Villa Granada
Villa La Jolla Gardens
Villa Madrid
Villa Majorca
Villa Martinique
Villa Mirabella
Villa Monterey
Villa Portofino
Villa Serena
Villa Toscana
Villa Tuscana
Village Coastal
Village Square
Village Walk
Village Woods
Villaggio
Villas at University Park
Villas at Westmore
Viscaya at Stonebridge Estates
Vista Bonita
Vista De Casa
Vista De Miguel
Vista Pacifica
Vista Valencia
Wabash Mesa
Walden Green
Walden Terrace
Walkers Addition
Wallace Park
Waterbridge Condos
Watercrest Hills
Waterfield Laurels
Waterford
Weatherstone
Webster
Webster Rolando
West Gardens
West Hill Estates
West Hollywood
West Mira Mesa
West Mission Hills
West Mission Valley
West Muirlands
West Park
West Pines
West Portico
West Rancho Bernardo
West San Carlos
Westbluff
Westchase
Westcliffe
Western Addition
Western Hills
Westmore
Weston Place
Westport
Westport at Pacific Cove
Westridge
Westvale
Westview
Westwind
Westwood Hills
Westwood Ridges
Westwood Valley
Wheatley Hills
Whispering Ridge
Whitehorse
Whitney
Willowmere Glen
Willows
Wilshire Place
Wilson Villas
Wind &Amp; Sea
Wind &Amp; Sea Beach
Wind &Amp; Sea Homes
Wind And Sea
Wind N Sea
Wind N Sea
Windemere
Windemere Court
Windham
Winding Walk
Windsong
Windsor Park
Windwood
Winona Square
Wood Crest Hills
Woodbridge Estates
Woodcrest Glen
Woodcrest Heights
Woodcrest Hills
Wooded Area
Wooded Area-Roseville Heights
Woodhaven
Woodland Terrace
Woodlands
Woodlands North
Woodlands South
Woodlands West
Wyndham
Wyndham Place
Yacht Club Terrace
Zaner Heights
Native American people lived throughout San Diego continuously
Subsistence changed from more nomadic hunting to a focus on coastal marine and inland food sources with native plant gathering to a semi-sedentary lifestyle with limited horticulture
Significant time markers include changes in stone tools, mortuary practices, and the introduction of pottery
Spanish exploration begins
Spanish Period (1769 to 1821)
Arrival of Spanish missionaries and explorers
Presidio and Mission San Diego de Alcala established
Spanish occupation and mission system profoundly changed lives of the Kumeyaay people
Early house lots and garden plots in what would become Old Town
Mexican Period (1821 to 1846)
Mexico wins independence from Spain and San Diego becomes part of the Mexican Republic
Rancho system of extensive land grants to individuals
Secularization of the San Diego Mission
Mexico granted San Diego official pueblo (town) status
Native American population continued to decline
American Development (1846-Present)
Americans assumed formal control under the Treaty of Guadalupe-Hidalgo in 1848
William Heath Davis founded the earliest American development of "New Town" in 1850
Alonzo Horton arrived in 1867 and helped San Diego develop into an active American town
Expansion of trade brought an increase in the availability of building material
Active African-American and Chinese communities lived and worked downtown
Urban growth spurred by industrial capitalism and land speculation and early private infrastructure investment
Chinese, German, Swiss, Italian, Portuguese, and other immigrants owned businesses and worked throughout San Diego, as do their descendants today
City of San Diego General Plan,Historic Preservation Element, March, 2008, www.sandiego.gov, accessed October, 2011.
---