New City of Mentalphysics Historic District
Post Office: Joshua Tree
Zip Code: 92252
---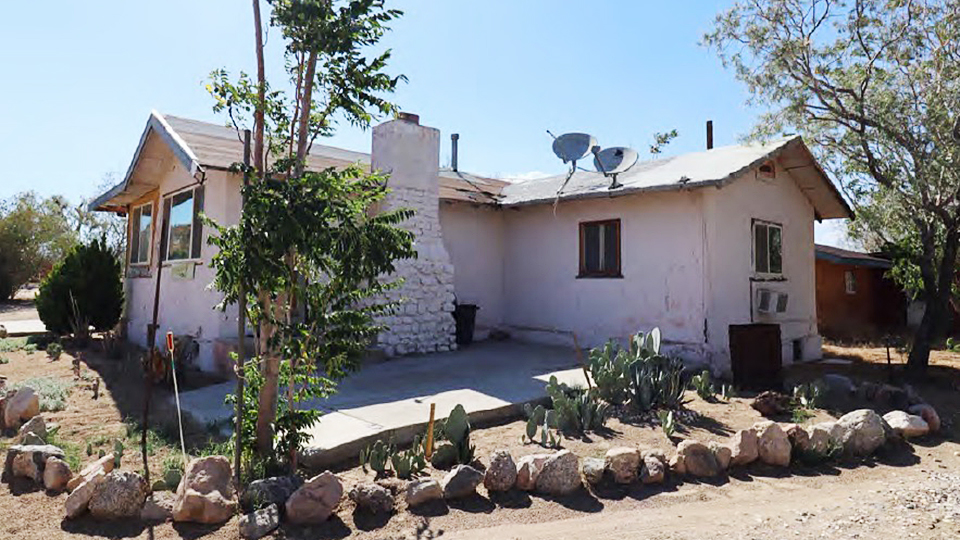 Photo: Reverend's House, circa 1940s, New City of Metaphysics Historic District, Josua Tree. The Historic District was listed on the National Register of Historic Places in 2023. Photograph by Daniel Paul , 2021, for nomination document, New City of Mentalphysics Historic District , 2023, NR# SG100008539, National Park Service, National Register of Historic Places, accessed January, 2022.
---
The New City of Mentalphysics Historic District's [†] period of significance is 1941 to 1972. It is the most intact and expressive property associated with "Mentalphysics" — an alternative spiritual, teaching, and well-being discipline based and nurtured in California, of a kind that the state has come to be known over the last 150 years. During the property's period of significance, the Institute of Mentalphysics claimed to have had over 200,000 members. Its early, Eastern-informed teachings are a telling precursor to New Age practice and lifestyle now integral to the Southern California's cultural identity. Initially envisioned as an actual city, the property quickly became a resort-like retreat and learning center for Mentalphysics members. The New City of Mentalphysics is therefore both a regionally telling attempt a utopian community, then as the colony-like retreat center it became for one of the region's early, locally-grown alternative spiritual disciplines.
The New City of Mentalphysics Historic District is the National Register of Historic Places' most historically significant U.S. property associated with Edwin John Dingle, who as founder and President of the Institute of Mentalphysics adopted the persona of the teacher "Ding Le Mei." Even at his 1972 passing, Dingle's Metaphysics was recognized as one of the longest-lasting institutions of its kind in Southern California. Dingle's Mentalphysics was largely informed by Eastern teachings that Dingle learned first-hand from his early years living in and travelling across China between 1904 and 1921. During that time, Dingle became internationally noted journalist, cartographer, and China expert.
The New City of Mentalphysics represents the largest collection of works: 11 buildings in addition to the site plan, by the master architect Frank Lloyd Wright Jr., more commonly known as Lloyd Wright. Each of Wright's buildings is a significant example of Organic Architecture. The prolific Southern California builder Orrin Kenneth ("O.K.") Earl Jr., completed later on-site buildings, and they are intact, expressive examples of Post-World War II Mid-Century Modern institutional and residential architecture. This collection of buildings includes the Richard Lampier Dingle Memorial Chapel: the only known Southern California work of former Eero Saarinen architect and Mentalphysics practitioner Arturs Damroze, in addition to the Inspiration Heights apartment development by noted Pasadena Modernist Harold B. Zook.
Much like the Church of Religious Science to which it is closely aligned, Dingle's Science of Mentalphysics, rooted in New Thought and Eastern disciplines, was intended as a teaching science more than a new religion. Nonetheless, for the entirety of its existence in California, Mentalphysics has been dually incorporated as a teaching institution and a religion.
The New City of Mentalphysics possesses "architectural values" through a multitude of buildings undertaken by Lloyd Wright, the builder O.K. Earl Jr. with his steed of architects, plus architect and Mentalphysics practitioner Arturs Damroze, in both the Organic Architecture and Mid-Century Modernist design systems. Eligible under Criterion C, the local-level significance of these resources is rooted in their ability to express themselves as intact, telling and important examples of their design systems and property types.
As evidenced by worker cottages, the Agricultural Experiment Station, and to a lesser extent a dedicated maintenance area, the District is one of very few regional examples of a planned development, religious or otherwise, intended as a utopian colony- even if like so many other California attempts, it never fully became one. Still the New City became a rare example of a sizeable planned development for an alternative spiritual and well-being practice rooted in Eastern and New Thought teachings. As such, the New City of Mentalphysics Historic District expresses a locally "important historic or cultural force," as a planned development expressive of early-era New Age culture now historically associated to Southern California.
The New City of Mentalphysics period of significance is 1941 to 1972. On August 23, 1941, Dingle consecrated the New City of Mentalphysics property, and 1972 is the year that Dingle passed away after living the last six years of his life upon the property.
1941 was an eventful year for Edwin Dingle. Not only did he become an American citizen, but it was at dawn on August 23rd of that year that he and a chosen group of faithful consecrated the ground sacred for building the New City of Mentalphysics: "the first Model City of the New Age" Which he intended to be "a sublime symbol of Light, a beacon in the fight of ignorance and fear, despair and depression of the mere human mind, for the redemption of which we live and work."38
Dingle also envisioned the New City of Mentalphysics as place where those could go to be enlightened and mediate. Early publications related to the construction of the New City glorify the natural setting: a substantial aspect of marketing the location and the New City's completion. Various brochures feature pictures of the monzogranite boulders of nearby Joshua Tree, images of desert vistas, and numerous images of Joshua Trees themselves. To Dingle, "Nature is but a name for an effect whose cause is God!" In early site plans for the New City, Lloyd Wright indicated all extant Joshua Trees, implying that they were a primary feature of the New City landscape, intended by Dingle to remain.
Unfortunately, Dingle's timing of consecrating and starting construction on the New City was rather bad. By the end of 1941, he did have three cottages completed at the east side of the property, intended for workers, that still remain. It is unknown, though highly unlikely, that Lloyd Wright designed them. With the onset of World War II, construction largely came to a halt. Even after the end of World War II, with a substantial building boom that Southern California saw, suddenly contractors themselves were hard to come by, and none wanted to drive 135 miles from Los Angeles deep into the desert without charging a premium. The postwar era saw a tight labor market and materials shortages, and more expensive materials that were suddenly in demand region-wide with the region's new postwar population boom.
Nonetheless, by December of 1947, Dingle and Lloyd Wright completed both the "Caravansary of Joy"- a multipurpose lodging and meeting facility that at its exterior is akin to Taliesin West, along with the Administration Building, which Lloyd Wright designed around a pre-existing cottage. A semi-communal building, the Administration Building features multiple sleeping quarters along with a more standard living room, dining room, and two separate kitchens. It's original function was living quarters and offices for Mentalphysics staff whom oversaw the multitude of Mentalphysics conventions upon the property.
To raise support for the New City's completion, Dingle launched yet another publication named The Mansion Builder, which featured numerous images of new and in-progress buildings, steady updates of construction activity, plus statements regarding the vision and importance of the New City, which Dingle approached in the grandest of terms. According to one brochure,
Ding Le Mei says: "The day will come when upon this land there will be our majestic temple, or college, our school for orphaned children, happy homes and laughing faces, and much else. Mankind needs must be regenerated, emancipated, brought into true spiritual freedom. Come let us accomplish the impossible by true and faithful cooperation."
Despite the challenges of the postwar construction market, the Institute of Mentalphysics must have fared well, as the campus continued to grow. In 1948 a substantial aluminum water tank was installed at the property's northeast portion. The water tank is but one elements of a purpose-built maintenance area intended for the New City and located near the worker's cottages. Tucked away in the northeast portion, the maintenance area also included a two-bay vehicular garage, a livestock pen, a horse stable, and various small sheds. A structural apparatus for what appears to have been a smaller water tank, or possibly a large fuel or propane tank, also remains. A recent electrical substation is present at the maintenance area, and it is unknown if it replaced an earlier structure.
To reiterate the intent of the New City as just that, aside from a dedicated maintenance area and water source, by the early 1950s the New City property also features what Dingle called "The Agricultural Experimental Station." Located at some remove to the northwest from the rest of the campus. This portion of the larger property was intended to be a food producing area and was originally cleared for vegetable gardens, plus fruit and nut orchards. Early images of the property show a single-family house that still exists, in addition to a water tank and a windmill, now non-extant. A barn appears to date to the campus' historic period, and this agricultural area also includes multiple, stylized concrete hitching posts, of tapered pier topped with a concrete sphere. According to a 1957 brochure, the farm was to contribute "a notable share of the dietary needs to the New City population." Early images indicate presence of orchards upon the property. Pears, peaches, apples, nectarines, in addition to walnuts, pistachios and mulberries, were all grown with some success upon here.
Despite these early, peripheral elements of a maintenance, farming, and worker housing- all of which would presumably be there to support further development and growth, Dingle's Yucca Valley property never became any version of a permanent colony, let alone an actual City, in the manner Dingle proposed. By 1950 the property's primary use appears to be a retreat and teaching center for Mentalphysics members, who in the coming years would undertake over 100 on-site conventions. The "First Initiate Preceptor Convention" occurred in 1950, and the conventions continued on-site at least until 1980, when a local newspaper article announced the "128th Mentalphysics Convention." In 1961, monthly conventions were held April through June, then in September and October. These five 1961 conventions each had a theme, and these included
"blessings," "concentration," "roses," "oleanders," and "sunsets." Other promotional materials treat the New City as a form of spiritualist resort, if not some version of a Mentalphysics timeshare. Brochures depict Dingle and others on horseback, and the lower public room of the Caravansary was originally a recreation room.
As the retreats continued each year through the 1950s, work continued upon the campus' main core. In 1955, Lloyd Wright completed an outdoor amphitheater at the center of the campus, and his Cafeteria building plus eight separate duplex and triplex cottages were finished in 1956. A series of letters between Lloyd Wright and his father indicate that Dingle's ability to pay was an ongoing problem, and various correspondence portrays Dingle as one constantly attempting to fundraise. It is presumably for this reason that Lloyd Wright stepped away from the Mentalphysics project in the late 1950s. Although Lloyd would not finish much of what he had initially planned- including theatrical, stage-set like buildings for the Sanctuary, nor any of the proposed New City south of Highway 62, his completed Mentalphysics buildings, 11 total in addition the site plan itself and various landscape elements, represent the largest collection of his finished works at one location throughout his working life.
Preceptor teaching appears to have occurred upon the property over the course of the many conventions, with Dingle lecturing from within Friendship Hall. However, the more overtly religio-spiritualist buildings would be completed last, after Lloyd Wright's departure. It is presently unknown if O.K. Earl Jr. served as the builder under Lloyd Wright, but nonetheless it is Earl's corporation, in conjunction with various Pasadena-based architects working with him, that completed the First Sanctuary of Mystic Christianity, and the Preceptory of Light: both completed in 1959, then the Richard Lampier Dingle Memorial Chapel, and the Inspiration Heights multi-dwelling units completed by 1961. It is presently unknown if the Earl firm built the Richard Lampier Dingle Memorial Chapel.
The primary purpose of the Sanctuary was Sunday services which might feature a sermon by Ding Le Mei, the Reverend Donald Waldrop, who served as his primary associate from the mid-1960s onward, or other Preceptors. Though Chapel-like in its space, the Preceptory of Light- "Preceptory" meaning "a provincial community or religious house of the medieval Knights Templars, subordinate to the London Temple"- was a teaching space focused upon advanced classes known as the "Inner Chamber of Mentalphysics." The Inspiration Heights dwellings were intended to be living spaces for meditation, and Mentalphysics' senior members. The Memorial Chapel features two sets of multiple confessional-like cubicles, each of draped entrance and containing a red triangular light, and kneeling pad for prayer. Completed c. 1960, the Memorial Chapel is dedicated to Dingle's son Richard, who passed away in 1959, in what current staff believe was legionnaires disease incurred while he worked upon a cooling system onsite.
After a brief respite following his son's passing, Dingle resumed sermons, but perhaps due to his son passing or Dingle's advancing age, work on the campus considerably slowed. The Memorial Chapel and Inspiration Heights are the last major building projects completed on-site, and the 640-scre southern portion of what was once to be the New City, located south of Highway 62, was sold during the 1960s. Having relocated from Hollywood into the Administration Building two years prior, in 1968 Dingle went into semi-retirement.
After a brief illness, on January 27, 1972 at age 90, Edwin John Dingle passed away in Yucca Valley. Even at his death the enrollment in his mail-order programs numbered 5,000 who paid $4.00/ month for lessons in "breathing, diet, mediation, and mystic concepts." According to his Los Angeles Times obituary, Dingle had over 214,000 students of Mentalphysics dating back to its initial 1927 inception, and the obituary described the Institute of Mentalphysics as "one of Southern California's most enduring religious sects."
Dingle's longtime Preceptor Reverend Donald Waldrop succeeded Dingle as the primary spiritual teacher of Mentalphysics, overseeing the property through the rest of the 1970s, when membership seems to have declined. Although the Institute of Mentalphysics still owns the New City- today known as the Joshua Tree Retreat Center, the property's present mission is no longer specifically Mentalphysics-focused but is instead open to any variety of spiritually acclimated groups- New Age or otherwise, its bookstore having many publications about mediation, the understanding of Eastern teachings, and wellness- all now facets of the Southern California New Age landscape Dingle helped pioneer, with his presence in the region for over 40 years of his long and accomplished life.
† Adapted from: Daniel D. Paul, Architectural Historian, The Institute of Mentalphysics (Joshua Tree Retreat center), New City of Mentalphysics Historic District, nomination document, 2022, National Register of Historic Places, Washington, D.C.
Street Names
Twentynine Palms HIghway
---