Tuscaloosa County, Alabama
Tuscaloosa County administrative offices are located at 714 Greensboro Avenue, Tuscaloosa, AL 35401; phone: 205‑349‑3870.
---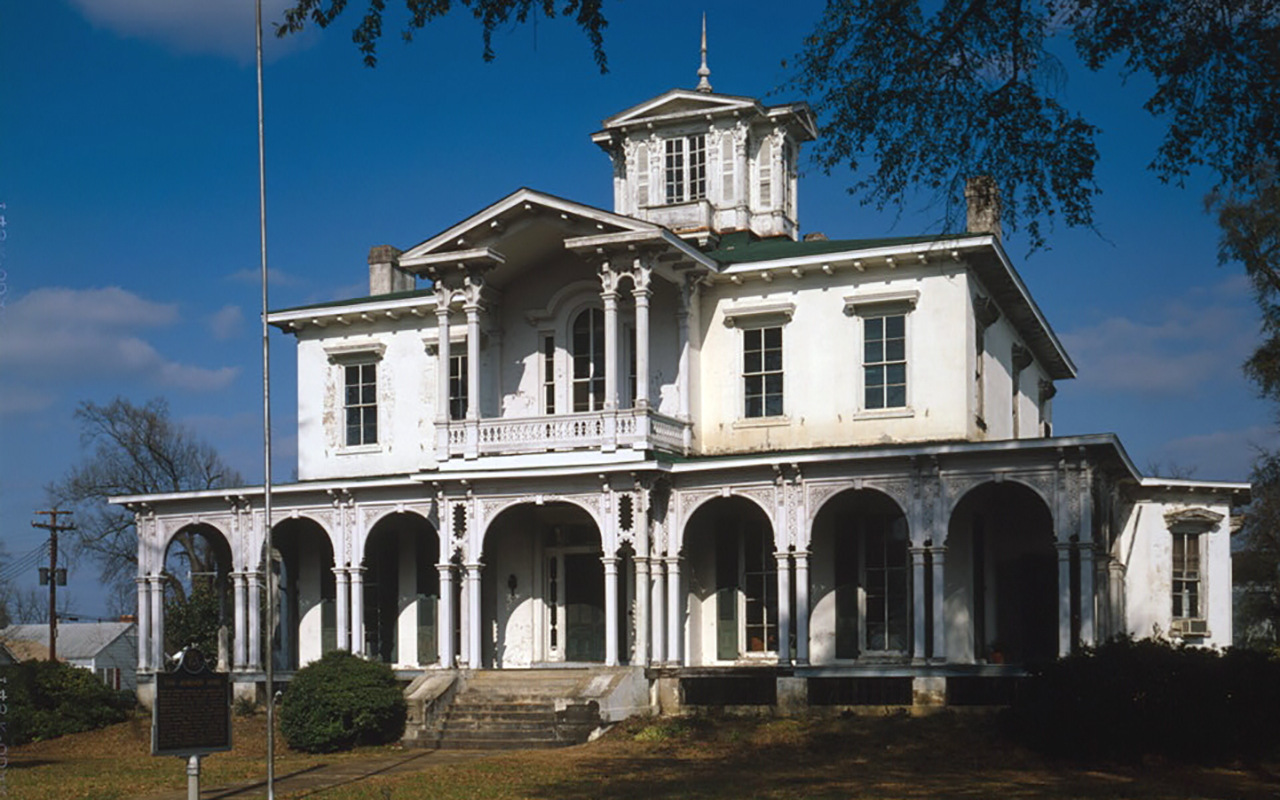 Photo: Jemison-van de Graaf-Burchfield House, located at 1305 Greensboro Avenue,. Listed on the National Register of Historic Places in 1972. Photographed by Jet Lowe, 2009, Historic American Buildings Survey [HABS HABS ALA,63-TUSLO,5--8], memory.loc.gov, accessed July, 2021.
---
TOWNS
Brookwood Town
Coaling City
Coker Town
Holt
Lake View town
Northport City
Vance Town
Beginnings [1]
Tuscaloosa County was created in 1818. The first record of Tuscaloosa is on DeLisle's map of 1707, spelled Taskaloussas. The first settlers came in 1816 and settled on the site of the town of Tuscaloosa. These early settlers were largely Scotch-Irish with a sprinkling of English, coming from North Carolina, South Carolina, Virginia, Tennessee, Kentucky and Georgia. Among the first settlers were Thomas, Jonathan and Emanuel York, John Barton, a blacksmith, William Wilson, Patrick Scott, Josiah Tilley. Pleasant H. Dearing and John G. King. In 1817 the population increased largely, all of who settled at Tuscaloosa and vicinity.
Thomas McAdory Owen, LL.D., History of Alabama and Dictionary of Alabama Bibliography, Volume II, The S. J. Clarke Publishing Company, Chicago, 1921.
HISTORIC SITES
Audubon Place Historic District
Battle-Friedman House
Byler Road
Capital Park Historic District
Carson Place
Collier-Overby House
Downtown Tuscaloosa Historic District
Druid City Historic District
East Northport Historic District
Fitch House
Foster Home/Sylvan Plantation
Gorgas-Manly Historic District
Guild-Verner House
Hassell, John, House
Jemison, Robert, Servants' House
Jemison-Vandegraaff House
Johnson, Samuel, House
Murphy-Collins House
Northport Historic District
Pinehurst Historic District
President's Mansion
Quayle, Margaret, Lustron House
Searcy House
Shirley, James, House
University of Alabama Historic District
Wheeler House
Wilson-Clements House