Tuscaloosa City
Tuscaloosa City Hall is located at 2201 University Boulevard, Tuscaloosa, AL 35402.
Phone: 205‑258‑5311.
---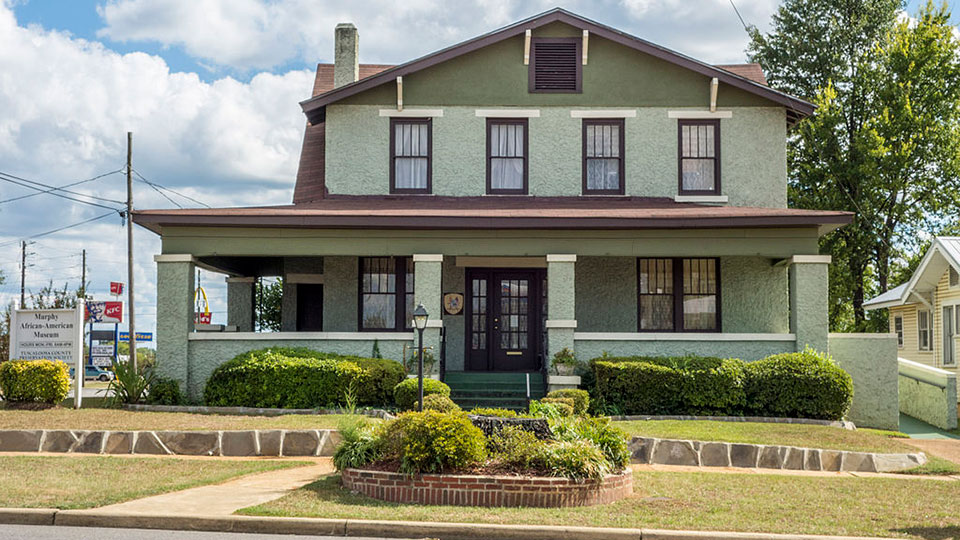 Photo: Murphy-Collins House, circa 1923, 2601 Paul Bryant Drive. Listed on the National Register in 1993. Photographer: wikipedia username: Gregr, 2014, [cc-3.0]; accessed May, 2021.
---
Tuscaloosa as Described in 1921 [1]
A post office and station on the Mobile and Ohio and the Alabama Great Southern railroads in the south central part of Tuscaloosa County. It is located on the Warrior River, at the falls, about 60 miles southwest of Birmingham and about 175 miles northwest of Montgomery.
[ continued ]
Neighborhoods
Alberta Heights
Alpine Hills
Alpine Village
Alta Vista
Altamont
Arcadia
Arlington Mobile Home Park
Arrow Wood
Asbury
Ashbrook
Austin
Bar Wayne Circle
Barrett's Trace
Beech Hills
Bellview Heights
Berkley Hills
Beverley Heights
Box Springs
Brentwood
Briarwood
Broadview
Brookhaven
Brooksdale
Buena Vista
Burks Garden
Burnt Pine
Camellia Park
Campus Way
Candlelight Circle
Candlelight Terrace
Cedar Crest
Cedar Knoll
Cherokee Hills
Cherry Dale
Circlewood
Claymont
Cloverdale
College Hills
Colonial Hills
Colony Hills
Country Club Gables
Country Club Hills
Coventry
Dearing Place
Deep Wood
Deven Dale
Diamond Ridge
Dixon Manor
Druid Hills
Durrett Grove
East Arlington
East End
East Lake
East Park
Eastlake
Easton Place
Eastover
Eastwood Villa
Echo Hill
El Dorado
Fernridge
Fernwood
Fields Crossing
Fieldstone Crossing
Fitts Heights
Forest Hills
Forest Lake
Forestasia
Fosters
Georgena Terrace
Glendale Gardens
Green Grove
Green Hills
Green Valley
Greenbriar
Greenview
Guilds Woods
Hagler Mill Estates
Hambright
Happy Acres
Harbrooke Downs
Hays Court
Heritage Hills
Hickory Forest
High Forest
Highland Park
Hillcrest
Hillcrest Gardens
Hillsdale
Hillswood
Hinton Place
Hobson Acres
Hollywood Park
Howton
Huntland
Idlewood
Indian Hills
Ingleside Village
Kennedy Park
La Vera
Lake Cove
Lake Forest
Lake Shore
Lakeridge
Lakeview
Laurel Hills
Laurel Wood
Lavelle Woods
Lenox South
Lexington Downs
Lincoln Park
Livingston
Lynn Haven
Lynndale
Lynnwood Park
Magnolia
Magnolia Village
Mallard Creek
Manly Heights
Mariners Cove
Mayfair
McKenzie Courts
Meadow Lawn
Meadowbrook
Mimosa Manor
Monte Vista
Morayshire Estates
Myrtlewood
Neptunes Cove
Northridge Gardens
Oak Grove
Oak Ridge
Oakdale
Oxford Gate
Park Forest
Parkside
Parkview
Parkwood
Patton Place
Pine Hill
Pine Hills
Pine Park
Pinedale
Pinehurst
Princeton Heights
Princeton Place
Quail Ridge Mobile Home Park
Regal Pointe
Remington
Reserve at North River
Reston Place
Ridgecrest
Ridgehaven
Ridgeland
Riverchase
Rivermont
Riverpoint
Riverside Circle
Riverview
Riverwood
Rollingwood
Rosedale
Rosedale Courts
Rosewood
Royal Pines
Sahama Village
Sherwood
Skelton Bend Estates
Sky Ranch
Skyland
Skyland Manor
Skyland Park
Snow Terrace
Sommerville
South Hampton
South Highlands
South Park
South Pointe
Southwood
Spring Brook
Springhill Lake
Staffordshire Place
Standridge
Stonehedge
Summerfield
Sutton Place
Sycamore
Taylor Circle
Terri Wood
The Downs
The Glens
The Highlands
The Staffords
The Vineyards
Timberlane
Twin Circle
University Downs
University Manor
University Place
Vali Hi
Vali-Hi
Valley View
Vista Granda
Warrior Heights
Washington Square
Wesley Chapel
West Haven
Whispering Hills
Wood Manor
Wood Ridge
Wood Villas
Woodbank
Woodland Forest
Woodland Forrest Gardens
Woodland Hills
Woodland Hills
Woodland Park
Woodland Pines
Woodland Terrace
Woodland Trace
Yacht Club Bay
[ continued ]
In 1809, when the government at Washington was establishing trading posts throughout Mississippi Territory, a Creek chief, by the name of Ocechemotla, obtained the consent of the Choctaws to locate a settlement known as Black Warrior Town at the falls of the Warrior River. This settlement was visited by Tecumseh, the Shawnee chief, on his return from the Alibamo towns. This expedition had been undertaken with a view to enlisting the Southern Indians in a general uprising against the whites. After the massacre at Fort Mims and the sanguinary events following in its wake, the garrison at Seminole Fort at Warrior Town was captured and the settlement was destroyed.
In 1815 Isaac Cannon and John Wilson came to Warrior Town selecting an old Indian field, near Seminole Fort, as a place of settlement. The early inhabitants came to this section from the upper districts of the Carolinas and Georgia, first migrating to Tennessee and later to Alabama. Patrick Scott, Jonathan York, John Barton, Joseph Tilley and William Wilson were among these early settlers. William Wilson built the first log hut near where the old State capitol now stands and Jonathan York built the first board shanty in the county of Tuscaloosa. The first frame residence of any size was erected by William R. Colgin and the first brick residence by Dr. James Guild.
Tuscaloosa was incorporated by an Act of the general assembly of Alabama, approved December 13, 1819. On January 12, 1828, a new charter was granted and this and all subsequent charters confine its limits to sections south of the Warrior River. The population in 1817 numbered about 200 people and had increased to 600 at the time of the land sales in 1821.
In 1826, the State Capitol was removed from Cahaba to Tuscaloosa where it remained until its removal to Montgomery in 1845. On December 29, 1827, Tuscaloosa was selected by the general assembly as the location of the State University.
Thomas McAdory Owen, LL.D., History of Alabama and Dictionary of Alabama Bibliography, Volume II, The S. J. Clarke Publishing Company, Chicago, 1921.
---