Madison City
Madison City Hall is located at 210 Martin Luther King Jr. Boulevard, Madison WI 53703.
Phone: 608‑266‑4611.
---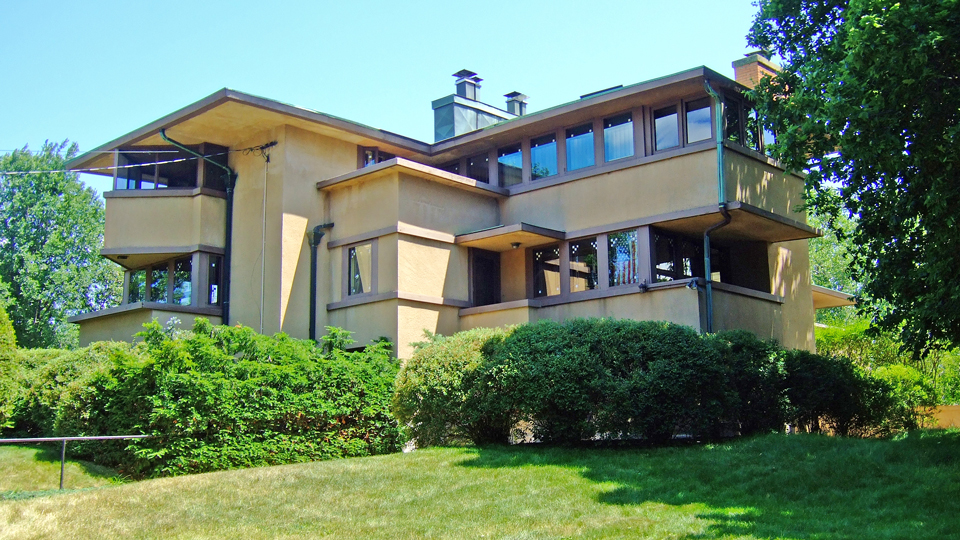 Photo: Eugene A. Gilmore House, circa. 1908, 120 Ely Place, Madison, WI. Known as the "Airplane House," this Prairie Style home was designed by Frank Lloyd Wright. Listed on the National Register of Historic Places in 1973. Photographed by user:James Steakley (own work), 2009, [cc-3.0], via Wikimedia Commons, accessed May, 2021.
---
Madison Facts[1]
One of only a few cities in the world built on an isthmus, downtown Madison is set on a narrow strip of land between two glacial lakes — Lake Mendota and Lake Monona.
Neighborhoods
4th Ward Lofts
Acewood
Allis Heights
Anderson Estates
Arbor Hills
Arboretum
Atwood
Bay Creek
Bayview
Bayview Foundation Inc.
Bel-Air Estates
Belgrove
Berkeley
Berkley Oaks
Bishop Hill
Blackhawk
Bowens Addition
Brams Addition
Brentwood
Brentwood Village
Brighams Fair Oaks Addition
Brittingham Apartments
Broadway-Lakepoint
Bruns
Buckeye Meadows
Burke
Burke Heights
Burr Oaks
Capitol Neighborhoods
Capitol View Heights
Capitoland
Cardinal Glen
Careys
Carpenter-Ridgeway
Chapel Hill
Charing Cross Meadows
Cherokee
Cherokee Garden
Cherokee Park
Churchill Heights
Clarendon Hills
Clyde A Gallagher Plat
Corrys
Country Grove
Covered Bridge
Crawford Heights
Crescent Oaks
Crestview Heights
Daniel Addition
Dapin
Dennistons
Door Creek
Dorothy Addition
Downs of West Meadowood
Downtown
Droster Addition
Dudgeon-Monroe
Dunns Marsh
Eagle Crest
Eagle Heights
East Bluff
East Buckeye
East Isthmus
East Meadowood
Eastlawn
Eastmoreland
Eastridge Trail
Eken Park
Elken Park
Emerald Hills
Emerick Oaks
Emerson East
Fair Oaks
Faircrest
Fairfield Bluff
Farwells Addition
Fieldstone
Fieldstone Heights
Fieldstone Meadows
Findlay Park
Four Lakes
Glacier Heights
Glacier Ridge
Glacier Ridge
Glen Oak Hills
Glen Park
Glendale
Glenwood
Glenwood Estates
Golf Green
Grand Canyon
Grandview Commons
Green Tree
Green Tree Estates
Green Tree Hills
Greenbush
Greendale
Greenleaf Grove
Greentree
Greystone
Gunderson Addition
Hancock Court
Hanover Park
Harwood Addition
Hawks Creek
Hawks Landing
Hawks Meadow
Hawks Ridge
Hawks Ridge Estates
Hawks Woods
Hawthorne
Heather Glen
Heistand
Heritage Heights
Heritage Meadows
Hiestand
High Crossing
High Point
High Point Estates
Highland Gardens
Highland Manor
Highland Park
Highland Village
Highland Woods
Highlands
Highwood
Hill Farms, University
Hillington Green
Hillside Addition
Hillview Heights
Hoboken Beach
Honeysuckle Acres
Hoyt Park
Ice Age Falls
Indian Springs
Jacobson
Jenifer-Spaight Historic District
John W Tilton
Junction Ridge
Kennedy Heights
Kingston
Lake Edge
Lake Forest
Lake View Heights
Lake View Hill
Lake View Meadows
Lake View Place
Lakeview Park
Lansing Place
Leopold
Lerdahl Park
Liberty Place
Lincoln Hills
Linda Vista
Linden Hill
Linden Park
Livingston House Condo
Lost Creek
Madison Park
Manor Green
Mansion Hill District
Maple Bluff
Maple Grove
Maple Wood
Maple-Prarie
Marbella
Marilyn Heights
Marlborough Heights
Marquette
Mayfair
Mayfair Park
McClellan Park
McKenna Park
Meadow Ridge
Meadowood
Meadowood Heights
Meadowood Highlands
Meadowood Hills
Mendota Beach
Mendota Beach Heights
Mendota Estates
Mendota Hills
Mendota Park
Merrill Crest
Merrill Park
Midland Meadows
Midtown Commons
Midvale
Midvale Heights
Mifflin West
Millstone
Mira Loma
Mohawk Park
Monona Shores
Monona Terrace
Moorland-Rimrock
Morland Terrace
Morningside Heights
Nakoma
Nakoma Historic District
Nakoma Park
Newbery Heights
Nobel Park
Norman Acres
North Lake Mendota
North Lawn
North Shore
Northfield Park
Northland Manor
Northside
Northside
Oak Crest
Oak Park Heights
Oak Ridge
Oakbridge
Oakwood Village
Olbrich Park
Old Middleton Greenway
Orchard Ridge
Owls Creek
Ozark Addition
Painted Post
Painted Post Estates
Park Meadow
Park Meadow Ridge
Park Ridge
Park Ridge Heights
Parkside
Parkway Village
Parkwood Hills
Parkwood Village
Parkwood West
Patio Gardens
Phalens
Pine Hill Farms
Pinecroft
Prairie Heights
Prairie Hills
Quarry Cove
Quinn Ranch
Radio Park
Raywood Heights
Regent
Regent
Reston Heights
Richmond
Richmond Hill
Ridgewood
Ridgewood
Ridgewood The Glaciers
Ridgewood Valley
Rimrock
Rimrock Heights
Rolling Meadows
Rough Lee Park
Rustic Acres
Rustic Ridge
Sandburg Heights
Sandstone Ridge
Sauk Creek
Sauk Heights
Saukborough
Scenic Heights
Schenk
Schenk Park
Schenk-Atwood-Starkweather-Yahara
Sheridan Triangle
Sherman Park
Sherman Terrace
Sherman Village
Sherwood Forest
Siggel Grove
Sinha Addition
Skyview Meadows
Skyview Terrace
South Campus
South Shore
South Wind
Southern Ridge
Sprecher East
Spring Harbor
Starkweather
Stone Creek Estates
Stone Crest Estates
Stone Meadows
Stonefield Ridge
Stonefield Woods
Summit Park
Summit Ridge
Summit Woods
Sun Gardens
Sunbrook
Sunset Hills
Sunset Village
Swanton Acres
Tamarack Trails
Tenney-Lapham
The Crossing
Tilton
Tompkins
Trinity Park
Twin Oaks
University Heights
University Hill Farms
Valley Ridge
VanChaMasShe
Vera Court
Village Green East
Walnut Grove
Waunona
Wayland Acres
Wedgewood
West Lawn
West Meadowood Heights
Westchester Park
Westhaven Trails
Westport Meadows
Westvale
Westview Hills
Westview Meadows
Wexford
Wexford Crossing
Wexford Ridge
Wexford Village
Wheeler Heights
Whitetail Ridge
Wingra Hill
Wingra Park
Wirth Park
Woodland Hills
Woodlands
Woodlawn
Woodridge
Woodvale
Worthington Park
Wyndemere Condominum
Yahara
Yahara Park Condos
The city is named for former President James Madison and the downtown streets surrounding the Wisconsin State Capitol are named for the 39 signers of the U.S. Constitution.
Madison is a recreational paradise with five area lakes, 120 miles of bike trails and 260 parks. Many major thoroughfares have special lanes reserved for bicycles A one-mile pedestrian mall, the famed State Street, links the Capitol Square to the beautiful lakeside campus of the University of Wisconsin–Madison.
The Wisconsin State Capitol is the city's signature landmark. No building within a mile of it may rise higher than the 284-foot white granite dome of the Capitol, which is modeled after our nation's Capitol.
Greater Madison Convention and Visitors Bureau, Relocation to Madison, WI, 2007, www.visitmadison.com, accessed September, 2007
Nearby Towns: Shorewood Hills Vlg •
---